Due to their cost-effectiveness and versatility, Bluetooth beacons are becoming more widely utilized in different industries.
As a result, we can now see them in airports, museums, hospitals, stores, and various other places.
As a matter of fact, construction is also on the list of industries that can benefit on many different fronts from embracing this rapidly growing technology.
To find out what exactly Bluetooth beacons can do for your construction business, keep reading this article.
Indoor Navigation
Bluetooth beacons are a game-changer when it comes to navigation.
They do what GPS simply can't. Sure, GPS is great for outdoor positioning, but when it comes to indoor navigation, it just isn't as effective.
Meanwhile, beacons provide highly precise and detailed indoor navigational data, and this is why we're seeing wide adoption of this technology across different industries.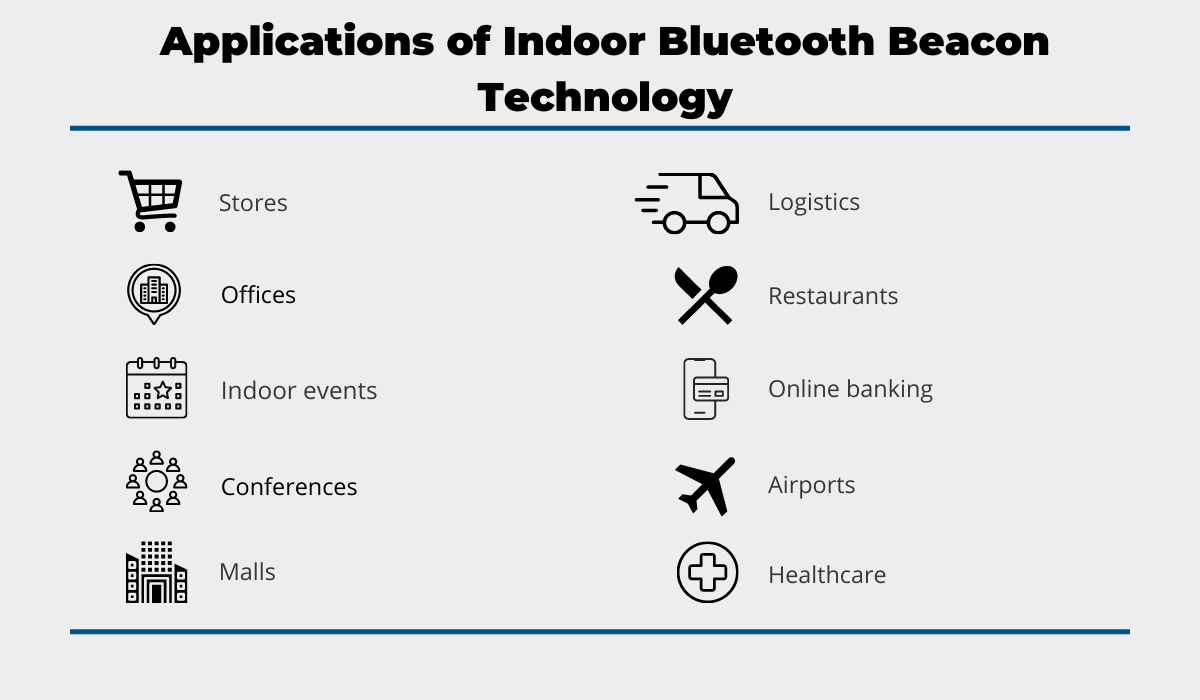 Just to illustrate, beacons are becoming a more and more popular solution for visitors' navigation in big airports, museums, and train stations.
Moreover, Bluetooth beacons are becoming more commonly adopted for indoor navigation in the construction industry as well.
After all, a considerable amount of the construction work occurs outside the GPS's reach, and beacons help employees navigate GPS-disabled areas more efficiently.
Large multi-story buildings and warehouses, complex job sites, especially those situated underground, or even underwater—all of these spaces are hard to navigate and even dangerous if workers don't know their way around them.
This is where Bluetooth beacons come in. They provide up-to-date maps that guide employees through the area and, in turn, reduce nonproductive walking and increase safety.
Access Control
Safety, after all, plays a crucial role in construction.
The first step in creating safe job sites would be taking control of who enters them, i.e., establishing adequate access control.
This alone protects you from various risks that can potentially harm overall safety as well as the company's reputation and profitability.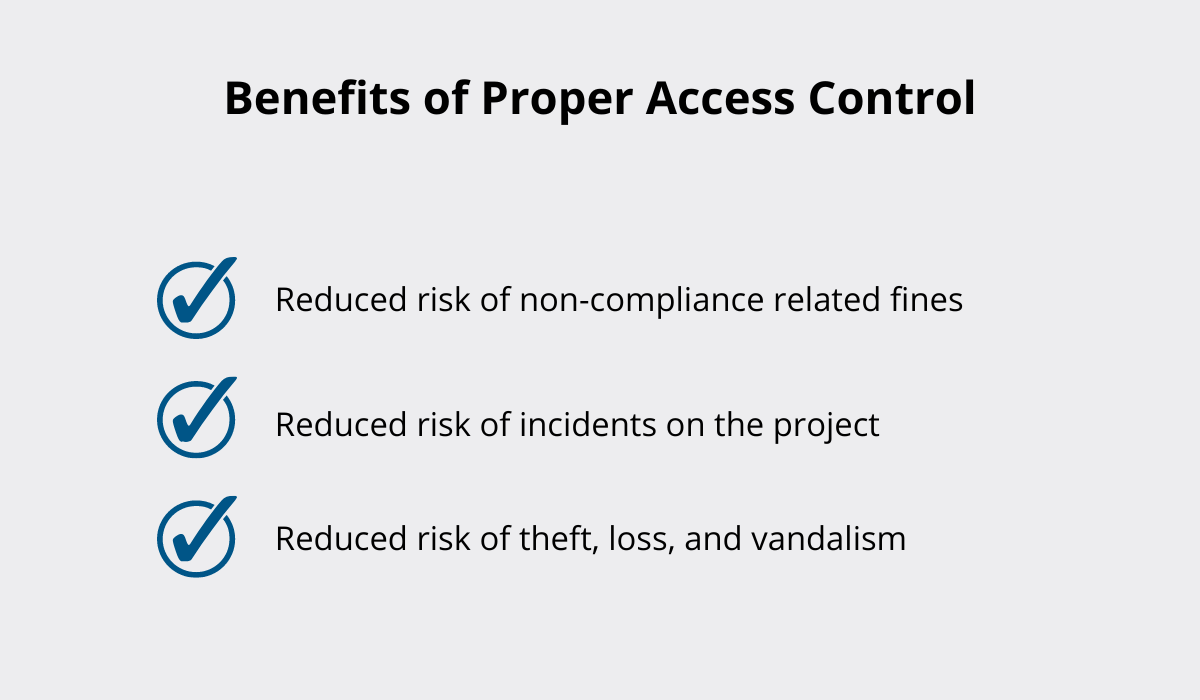 Bluetooth beacons take access control to another level and eliminate the need for obsolete and ineffective keys and locks.
Instead, they enable wireless transmission of credentials or other documentation needed for employee authentication and automatically verify your workers, granting them access to the premises.
Simply put, Bluetooth beacons make for much more seamless access control. Here's how they work.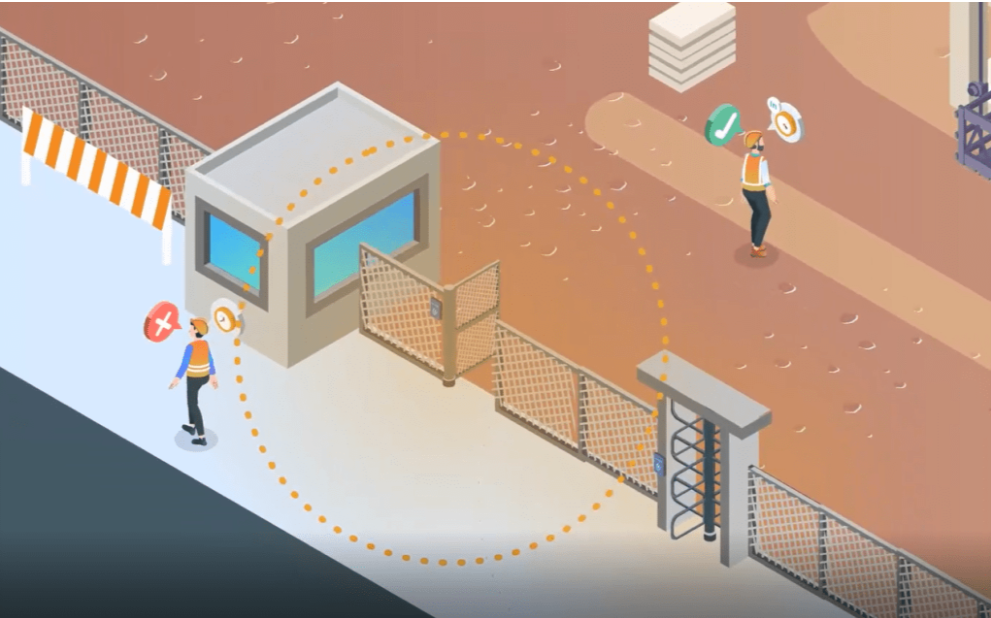 First, certification documentation must be uploaded and approved for each worker who's going to be working on a project.
Then, the employees are given Bluetooth Low Energy (BLE) IDs or badges linked to their documentation, and when they come within the range of a beacon placed at an access point, they are passively verified.
Alternatively, if an employee doesn't have the right documentation, he'll be flagged in the database and denied access.
This way, you're not only controlling who enters your job site but also gaining insight into who's trying to enter when they shouldn't be.
Employee Tracking
Another essential item on the list of Bluetooth beacon applications in construction is employee tracking.
When workers wear their beacons, the gateway can determine their location through the beacons' signal strength, which results in many long-term benefits for both employees and the company.
To elaborate, this method of employee tracking provides real-time visibility of all the workers who wear beacons and, in turn, increases their safety and productivity but also simultaneously reduces project delays and unplanned downtime.
In fact, wearable technology is gaining popularity in the construction industry because of its efficiency when it comes to worker tracking.
Wearables can count the employees, show their location, mark dangerous zones, and send warnings to the employees when they approach them.
One example of a popular wearable in construction would certainly be Bluetooth-enabled smart helmets.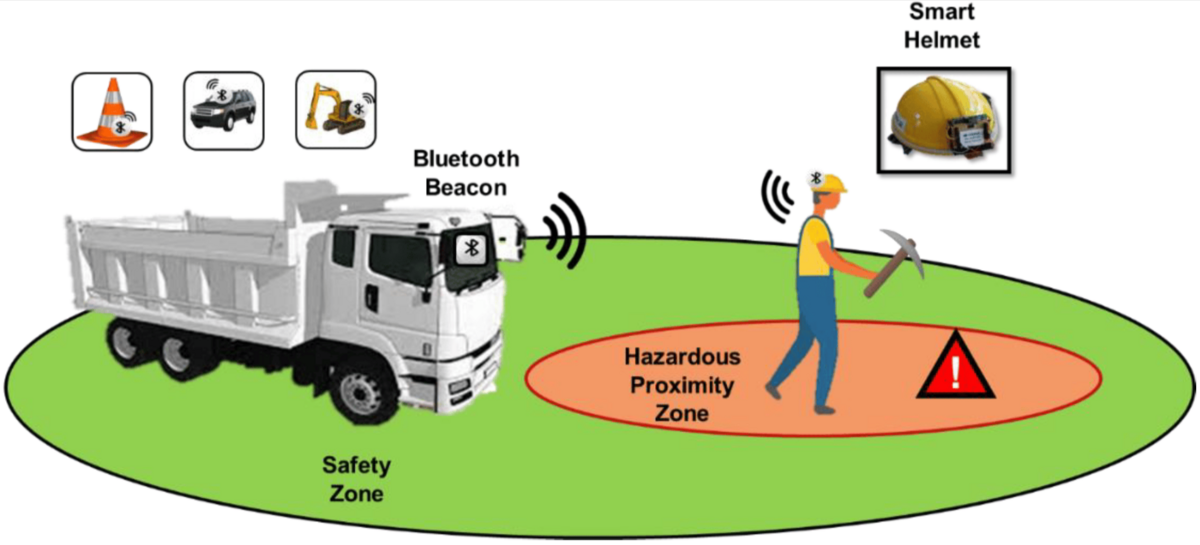 Smart helmets are quite effective for monitoring worker activities and surroundings, but more importantly, they can also be used as a personnel proximity warning system.
For this system to work, beacons must be attached to heavy equipment or dangerous zones.
Smart helmets then receive signals from the beacons and warn employees via LED lights installed on the helmets.
Overall, Bluetooth beacons are indispensable when it comes to employee tracking.
This comes as no surprise since they're so easy to install, unobtrusive in their design, and provide real-time visibility of your workers at all times.
Asset Tracking
Employee tracking is only one part of effective management, however.
You also need to be on top of your assets' locations and utilization if the goal is for your resources to reach peak efficiency.
Everyone knows by now asset tracking is important for any business's success. The problem is not many people do it properly.
This is especially true for the construction industry, which is known to be slow when it comes to new technology adoption, and, therefore, often still relies on extremely inefficient manual asset tracking.
The numbers below only begin to illustrate the problems of manual asset tracking. It results in so much lost equipment, duplicate assets, and inaccurate asset data in general.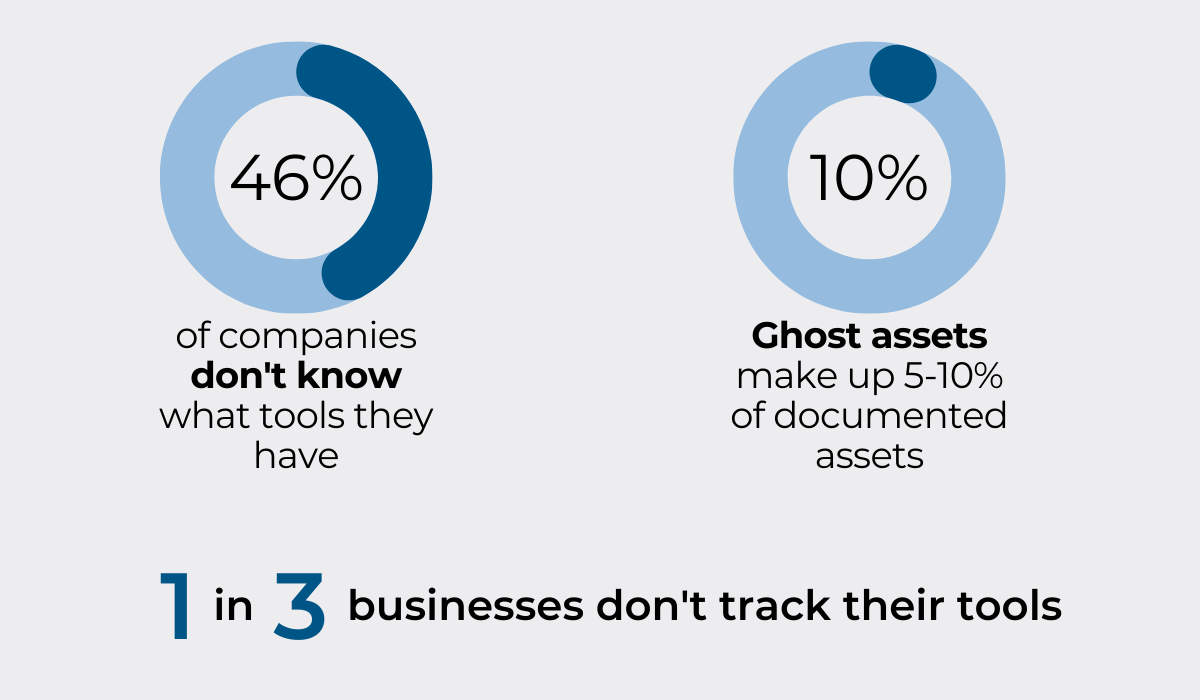 Much like employee tracking, asset tracking is much easier and more effective with Bluetooth beacons.
They enable better monitoring and visibility of your construction sites, meaning they generate accurate and up-to-date data about your physical assets' movement and, in turn, improve decision-making about your asset allocation.
It's important to note that increased asset visibility also goes hand in hand with reducing theft—a common problem in the construction industry.
GoCodes' own Bluetooth beacons help prevent this prevalent issue with the assistance of GoCodes Guardian, a feature that is part of our Smartphone App.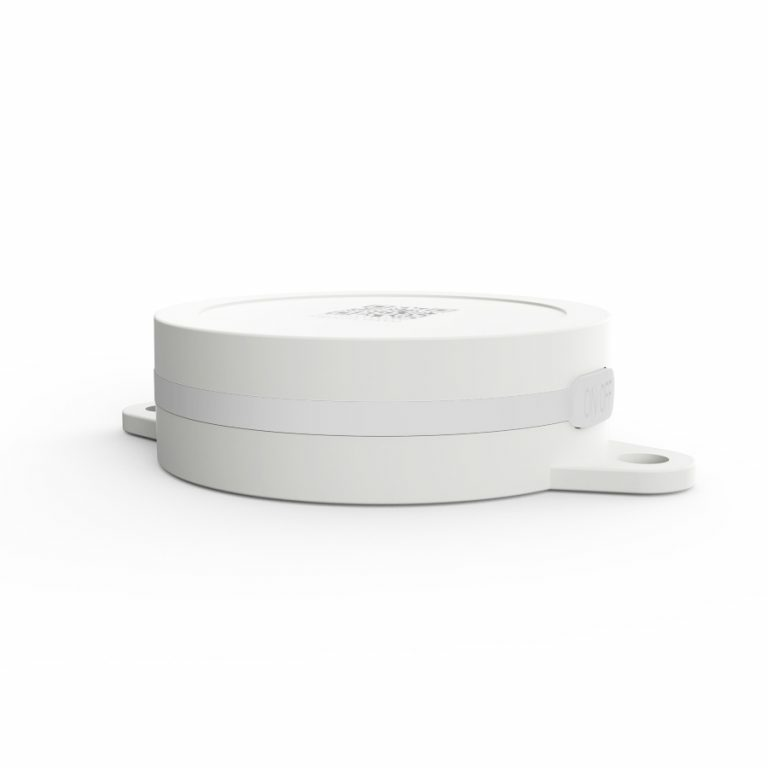 Guardian monitors your assets, and each time they're removed from the range of the app, you get immediately notified via text message.
Therefore, if you're looking to improve your assets' utilization and to get a precise insight into their location, consider using Bluetooth beacons. Their efficiency might surprise you.
Fleet Management
Managing your assets is no easy task, no doubt about it.
This is especially true for fleet management because it involves so many steps and elements, such as, for example, route planning, vehicle monitoring, operator supervision, data collection, and reporting.
Luckily, with Bluetooth beacons, fleet management doesn't have to be that complicated.
In fact, when you pair beacons with your GPS tracker and fleet management software, your fleet will reach efficiency levels it's never reached before.
Let's explore in a bit more detail how this would work.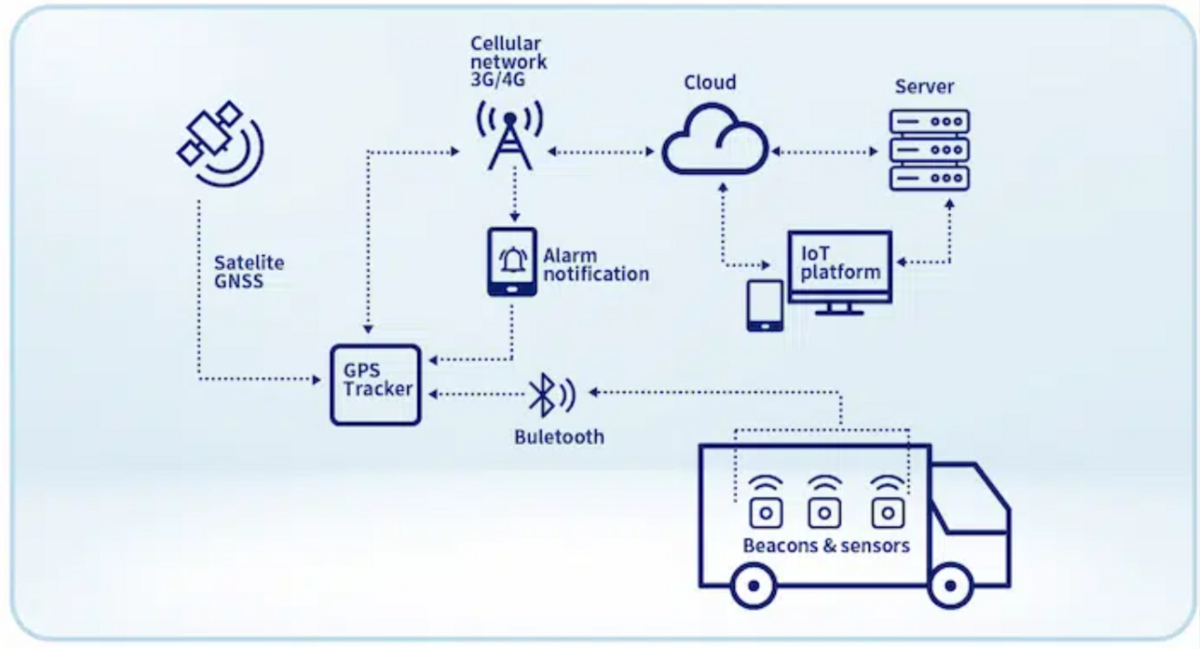 First, you'd need to install a GPS telematics box and a set of Bluetooth beacons throughout your vehicle.
The GPS tracking device would then pick up their signals and send the data to your fleet management system.
Based on that data, managers get insight into how their drivers and their vehicles are performing and can make informed decisions about fleet allocation, estimate arrival times, and plan routes to avoid traffic.
Moreover, if, for instance, a suboptimal temperature or humidity level is detected, the beacon's sensors can trigger an alert that is sent directly to the driver's phone, preventing any damage that might occur if temperature-sensitive cargo is being transported.
Machine Monitoring
In essence, your heavy equipment is what makes or breaks your success. Without it, you would never be able to finish projects on time.
It also represents a significant investment.
That's why your goal should be to make sure your machinery is as properly utilized as possible.
In other words, knowing your equipment's location is not enough—there's a variety of metrics to pay attention to in order to maximize overall efficiency.
Therefore, look into how often the machines are used and compare that data to their idle time.
Then, analyze how much of that downtime is planned and how much of it isn't planned.
If, for example, your excavator is underutilized at one job site, move it to another one where it'll be of more use.
When paired with beacons, your machinery is more intelligent—it tells you everything you need to know about their performance.
The beacons' sensors collect relevant parameters of machine operation, showing you what machinery operates properly and which areas might need improvement.
Environmental Monitoring
There's no denying that the construction industry has a strong impact on the environment. To get an idea of the severity of the problem, take a look at the numbers below.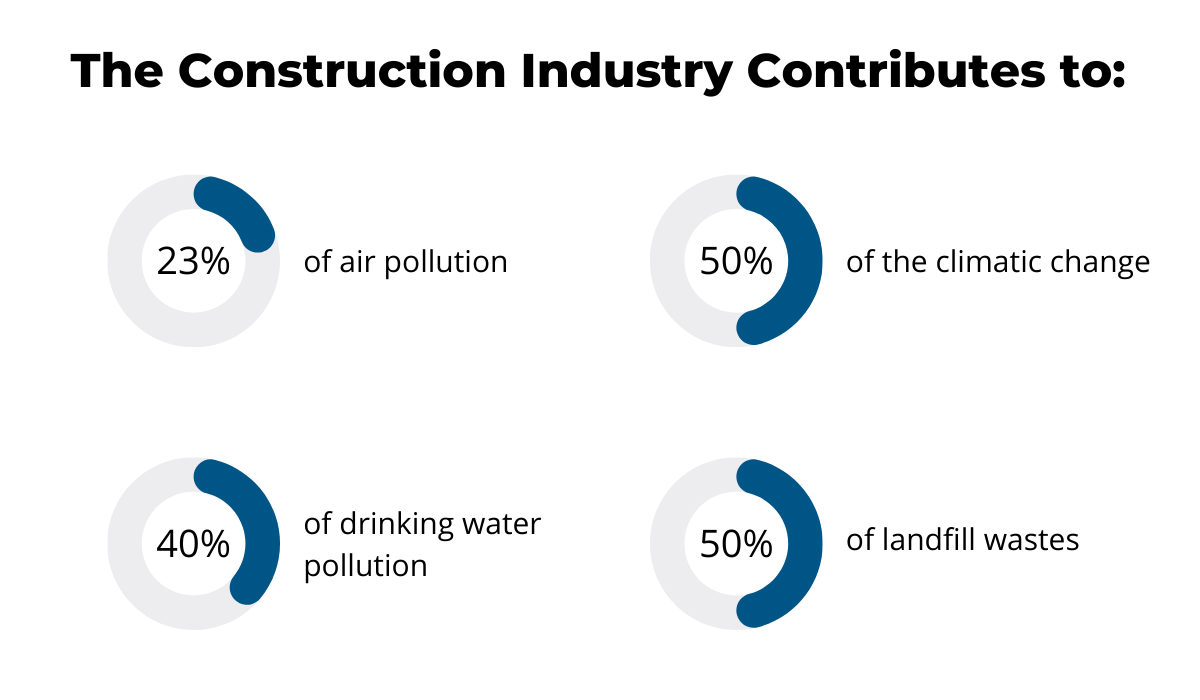 The pollution from construction sites impacts the health of everyone near them, your workers included.
But besides the obvious health benefits, working towards creating eco-friendly job sites can have many advantages for the community and your business, such as reduced greenhouse gas emissions and improved natural resource conservation, but also reduced project delays and increased profitability.
In fact, many construction businesses are starting to realize this and utilizing Bluetooth beacons for environmental monitoring at their job sites.
Equipped with different sensors, beacons can monitor temperature, humidity, air quality, and noise and then make reports based on which you can track the environmental conditions of your construction sites remotely.
Having such data at your disposal will surely impact how you move forward with your business operations and, in turn, contribute towards creating more environmentally friendly construction sites.
Conclusion
All in all, Bluetooth beacons prove themselves to be a truly versatile solution for different construction industry needs.
They help create safer, more productive, profitable, and environmentally friendly job sites and thrive where other technologies, such as GPS, fail.
So, if your goal is to reach peak efficiency across your job sites, give these small but useful and powerful devices a thought.