As small business owners or independent workers, contractors and construction professionals are usually used to "going it alone."
That means the tremendous stress and responsibility associated with managing a construction project or finding work in the industry is usually shouldered without the help of others.
However, it doesn't have to stay that way.
Construction associations are available for nearly every aspect of the industry. Joining one can yield many benefits, from networking to finding legal assistance.
If you're looking for a way to boost your business, consider joining a construction association. Let's look at just a few of the benefits of doing so in more detail.
Professional Recognition
Joining a local, state, or national construction association is an excellent way to build trust and credibility.
Doing so indicates that you are a stable part of the local economy, someone who hires or works with people in the area.
Since many people might be reluctant to trust contractors or independent construction workers due to past negative experiences or after having heard horror stories, showing that you're an established professional who isn't just "floating through town" can set a potential client's mind at ease.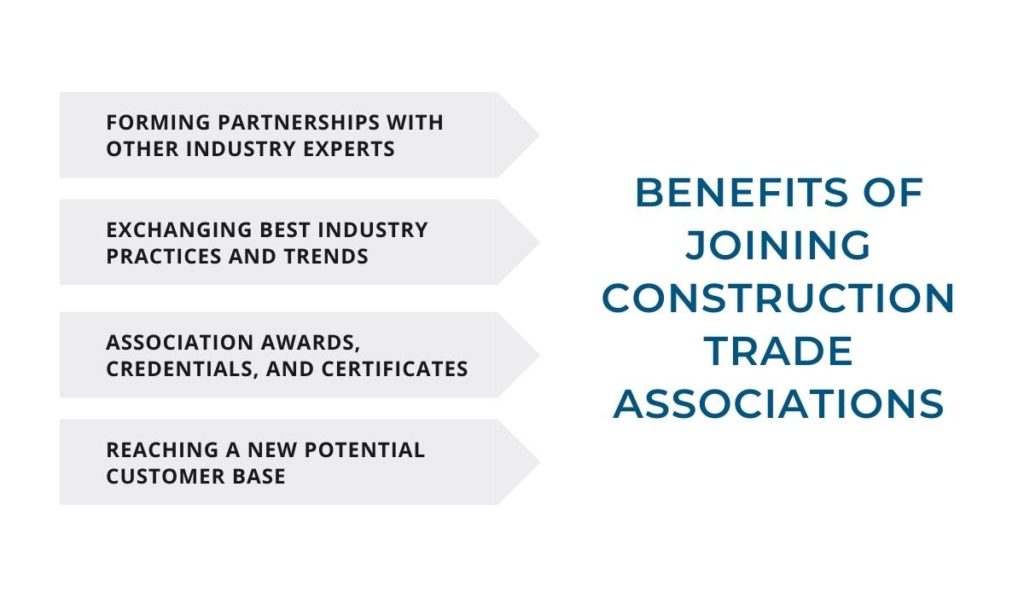 Note that the visual above mentions association awards, credentials, and certifications. 
In some cases, just being a member of an association is an important first step, recognized as an accomplishment that can carry a great deal of weight. That's because several construction associations set specific standards for acceptance, such as:
number of years in business
customer satisfaction reports
references from other reputable members of the industry
Similarly, some organizations demand a lengthy application process that involves probation, nomination, or even testing.
Others add members only by invitation.
In these cases, a person or company enrolled in a professional construction association signals fair business practices and high standards in finishing a job.
Potential clients are therefore more apt to trust those who have earned membership. 
Immediate Support System
The construction industry is competitive and overwhelming in its many details and high expectations. Construction associations, however, can offer immediate support systems to provide assistance and guidance to their members.
Notice that this ad for the Niagara Construction Association includes "fellowship" as one of its benefits: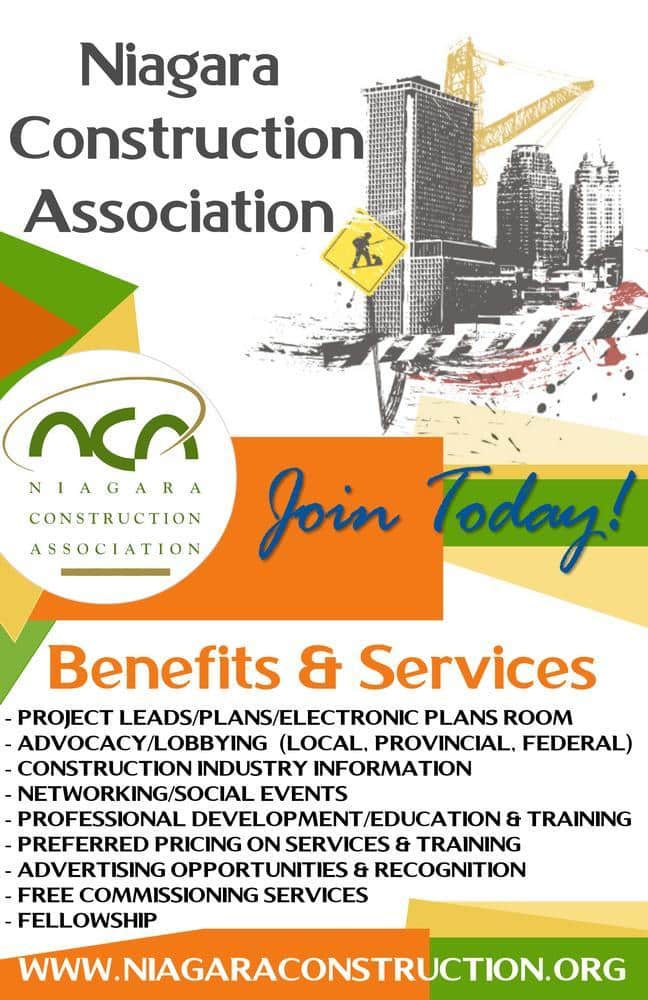 Personal connections are a vital part of a healthy work environment. 
For example, Cindy Anderson, a Director of Preconstruction, moved out of state for her job with Hoar Construction, knowing no one but her fellow employees.
She discovered a branch of the National Association of Women in Construction (NAWC) in her new city and joined. 
Anderson told Hoar.com:
"Whether you're new to a city or just looking for comradery in your industry, it's so nice to be surrounded by people who understand what you go through every day at work and can share their experiences, lessons learned, and just be a support group." 
Her experience emphasizes the important social and emotional connections that construction associations can deliver.
Trade associations can provide many other forms of support as well. Some work politically, lobbying local and national lawmakers for actions favorable to the industry.
Others offer discounted or free legal assistance to members. Some might produce ads to raise awareness about issues important to construction-related trades.
Various Discounts
Most construction associations require annual fees and application charges to defray the costs of daily operation.
Forbes considers these costs "an investment."
However, if members use the associations' benefits to their fullest and become active in the opportunities it offers, they stand to recoup the cost of their dues many times over.
For example, construction associations can address an issue that's foremost on the minds of many freelance professionals and small business owners: health insurance and worker compensation coverage.
By leveraging the large numbers of people in their organization, associations can make insurance affordable for those who would otherwise struggle to maintain it.
Associations can provide bulk discounts on materials and other financial perks as well, as seen in the image below:
Above, the Associated General Contractors of America (AGC) highlights its collection of member discount programs.
These include not just Home Depot, a chain that provides construction materials, but also office supply stores, gas stations, uniform providers, tech companies, and tire companies.
All of these touch on at least some of the overhead costs involved with running a construction company or working in the industry.
Other provided options, such as car rental companies and hotel providers, can support members attending conferences or far-flung onsite visits.
Help with Hiring
Hiring for construction jobs is a struggle even in the best of circumstances, but it's especially challenging in a period of worker shortages.
Luckily, construction associations can assist with the ever-present problem of maintaining a full and dependable staff. 
By working with hiring agencies, background check specialists, and local schools, construction associations provide access to potential employees that small companies might not otherwise enjoy.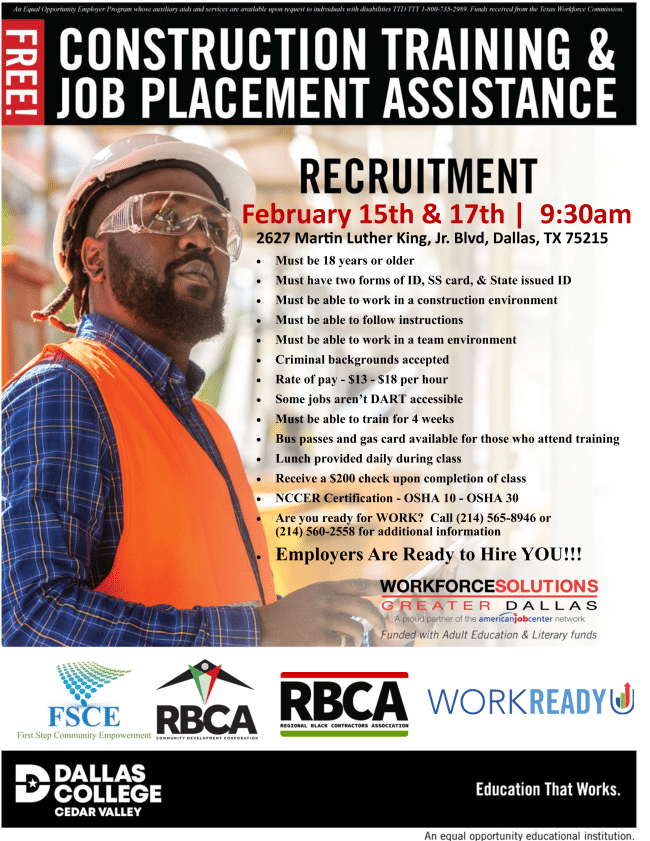 Professional associations can pair with nonprofit organizations, staffing agencies, and training providers such as Workforce Solutions, the entity sponsoring the image above. 
Such collaboration benefits both organizations and provides a path to gainful employment for those struggling to find work.
Construction associations can also help job seekers in the industry find employment in office locations or local headquarters.
Applying for vacancies in management, engineering, marketing, human resources, and other positions within a professional association can shorten a job search and increase resume visibility.
Project Opportunities
Construction associations can provide project opportunities through job boards and network opportunities that members might not find elsewhere.
Requests for proposals, calls for professional input and consulting, and prospects for collaboration can all arrive through construction associations.
In addition, construction professionals can connect with those in subgenres of the industry.
This allows for exploration of areas that you might not have previously considered and provides an avenue to finding expertise on a project that a company might not possess on its own. 
Construction associations act as a gatekeeper to provide a sense of security and fellowship when launching a team project; both parties are more likely to feel assured that the other's credentials are solid.
Here's a depiction of some specialty interests in construction: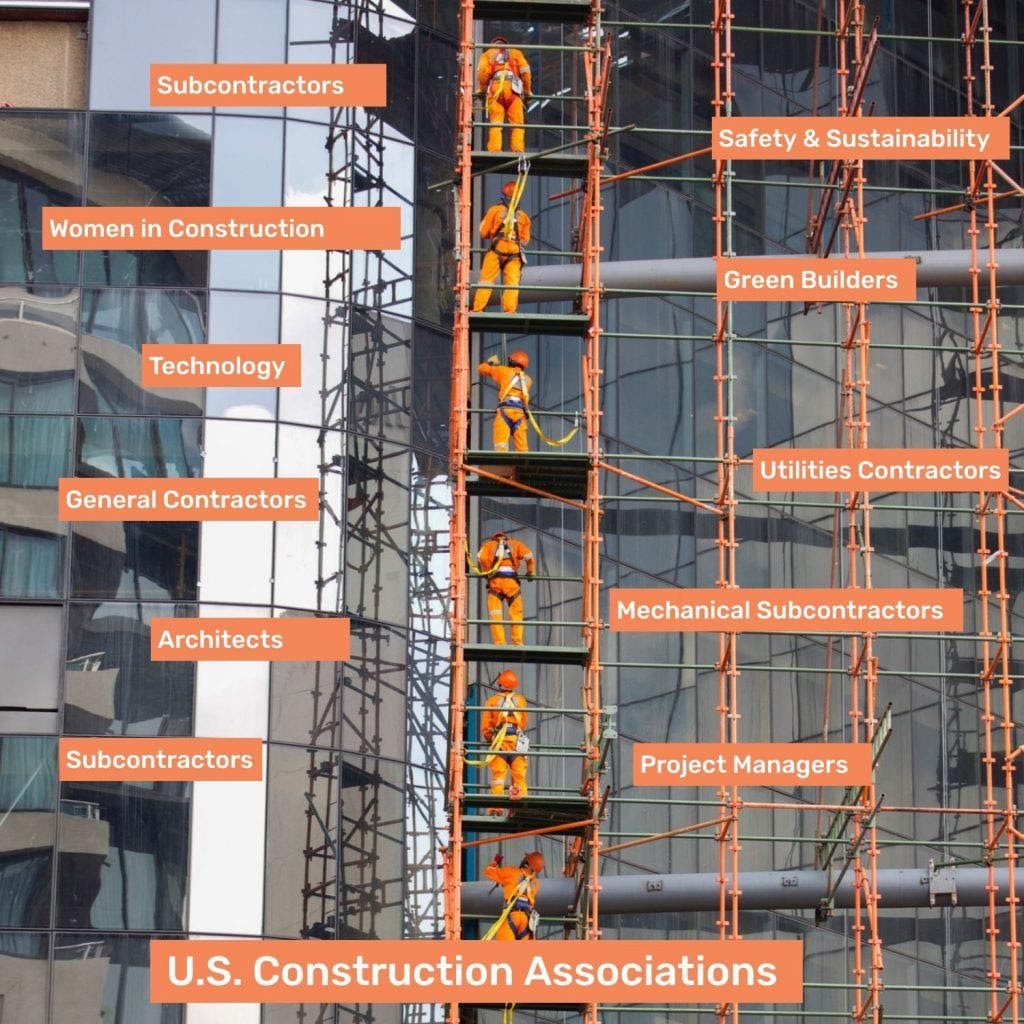 This indicates that construction associations can group around specific job titles, trade specialties, education fields, identity groups, and regulatory concerns. 
Sometimes these associations link through larger umbrella organizations or encourage cross-membership.
Trade associations can include labor unions or provide channels of communication between management and workforce members.
With 7,800 such organizations in existence, project opportunities and potential for important relationship-building abound.
Networking Opportunities
The term "networking" is a popular one, but what exactly is it? Networking includes many different avenues for making connections with potential clients, employees, hiring managers, and collaborators.
It mostly involves making an in-person contact or obtaining a referral from a common acquaintance.
Here are some examples of where networking might take place in the construction industry:
Trade shows
Expos
Multi-day conventions
Conferences and seminars
Job fairs
Message boards
Apps and social media groups
Local, national, and international association meetings
Construction associations provide built-in chances to network. They place members of the industry in close proximity with one another through a shared bond of trust in the organization.
This is invaluable when it comes to finding support, securing information, finding mentors, or sharing news.
Networking, however, is much more than simply scattering as many business cards as possible. The practice of it is so important that Construction Data built this graphic with essential tips about how to network effectively: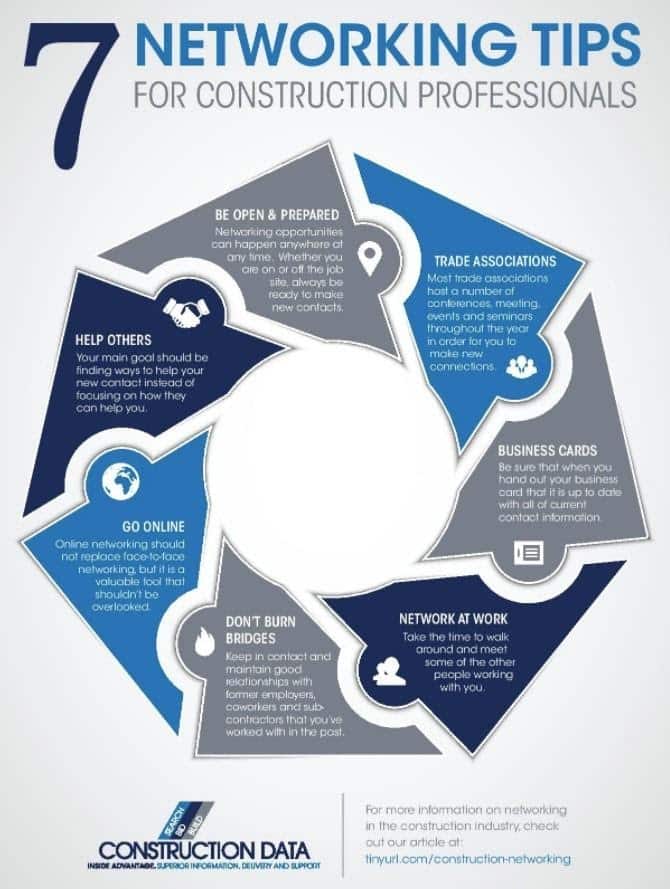 Many professionals join construction associations solely for networking opportunities. 
They understand that maintaining personal connections and nurturing trust between organizations is possible only by investing time and energy in their growth.
For some, maintaining these networking prospects is a matter of staying in business or not: The Petroleum Equipment Institute (PEI) states that 85% of business failures in the industry take place in companies that have not joined their organization.
Access to Education
Education, particularly in the construction industry, might come in many different forms.
Some of the skills used on job sites are developed through informal apprenticeships and personal experience. There's no replacement for "learning by doing."
Formal education, however, can provide a wealth of professional opportunities and boost client confidence. Some construction associations offer standardized education programs.
The visual below shows the steps in completing the Associated General Contractors of America's program in construction management.
Such an initiative provides goals for workforce members, allowing them a structured opportunity to gain the knowledge and experience they need to step into management positions or perhaps to begin a venture of their own.
Construction associations often offer mentorships and informal instruction as well. Pairing experienced members of the workforce with young beginners provides benefits to both.
In addition, conferences, seminars, and information exchange sessions are an efficient way to build strength in the industry and share new techniques, tactics, and technologies.
Being on Top of Industry Regulations
One of the most daunting experiences of being a contractor or member of a construction crew is minding federal, state, and local regulations. Negotiating this maze requires an almost encyclopedic knowledge of codes and standards.
To make the task even more complicated, government entities often update or add regulations to account for recent accidents or changes in business practices.
Construction associations offer an efficient and actionable way to remain apprised of important changes. 
They can also provide advice on how to work with code officials and advocate for regulations that are more beneficial for the industry.
For example, the following infographic from the National Association of Home Builders encourages contractors and other construction professionals to become involved with code officials.
Although this document encourages contractors to build a positive relationship with building inspectors rather than viewing them as adversaries, it also reflects the association's goal of keeping home construction "affordable." 
Moreover, it provides talking points on speaking with code officials and a reminder to encourage the organization's goals.
Reminders and tactics like these help construction associations leverage their membership numbers for maximum political and social impact.
Conclusion
Becoming part of a construction association doesn't provide benefits simply by joining up.
Members can make the most of their involvement by emphasizing their status to potential clients, taking advantage of education opportunities, and investing time in networking.
The channels of advancement and communication these organizations provide are invaluable to business growth.