Asset tracking, or the practice of keeping track of the location and overall condition of the assets a company owns, is widely regarded as an indispensable facet of contemporary asset management.
In spite of this, some construction business owners might hesitate before implementing it in their business, fearing that the investment into a state-of-the-art asset tracking solution might prove overwhelming, or that the system won't pay for itself over time.
However, asset tracking improves efficiency and saves your team time and money.
Its benefits, tangible and intangible, will provide you with happier clients, calmer employees, and faster data analysis.
In this article, we'll try to address some of your concerns regarding the pricing of asset tracking solutions and provide you with an overview of some of the more popular options, along with their pros and cons.
Factors That Influence the Cost of Asset Tracking
Many factors can influence the cost of asset tracking, but the benefits usually make the investment worth it, especially if you opt for a solution whose features are an optimal fit for your company's needs.
Therefore, before rejecting the idea of asset tracking outright, evaluate the software's pricing model, capacity, features, training provision, and level of technical support.
In addition, consider the number of items that require tracking, so that you have a better understanding of the kind of approach to asset tracking you will need to take.
The Asset Tracking Software's Pricing Model
While exploring a company's pricing model, keep in mind that, properly implemented, a robust asset tracking program can help a great deal with improving profitability.
However, your company will benefit from this practice after a certain period of time. Consider how the net profit of your construction business flows.
Since some vendors charge monthly, while others charge yearly, you have to choose the option that best serves your company's liquidity.
At the same time, keep in mind that the level of time commitment your company takes on will influence the cost of your asset tracking system.
As this graphic shows, most customers tend to choose monthly subscriptions.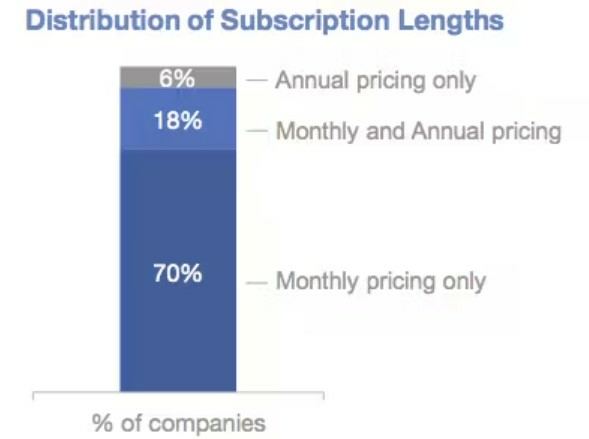 Since a yearly contract represents commitment to a product, it is in the vendors' interest to encourage annual subscriptions.
Month-to-month plans, then, are usually more expensive than yearly subscriptions.
If you are seeking an overall better price, then, consider this option in the event your company has flexibility with payment systems.
The Number of Assets That Will Be Tracked
As mentioned earlier, the number of assets your company plans to track also affects the running cost of a system.
Some vendors may charge per asset, while others charge per user. Other providers place limits on the number of assets your company may track.
This means that while asset tracking for more items is initially more expensive, a larger company that requires constant organization and updates will likely see greater efficiency and cost savings.
Remember to consider which assets your company will most benefit from tracking.
For example, tracking can be useful for not only fleet distribution, but also tools, office equipment, and electronic devices.
Here is a chart displaying some less common ways in which asset tracking is often deployed: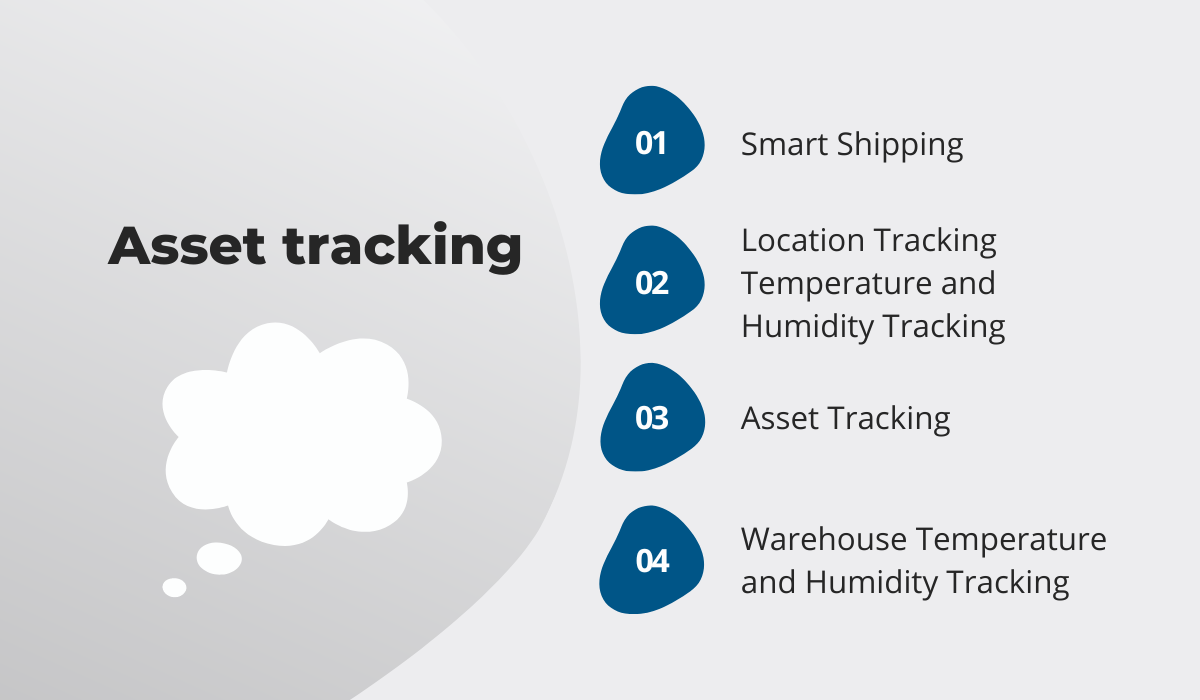 Notice the items marked "Temp and Humidity Tracking" for trucks and "Warehouse Temp and Humidity Monitoring" for items in storage.
Asset tracking is helpful not only for locating and tracking the items your company needs to operate.
It can also assist in monitoring the physical conditions of environment-sensitive items.
When taking an initial inventory of the items you'd like to track, then, don't forget the unseen conditions your company would like to monitor.
The Types of Assets That Need to Be Tracked
Each asset your construction business owns falls under one of two categories: powered and non-powered.
This chart provides examples of both:
Powered Assets
Non-Powered Assets

Light towers
Scissor lifts
Heavy construction equipment

Water tanks
Scissor lifts
Hand-held tools (e.g., hammers)
Of course, the type of assets you track will also affect the complexity and the cost of the tracking solution you decide to implement.
To give a basic example, powered assets will sometimes require asset tracking features that non-powered assets will not.
As a result, powered assets will usually be more expensive to track.
The Features Included in the Asset Tracking Software
When more features are necessary, the cost of asset tracking typically rises, no matter the method.
Most asset tracking companies, then, offer several different levels of pricing depending upon the number of features the client needs.
This visual aid lists some of the most popular features for asset tracking:
Looking at all the features a system can offer will help to guide your decision on which level of service to choose.
Here, for example, are some of the features you can find in the GoCodes system:
Automatic accounting, auditing, and inventory
Custom codes
Equipment check-in/check-out
Custom data reports
Bluetooth tracking to locate lost items
Mobile accessibility
Life cycle management
Low inventory alerts
Notification for overdue employee-used assets
Nightly automatic data backup
Role assignment
Setup assistance
Service reminders
Data migration
Unlimited customer service via phone, email, or chat
Tracking systems generally customize plans depending on each company's needs.
In any case, the ability to generate reports, custom labels, barcode lookup, and geo-tracking are some basic features clients tend to expect.
The Training Provided for Using the Software
To fully optimize an asset tracking system, it is imperative to thoroughly train employees in how to deploy as well as how to troubleshoot it.
Your employees are far less apt to struggle with or make mistakes using asset tracking technology if they are given quality training.
Sometimes, vendors offer training materials to help ease this process.
This can include materials such as screenshots of the system in action so that employees can visualize performing various tasks.
Such screenshots might look like this: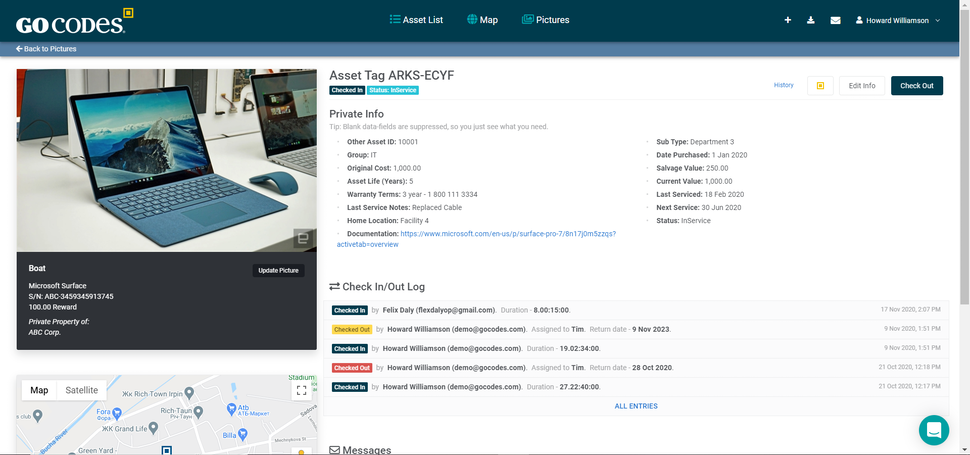 The style of vendor-provided training may take many forms, depending on a variety of factors.
These can include the distance from the client, the number of employees that require training, whether or not those employees are able to gather at the same time in the same place, and which features the construction company would like to use.
For instance, depending on what works best for both parties, training may take place in person or online.
With some providers, the online training may take the form of Zoom sessions, while other companies might provide asynchronous remote training through the use of slide shows, videos, digital worksheets, or visuals.
On their part, some construction companies might require more in-person contact or require training techniques split between plans.
All of these elements can affect the pricing of an asset tracking system.
Level of Support Provided by the Vendor
What if you or one of your employees have a question about using your new asset tracking system?
You might need administrative assistance or technical support. Some asset tracking systems have this available on a 24-hour basis.
That's especially important for construction companies, because third-shift employees, or those working in distant time zones, might require help outside of the provider's normal business hours.
It's also important to assess the ways in which this support is provided. Are you asked to leave a message and wait for a call back, or is email a better fit?
Your employees might also prefer to chat with a human via video or audio call. Is talking to a human better for your organization, or is a chatbot a better fit?
Chatbot conversations answer frequently answered questions, provide account information, and find links for training materials.
They are automatic and powered by AI.
Most chatbot conversations look like this: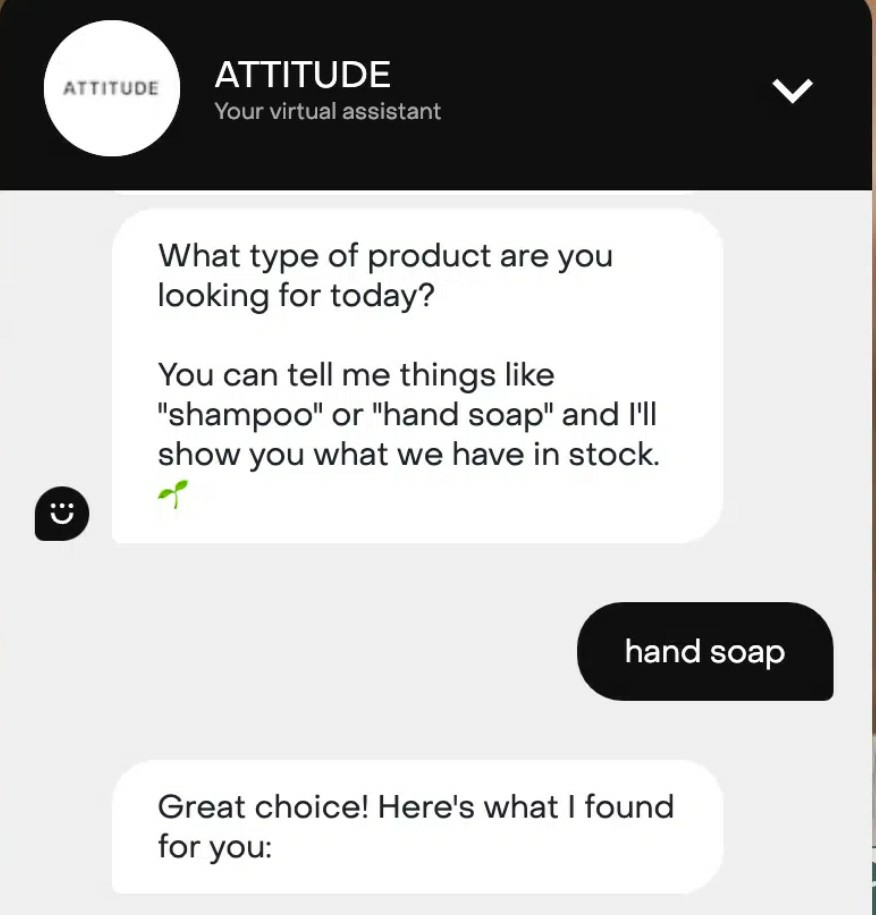 Sometimes, the level of support that is provided with your asset tracking system can influence its overall cost.
Providing support by making employees available 24 hours a day or offering concierge technical support is more expensive than that which is conducted automatically, but as a client, you might find it more convenient than talking to a bot.
Take this into consideration before making a commitment.
 How Much Asset Tracking Typically Costs (With Examples)
Even with all these variables in play, a basic asset tracking platform will probably cost between $15-$30 a month.
However, one which offers more advanced features, or is designed to track a large number of assets, is typically priced at $50-$150 a month.
Here is a comparison of price levels from a variety of vendors.
GoCodes
Our own solution, GoCodes, uses the annual pricing model. There are five levels from which to choose and the per-year cost ranges from $500 to $2,200.

The Standard version, which includes uniquely coded laser labels that the client can print on the material of choice, therefore, provides asset tracking for just over $42/month.
Custom packages for large companies are on offer at the Enterprise level.
Each pricing level offers support for a limited number of assets.
These begin at 200 for Standard and rise to over 2,000 with Enterprise.
All levels include varying numbers of user logins and roles, as well as unlimited use of Apple and Android apps.
Customers can also enjoy GPS location tracking with the help of QR code labels (which are scanned using a worker's mobile device, and the device's location then serves as the location of the asset fitted with the label that has the code) and inventory modules with every package.
AssetCloud by Wasp
Like GoCodes, AssetCloud's services are only billed yearly. This option offers only three levels, beginning at $2,995 for a Basic account and $7,990 for Complete + RFID.

A notable difference between AssetCloud and GoCodes is where the system's data is hosted. With the former, a Basic plan is self-hosted only and uses a private cloud account for data backup.
Customers may choose between self-hosting and cloud hosting at the Complete level, and the Complete+RFID option is cloud-only.
Asset Tiger
As of 2022, Asset Tiger also bills annually.
Nevertheless, Asset Tiger goes about its business model in a different way than other companies; it offers its tracking software for free, but requires businesses to purchase tags.

Its pricing level is per number of assets, rather than which features are on offer. Customers must buy a minimum number of tags instead of choosing between software options.
That said, Asset Tiger does not limit the numbers of users and offers all of its features for every tag level.
EZOfficeInventory
EZOfficeInventory is one of the few asset tracking companies that bill monthly. It offers five tiers based on software features.

While the lowest tier, called Essential, provides asset tracking, reservations, alerts and maintenance, as well as basic reporting, the Enterprise level provides such features as custom email, custom roles, and custom system labels.
itemit
The UK-based itemit reports its pricing levels in pounds sterling. Like Asset Tiger, it has a free option. In this case, personal accounts are available for up to 500 assets.
However, usage is limited to one person.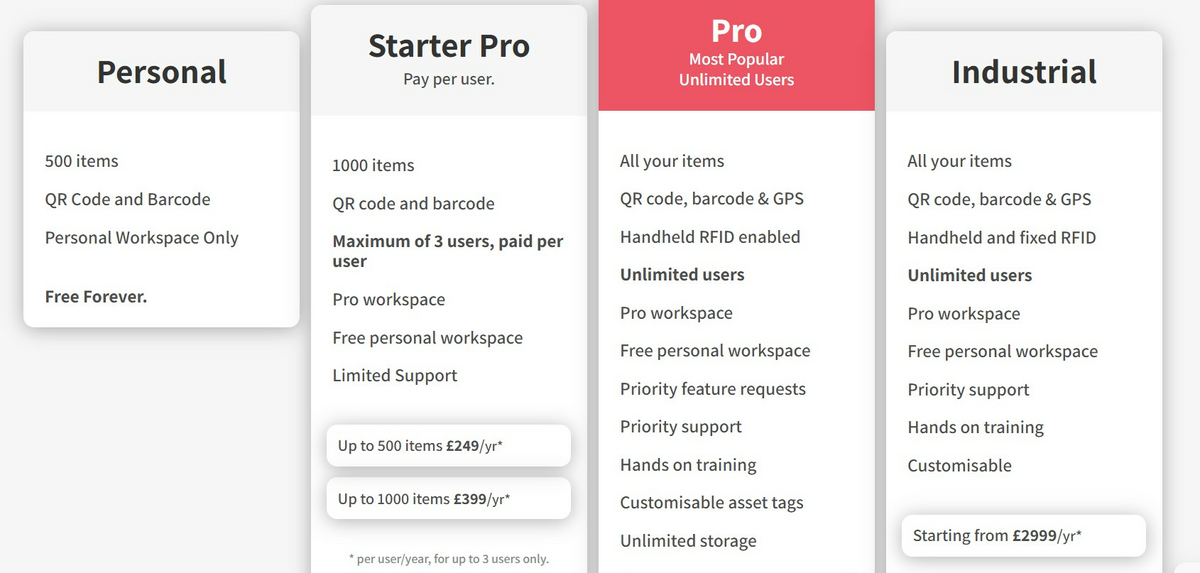 Three other levels are available, depending on the number of assets and users. The most expensive two tiers provide unlimited asset support and number of users.
Conclusion
To recap, several factors affect the price of asset tracking systems. These include the number of assets in the system, as well as the types of assets that require tracking.
The type of features provided is also an element, as well as the style of training on offer and the level of support provided by the vendor.
Therefore, it's important to thoroughly research your options to settle on one that offers an optimal combination of features compared to prices.
We hope the overview we've provided here proves helpful in your search.