If you're a construction company owner or manager whose operations involve a lot of construction tools, equipment, and other items circulating between storage and multiple jobsites, it's clear you need a system to manage these assets efficiently.
More specifically, you need tracking software that enables you to establish a check-in/check-out system.
In other words, to set up a fast and largely automated process of monitoring your assets' location, availability, usage, condition, and maintenance status.
Such a check-in/check-out system will quickly generate time and cost savings and productivity gains for your business while increasing worker accountability and jobsite safety.
However, finding the one tracking software that fits your needs and budget among all the options out there can be overwhelming.
That's why we've created a list of top tool check-in/check-out systems, highlighting how each one works, and going over their distinctive features, and pricing.
GoCodes
Since we know it best, we'll use GoCodes to explain how most check-in/check-out solutions described here work, and we'll note any differences on the way.
GoCodes is a complete asset-tracking solution that consists of cloud-based software, an in-app scanner, and rugged QR code tags.
In other words, it has all the components required to establish and implement an efficient tool check-in/check-out system.
First, since it's cloud-based, GoCodes can be accessed by you and your employees from anywhere and at any time, using any device with an internet connection, such as a smartphone, tablet, or laptop.
That is crucial for establishing a flexible and user-friendly check-out system.
The second component of the GoCodes software package is a scanner app shown below in action.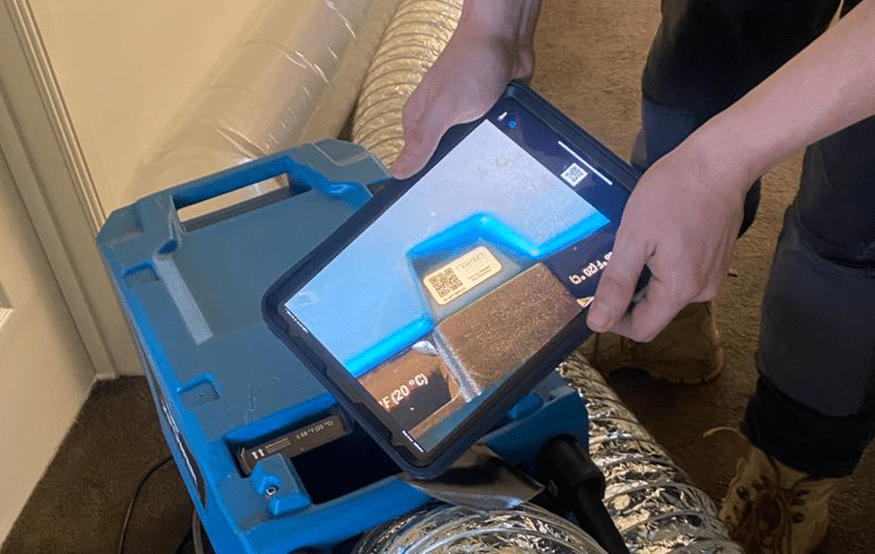 The GoCodes scanner app uses the camera of a mobile device to scan the rugged asset tags affixed to tools and equipment, so they can be easily checked in and out of the system.
Finally, GoCodes comes with patented QR code tags made from durable materials whose design can be customized to your needs and preferences.
Combined, these components allow you to create a comprehensive check-in/check-out system that can be used to track the location, movement, usage, and condition of a wide range of construction assets.

As you can see, you can also set the system up in such a way that users receive automatic reminders when they fail to return the tool or piece of equipment by the expected date.
One notable GoCodes feature that significantly facilitates the check-in/check-out process is automatic GPS tracking.
The asset's location is updated every time the QR code tag is scanned with a GPS-enabled device like a smartphone or tablet.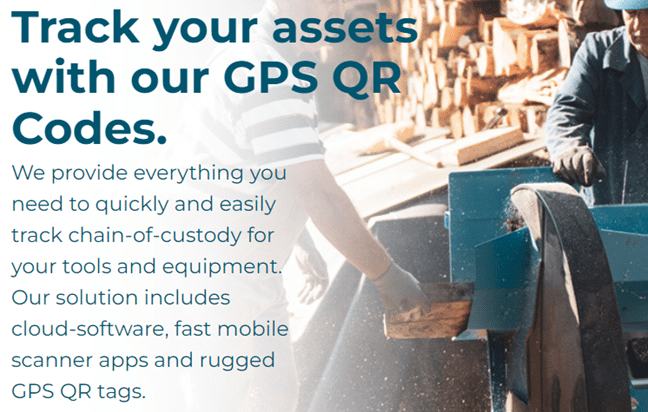 In addition to this unique feature, GoCodes offers a range of other valuable functions, such as:
maintenance tracking: instant access to service records and history, task scheduling, service reminders
inventory tracking: keeping track of spare parts and other consumables, low quantity alerts
reporting: generating custom reports for analysis and decision-making
Other notable features include easy customization of data fields and other parameters, as well as access to a complete audit history.

As for pricing, the standard plan—where you print your own labels—covers up to 200 assets and 3 users and costs $500 annually.
Other plans include custom tags delivered to you whether you opt for Premium (500 assets/5 users/$1,000 per year) or the most popular Premiere Elite (1,000 assets/10 users/$1,750 per year) plan.
Overall, GoCodes offers a complete check-in/check-out solution supported by rugged QR code tags, automatic GPS-enabled location updates, and cloud software with a range of practical features.
AssetCloud
As its name suggests, AssetCloud is another cloud-based asset tracking software that provides an intuitive check-in/check-out feature, allowing your company to efficiently track tools (and other assets) from the time they're issued until they're returned.
When assets are tracked through barcode or QR code tags attached to them, AssetCloud uses the same tracking principle and the same check-in/check-out system components (software+scanner app+tags) as GoCodes.
If requested, AssetCloud will also provide special handheld scanners (usually required for storage/tool room check-outs).
Another option offered by AssetCloud is RFID (radio frequency identification) tracking, but this method—despite some advantages—must include specialized RFID readers, which makes it impractical for on-site applications.
Whichever option you choose, AssetCloud comes with many features shared with other tracking software, such as standard and custom reports, integrated analytics, and email notifications.

Pricing-wise, AssetCloud offers the two options advertised in the above image—purchasing the package as a cloud-based or on-premise (self-hosted) software solution.
If you want the self-hosted version, it will cost you a one-time fee of $6,995 (five users, unlimited number of tracked assets) and an 18% support and maintenance fee after year one.
Therefore, their cloud-based version, priced at $995 per year (for one user and any number of assets), is clearly a more affordable and practical option, particularly considering the benefits of using cloud software.
Overall, AssetCloud offers a user-friendly check-in/check-out system for all your assets coupled with a set of strong support features, different tracking options, and varied payment plans.
Asset Infinity
We continue our list of top tool check-in/check-out systems with Asset Infinity, another tracking solution that uses cloud software and tags to track the location and movement of construction assets.
In other words, users can download the Asset Infinity app and install it on any device, such as a smartphone or tablet, and then use those devices to simply scan tools when taking or returning them.
As you can see here, Asset Infinity offers four different types of tags, but we'll focus on the two more affordable tracking solutions—barcodes and QR codes.

For example, a worker will scan the barcode tag on a power drill they want to check out, and the app will prompt them to specify the action ("check-out") and proceed to record the worker's name, date and time, and the check-out location.
The same simple and fast process will occur when the worker returns the tool, scans it, and taps "check-in."
Like most other systems described here, Asset Infinity provides a single dashboard from which managers can monitor all these actions and track assets throughout their life cycle.

Other notable features of Asset Infinity include end-to-end maintenance management and inventory tracking.
The pricing is based on the number of assets (such as individual power drills) and items (such as cables) you want tracked, and the basic package starts at $130 for a monthly subscription, which amounts to $1,560 annually, that includes up to 500 assets and items and unlimited users.
When subscribed, you can increase or decrease the asset limit, and Asset Infinity will adjust the charges accordingly.
To summarize, Asset Infinity is a reliable asset-tracking software for construction companies looking for a user-friendly check-in/check-out system and other asset management features.
Asset Panda
Asset Panda is an end-to-end asset management platform with a powerful check-in/check-out feature that uses scannable asset tags and either a mobile tracking app or special scanners to establish an efficient tool tracking system.
This solution is praised for its high customizability, which starts with the design and branding of asset tags and extends to its interface, data fields, reports, and much more. Construction companies can adapt all of these to their needs and preferences.

Asset Panda also allows users to create custom forms for various purposes, such as asset inspections and audits, and populate them with data collected by its check-in/check-out system.
As with other solutions, users can use Asset Panda's platform to access and update individual asset info—location, availability, usage and maintenance history—and view the entire database of tracked assets.
Here are some other Asset Panda's features that support the check-out function:

Of course, the list of useful features spans much wider, including functions like compliance tracking and contract management.
If you're interested in the pricing, keep in mind that Asset Panda does not provide any specific dollar amount because the price depends on the number of assets you want to be tracked.
Therefore, you're required to request a quote.
Alternatively, some sources cite that Asset Panda's basic annual subscription starts at $995 for 250 assets with a limited number of users while, when you have 500 or more assets, you can add as many users as you like.
Therefore, although quote-based, Asset Panda is a highly customizable asset management solution that ensures quick and easy tool check-out and returns supported by various other management features.
AssetTiger
AssetTiger is an asset tracking solution with a simple check-in/check-out function and a range of other features that streamline overall equipment management processes, which is completely free for companies tracking up to 250 assets.
Of course, "completely free" implies you still had to print the barcodes yourself, attach them to tools, link them with the app, and set up the check-out system.
Alternatively, you can order asset tags—preferably made from durable material that can withstand the harsh conditions on construction sites—from the company that created AssetTiger, My Asset Tags.
Their intention behind offering AssetTiger for free is to encourage clients to get high-quality labels for their tools, equipment, and other assets instead of investing in expensive tracking software.
Here are AssetTiger's main features, with check-in/check-out highlighted.

As you can see, the principle behind implementing an asset check-out system is the same as with most other solutions covered in this article, where mobile devices are used to scan barcodes or QR codes.
For larger construction companies with many assets, AssetTiger offers two models for annual subscriptions.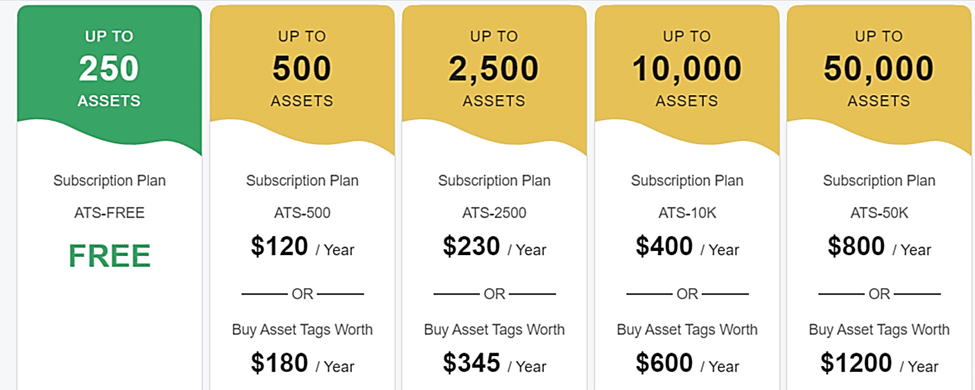 Simply put, your company can either subscribe to an annual plan or buy tags worth a specific amount, which aligns with AssetTiger's mission of promoting a better quality of asset tags.
Overall, AssetTiger comes equipped with many of the same features—including check-in/check-out—that other software solutions provide, and at a very reasonable price, which makes it an interesting option for small to mid-sized construction companies.
BarCloud
BarCloud is a cloud-based asset and inventory management software with a user-friendly check-in/check-out feature that relies on barcode scanning.
As with most other solutions covered here, BarCloud provides a simple and intuitive interface, automatic alerts and reports, and configurable check-in/check-out parameters.
Of course, keeping track of assets also means that you can manage asset reservations and bookings, as the company highlights on its website.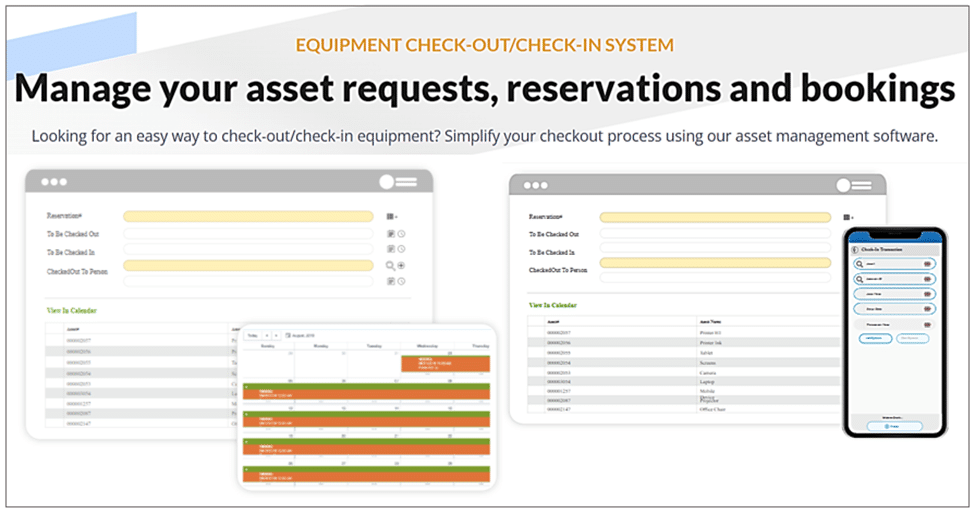 As for how BarCloud is used for checking assets out, it's relatively simple.
Users are prompted to specify the asset's location themselves, with options like check-in location, home location, and user-selected location.

In other words, the asset's GPS location is not automatically recorded by tracking software, which leaves more room for record manipulation or theft going undetected.
The company doesn't reveal any specific prices, but they do offer three options —Lite, Standard, and Professional—which are, according to Software Suggest, based on the number of users.
For example, their Lite plan allegedly costs $540 per user for an annual subscription ($45 a month, billed annually), Standard at $1,140 ($95 a month, billed annually), and Professional at $1,740 ($145 a month, billed annually).
All in all, BarCloud is a complete asset-tracking solution with an easy-to-use check-in/check-out function supported by a variety of asset and inventory management features.
ShareMyToolbox
ShareMyToolbox is a cloud-based app specialized for construction tool tracking that uses barcodes or QR codes—self-printed or ordered—to establish an easy-to-use tool check-in/check-out system.
In addition, it comes with other standard tracking features, such as tool assignment, maintenance scheduling and tracking, and tool damage and costing reports.
ShareMyToolbox provides all this through a user-friendly interface optimized for mobile devices like smartphones.
Here's what it looks like.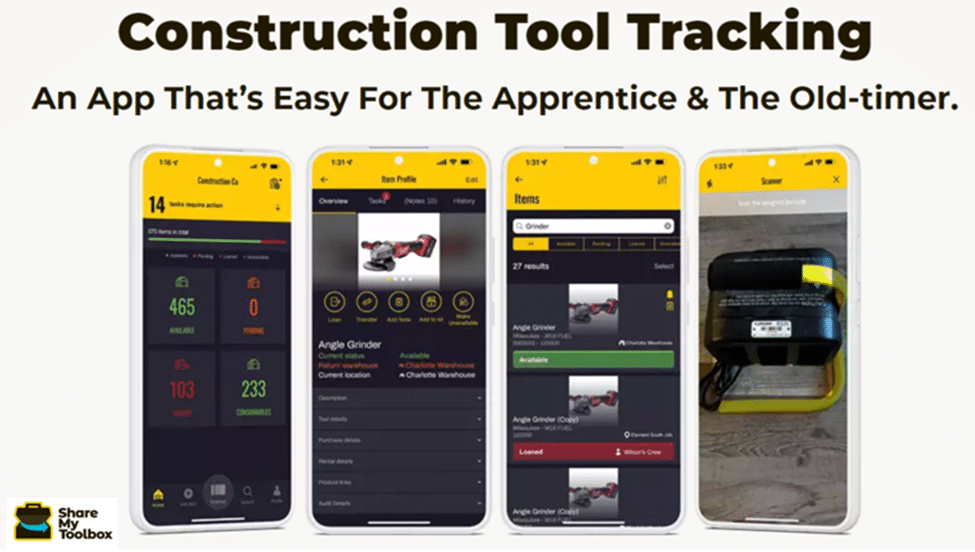 Like most other tool tracking solutions, ShareMyToolbox allows you to create a centralized tool database that can be searched according to asset category, status, connection, assigned location, or connection.
Their small tool-tracking system focuses on three aspects that make for an efficient check-in/check-out system: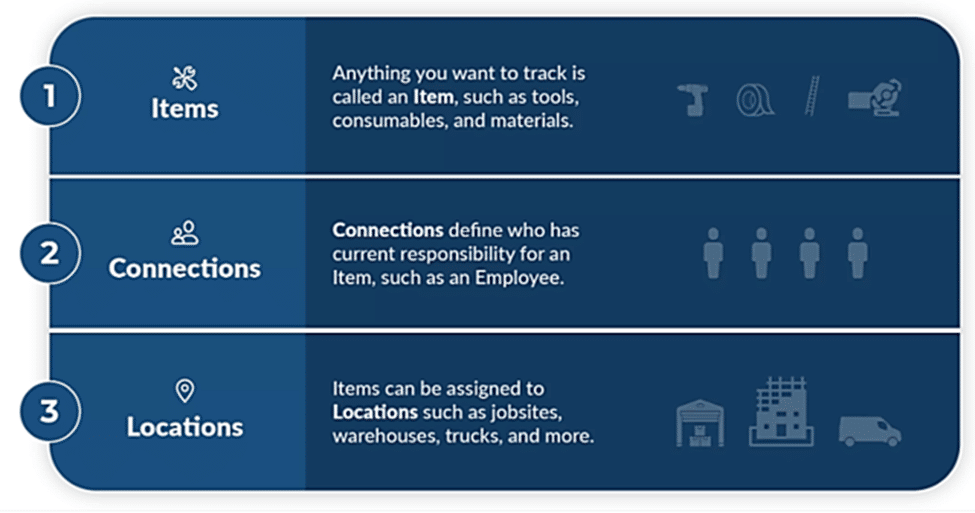 These aspects, when combined, allow users—such as equipment managers—to easily loan tools to other workers, thus establishing a "connection," i.e., specifying who has current responsibility for a specific tool.
In the same way, workers can use the central tool catalog to easily find where the "item" they need is located, whether its current "location" is a specific warehouse, jobsite, or truck.
This function helps users quickly find a desired tool, while the asset's location is not automatically captured but must be assigned and changed—according to user permissions—in the app.
When it comes to pricing, ShareMyToolbox offers the base system for five users and an unlimited number of tools for $1,380 per year, with another $600 per year for each block of five additional users.
In closing, this specialized construction tool tracking software is very user-friendly and enables users to quickly find, check out, and return tools with a few taps on the screen.
Conclusion
Having covered some of the top tool/equipment/asset tracking solutions that allow you to establish an effective and easy-to-use check-in/check-out system, it's evident that, before choosing one software, you should identify the tracking needs of your business.
This should be followed by further online and offline research, and the solutions described here are a good starting point.
Finally, you should focus on which tracking software offers a user-friendly check-in/check-out system and the best supportive features to maximize time and cost savings, increase worker accountability and jobsite safety, and ultimately generate higher profits.