If the construction industry wants to overcome long-standing and current challenges and successfully adapt to the new future, construction companies—from small contractors to large corporations—need to prioritize diversity in their construction teams.
In this article, we'll look at the current state of diversity in the construction industry, common obstacles to diversity and their practical solutions, and how construction companies benefit from more diverse and inclusive teams.
How Diverse Are Construction Teams?
Before we answer this question, a little background.
First, diversity in construction and elsewhere refers to accepting and respecting differences between human beings, be it their race, ethnic or social background, gender or gender identity, sexual orientation, religious or ethical beliefs, age, or language, to name a few.
As such, diversity is interconnected with inclusion and equity.
These three concepts together—diversity, equity, and inclusion (often referred to by the acronym DE&I, DEI)—usually describe the policies and programs adopted by companies in order to focus on hiring, welcoming, and valuing different underrepresented groups, such as women and minority members.
Second, according to the Bureau of Labor Statistics (BLS) methodology, the construction sector in 2021 employed more than eight million people, out of which nearly 60% were construction laborers, 20% held management, business, and finance positions, and 20% worked in other occupations like installation, maintenance, transportation, office and administrative support, etc.
This is a rise of 328,000 or 4.2% compared to 2020. You can see how the number of employees fluctuated during the 2007-2009 Great Recession and the 2020 COVID-19 pandemic.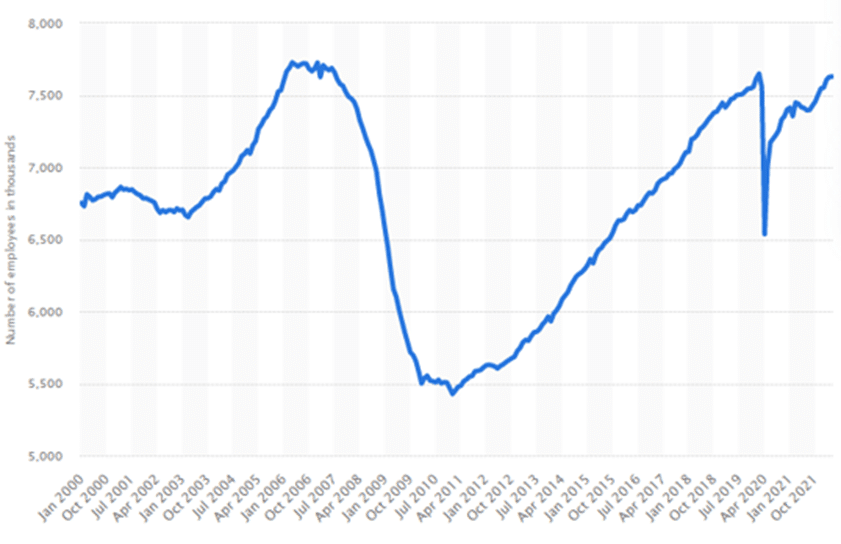 After this general foreword, we can answer the question posed in the title by examining how women and racial minorities are currently represented in the construction sector.
Male-Dominated Industry 
In short, women have long been seriously underrepresented in the construction industry (comprising 10.9% of the workforce in 2021).
This is common not just in the U.S. but in other countries around the globe. This is largely because construction is traditionally regarded as a job more suited for men.
Furthermore, only 3.9% of women work in field construction and extraction occupations, e.g., as construction workers, electricians, or carpenters.
This means that women are much more likely to work in office positions than in the field, which is clear when the share of men and women in different construction occupational groups are compared, keeping in mind an almost even split between them in the overall employed population (women 47% and men 53% in 2021).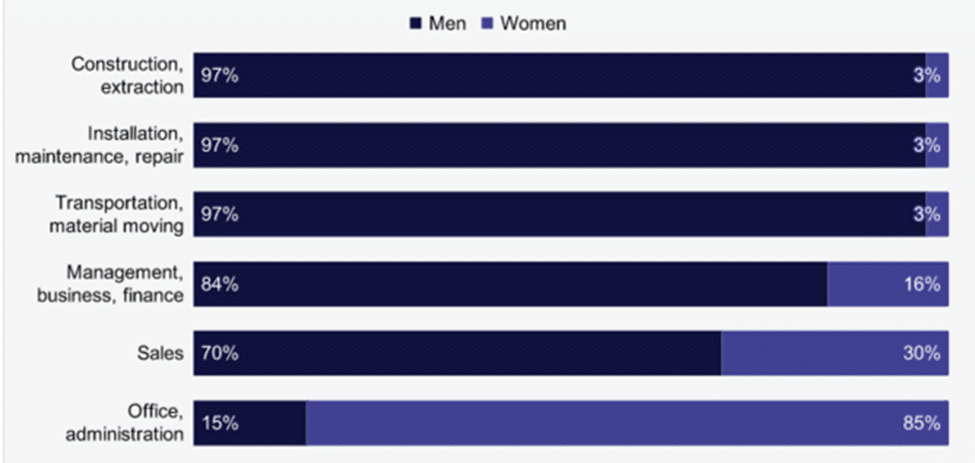 This chart shows that women are substantially underrepresented in three trade-related occupational groups (3%) and management positions (16%) while dominating office and administration functions (85%).
So, just from the DE&I perspective, women should be better represented in construction trades and management, business, and finance positions.
However, this is also beneficial for construction companies that can't address the long-standing issues of skilled labor shortage and the aging workforce without attracting, hiring, and valuing female workers, which would simultaneously minimize the gender gap in their construction teams.
Uneven Representation of Racial Minorities
As the industry currently stands, some racial minorities are underrepresented overall and in some specific occupations, while some are overrepresented compared to their share in the total employed population.
For example, in 2020, only 1.8% of Asians worked in the top ten construction occupations compared to their 6.2% share in total employment.
Another example is that, although Hispanics had a 17.6% share of the total number of employed people, they accounted for 30% of the overall construction workforce (overrepresentation) but only 14.4% of construction managers (underrepresentation).
All this and more can be deduced from the BLS table below, where we highlighted the above percentages as well as some other notable ones: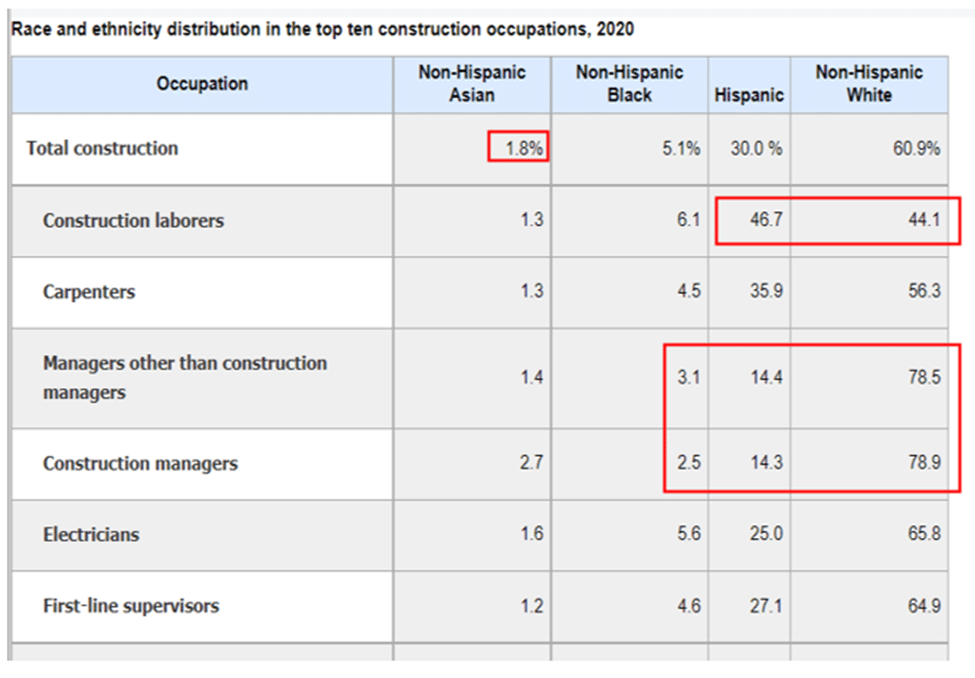 "Total construction" shows the actual composition of the U.S. construction industry in 2020. When these percentages are compared with their respective share of all employees, it shows not only the cited low participation of Asians but also of Non-Hispanic Blacks (5.1% construction vs. 11.8% total).
The next row shows that people of Hispanic or Latino ethnicity are overrepresented among construction laborers (46.7%), while the last highlighted square shows that they're, same as Blacks, underrepresented among construction managers and other management positions.
Conversely, it also shows that, compared to their 60.9% share in construction employees, Non-Hispanic Whites are overrepresented in those same occupations.
Naturally, alleviating these and other imbalances will, over time, lead to a more diverse, equitable, and inclusive construction workforce.
Like with women, investing efforts to hire or promote members of underrepresented groups is also favorable for construction companies as it helps them deal with a lack of skilled laborers.
Overall, construction teams are not as diverse as they could be, i.e., they're missing a higher percentage of women and some minorities in the industry overall and some specific occupations, but the awareness of the importance of embracing diversity in construction is quickly growing.
Most Common Diversity Blockers in Construction
We've already pointed out that the construction industry is dealing with many deep-rooted issues that can be addressed only if the company leadership is genuinely committed to promoting a diverse and inclusive company culture.
This includes applying appropriate talent hiring and retention practices, and effectively tackling all forms of workplace discrimination.
So, let's take a closer look at the three most common blockers to incorporating DE&I in construction teams.
DE&I on Paper, but Not in Practice
After numerous tragic incidents of violence against African Americans in the 2010s and 2020s, such as the death of George Floyd, many companies rushed to declare their full commitment to embracing diversity and inclusion in their workplaces.
However, it's one thing to say it and another to put it into practice.
In other words, formulating a DE&I policy should be the beginning—not the end—of a company's journey to provide a diverse, inclusive, and safe work environment for all employees.
For instance, some construction companies have prioritized DE&I long before that tragic event, by putting their wide-reaching policies and programs into practice.
In 2020, six general contractors joined forces in the Time for Change consortium, aiming to identify ways to advance DE&I in the construction industry.
They organized the first-ever Construction Inclusion Week in 2021, and the second one will be held on October 17-22, 2022, with the following agenda: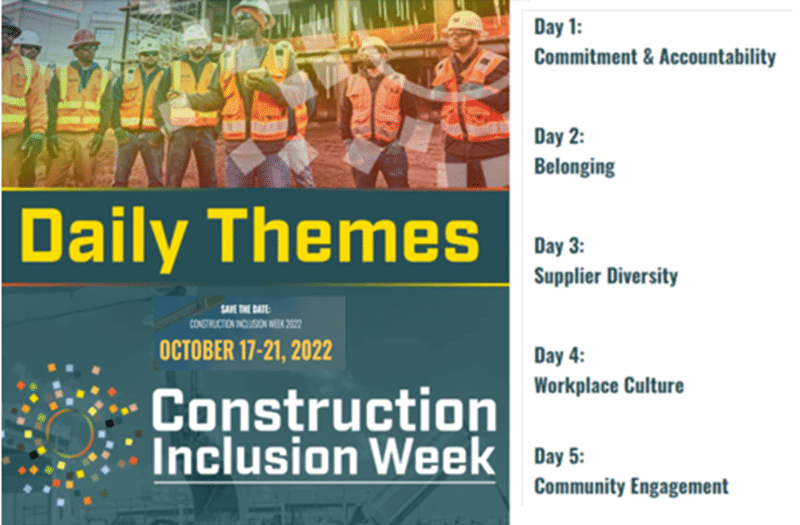 These topics show some of the many aspects of diversity and inclusion that can be advanced when the company leadership is truly dedicated to fostering a diverse and inclusive culture in their organization.
Failing to Apply Diverse Hiring and Retention Strategies
This hurdle for DE&I stems from construction companies failing to attract and retain more diverse employees, usually due to outdated recruitment practices.
The potential solutions for appealing to a more diverse pool of candidates are multiple and varied, such as working more closely with trade unions, establishing internal apprenticeship programs, engaging in community networking and sponsorships, and providing unconscious bias training to improve hiring practices, etc.
For example, at DPR Construction, they strive to create a workforce that reflects the rich diversity of the communities they are active in and build a workplace where everyone is valued for who they are and encouraged to be their best authentic selves.
Furthermore, their company culture includes going outside traditional recruitment channels while assuring potential employees that the company will invest in their career development.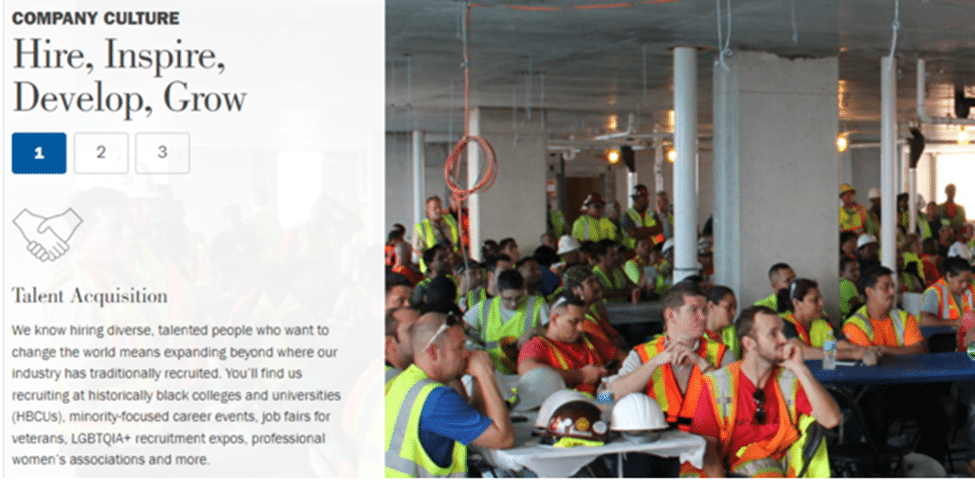 In the words of DE&I Leader at DPR, Stacee Barkley:
"Diversity alone is not enough. People need to feel like they belong, like they matter to the organization, are valued, and can bring value."
This is a good example of how diverse recruitment practices are made an integral part of the company's core values while creating a positive narrative and building the company's reputation in the eyes of potential new hires and clients.
Workplace Discrimination, Harassment, Bullying and Violence
We'll close this section with one of the most pressing issues plaguing the construction industry—different forms of workplace discrimination and harassment.
When such events are reported in the news or social media, this exacerbates the construction industry's bad reputation, fosters general misconceptions about it, and turns away many potential workers, particularly from underrepresented groups.
For example, Rio Tinto, a global mining corporation, conducted an external review of its workplace culture in Australia and found that bullying and racial discrimination were almost systemic, as Reuters reported.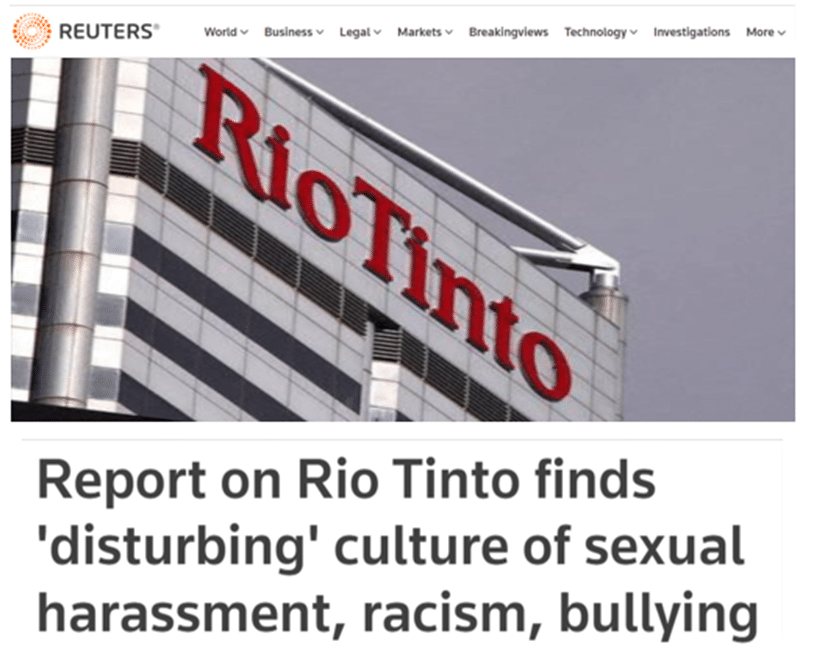 Faced with these uncomfortable revelations, Rio Tinto's leadership said it's committed to reforms that will create a safe and inclusive working environment, including by increasing diversity within the company.
To sum up, the construction sector is dealing with many deep-rooted issues.
Still, if the company leadership is dedicated to DE&I, aligns the company's hiring and retention practices with that goal, and establishes and lives zero-tolerance policies for addressing any workplace discrimination and violence, it can successfully attract and integrate new generations of diverse employees.
Benefits of Having More Diverse Construction Teams
While having more diverse and inclusive construction teams brings many advantages to construction companies, we'll focus on four main ones: enhanced learning opportunities, higher productivity, a wider hiring pool, and improved company reputation.
More Learning Opportunities for Team Members
Basically, diversity creates new perspectives and enhances learning opportunities within the team by changing perceptions, shattering biases, and improving team members' decision-making and problem-solving abilities.
Moreover, efficient teams are inclusive by nature, reveling in open communication and different views of team members.
In fact, they use them as a chance to see things from another perspective, devise creative and innovative solutions, and discover new techniques and ideas, thus allowing team members to learn and grow.
For example, at Mortenson, a construction company where 40% of employees are women and minority members, they want to achieve a sustainable transfer of knowledge between different generations of their construction employees, or to quote their CEO, Dan Johnson:
With this approach, they're providing more learning opportunities for their workers and ensuring skills transfer, thus closing the generation gap in their construction teams.
Increased Productivity
In essence, having more diverse construction teams often translates into a more productive workforce.
In other words, within efficient and inclusive construction teams and/or companies with open communication, people with different backgrounds, perspectives, and opinions can generate more innovative ideas.
They can offer more constructive suggestions, and helpful solutions that ultimately result in more efficient operations.
When people feel accepted and valued for who they are, they'll do their most productive work, merging their problem-solving skills to effectively handle different challenges such as project design errors, unexpected construction site and weather conditions, or miscommunication with local residents or subcontractors.
Put differently, when your team members know their voice is heard, their "differences bring a richness of perspective," as they say in McCarthy, another construction company prioritizing DE&I.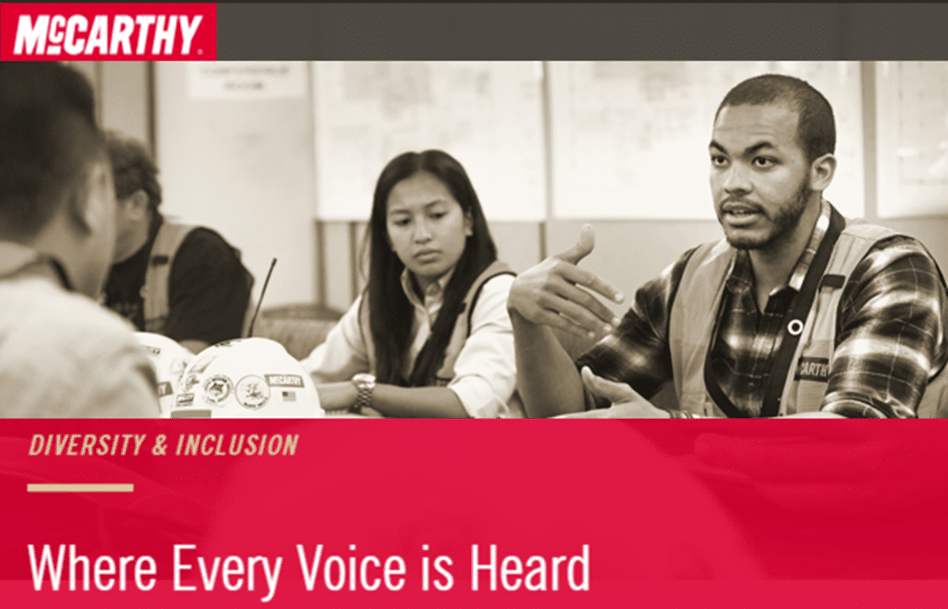 The productivity of your construction workforce can be facilitated by adopting different construction technologies and software solutions that streamline all or specific company operations, making your construction sites safer and more productive while also providing opportunities to improve DE&I.
For example, a simple and affordable software solution like GoCodes can help companies keep track of their tools and equipment, thus preventing breakdowns and injuries due to poor maintenance and optimizing their usage.
This makes your crews safer and your job sites more efficient.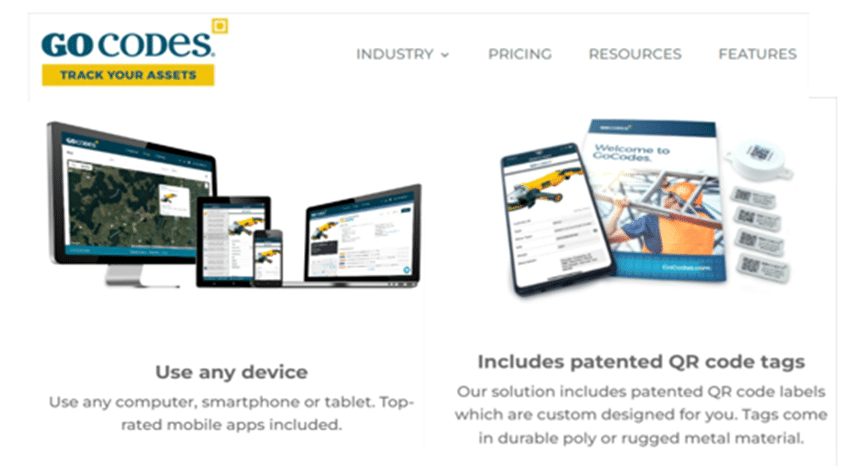 Naturally, other all-in-one or specialized construction management software solutions can also be used to collect, track, and analyze specific workforce data on, for instance, the company's gender pay gap and use them to devise actionable solutions on how to address that and other DE&I challenges.
Filled Employment Gaps
As said, focusing on hiring and managing a more diverse and inclusive workforce is critical for construction companies to deal with the long-standing issues of skilled labor shortage and an aging workforce.
For instance, Associated Builders and Contractors (ABC) estimate that the construction industry will be missing about 665,000 construction workers this year.
Add to that the industry's age structure, where the percentage of construction workers aged 55 and over almost doubled from 2003 to 2020 (11.5% vs. 22.7%).
The BLS table below shows percentages of construction employees by age, race, and ethnicity in 2020.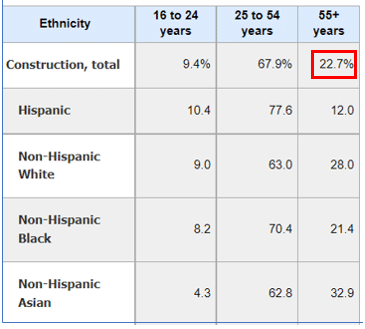 In other words, more than one-fifth of workers will retire in the near future, thus creating an employment gap that can be successfully filled by hiring and supporting more diverse and inclusive construction teams.
Better Company Reputation
Like in the case of DPR Construction, when companies embrace DE&I in hiring and managing their employees, that improves their reputation, helping them attract and retain fresh talent and new clients.
For example, one way of building a company's reputation is to expand your DE&I commitment to internship programs and focus on attracting diverse college students, as McCownGordon does.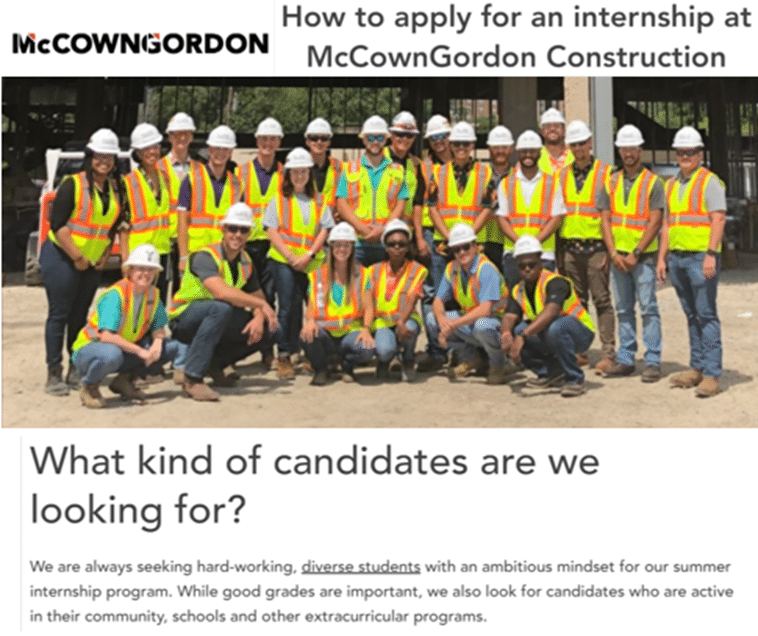 Highlighting diversity already in an internship accomplishes two things.
First, it attracts diverse young people to McCownGordon, and, second, it builds the company's reputation, setting the ground for positive company branding.
So, remember that more diverse and inclusive construction teams can help address many challenges construction companies face, such as skilled labor shortage, the aging workforce, skills transfer, low productivity, or reputation issues.
Conclusion
Having analyzed the current state of diversity in construction teams, most common diversity blockers, and various benefits of having a more diverse construction workforce, it's evident that embracing diversity, equity and inclusion creates a win-win situation for construction companies, their clients, and employees, as well as for different underrepresented groups and the community as a whole.