In recent years, the construction industry has experienced a significant shortage of skilled workers.
That is why it is important for construction companies to focus on appreciating and retaining their best-performing employees.
In this article, we are going to share some simple, but effective strategies you can use to make sure that your top employees feel appreciated and choose to stay with your company long-term.
Invest in Your Top Performers
In the aftermath of the pandemic, having a strong group of skilled workers that work well together is an invaluable asset for any construction company.
According to the U.S. Chamber of Commerce, contractors are finding it difficult to find skilled workers.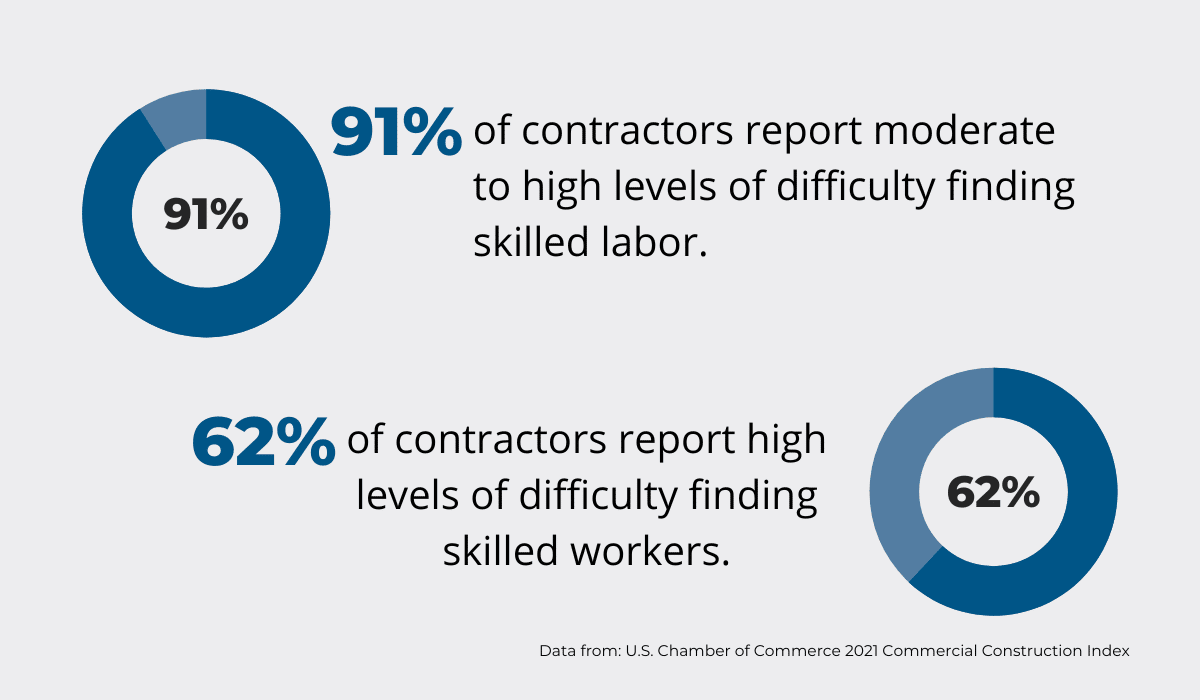 As someone who runs a construction business, you don't want to become a part of these statistics. That is why you need to prioritize investing in your best-performing employees.
It goes without saying that you should be informed about the standard pay rates for skilled workers.
Given that the market is competitive, the salaries and benefits you offer need to be competitive, too. However, that may not always be enough.
If you take a good look at your crew, chances are you'll notice that some of the team members stand out.
Whether it is because of their positive attitude, excellence at collaboration, or the amount of effort they put into everything they do, these are the employees that make it possible for your company to excel. This is something that should be recognized and rewarded.
You can invest in such employees by allowing them to develop as professionals, for example, by promoting them.
At McCarthy Building Companies, it is not uncommon for skilled workers to be promoted to managerial positions.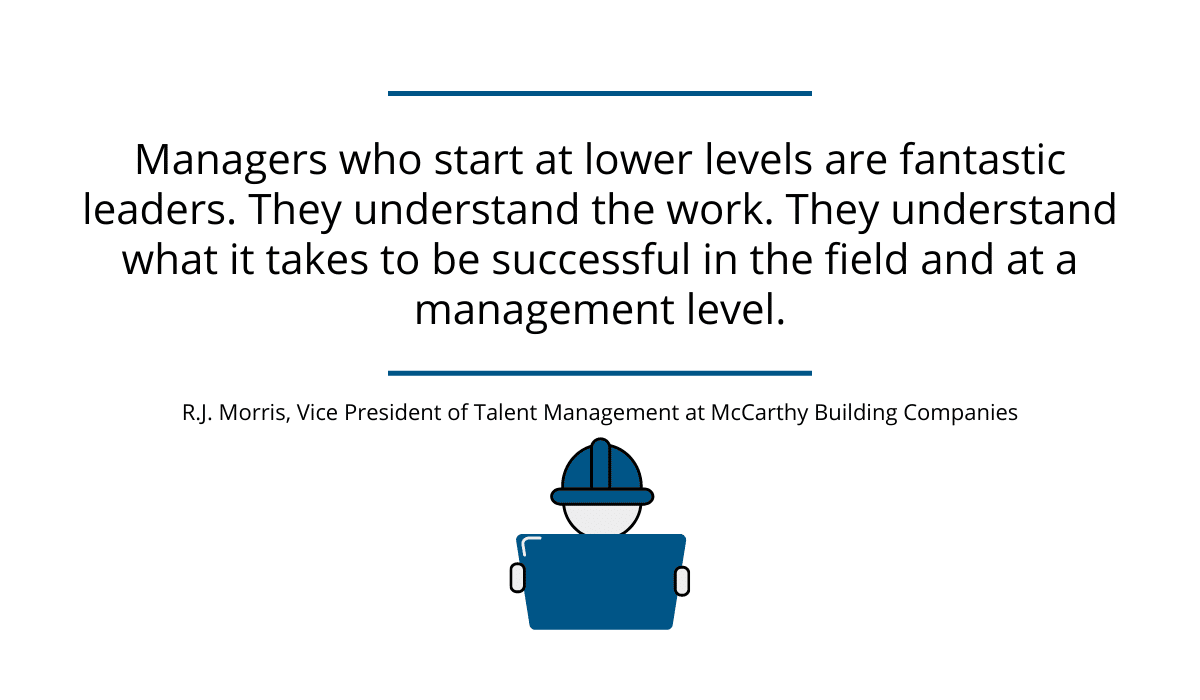 Promoting from within shows your employees that you notice and appreciate their hard work.
Additionally, it can have a motivating effect on them because it signals that there is room for growth at your company.
Putting time and money into your employees' continuous professional development is a good investment that is likely to help you stand out among your competitors, but also reduce employee turnover.
Increase Employee Participation
While it is important to reward your employees' hard work through raises, promotions, and performance bonuses, it's not all about the money.
Paying your employees well is important for retention, but so is making them feel included in important discussions and decision-making processes.
So, how can you let your employees know that you value and respect their opinions? It can be as simple as regularly asking for their feedback, advises Redpath's Paul Longsdorf.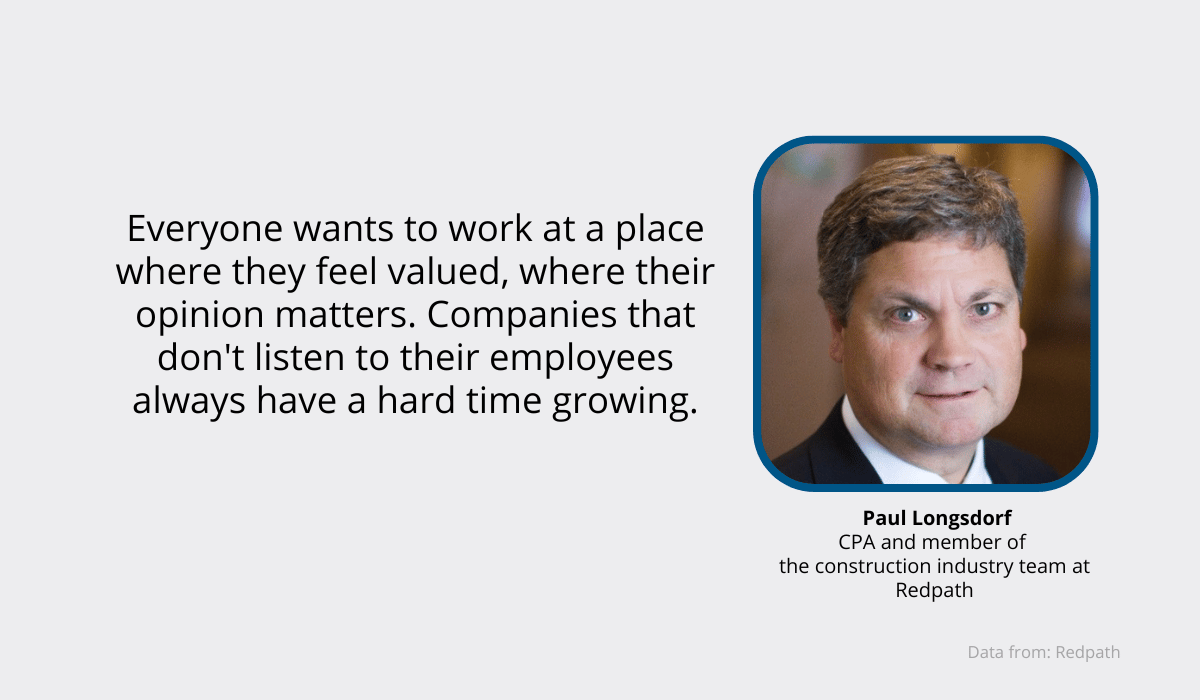 Strive to create an environment where your employees feel comfortable coming to you to share their thoughts and concerns.
If a member of your crew wants to share some ideas about what could be done differently on the construction site to increase productivity and make their job easier, hear them out.
They are speaking from experience, and that shouldn't be dismissed.
DPR Construction is a company that so firmly believes in the importance of employee feedback that they have made it part of their company code:
"DPR/partner managers and leaders must create an environment where employees feel comfortable asking questions and raising concerns."
DPR's Global Diversity, Equity, and Inclusion leader Stacee Barkley explains: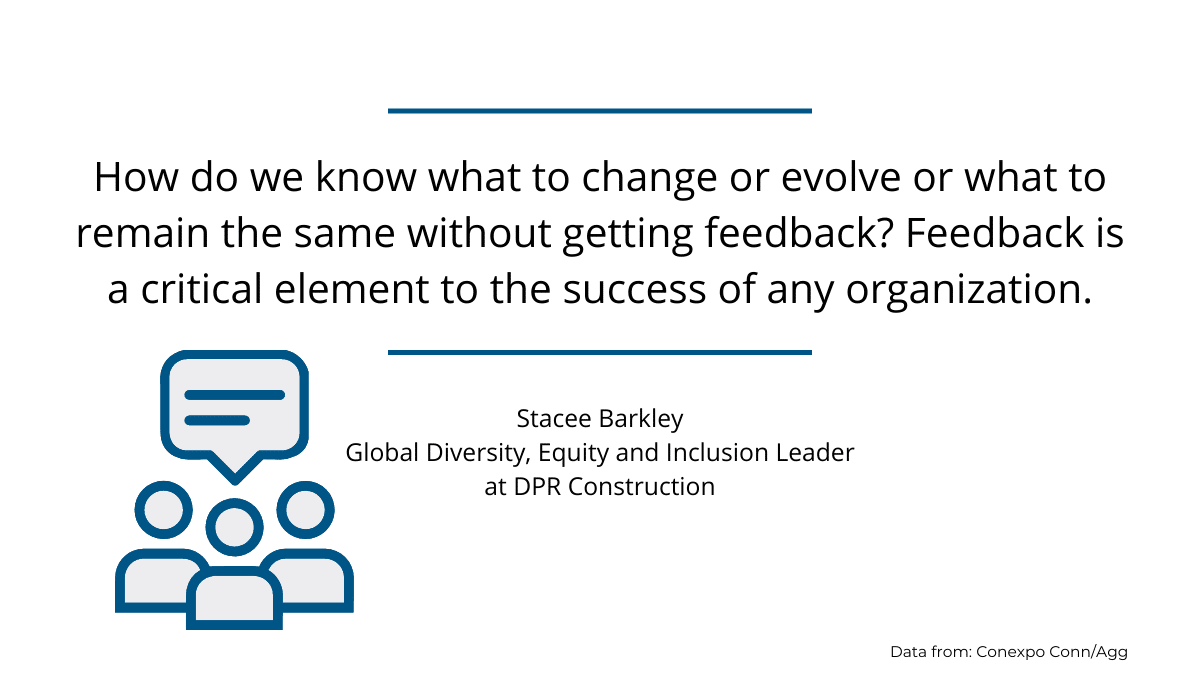 A simple way to gather employee feedback is with the help of a survey. Let them know ahead of time that you will be gathering feedback on what the company could do better.
That way, they won't feel like they've been put on the spot and will have enough time to think about their answers.
Also, make sure that the questions are specific and open-ended.
Instead of asking "Do you have any feedback?", try asking, "What could I be doing better?" and "What are some things that would make your job easier?"
When you make an effort to include your employees in important conversations and decisions, you are creating an environment of openness that your team will want to stay a part of.
Give Regular Performance Reviews
Taking employee feedback into account is a good way to improve the way your business operates and reduce employee turnover.
However, giving them feedback in the form of regularly scheduled performance reviews is just as important.
According to a study entitled "The State of Well-being in the Construction Industry", a lack of feedback on performance is a bigger issue for construction employees than the average surveyed employee.
The study concludes that people need constructive feedback in order to do well in the workplace.
Taking the time to conduct performance reviews is bound to boost your employees' engagement and thereby improve employee retention.
Why? It's simple—because employees want to know how well they're doing and what areas they can improve in.
Brad Humphrey, Founder and President of PDG, believes that conducting performance reviews at least once a year is crucial for the retention of construction workers: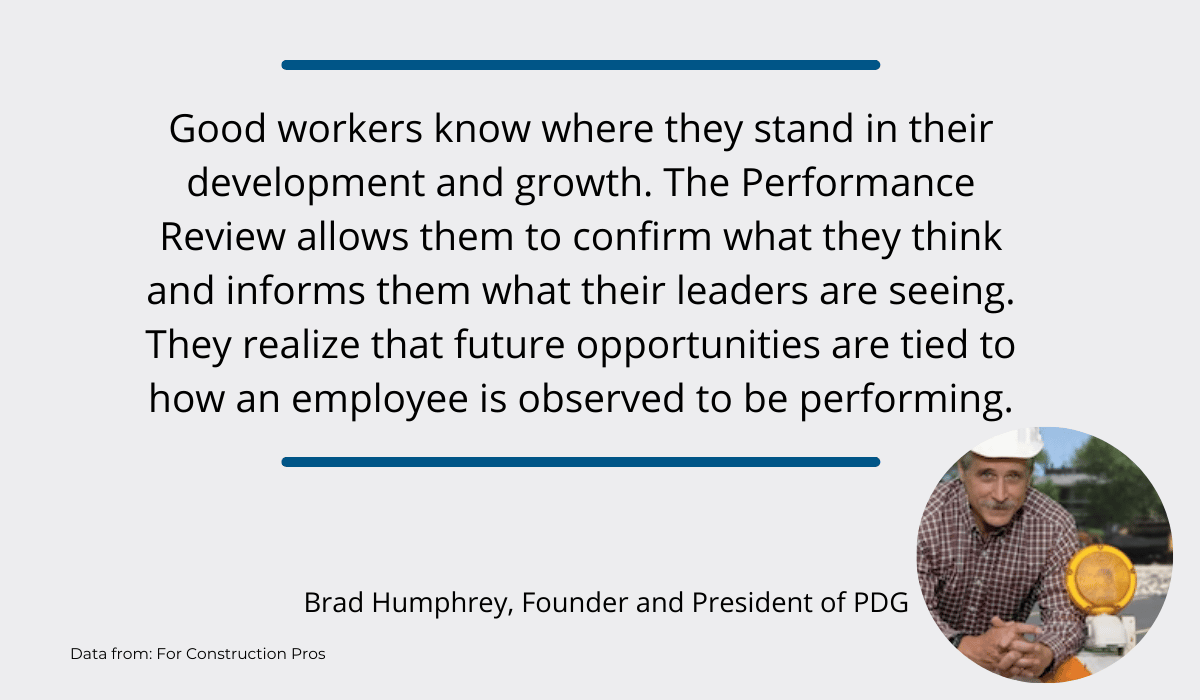 The annual performance reviews are more than just an opportunity for your employees to see where they stand and have their efforts recognized, though.
By organizing this one-on-one meeting, you are also creating a safe environment for them to discuss their career aspirations and potential opportunities.
When the time rolls around for you to conduct a performance review, make sure you're well-prepared. Here are some questions you should consider addressing during the review: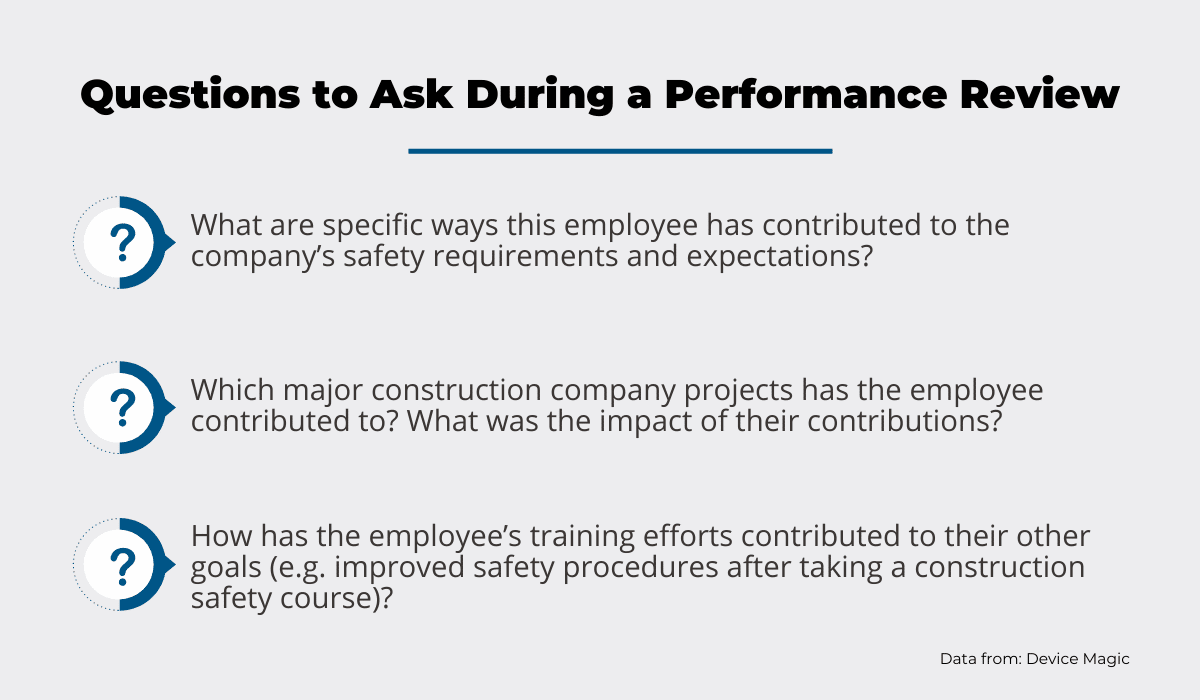 When you provide your employees with constructive feedback and concrete improvement suggestions, you are, in fact, letting them know that you want them to do better and that you recognize their potential.
This kind of encouragement is something that makes them want to keep working for you, so don't underestimate its power.
Celebrate Their Noteworthy Achievements
With the current labor shortage in the construction industry, it is safe to say that there are ample opportunities for skilled workers if they are not happy with what their employer has to offer.
Because they are so invaluable for the success of your business, you need to make sure that they feel appreciated at your company.
Sometimes, doing that is as simple as publicly acknowledging and celebrating their achievements.
West Michigan Construction Institute, a multi-trade construction educational facility, understands the importance of taking the time to celebrate their wins.
In the photo, you can see them having fun on a field trip to a custom knife forge.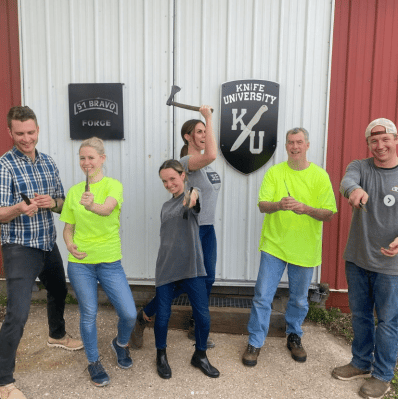 Field trips such as this one are a great way to reward your employees' hard work.
There are also numerous other simple ways in which you can acknowledge your employees' hard work.
For example, you can mention the accomplishments of your best-performing team members in a company-wide newsletter, or give them a spotlight on your business's social media pages.
Namely's director of talent acquisition Ashley Pelliccione believes that the best way to give them recognition is by highlighting them at a company meeting: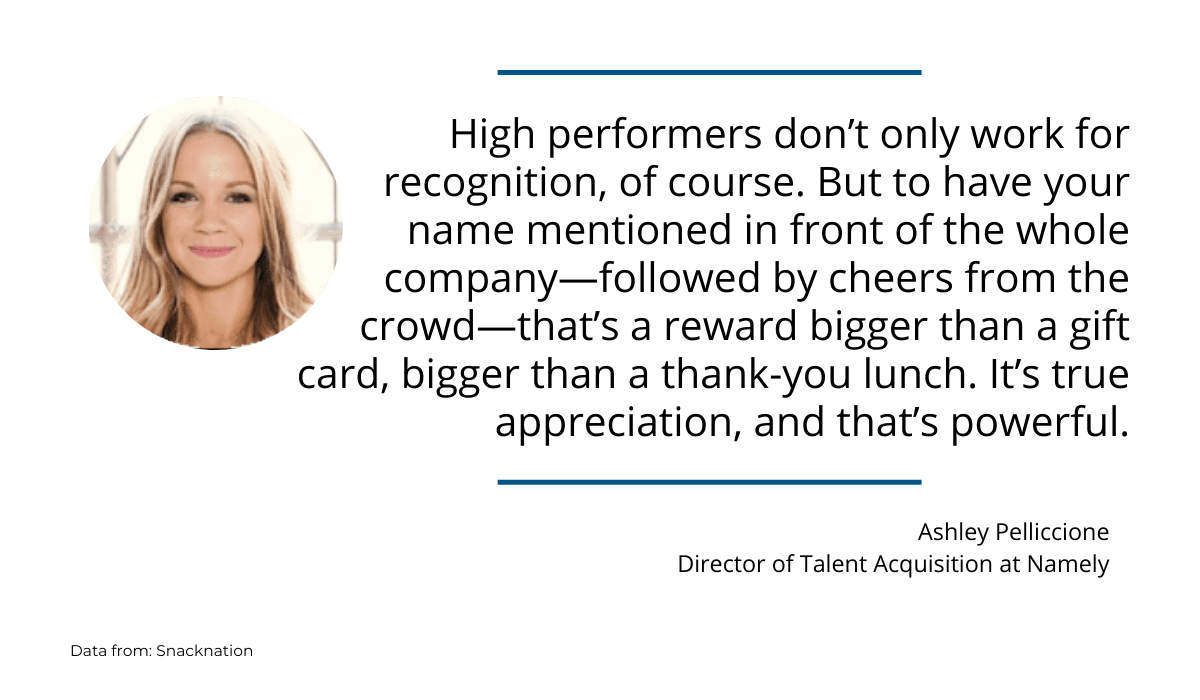 Something as simple as publicly acknowledging your standout employees and their success can be enough to make them feel valued.
When they see that you recognize their contributions, they feel uplifted and motivated to continue improving themselves and tend to choose to do so within your company.
Enforce Company Values
Over the course of the last few years, research has shown that a good salary isn't enough for people to want to work—or stay—at a company.
Other factors, such as career growth opportunities, benefits, and company culture play a big role in motivating employees to stay with your company.
Dan Rodriguez, President of Hays US, explains these findings:
"Workers today expect more than just a paycheck from their jobs, and they are willing to compromise on base salary to find the right fit. We hear every day from candidates looking for a company culture that fits with their core values."
Let's take a look at how construction professionals feel about the importance of company culture.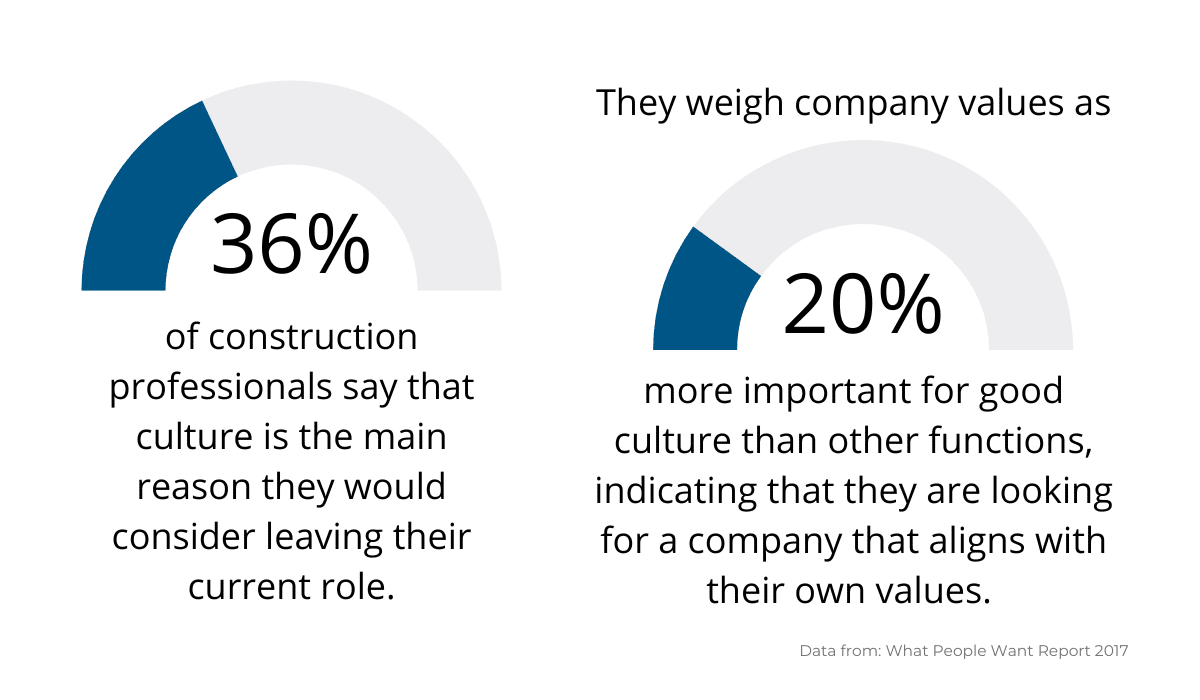 These numbers show that having a strong company culture is a viable strategy for retaining top employees in construction.
However, companies tend to believe it's enough for them to make a statement about what their values are, and neglect the most important part—actively enforcing them.
As a manager, you have the power and responsibility to show your employees that your company values aren't just empty promises and that you are actually willing to lead by example.
If you're trying to convey to your crew that construction site safety is something your company cares about, show them you really mean it.
Perform regular worksite evaluations, provide them with quality safety equipment and enforce good safety practices at all times.
Matt Wollam, President of Wollam Construction Company, explains that cultivating and enforcing a strong and defined company culture is key for reducing employee turnover: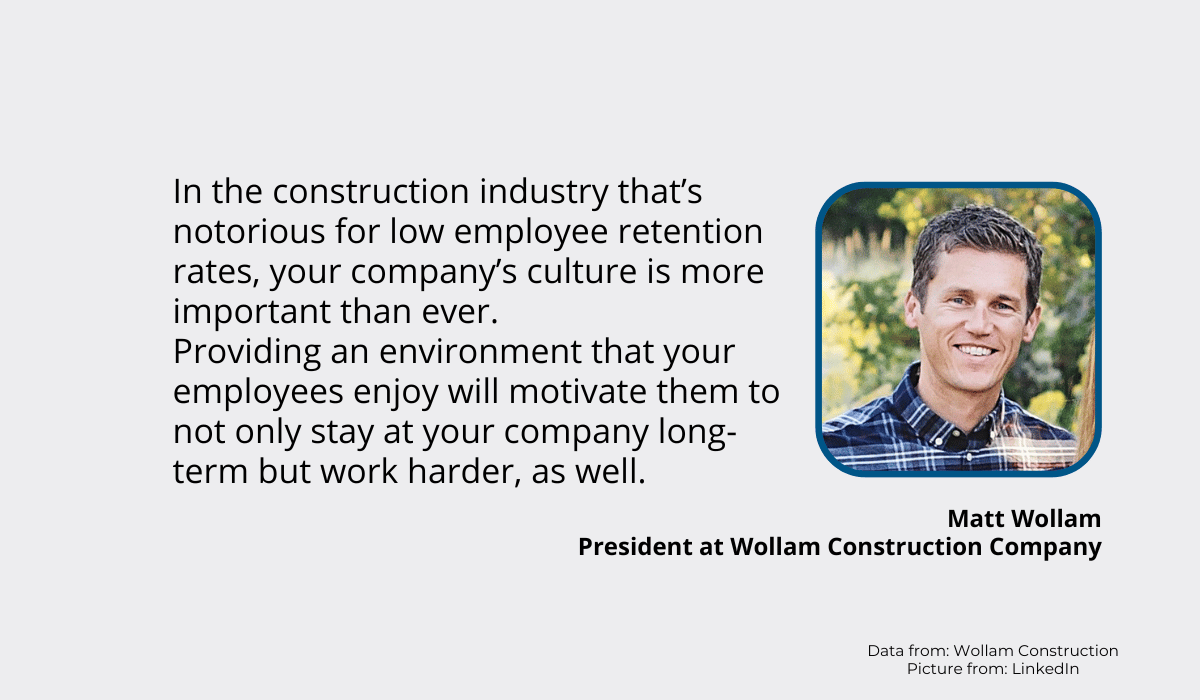 The way Wollam sees it, being a leader means setting an example. Once the employees see that the manager is practicing what they preach, they will feel more willing to follow suit.
If you haven't taken the time to outline your company's core values yet, try to do so as soon as possible—you can expect it to continue becoming increasingly important.
Offer a Sensible Work-Life Balance
In order to retain their employees, construction companies need to find ways to prevent burnout and provide a healthy work-life balance.
Given that working in construction is very physically demanding, it goes without saying that getting enough rest is crucial for the well-being of your construction crew.
However, in the construction industry, "there's a culture of long hours. It's a badge of honor to be early-on late-off, and that is quite ingrained", explains Emma Stewart, co-founder of Timewise.
Timewise, a consultancy firm specializing in flexible working, conducted studies with construction companies in order to explore how construction workers could be given more flexibility in the workplace.
Their findings show that it is possible to provide construction workers with more work-life balance by switching to an output-based model: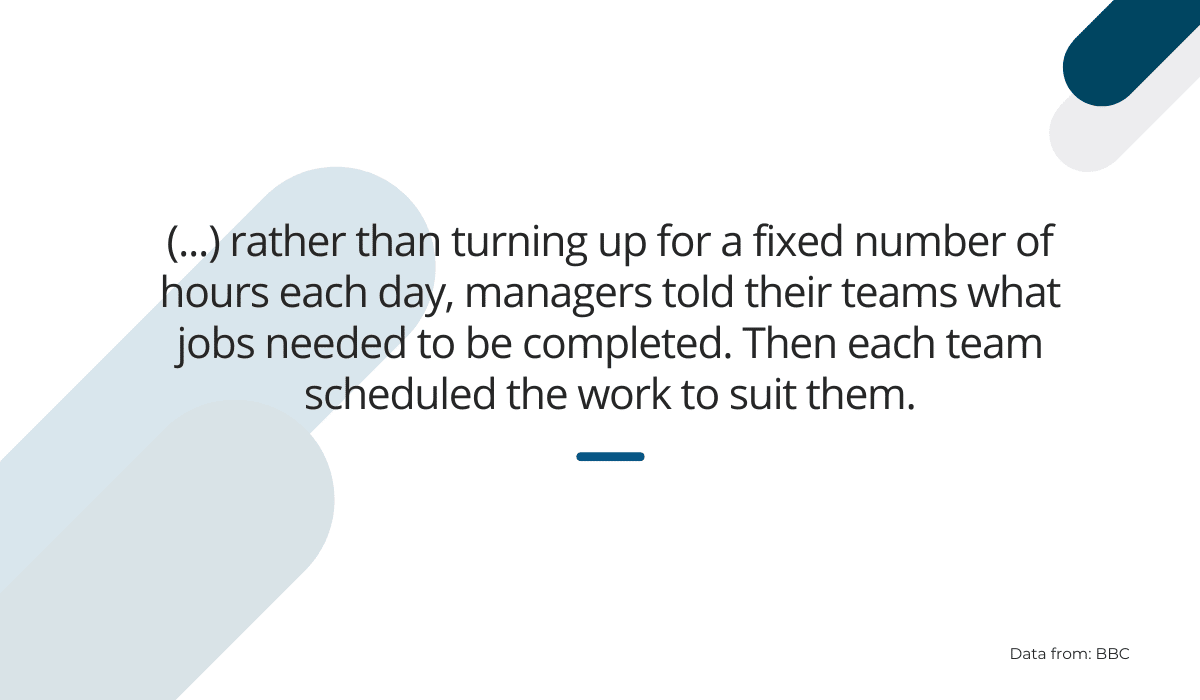 How can you implement this model on your own construction site? First, start by reviewing your workload.
You want to make sure that you know exactly what tasks need to be done, which crew members are going to do them, and by when.
Based on that, you can divide your crew into smaller groups that will collaborate on the tasks.
Leave it up to your crew to agree on the schedule, but double-check to make sure that none of your workers get stressed and overworked.
By putting the responsibility to finish the tasks by the deadline into your employees' hands, you're showing them that you trust their judgment.
Most importantly, you are allowing them to make their own hours and create a work-life balance that suits their lifestyle.
Conclusion
The demand for top construction talent is currently very high, and it doesn't look like this is going to change any time soon.
For that reason, we advise you to try to implement some of our tips in order to retain your best-performing employees.
While it is important to reward their efforts in the form of raises and promotions, a simple "thank you" for their hard work can also go a long way.
What matters most is making sure that your employees feel valued, so make sure you ask for their feedback.
Lastly, try to create a more flexible schedule for your crew. This will allow them to create their own work-life balance and remain well-rested and safe on the site.