In today's digital age, asset-tracking software is quickly replacing paper- and spreadsheet-based processes used to track and manage large numbers of physical assets owned by companies across many industries.
The reason for this?
Of course, the benefits businesses derive from using one of many available cloud-based asset tracking platforms.
GoCodes and Asset Panda are two of the most popular solutions of that kind.
More specifically, these platforms help companies reduce asset loss and theft, improve asset utilization, increase employee accountability, minimize administrative work, and decrease asset maintenance and purchasing costs.
So, if you're wondering how GoCodes and Asset Panda can help you do the same, what their key features and main differences are—and which one would better suit your needs—read on.
Overview
On the surface, GoCodes and Asset Panda may seem similar, but—upon closer look—there are many differences worth considering when selecting the right tool for your company's needs.

For instance, the first difference is that GoCodes focuses on tracking physical assets like construction tools and equipment, IT and office equipment, medical and laboratory equipment, school inventory items—and almost any other physical item imaginable.
Asset Panda can track all the above assets, as well as digital assets like contracts (terms, expiration dates, renewal options), software licenses, and subscriptions.
What is common to both GoCodes and Asset Panda, however, are the components of their asset tracking system, namely:
cloud-based software: allows users to access asset data from anywhere and anytime using any device with an internet connection
in-app scanner: enables users to scan tags and access asset data using their mobile device's (e.g., smartphone, tablet) built-in camera
asset tags: affixed to assets and used as unique identifiers that can be scanned to access the asset info page and update its location and other data.
And asset tags make for another difference between GoCodes and Asset Panda.
More specifically, GoCodes provides patented QR code tags that come printed on durable materials of your choice. Their design and size are customized to your needs and preferences.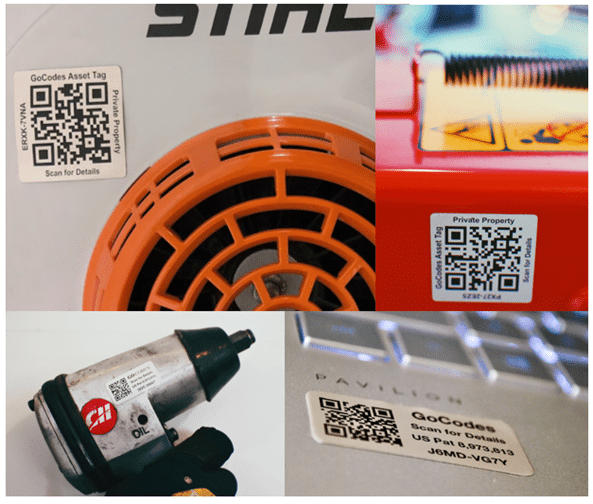 In comparison, Asset Panda offers a range of asset tag options, including barcodes, QR codes, and RFID (radio frequency identification) tags.
However, Asset Panda does this by partnering with external label/tag producers to help you choose asset tags that best fit your company's needs.
Conversely, GoCodes keeps the entire process in-house, thus making it much simpler, as there's no need to work with a separate company to make your labels and tags.
Overall, both GoCodes and Asset Panda are popular cloud-based asset-tracking solutions that enable company owners and managers to track and manage their assets in real time, using asset tags and mobile devices.
Now, let's examine which industries each solution is best suited for, what features they offer, and other relevant details that can help you decide which would be the right fit for your business.
Industries
When it comes to their tracking technology, both GoCodes and Asset Panda can be used in a range of industries, including manufacturing, construction, healthcare, and education.
However—by providing more use cases and features for automating more complex workflows outside asset tracking—Asset Panda aims to serve more industries, even government, hospitality, retail, and nonprofits.

Naturally, this broader focus and extensive customization options can be both an advantage and disadvantage, depending on your company's asset management needs and what processes you want to streamline.
In other words, Asset Panda can be pretty complex to set up and use, which slows down the learning curve, i.e., prolongs the time required for everyone to start using the system as intended.
In fact, PC Magazine finds it necessary to mention that Asset Panda is "more complex than many of our other contenders" in their review.
Of course, Asset Panda's capabilities make this worthwhile for many companies, as evidenced by different top lists where that software is often listed as the Best Overall asset management solution for any industry.
But some companies prefer a solution that is tailored for their industry. GoCodes specializes in serving the construction businesses.
It is a significantly simpler solution often heralded for its ease of use, meaning companies can reduce that learning curve and quickly start using their asset tracking system even with less tech-savvy workers.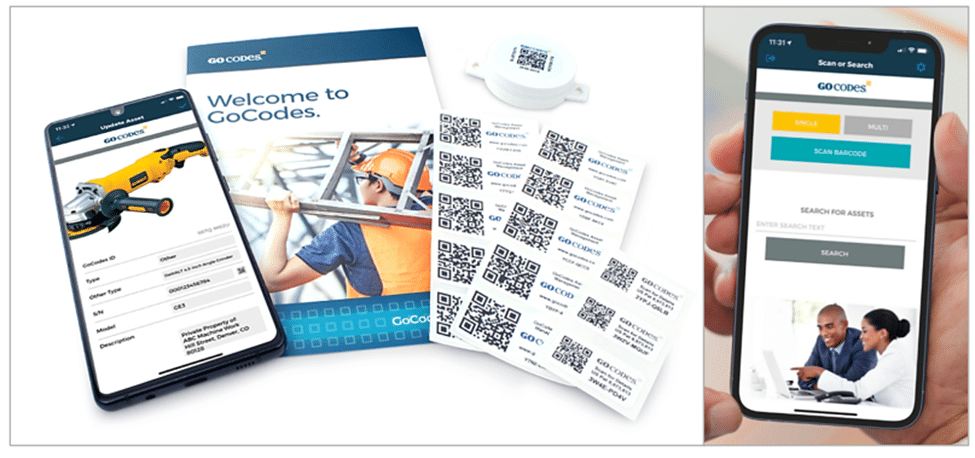 While its simplicity of design and easy setup makes GoCodes attractive to companies from various industries, it's often the preferred choice of construction companies.
In fact, on Forbes Advisor's list of the best asset management software for 2023, GoCodes is cited as the Best for Construction Companies.
The primary reason is that GoCodes is very easy to use, which makes it a good choice for nontechnical people who just want to solve their equipment mismanagement problem without having to commit to learning how to use a new system for months.
Therefore, GoCoes enables companies to address the challenges that affect all team members, from construction workers to top managers, who might resist or just ignore software they find too complex.
Of course, maintenance service companies, industrial plants, schools and universities, hospitals, and laboratories can also benefit from using GoCodes.
In summary, both Asset Panda and GoCodes can be used in a range of different industries.
Asset Panda offers more extensive features for a broader range of use cases—and brings some complexity—while GoCodes focuses on being the best provider for one specific industry with its tailored setup, quick adoption, and ease of use.
Features
By now, it's clear that GoCodes and Asset Panda provide many similar tracking features, whereas Asset Panda offers more extensive options and some additional features related to digital asset management, such as contract and software license tracking.
So, let's first look at the features common to both GoCodes and Asset Panda:
| Features | GoCodes | Asset Panda |
| --- | --- | --- |
| Barcode and QR code in-app scanning | Yes | Yes |
| Asset identification and tracking | Yes | Yes |
| Asset assignment and check-in/check-out | Yes | Yes |
| Maintenance tracking and management | Yes | Yes |
| Asset kitting | Yes | Yes |
| Service scheduling and reminders | Yes | Yes |
| Work order tracking | Yes | Yes |
| Inventory tracking | Yes | Yes |
| Customizable user fields and drop-down menus | Yes | Yes |
| User access levels | Yes | Yes |
| Complete audit history | Yes | Yes |
| Reporting and analytics | Yes | Yes |
| Depreciation calculation | Yes | Yes |
| Photo/multimedia attachments | Yes | Yes |
| Automatic GPS location updates | Yes | No |
| Bluetooth beacons | Yes | No |
As you can see, both solutions provide asset tags that, when scanned with mobile devices, provide for asset identification and tracking, and enable companies to establish an automated system for checking out and returning tools/equipment/other assets.
From there, they can use either solution to track maintenance, group assets together (kitting), schedule maintenance and track related work orders, and track consumable items.
Furthermore, both solutions offer a high level of customization, assignment of user roles, calculating depreciation, accurate records needed for audits and compliance, and generating reports for financial and operational purposes.
Finally, both apps allow users to add photos and links to manuals, warranty info, and other documents.
Now, let's turn to differences.
If your primary interest is to minimize asset loss and theft, then you might consider GoCodes' automatic GPS location updates an essential feature.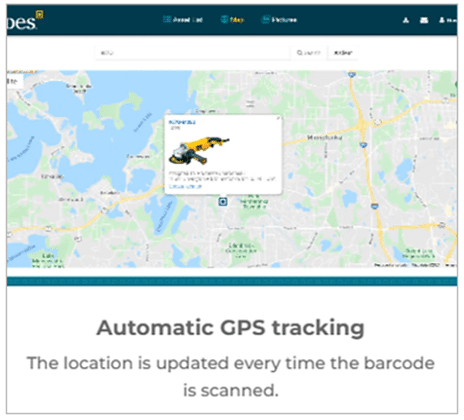 As you can see, the asset's location is automatically updated using the mobile device's GPS function every time a user scans a tag.
Although Asset Panda also allows users to update the asset's location if they want, GoCodes does so automatically, thus preventing any potential record manipulation that could interfere with the timely detection of asset theft.
Another difference we already mentioned concerns other methods for remotely tracking assets within a specified area of operation.
In the case of Asset Panda, that method is RFID tracking, while GoCodes offers Bluetooth beacons.
Without going into too much detail, let's just say that both methods require separate readers and terminals, which makes them more expensive than barcode/QR code tracking.
In closing, both GoCodes and Asset Panda offer similar asset tracking features.
The primary difference markers among these are automatic GPS tracking provided by GoCodes and Asset Panda's more extensive configuration and management options.
Platforms
Now that we've covered the main features of GoCodes and Asset Panda, let's quickly compare some other details, the first of which is on what platforms they're available.
That's simple because both software solutions are—as said—stored in the cloud (on the software provider's server) and can be accessed through a web browser on any internet-connected device.
This means you can access the software on computers and laptops whether they're using Windows, Mac, or Linux and on smartphones and tablets whether they're running on Android and iOS (iPhones/iPads) operating systems.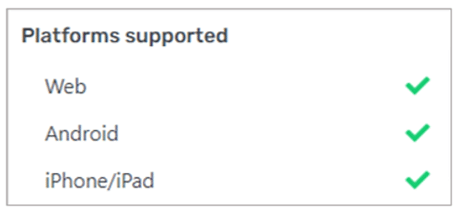 In other words, you can access GoCodes and Asset Panda on any type and brand of device as long as it's connected to the internet, thus giving you easy access to asset tracking features on the go.
Integrations
Software integrations allow companies to connect and sync data between two or more software solutions without requiring manual data transfer, thus saving time, reducing errors, and increasing efficiency.
To enable integrations of their own solution with other systems, software providers often use an API (Application Programming Interface)—a set of protocols and definitions that allow different software programs to communicate and share data.
Long story short, the GoCodes API comes as part of its package for Enterprise accounts and can provide it for Professional Level accounts for an annual fee.
Asset Panda also provides integrations as a paid add-on service but offers a range of pre-built integrations with some other popular software solutions.

Although such pre-configured APIs are easier when integrating two software systems, such integrations may still require some advanced knowledge of IT personnel/developers doing the integration.
Finally—although facilitating the data transfer between different software applications is not strictly considered integration—Asset Panda and GoCodes both allow you to easily export asset data to Microsoft Excel, CSV, and PDF formats.
Customer Support
When it comes to helping their clients resolve software-related issues, both GoCodes and Asset Panda provide email (24/7) and telephone (weekdays, business hours) support.
As for GoCodes, they say any questions via email or phone will be answered within one business day.
However, if a client requires immediate assistance, it's best to contact GoCodes via the online chat, which their staff monitors during working hours.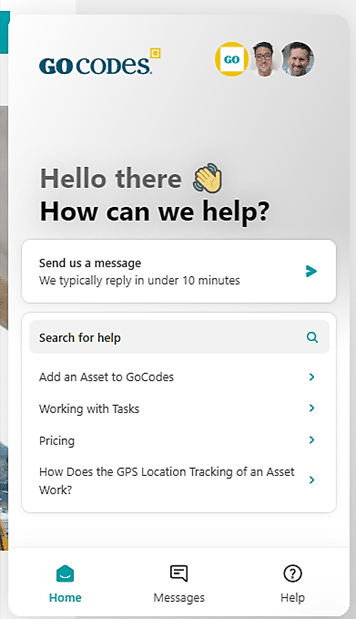 Similarly, Asset Panda provides non-stop email and telephone support during working hours but no online chat support.
Pricing
When the pricing policies of these two solutions are concerned, one is going for simplicity, and the other depends on multiple factors like size, type, and specific needs of your business.
Both are subscription-based, meaning you'll be charged a monthly or annual fee.
Here are the pricing plans offered by GoCodes: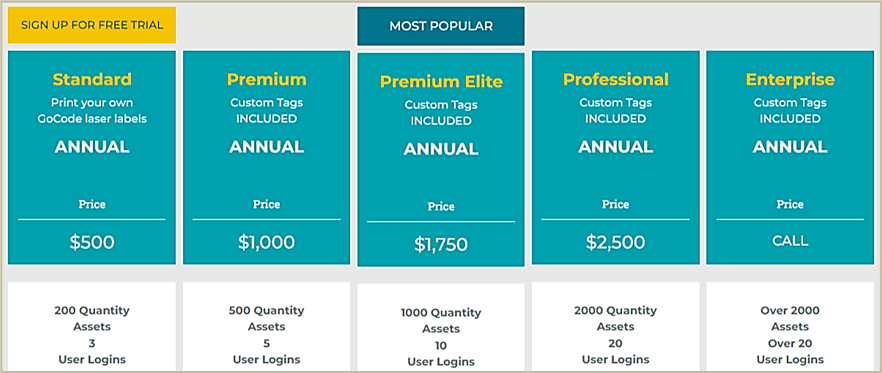 As you can see, the Standard plan—where you print your own labels—is $500 a year for 200 assets and 3 users.
From there, all other plans include custom tags in the price, ranging from Premium (500 assets and 5 users) and the most popular Premium Elite (1,000 assets and 10 users) to Professional (2,000 assets and 20 users) and Enterprise (over 2,000 assets and over 20 users).
On the other hand, Asset Panda's pricing is not specified, meaning that potential clients must ask for a quote.
However, what's clear from their website is that the basic package does not include the following features—unless they're bought as add-ons:
maintenance tracking and management
inventory tracking
reporting and analytics
integrations
As for any specific dollar amount, one source states that Asset Panda's basic package includes 250 assets/limited number of users for $995 per year, while more than 500 assets give you an unlimited number of users.
That same source—Forbes Advisor—lists "pricey add-ons" and "lack of pricing transparency" as drawbacks of Asset Panda's pricing model.
Conversely, GoCodes' pricing terms are clear, and the only extra cost is charged when you want integrations (free under the Enterprise plan).
Finally, both GoCodes and Asset Panda offer a 14-day free trial.
Reviews
As online reviews for GoCodes and Asset Panda can be easily found on their respective websites and other software review sites, we'll give just a few user comments that illustrate some of the pros and cons of each tracking tool.
For GoCodes, a construction manager writes:

As you can see, we highlighted the pros.
As for cons, another comment referred to the app not working when there is no internet connection, a function GoCodes will soon add.
For Asset Panda, one user writes:

Again, the benefits are highlighted.
The cons listed in user comments mainly refer to the high price and complex setup.
Overall, both Asset Panda and GoCodes are favorably reviewed by users, meaning that their advantages far outweigh any issues encountered when setting up the tracking system and implementing one of these tools.
Conclusion
To summarize all that we covered, it's clear that both of these popular tracking software solutions have a lot to offer to companies looking for an efficient asset tracking system.
Generally, Asset Panda is better suited for larger companies and organizations with more complex processes they want their tracking software to manage, which Asset Panda's high level of configuration and customization allows.
However, this also implies slower adoption of the software and more extensive onboarding, and their pricing transparency leaves a lot to be desired.
In comparison, GoCodes is best suited for asset-heavy organizations, such as construction companies, looking for a genuinely simple tracking software solution to minimize asset theft and loss and streamline asset management operations.
Other strong points of GoCodes include patented QR code tags, automatic GPS location updates, and straightforward pricing.
Naturally, the choice is yours and will depend on your company's needs and preferences.