Construction projects can easily span from several months to several years. In this time, the way your team members work with others is of utmost importance.
So, how can you help strengthen their relationships and create a more productive work environment?
This is why companies use team-building exercises.
They are designed to encourage construction workers to develop and improve their skills and work together to solve more or less complex tasks in the form of physical games, brain teasers, or building challenges.
In a nutshell, team-building activities help construction workers learn how to cooperate and work effectively.
But more importantly, the workforce will feel more like a unit working towards the same goal that you can replicate on the construction site.
If you don't know what to do at your next team-building event, here are 12 ideas for effective team-building activities.
Building a Lego House
The best thing about Lego bricks is that they're not just a children's toy. Adults, too, can play and create unique and imaginative structures with enough motivation and dedication.
This means they are a great tool for team-building exercises for your construction team.
Obviously, giving your team a set and asking them to build together wouldn't. Why not step it up and ask them to build a structure in silence?
For this exercise, you'll divide your team into groups and instruct them to build a specific structure or shape, but they're not allowed to talk to each other.
Ideally, teams should have an equal number of bricks, and each team should have an equal number of players.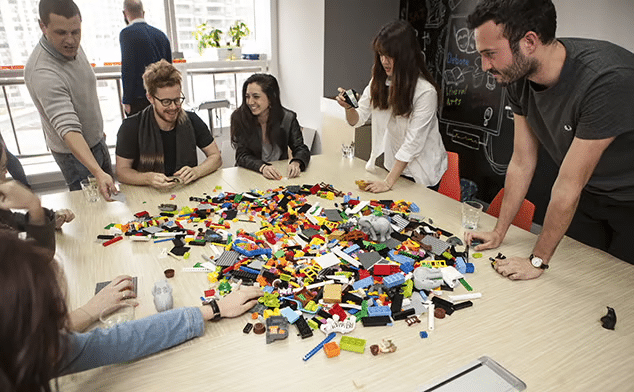 The team should choose a leader who will demonstrate what they need to build with body language.
How long this exercise takes depends on the complexity of the structure the team is building, and how efficiently the leaders communicate nonverbally with their colleagues.
The goal is to improve nonverbal communication between team members, which they can later use on the job.
Lifting an Object
You can do this challenging exercise with your construction team during their breaks to add some fun to their routine.
All you need is a rope, a heavy object (e.g., a tire), and construction materials (duct tape, nails, and hammers).
Then, divide your team into groups of four people. Their goal is to lift the heavy object to a higher level, for example, the second story.
But the problem is that the rope is not long enough to reach the desired height.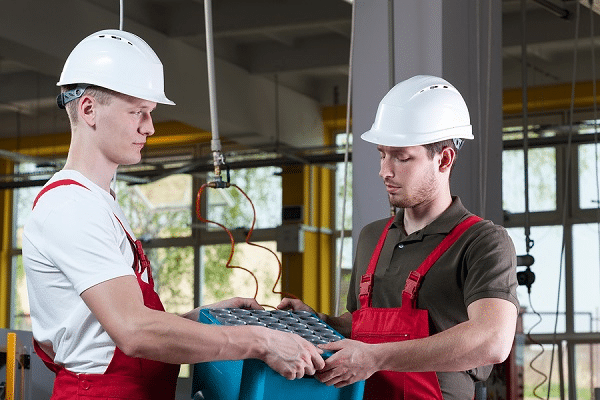 The team should carefully consider the available materials and how to use them (or their bodies) to raise the object. The team that completes the goal first is the winner.
Depending on their creative thinking, this exercise could last a few minutes or the entire break.
Safety Trivia Game
Who doesn't love a good trivia game? Not only do you get to test your knowledge and keep your brain sharp, but there are also bragging rights about knowing the most (useless) facts.
Following that, if you need to test your team's safety knowledge, it's a good idea to create a safety trivia game.
The teams will naturally become competitive and try to get the correct answers.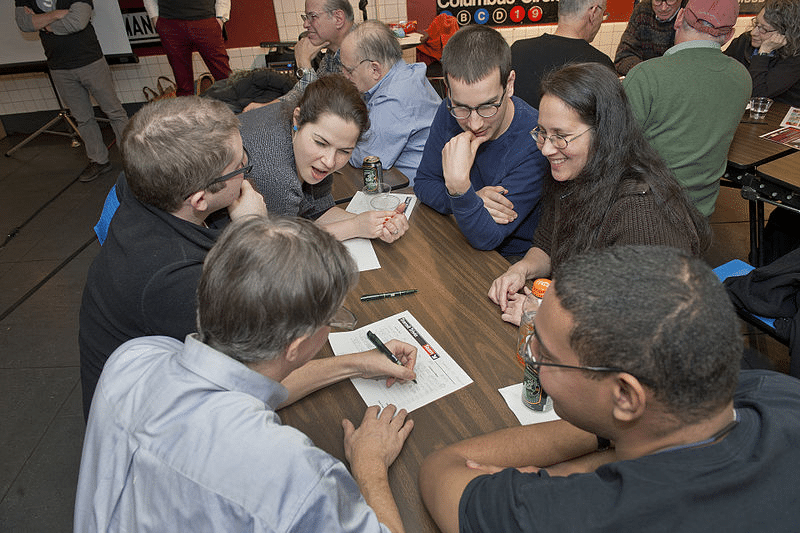 This is ideal for large teams (20+) you can divide into groups with an equal number of players. Customize the trivia questions by including the most common safety questions and scenarios.
The players can put their answers on paper, phones, or a whiteboard.
The trivia session can last up to half an hour, and you can offer a prize to the team who gets the most questions right.
The best thing about this game is that you can set it up anywhere, from the construction site to the office or even for remote teams.
In this way, the workers can revise the most common construction safety protocols and have fun simultaneously.
Team Challenges
Can you make repetitive construction tasks more fun? The answer is yes!
You can create various challenges for your workforce to encourage them to do their tasks faster and enjoy them more.
For example, if you have a large painting crew, you can divide them into two or three separate teams, then allocate them to different rooms or floors that need to be painted.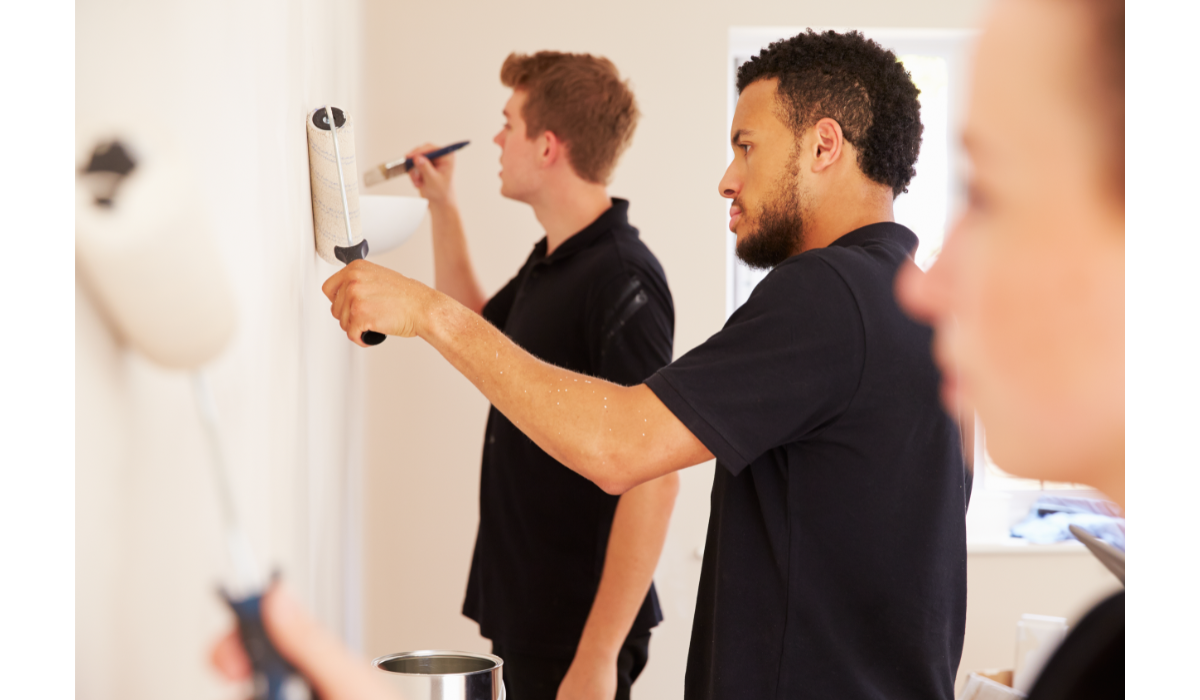 Challenge them to compete with other teams and finish painting the rooms faster than others. But instruct them that you value speed, efficiency, and quality.
This challenge can be done on many different tasks, such as installing floors, tiling, or window replacement.
But the most important thing is that the workers are safe and maintain high quality in their work.
You can offer a prize for the fastest team or use this exercise as a friendly competition to foster teamwork and camaraderie among your workforce.
Joint Community Service
Team building doesn't have to be all about doing silly competitive games.
Sometimes you can do a positive thing for the community and create stronger relationships among your workforce simultaneously.
If you can spare a few hours in your schedule, gather a large team of people (20+) and organize an event that can benefit your community.
Ask your team to list volunteer activities they're interested in or rank some common activities in your area.
Examples include a beach or forest clean-up, charity race, or helping at a local community center.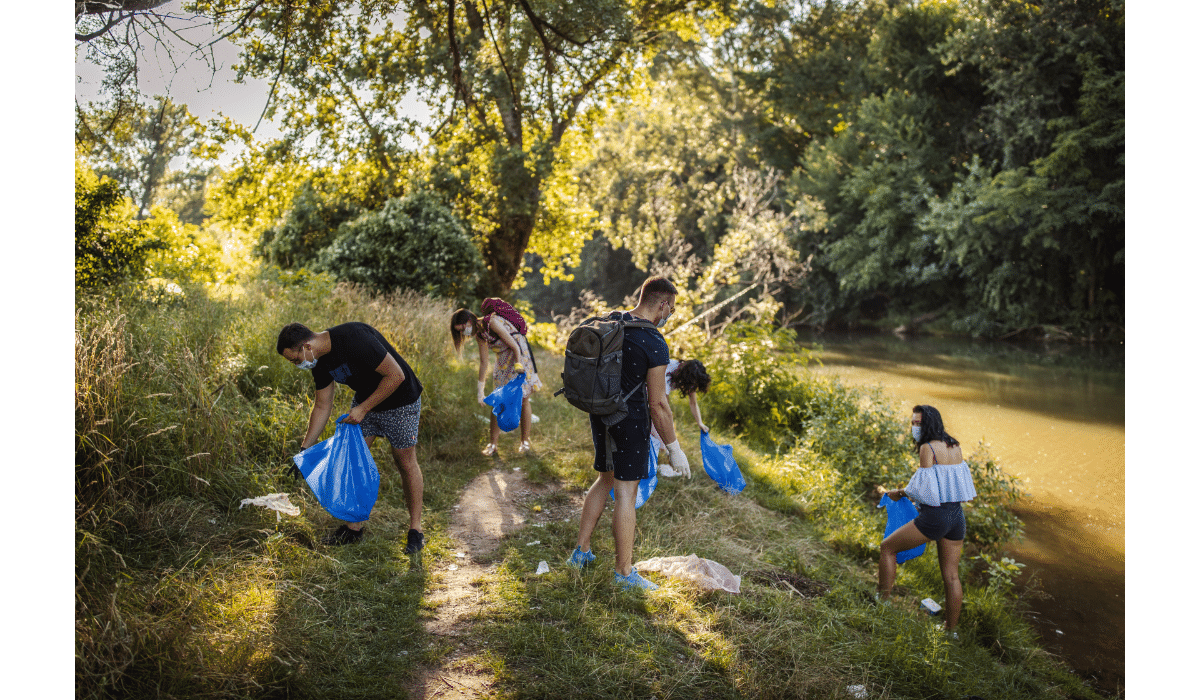 It's proven that volunteering and doing something for others improves our mental health and makes us more connected to people.
Your workforce will be proud of themselves and the company they work for.
So, why not hit two birds with one stone and organize a community service with your construction team?
Building the Longest Bridge
The main objective of this activity is to brainstorm and share creative ideas to construct a bridge.
You can use different materials for building, from toothpicks and styrofoam to TooBeez interlocking tubes and spheres.
So, the teams need to build the longest bridge with the provided materials. The winner will be chosen based on the length of the bridge but also its stability.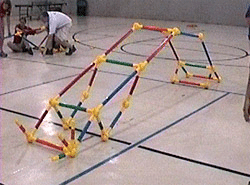 This exercise lasts 15 to 45 minutes and doesn't require too much physical activity.
You can split a large group into smaller teams or pairs, depending on how much material you have and the size of your construction team.
The main focus of this activity is cooperation and communication. If any group doesn't follow the guidelines, they have to start again.
Building the Matching Structure
You can do numerous replication games with your construction team for team-building. We'll focus on two very similar ones you can interchange, depending on the size of your team.
For a smaller team, it's better to have a model replication game in which the team members will have to recreate a model from a picture.
They'll have similar pieces for replication, but they'll have limited time to view the original model.
Each team member will look at the original hidden from others and later have to describe what they need to do. The team who creates the most similar replica wins.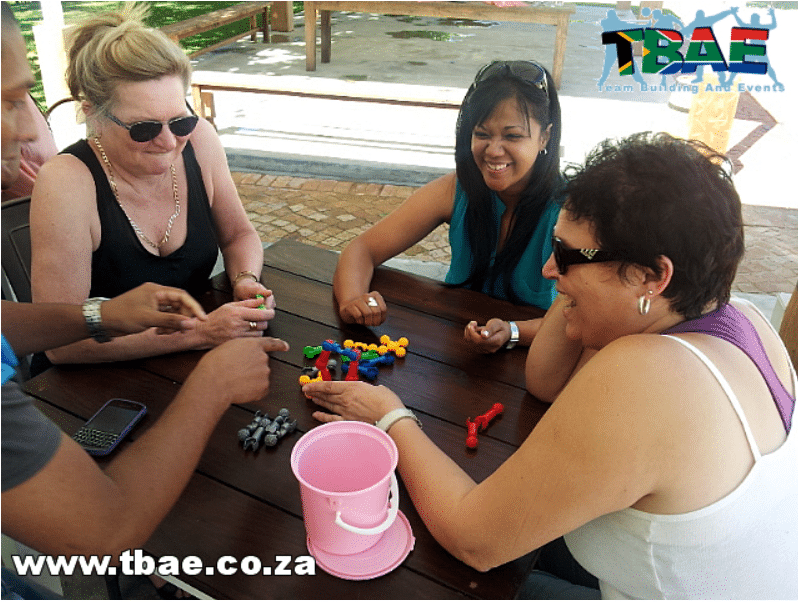 Now, if you have a bigger team, you can split them into two groups, and they'll have to mirror and match each other's models.
A curtain will separate them to make the game more difficult. As they're building their structure, the teams must cooperate, so the models are as similar as possible.
Both replication exercises should last between 15 to 45 minutes and enhance your team's listening and communication skills.
Demolition Games
Depending on available materials and your team-building budget, we'll present two different types of demolition games.
One option is Demolition Derby, in which each team gets a radio-controlled car. The goal is to equip the toy with armor made of paper, foam, cardboard, tape, glue, and other supplies.
The teams should be able to create strong protection against battering but also keep the aesthetics in mind.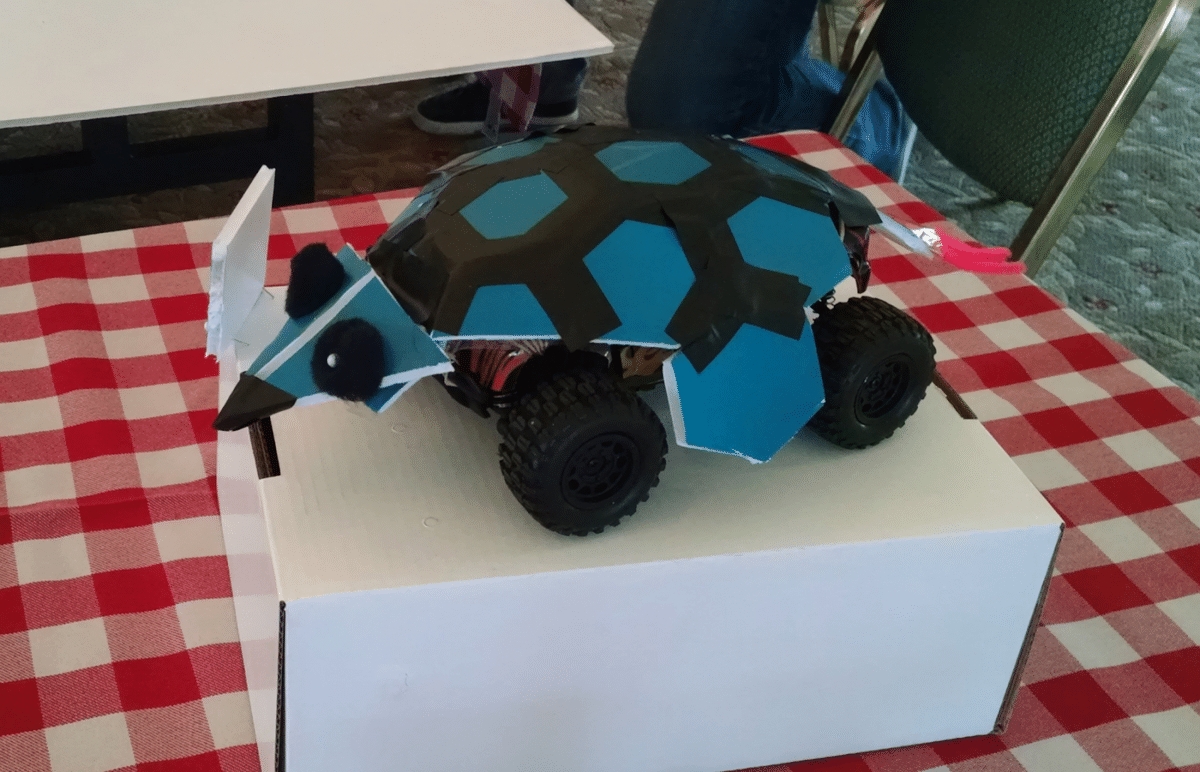 Demolition Derby has four different segments:
Design competition
Slalom Race
Figure 8 Race
Demolition Tournament
Another option for Demolition Games is to split your workforce into two teams. Each team will have to build a ''house'' from available materials.
Those can include foam bricks, dowels, epoxy, yardsticks, cardboard boxes, or anything easily stackable. The finished houses should be 1-3 feet tall and later moved to the firing range.
Each team will get to use a cannon that will shoot tennis balls, eggs, or anything else to the opposing team's house and attempt to destroy it first.
The approximate duration of each Demolition Game is two hours.
Sandcastle Wars
Here's a team-building exercise you can do if you're near the beach and can organize a field day for your workforce.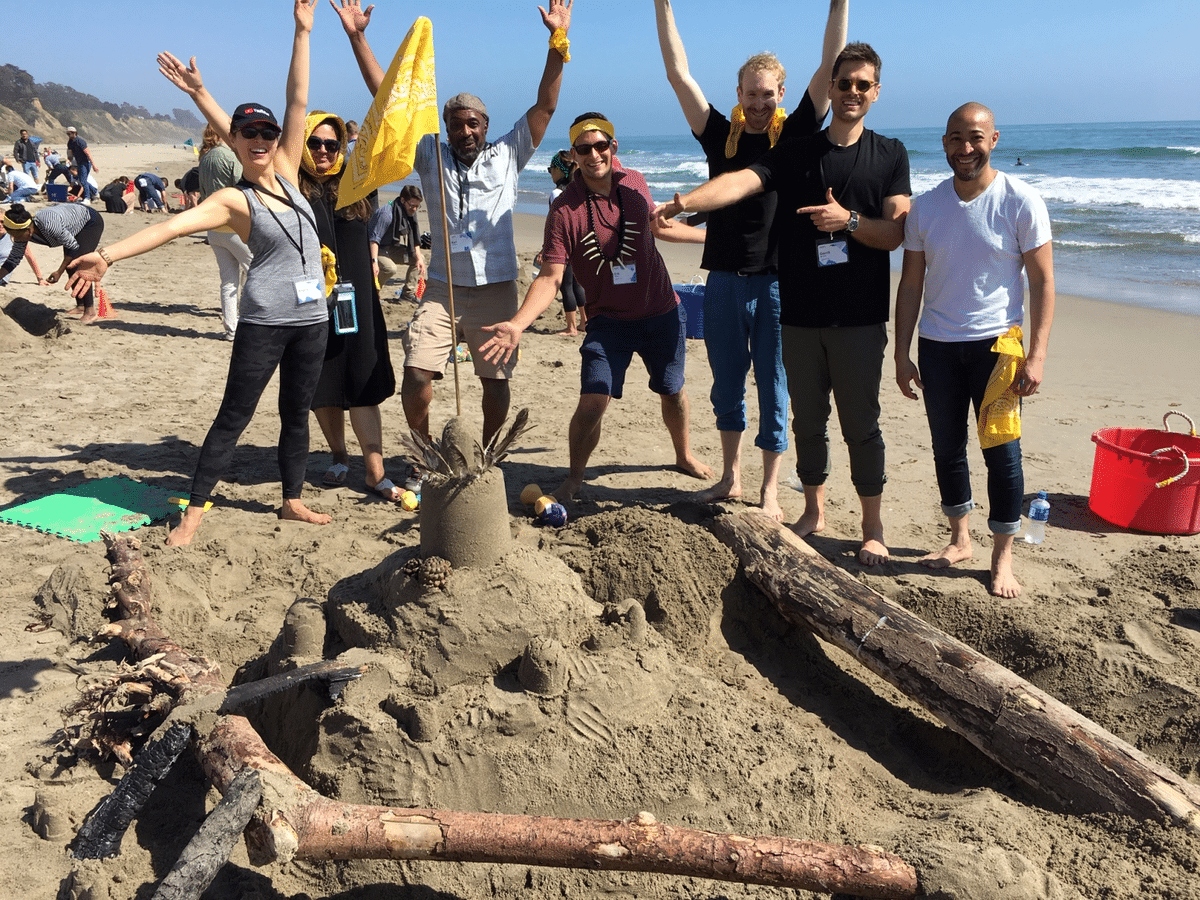 Create teams of 6 to 8 people and give them building tools. Also, give them some extra money to purchase additional materials and weapons.
Their main goal is to build a strong sandcastle that will withstand the final battle, where teams will get to demolish other teams' sandcastles.
There is also a time limit, so they need to build fast and make quick decisions.
Safety Treasure Hunt
The next activity is an old-fashioned treasure hunt, but with a safety theme.
You'll need 20+ people split into two teams or create more teams with fewer players.
The goal is to follow the safety protocols the workers learned in their safety training and use them in hypothetical situations.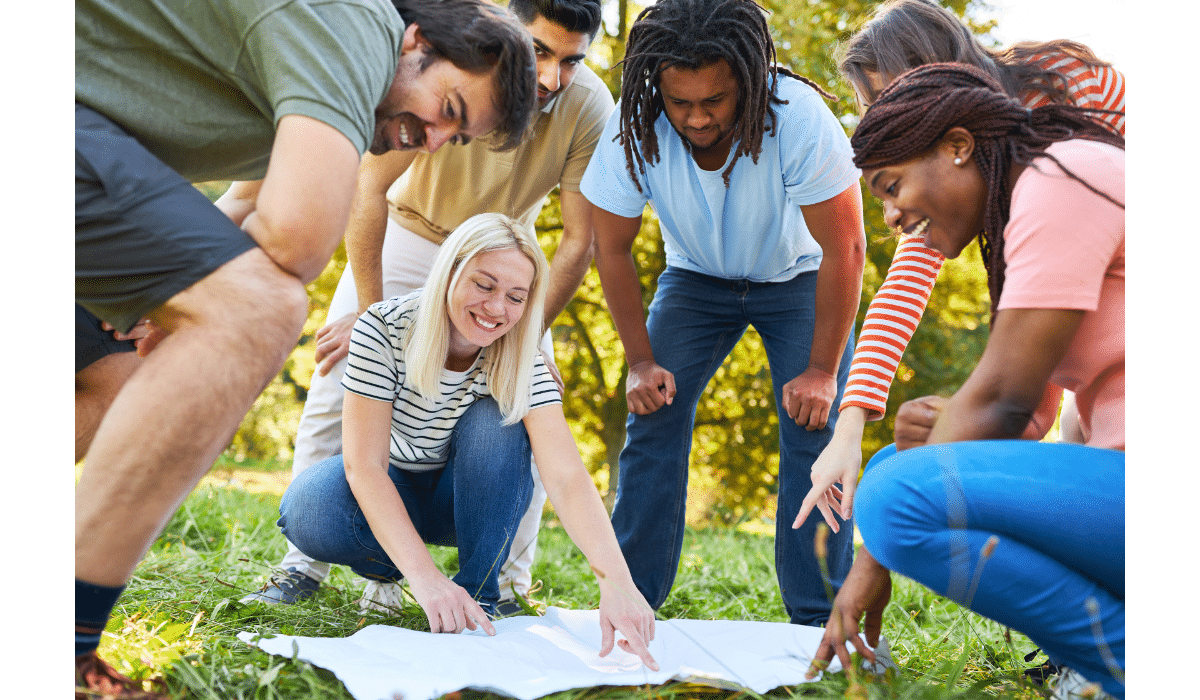 Like in a typical treasure hunt, the teams will get the first clue and proceed to find others in a sensible order.
Each clue should instruct them what to do in an emergency, and they'll be awarded points based on speed and accuracy.
You can also provide first aid kits at several stations so the players can demonstrate first aid response and proper use of medical supplies. The team who gets the most points is the winner.
For this activity, you'll need to provide your own safety-themed materials, and the entire game should last 1-2 hours.
Toxic Waste Moving
This activity requires the following materials:
1 small bucket
1 large bucket
Some rope
A bungee cord loop
8 bungee cords
8 plastic or tennis balls
Create an 8-foot circle on the ground with the rope. The circle represents a toxic waste radiation zone.
Then, you'll place the balls into a small bucket within the circle, representing the toxic waste. A large bucket should be put outside the circle, around 30 feet away.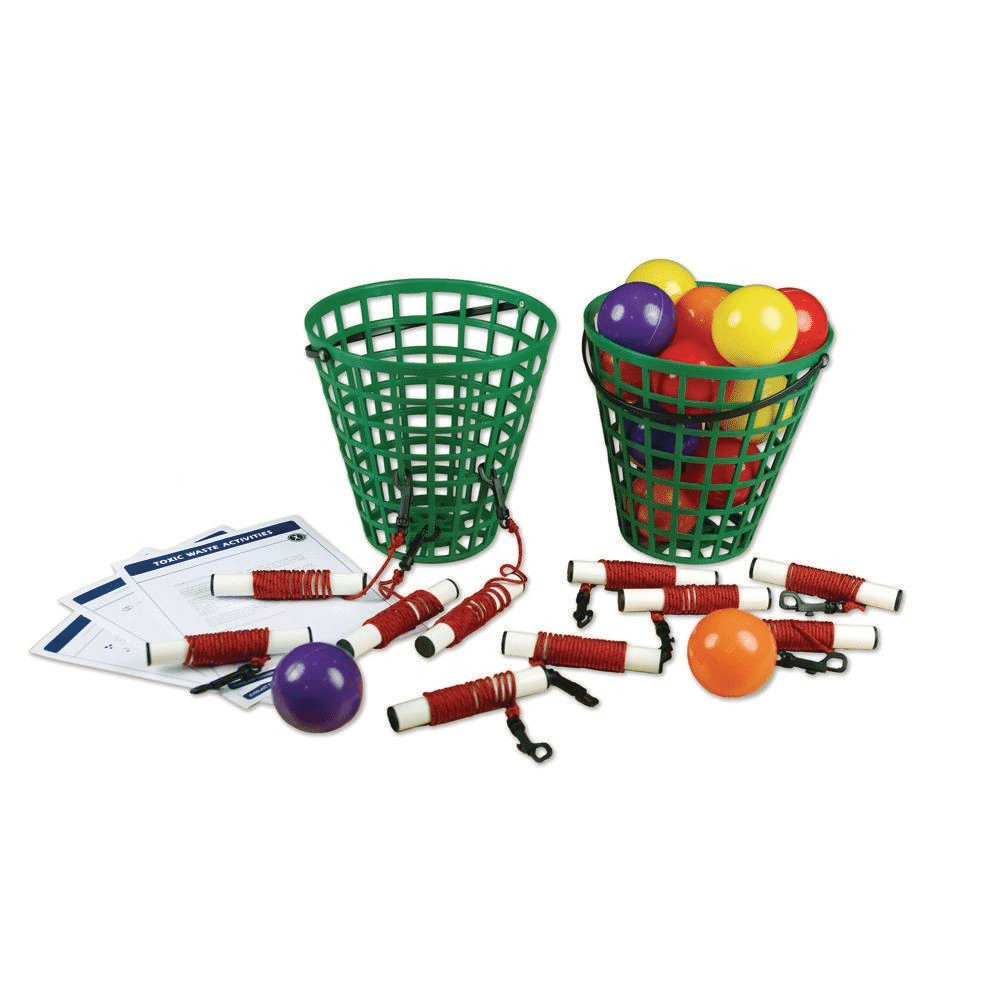 The goal is to remove the balls from the smaller bucket into the large one with bungee cords.
Now, the difficult part is that teams can't enter the circle. If a player steps inside, they'll get blindfolded, or one of their hands will get tied on the back.
If they repeatedly step inside, they'll have to sit out the rest of the game.
Also, if the team spills the small bucket, they lose. But to make matters even more difficult, this exercise has a time limit (15-20 minutes).
This is the perfect solution for players who enjoy a real challenge.
Frostbite Shelter
For this game, you'll need a bit of imagination and creativity.
Your teams of 4-5 people are now Arctic explorers who need to build an emergency shelter to survive.
The teams pick a leader for their group at the beginning. The leader can't help them build the shelter, and the rest of the team has snow blindness (they put blindfolds on).
Each team has the same set of materials: cardstock, toothpicks, rubber bands, and sticky notes. Set the timer once they start constructing their shelter.
The leader should guide the rest of the team to build the shelter and allocate materials most effectively.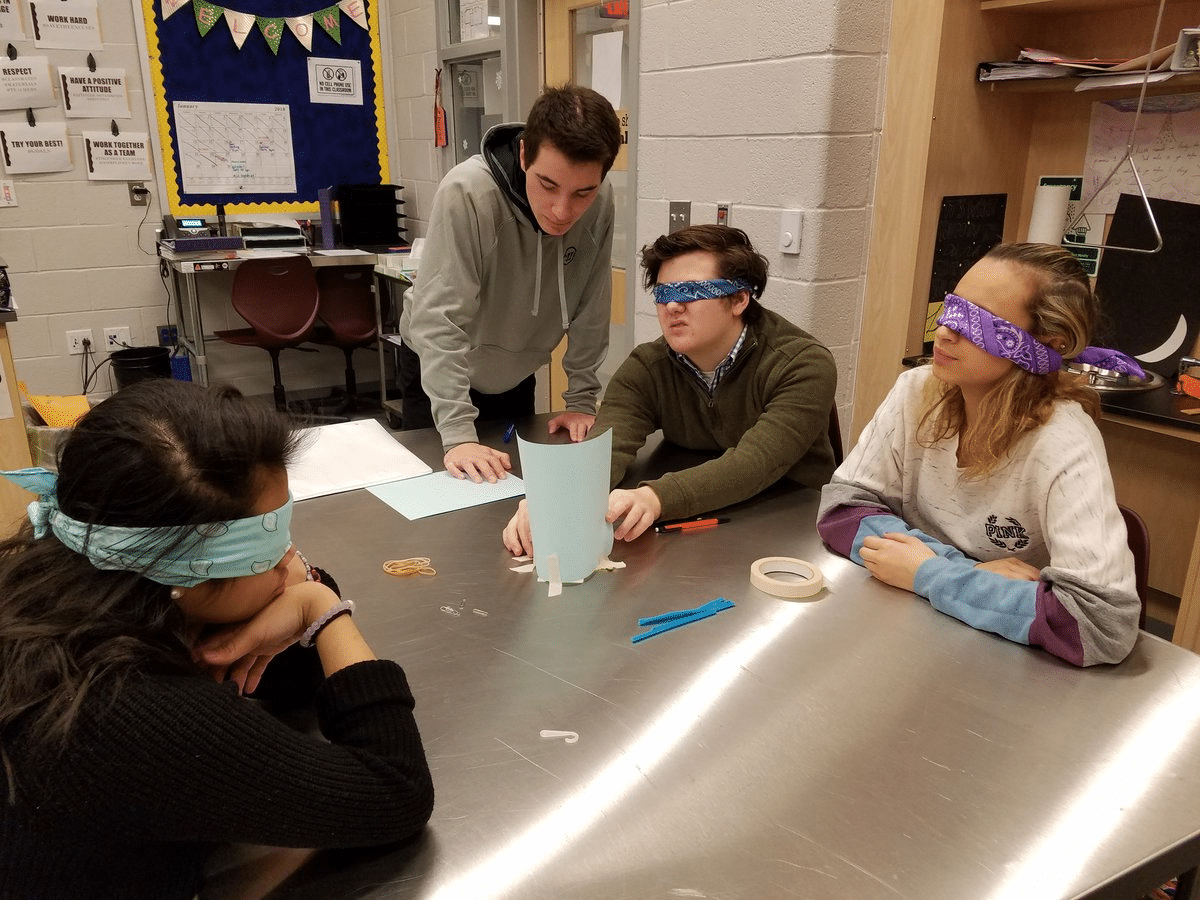 When the time runs out, turn on an electric fan to see if the shelter is stable. To increase the difficulty, you can have the fan running the entire time the teams build their shelters.
If you want your workforce to think creatively and collaborate even under challenging conditions, pick this exercise for your next team-building event.
Conclusion
Team-building activities are a great way to motivate your workforce and add fun to their working schedules.
There are plenty of exercises to choose from, with various levels of difficulty, required materials, and how much space you'll need.
But it's not just fun that you want to provide for your workforce. Each activity can challenge their collaboration and communication skills, as well as creative thinking and agility.
Think about what you want to accomplish with each activity and ensure to implement team-building activities often.