The management of construction items, from raw materials to waste items, has recently become an increasing source of worry for project managers and construction companies.
For the past few decades, environmental concerns and growing amounts of local codes have contributed to challenges related to proper waste disposal.
More recently, the COVID-19 pandemic and supply chain-related struggles have resulted in headaches related to finding supplies. 
When construction companies make mistakes related to material management, it affects nearly every aspect of the business: Customer satisfaction, employee stress, completion deadlines, and the bottom line.
Here are some suggestions for avoiding these common errors. 
Poor Material Supply Planning
Project managers often make a major error before the physical building phase of the project even begins.
It's all too easy to underestimate or overestimate the number of supplies needed to complete the job—but it's an essential part of ensuring your team can meet project milestones. 
It's not enough to know which items your team needs and when; materials, especially in supply chain bottlenecks, should have multiple sources.
Relying too much on one vendor or cutting delivery expectations too closely can result in deadline disasters. 
On the other hand, working with multiple vendors may not only secure your supply of materials but also cut down costs. That's because your suppliers will be competing with each other for your business, allowing you to choose the most cost-effective option.
Similarly, if you've underestimated how much raw material to stock and must frantically find more at the last possible second, you have little hope of completing your project on time and within budget.
Therefore, keeping a close eye on inventory and giving your full attention to material planning is the best way to prevent downtime, project delays, and costs that could have been avoided.
This is especially the case when extraordinary events cause supply chain disruption.
For example, the 2021 Suez Canal obstruction in the Middle East upset trade through the entire hemisphere.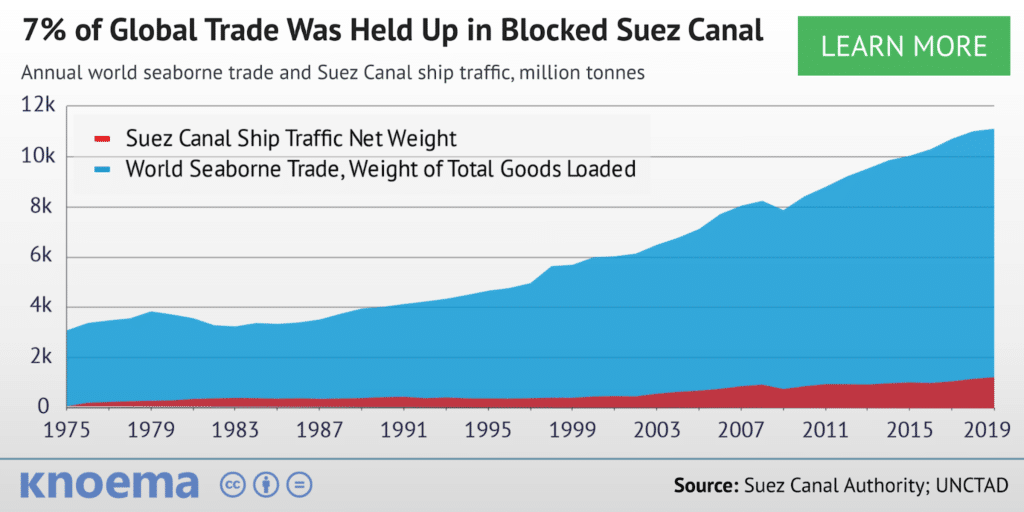 Furthermore, the COVID 19 pandemic impacted markets across the world. Such events highlighted the importance of supply chain reliance for many. 
The impacts are often surprising. In 2020, for instance, British farmers became stymied by their inability to pack eggs for market, as the cartons they traditionally used were scarce due to the shutdown of the few carton manufacturing plants in Europe.
As any building professional can relate, construction materials were difficult to find as well—and in the middle of a building boom, too. Everything from elevator components to fire protection materials was in short supply.
To further complicate matters, building materials are traditionally not readily available in "grab and go" fashion, as at a grocery store. Even consumer hardware stores rarely carry the quantities necessary to complete a job.
However, with a few mitigation efforts such as early planning, experimenting with alternative materials, and maintaining good relations with backup vendors, project managers can position themselves to ride out a supply shortage as painlessly as possible.
Not Keeping Track of Material Orders
With many building material suppliers still catching up to pre-COVID efficiency and the prices of raw materials continuing to soar, it's more important than ever for project managers to track their orders.
This critical aspect of project planning can act as a security measure while allowing for at least some warning if supplies are behind in the shipping process or even temporarily unavailable.
Effective leaders check if employees ordered necessary materials at the proper time, whether vendors delivered them as specified, and if the items appeared on time and at the correct work site.
Using a tracking method, like the comprehensive system provided by GoCodes, enables team members to find out where materials are at a glance.
This real-time, automatically updated system provides peace of mind and acts as confirmation to clients that materials are where you say they are.
Losing sight of materials can quickly halt a project and result in furious stakeholders and clients. 
The GPS tags involved with GoCodes tracking are accurate, rugged enough for outdoor use, and able to alert team members if items are low in quantity, not returned on time, or even stolen.
With a solid tracking system in place, you're much more likely to keep your projects going smoothly.
That's because you're continually aware of the status of your materials and their whereabouts, meaning you're also able to provide your workers with the materials they need to do their work.
Underestimating Material Storage Importance
Many construction professionals are so concerned with raw material acquisition, labor issues, and completion deadlines that they might not think about the importance of material storage.
The other side of maintaining preparedness in the event of supply chain disruptions is finding appropriate places to store building materials. 
It's important to take seasonality and location into consideration. Open-air storage shed on a barrier island in Florida, for example, might bring different concerns than a warehouse in northern Norway.
Exposing your raw materials to the elements, or storing them in improper conditions indoors, can lead to thousands of dollars in lost resources—a frustration that can become a dramatic business problem if it results in timeline slippage.
In the construction industry, regulations or company guidelines often direct employees on how to best store materials.
For example, teams should take care to store cement bags on wooden planks, rather than directly on the ground, and to stack them closely together in order to cut down on air circulation. 
These guidelines not only protect the company from loss of product in the event of water leakage or bag rupture. Worker safety is important, too.
For instance, the employees working with the stacks of cement bags should be provided with protection for their skin and perform their tasks only while wearing respirators and protective goggles.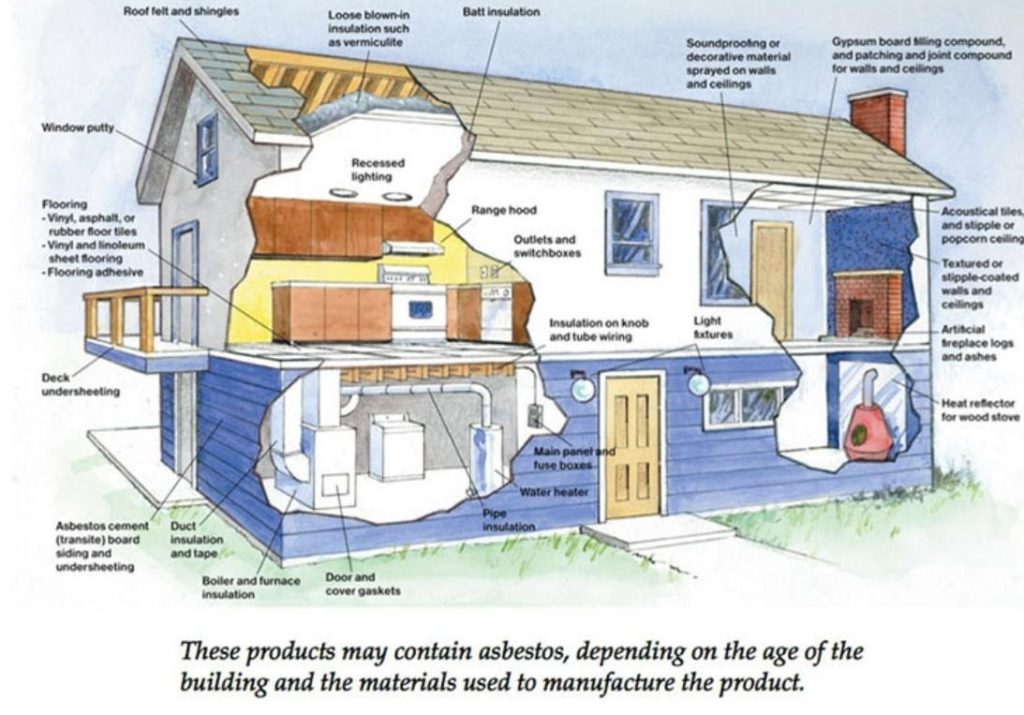 As you can see in the illustration above, workers might encounter dangerous materials in existing buildings.
That's why OSHA (the U.S. Department of Labor's Occupational Safety and Health Administration) provides extensive education and best practice suggestions regarding the handling of hazardous materials. 
All in all, how and where you store materials for your project is essential.
Don't make the mistake of exposing your supply to the elements, and do what you can to keep them safe. The same goes for your workers who need to be protected from hazardous materials in their work. 
Once you nail this part of material management, you can expect costs to go down and material efficiency to rise as very little will go to waste.
Failing to Track Your Inventory
Multiple busy and far-flung worksites, some so remote that cell service is unreliable, can easily contribute to confusion.
When staff members or contractors transfer materials between sites without proper documentation, projects can become delayed. 
Check-in and check-out systems, along with the use of intelligently designed inventory software, such as GoCodes' cloud-based inventory management, can drive accountability and visibility, helping you keep a close eye on your valuable inventory. 
Another issue project managers often face is theft. In these unfortunate cases, the use of inventory tracking can prove superior to even using a security staff, the members of which, unfortunately, can sometimes accept bribes to look the other way when thefts occur.
One respondent in a Canadian survey about security measures on construction sites reported that his company did not use night security guards "as we have found theft to increase", which only goes to show how limited the human element can sometimes be when inventory is concerned.
How much can a company lose in even one theft incident?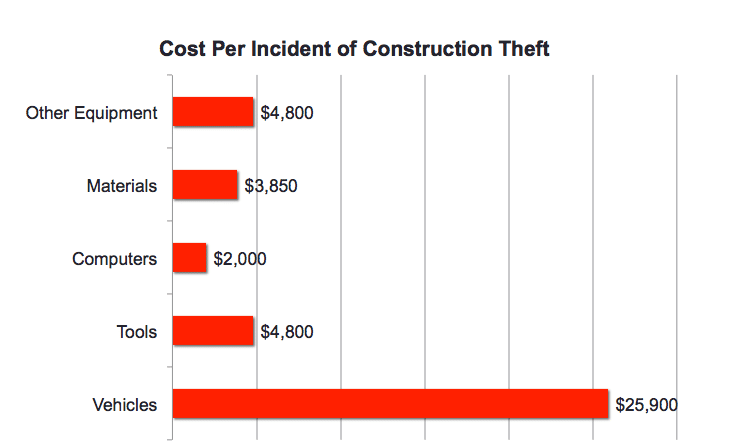 While many focus on preventing building materials, valuable tools, and appliances from falling into the hands of thieves, this graph indicates that vehicles represent by far the greatest losses. 
Attachments, minor roadworks items, pickup trucks, and even large items such as cranes can easily vanish without a prevention system, generating a paperwork nightmare and an endangered project.
Protecting your worksite with geofencing is a good solution.
Geofencing uses GPS technology to sound alarms when equipment crosses a pre-determined boundary.
This technology is an excellent deterrent and is useful for providing precise information to law enforcement or insurance companies. Following the progress of a shipment, then, isn't the only beneficial use of asset tracking. 
Keep in mind that your inventory can go missing for a variety of reasons.
While misplacement and theft are a somewhat inescapable part of the construction business, asset tracking can go a long way to minimize the losses missing equipment can cause. 
Poor Material Waste Management
What about the opposite problem of supply shortage—waste removal?
Over-ordering can prove just as costly as under-ordering or poor supply chain management.
Companies forced to pay the overhead for long-term storage might find themselves with expired or unusable materials or even supplies that are no longer safe for certain projects. 
Even when supplies are carefully managed, construction tends to generate a great deal of waste.
Over the past several decades, federal and local regulations have grown exponentially regarding proper waste management, particularly in areas under government protection or that are near environmentally sensitive areas. 
Waste recycling has become an industry in its own right, as shown in this graphic: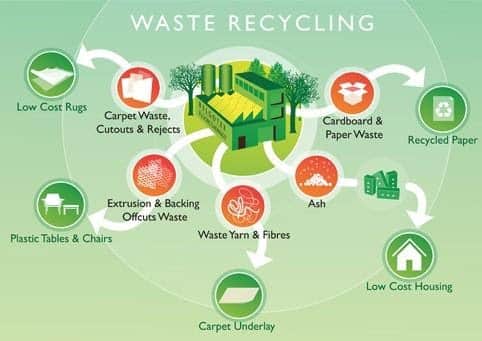 Managing waste can prove costly, especially when a company is seeking environmental certifications or attempting to build in a heavily regulated area. Here are some tips for waste reduction:
Ensure that storage areas are appropriate for various weather events
Train employees in best waste management practices
Invest in tarps, bungee cords, and plastic sheeting where necessary
Provide adequate space to receive material shipments
Allow for a flexible building site plan that can allow for different materials as the project moves along
Encourage employees to keep waste far from unused construction materials
Containerize as much as is prudent
Since the loss of materials can result in project delays, higher expenses, displeased clients, and even environmental fines, focusing on strong waste control can avoid any number of headaches.
Taking the time to invest in good material management can quickly lead to savings and a less chaotic worksite.
In addition, workers will feel more confident in their tasks knowing that they can locate essential items when and where they need them. 
Conclusion
The biggest mistakes related to material management include poor planning for material supply and waste management, as well as failure to track inventory.
It's also important to track material orders and store the items properly.
A strong inventory tracking program can prove useful in overseeing all of these aspects of material management.