Navigating the crowded waters of IT asset management software, you might be wondering which solution best fits your needs.
It can be easy to get overwhelmed by the sheer number of options available—each one promising to be the ultimate choice.
To save you this hassle, we've researched and created a list of what truly stands as the best of what the IT asset management software industry has to offer.
Stay tuned!
GoCodes
Managing a range of IT digital and physical assets can be overwhelming.
At times, it might even resemble juggling hot coals–especially if you're still using spreadsheets and manual processes.
GoCodes is a robust IT asset management and tracking software that can lighten that load for you significantly.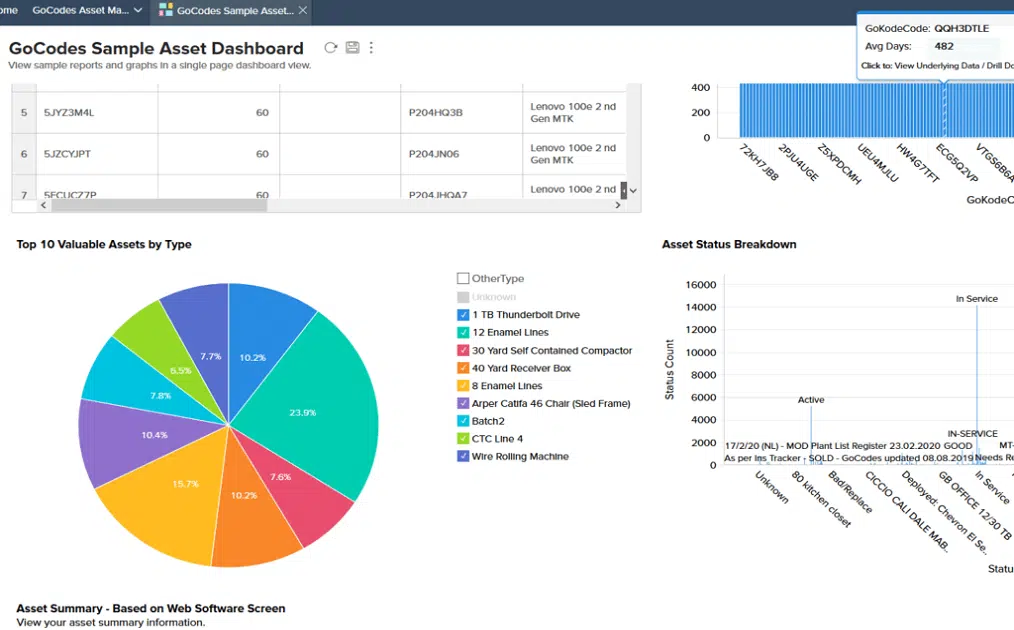 For starters, it allows you to quickly check in and out of your IT physical inventory.
Just attach the personalized QR labels (included in the software's price) to your IT devices.
Use the dedicated app on your smartphone or tablet, scan those labels, and start tracking your IT assets' whereabouts.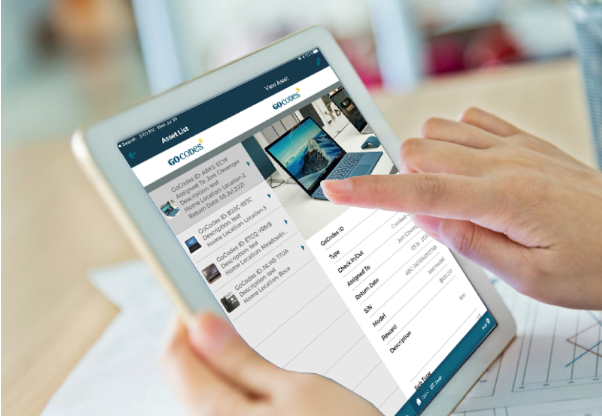 Having this system in place ensures that everyone stays updated because now, near-real-time information about every asset is at everyone's disposal.
And yes, GoCodes keeps up with the digital documentation too.
You can attach important documents, photos, warranty details, and service records to your assets for painless life cycle management.
GoCodes also gives you the option to customize notifications for various situations like low inventory quantities, overdue assets, and scheduled service reminders.
As for pricing, GoCodes aims to match every budget with five distinct plans.
The standard plan, quite reasonable at $500 per year, has a minor caveat. You'll need to print your own GoCode laser labels, but other plans throw in custom tags at no extra cost.
All things considered, GoCodes is a reliable, efficient, and comprehensive tool for streamlined IT asset management.
Its extensive features and top-notch functionality, tracking both digital and physical assets simultaneously, make it a standout choice in the existing market.
Freshservice
If you're looking for an easy-to-use, yet comprehensive solution for your IT asset management, Freshservice is a great tool to keep you organized.
From hardware and software to contracts and other vital assets, Freshservice lets you oversee all your records effortlessly.
You can categorize them based on various criteria—location, date of creation, or even by asset type. This makes monitoring assets very streamlined.
One of the standouts of Freshservice is how it elegantly organizes all this information in one interface.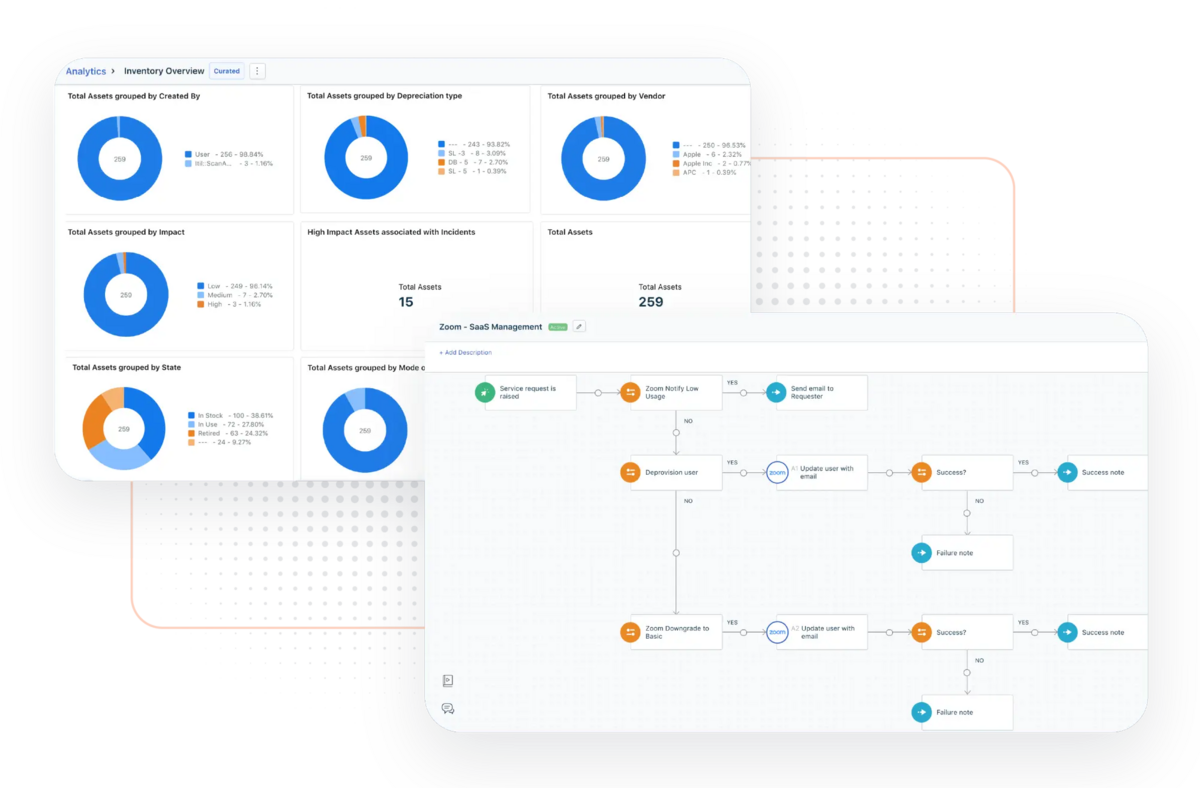 Presented with clear pie charts and graphs, your data becomes easy to comprehend at a single glance.
Also, Freshservice offers automated discovery capabilities through two distinct features—Discovery Probe and Discovery Agent.
With the Probe, you can easily scan IT assets.
Then, you can switch to the Agent view for capturing real-time data on your assets.
Switching between the Probe and Agent views is as easy as a click, leaving you with complete visibility of all your assets.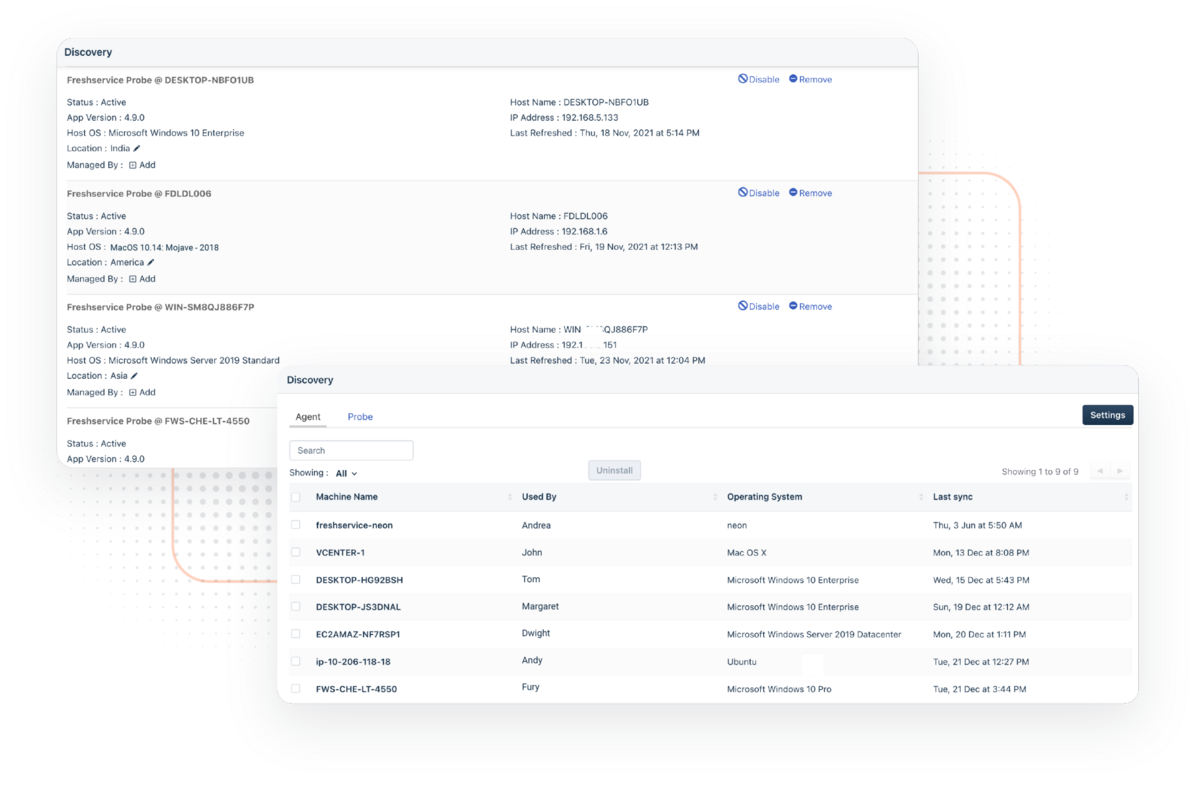 However, no tool is perfect, and Freshservice has its drawbacks too.
Some users note that the mobile app doesn't quite level up with the desktop version. And navigating the more extensive options might require a bit of a learning curve.
Additionally, with a starting price of $29 per month per agent for the starter plan, it might put some strain on your budget if you plan on adding more users.
Even with these minor caveats, Freshservice remains a great tool for streamlining asset management processes, especially if you have a lot of assets under your belt.
Ivanti Neurons
Managing IT assets in a medium-to-large organization can often seem challenging.
However, with Ivanti Neurons, discovering and managing all IT and non-IT devices, their location, assigned person, and status can become much more manageable.
Let's take a brief tour of the platform's interface to show you its features.
First off, what catches the eye is how nicely organized and straightforward the dashboard is.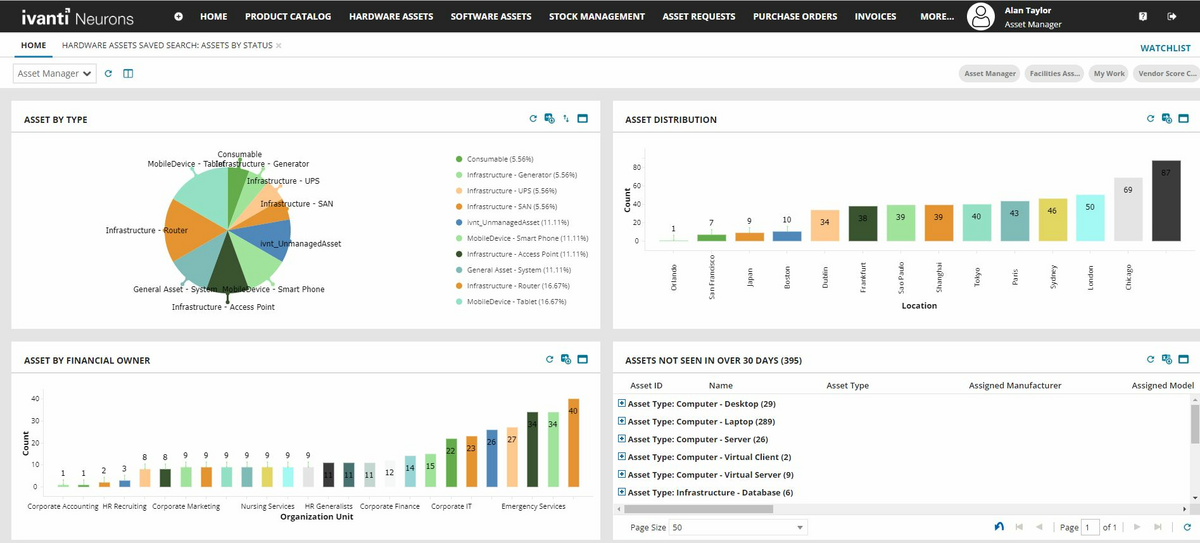 You gain more than just a list of inventory—you get insights, data, and analytics.
For instance, you can view assets represented in percentages depending on the type—whether it's a desktop, laptop, server, or printer.
Additionally, you have a real-time snapshot of asset distribution, an easy view of assets' financial ownership, and an alert system that flags any assets lying idle for over 30 days.
You can even dive deeper into the functionalities through the easily navigable top bar menu.
Next, one of the biggest headaches in managing assets is tracking their contractual and warranty data.
Ivanti Neurons solves this with an in-built feature that keeps you updated about each asset's status, duration, and even upcoming renewals.
As for software licensing, the tool provides valuable insights into what is licensed, what is being utilized, and the number of licenses left available, displayed vividly in the example of the Adobe Suite below.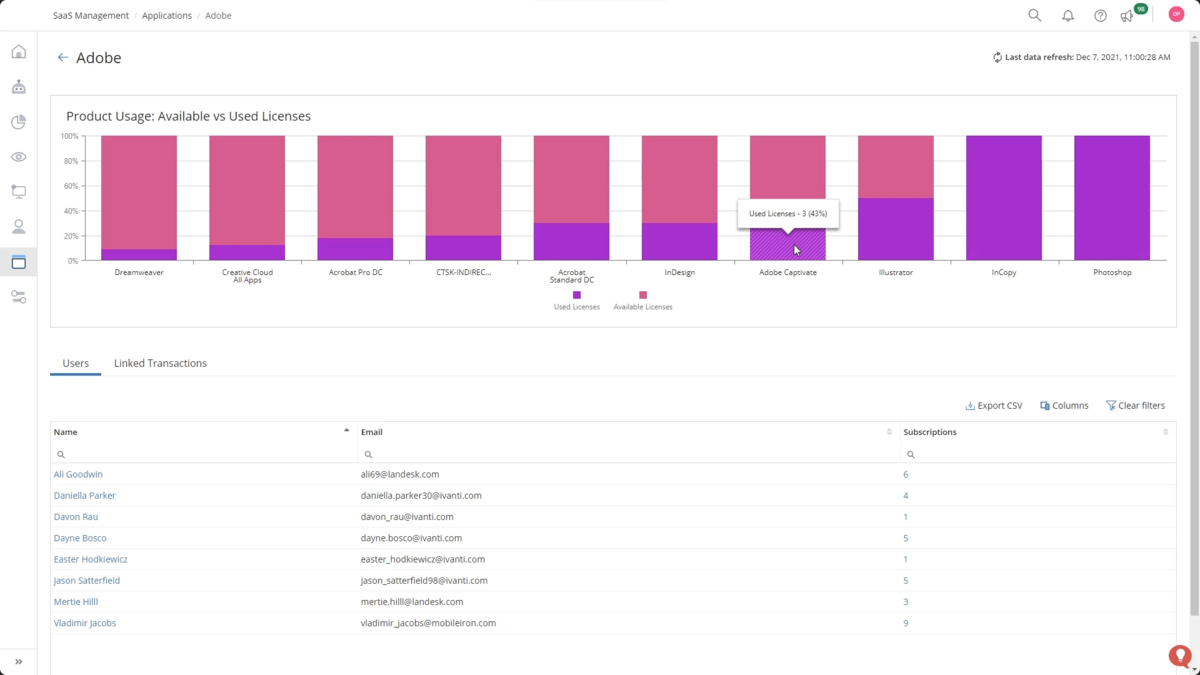 This makes using SaaS assets smoother and more cost-effective.
However, there may be initial challenges around setup, configurations, and customization, as these often require technical expertise.
If you consider this a deal breaker, think twice before purchasing this tool.
But once those hurdles are crossed, Ivanti Neurons is a comprehensive software that combines advanced features with efficiency to track and manage your assets.
ManageEngine AssetExplorer
Searching for a user-friendly, web-oriented IT asset management tool?
ManageEngine AssetExplorer may be a good fit for what you need.
This tool continuously updates assets by scanning software, hardware, and ownership information, neatly housing them all in one convenient location.
However, it should be noted that the dashboard of this tool may have a slightly "retro" feel when compared to some of the more modern-looking options on our list.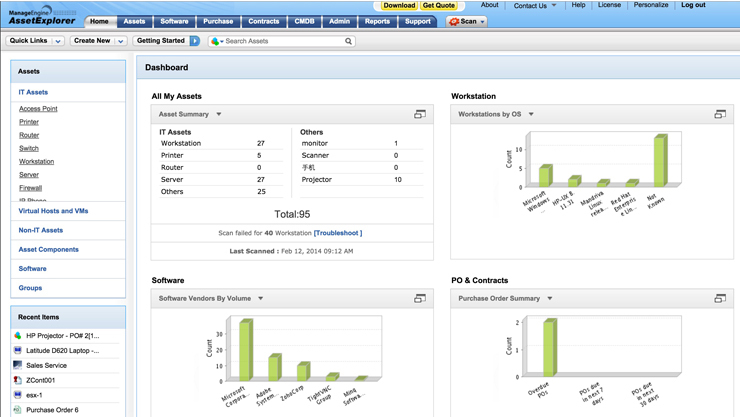 But what it might lack in visuals, it makes up for in functionality, particularly when it comes to managing software assets—a key component of IT asset management.
With AssetExplorer, you can track all the software installed on your network.
As shown below, you can monitor the number of purchased licenses, installed software, and remaining licenses.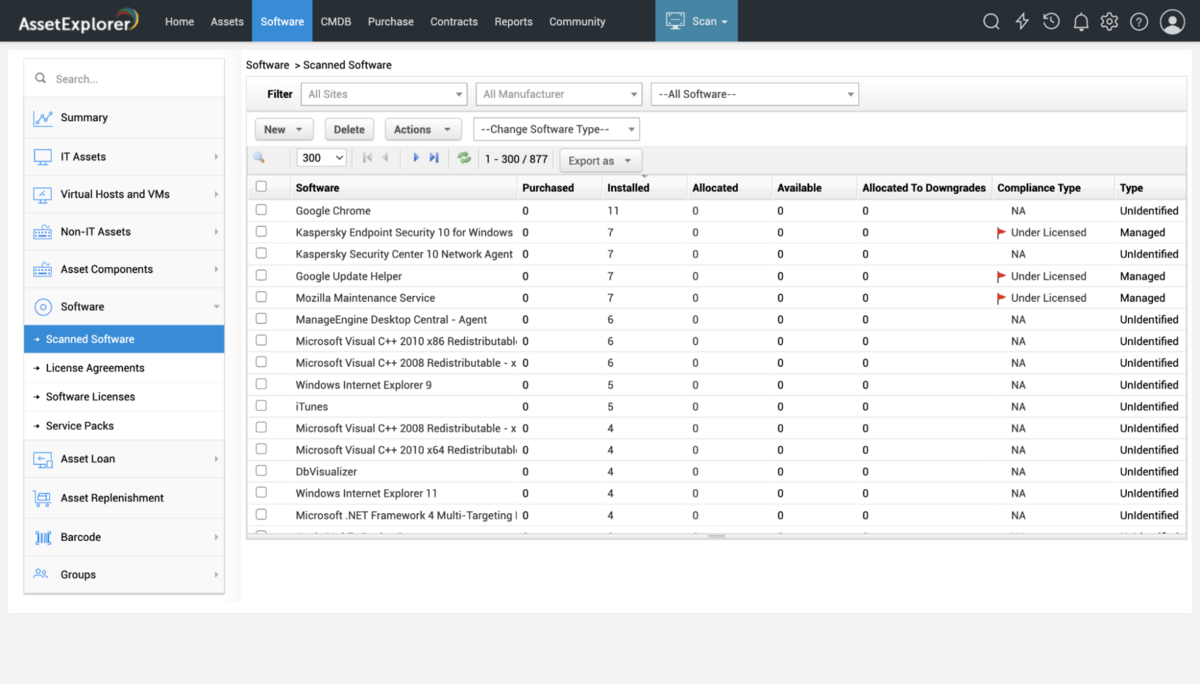 The tool is also very convenient for tracking assets throughout their life cycles, which enables you to plan ahead and make smarter purchasing decisions.
For instance, if a particular asset is close to expiration, you'll have enough time to order replacements, thereby preventing any last-minute panic or rush.
You can give this tool a whirl with the free or trial versions of the software. The free version doesn't have an expiration date, but it does limit you to managing only 25 assets.
On the other hand, the free trial lets you manage up to 250 assets for a whole 30 days. This should give you ample time to gauge if the professional pricing plan is for you.
Therefore, if you're in need of a well-rounded web-based IT asset management tool, and don't mind an interface that's a bit outdated, AssetExplorer is definitely worth considering.
NinjaOne

Dealing with network devices, servers, and workstations all at once can seem like a juggling act.
A possible solution lies in NinjaOne, an advanced IT asset management software.
With NinjaOne, you will be equipped with comprehensive features to monitor, manage, secure, and boost assets across the entire network.
That includes all the devices, from Windows servers, workstations, and laptops to MacOS and Linux devices. Feels less like juggling, doesn't it?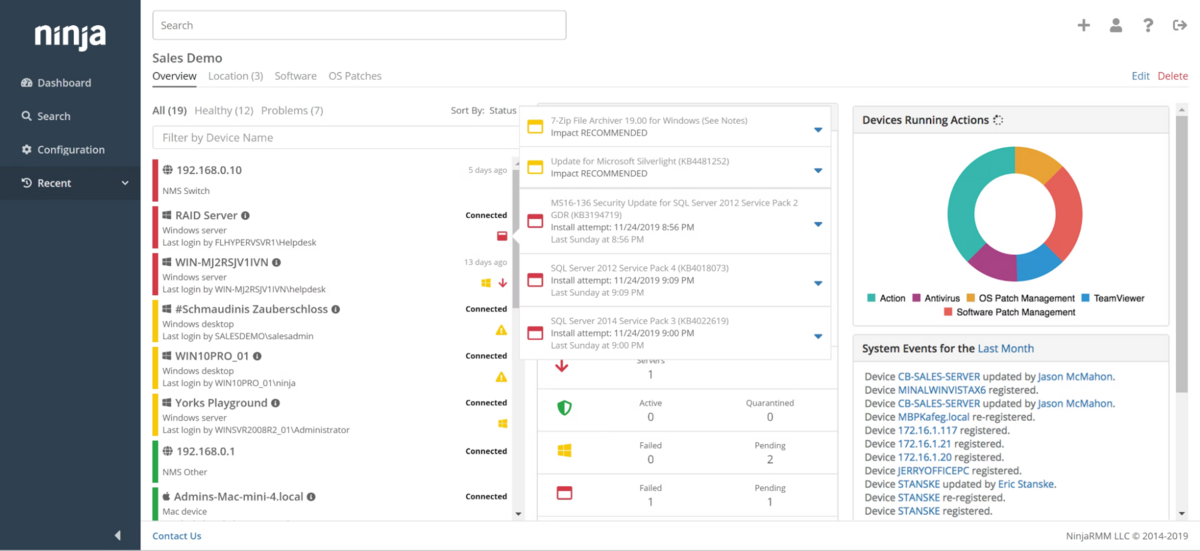 You can also keep an eye on the performance of routers, switches, firewalls, and other SNMP devices.
Taking it a notch further, NinjaOne allows for remote management of assets that doesn't disrupt end-users.
Thanks to a suite of robust remote features, you can control devices directly with remote access capabilities.
When it comes to pitfalls, some criticism is aimed at its reporting feature, which users have found to be a bit intricate.
Users have also expressed concerns regarding the limited integration options with third-party applications.
But, on the whole, NinjaOne is widely used worldwide for the job it does quite well—an exceptional ability to track assets across a diverse range of systems and workstations.
Pulseway
Pulseway is another great IT asset tracking and management software.
For starters, like many of the other tools on our list, it enables you to monitor and track your assets in real time.
However, with Pulseway, you're in full control.
You can monitor everything from machines, and network devices to server modules, all within a single, user-friendly dashboard.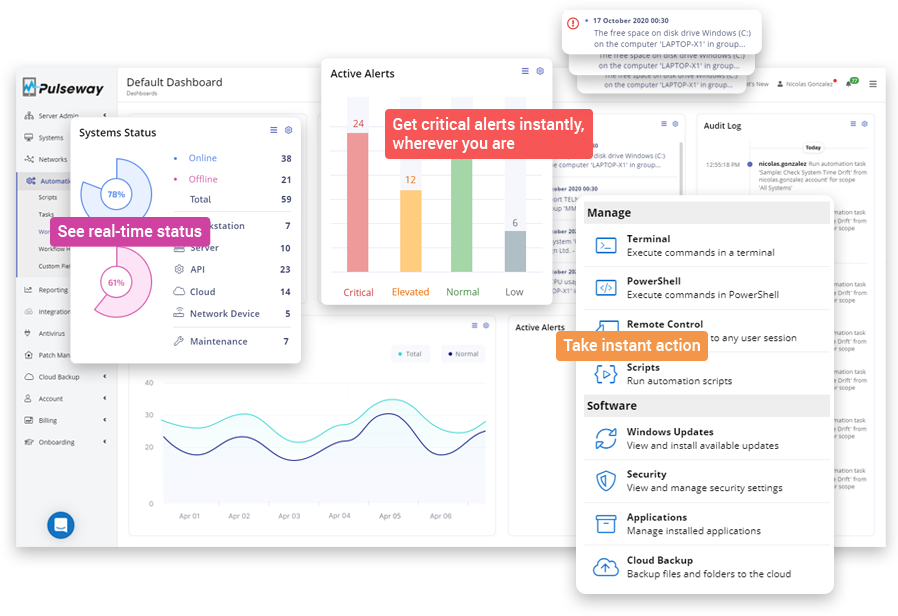 Also, whether it's Active Directory, Microsoft Exchange, SQL Server, VMware, or even XenServer and SCOM, the tool's got you covered.
The good thing is that Pulseway isn't just about broad coverage, it's about depth too.
Thanks to the auto-discovery feature, you can get complete visibility into your IT system.
It'll scan your network and identify all network agents. You can then enroll any discovered device that you want to monitor.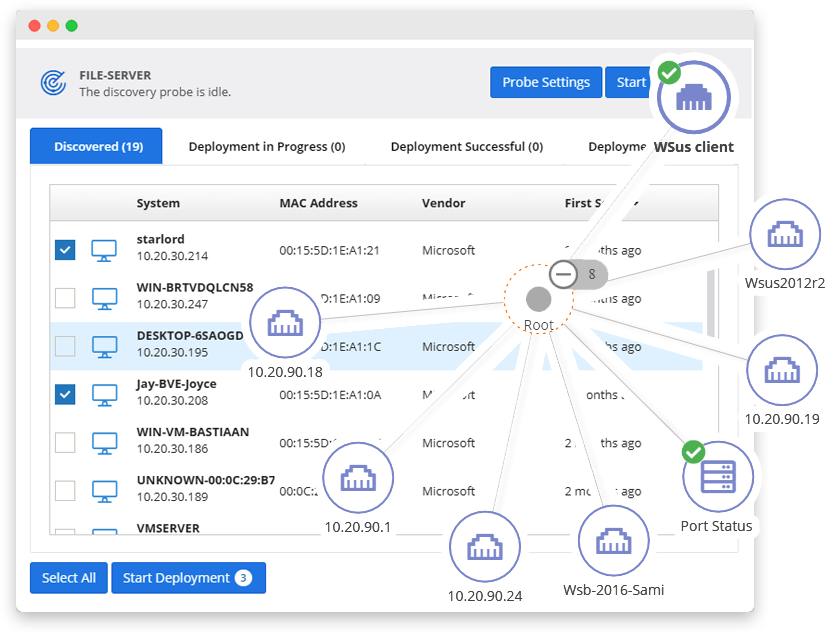 But just like any solution on the market, Pulseway isn't flawless.
It's a bit heavy on the pocket for some users, especially when it comes to smaller businesses.
And the interface, while detailed, can pose a challenge for those who aren't tech-savvy.
Nevertheless, at the end of the day, Pulseway brings an exceptional set of capabilities to the table.
Therefore, it's a tool you should put on your list of IT asset management software to give it a try.
ServiceNow
From service management to portfolio management, IT tasks often feel like spinning plates.
This is where ServiceNow comes into play.
It's a platform designed to connect all your IT workflows in one place, easing your load.
However, its standout feature is the IT asset management solution which enables you to manage the life cycle of your hardware, software, and other cloud-based assets.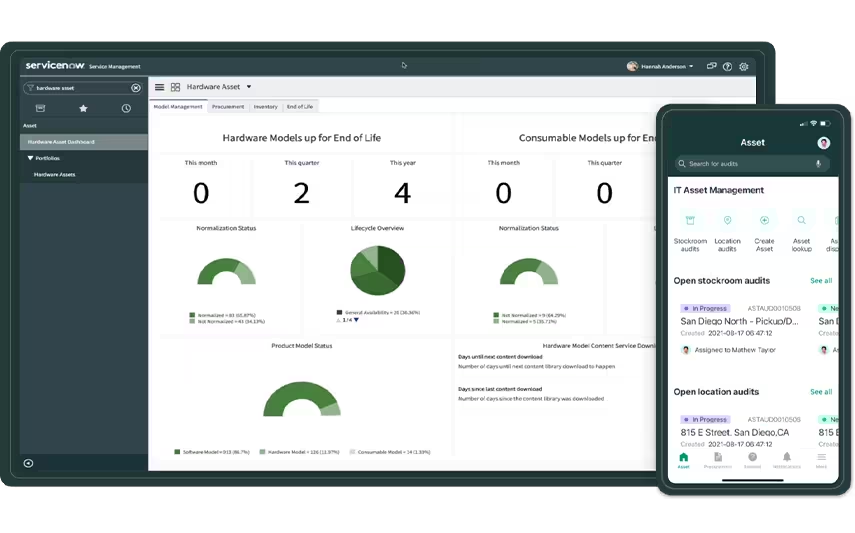 This solution comes packed with a plethora of built-in capabilities, including:
Asset inventory audit capabilities
SaaS license management
IT asset onboarding and offboarding
This range of functions is built on the Now Platform, inviting IT teams to use one centralized source for all their assets.
What's more, ServiceNow plays well with others.
It boasts extensive integration possibilities, connecting seamlessly with a wide array of apps and services.
While ServiceNow has gained noteworthy recognition, it, too, has its share of drawbacks.
The pricing structure, in particular, might raise eyebrows, especially for businesses with smaller budgets.
However, if you're on the hunt for a comprehensive platform that covers all bases, ServiceNow might just win you over, despite the heavier investment.
Just ensure you have all the details and costs ironed out before taking the big step.
Snipe-IT
Snipe-IT is an advanced and comprehensive asset management system that your team will love to use.
It keeps track of everything you need—who has what hardware, when it was purchased, which software licenses are tagged to it, and what bells and whistles come attached.
What differentiates Snipe-IT from other similar tools is its open-source nature.
This essentially means you can self-host it free of cost.
Of course, for those who need more features, opting for Snipe's hosting plan unlocks additional benefits.
Snipe-IT comes with an interactive dashboard where you can get an overview of the company's accessories, components, and assets.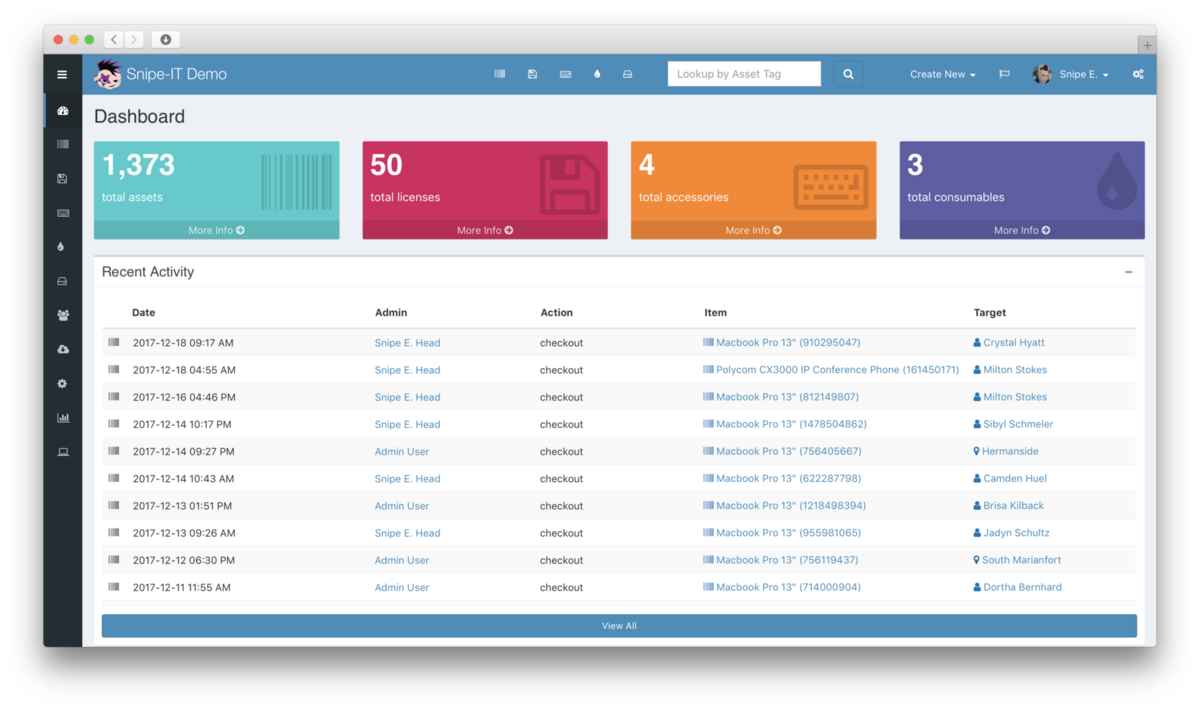 Ever found yourself wondering where a specific laptop is or who's responsible for a certain device?
Snipe-IT addresses this need, offering a crystal-clear snapshot of device assignments and their physical locations.
For this, you can create and print barcodes within Snipe-IT and assign them to the respective devices.
After that, you can use any barcode scanner because the tool integrates well with most of them.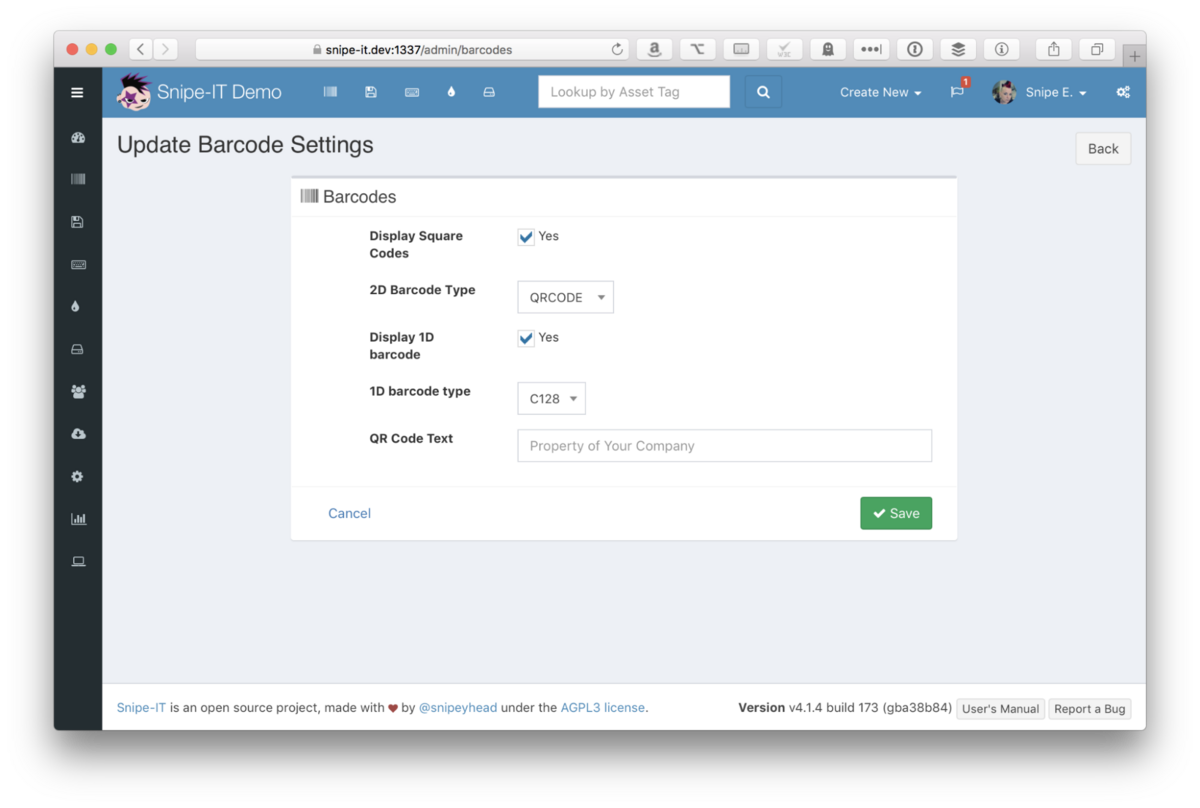 This may sound a little similar to GoCodes with its premade QR code labels and scanning app.
Although Snipe-IT might not be as streamlined as GoCodes, it's still very functional. It just requires a bit of extra work.
There is also an email alert feature that keeps you notified of upcoming license expiry dates and various events like asset checkout and check-in, deadlines, and even low inventory levels.
Therefore, if you want your asset management to be simple, efficient, and more than handy, Snipe-IT is a worthy contender.
SolarWinds
Chances are, you've encountered the frustration of managing countless spreadsheets and trying to keep up with the expanding list of hardware and software inventory.
That's where SolarWinds steps in, ready to lift this burden off your shoulders.
It monitors your company's complete hardware and software assets, encompassing computers, laptops, networking gear, and mobile devices.
By consolidating all your inventory in one place, it enables you to have improved control over them, preventing essential items from slipping away unnoticed.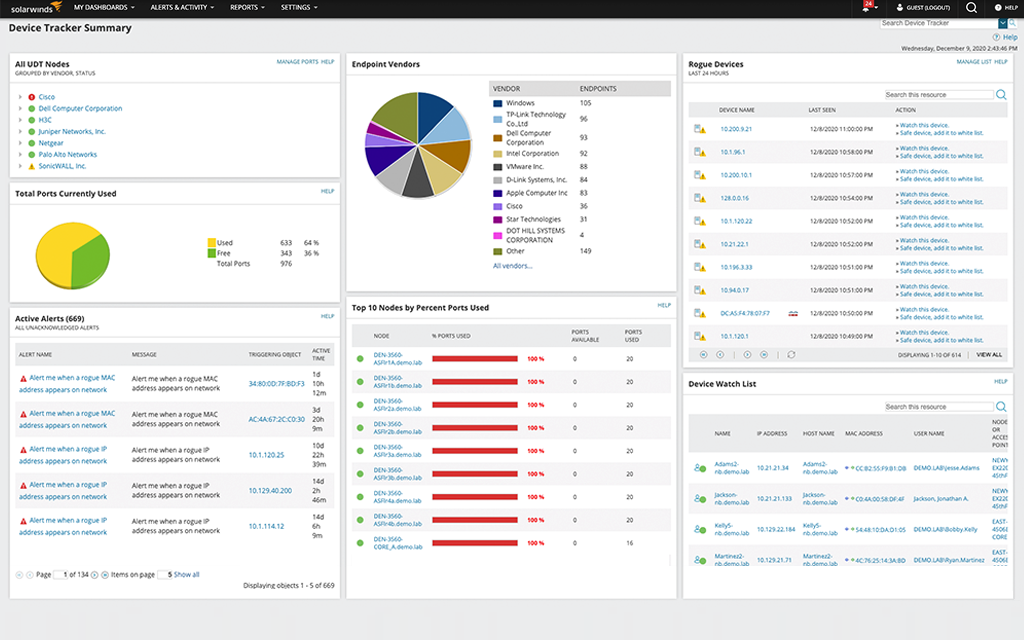 Also, the tool automatically collects crucial asset data, from system updates and warranty particulars to hosted VM specifics, as well as operating system and firmware updates.
Moreover, this tool will enable you to track changes or updates in your inventory and access essential information such as purchase date, warranty expiration date, and location.
This will equip you with a host of actionable data, crucial in determining the best time to replace any outdated or malfunctioning hardware or software.
Admittedly, SolarWinds isn't without its hiccups.
Some users might face a steep learning curve, and occasional accounts of sluggish performance and reporting issues have surfaced.
However, despite these stumbling blocks, the valuable insights and improved technical efficiency that SolarWinds brings can't be overlooked.
It's good at tackling potential issues head-on and worth considering in your tech stack.
SysAid
Have you ever found yourself struggling to manage both physical and digital IT assets from your service desk?
SysAid is up for this task.
Boasting a robust IT service desk and a comprehensive asset management platform, it offers an extensive range of capabilities to help streamline your IT processes.
One of SysAid's key characteristics is the way it simplifies ticket resolution.
By storing all asset data and records directly within each ticket, you'll have access to crucial information exactly when you need it.
SysAid also displays the service history of the assets, giving you valuable insights into related incidents, problems, and changes.
It goes without saying that this vital information can significantly boost your team's productivity, lower expenses, and ensure a better user experience.
However, every tool, no matter how comprehensive, holds room for enhancements.
Some users have cited concerns about SysAid's customization options and the need for a more updated interface.
Budget-wise, it may pose challenges for some companies due to its cost.
Despite these potential obstacles, it's important to acknowledge SysAid's undeniable benefits.
As a feature-rich help desk and asset management platform, it offers excellent value for users who require both types of software.
Conclusion
There you have it, the top 10 contenders, each showcasing unique strengths and capabilities that can cater to various needs and specifics.
From comprehensive inventory management to handy automation features—all these software have distinct characteristics to make your asset tracking and monitoring more manageable and efficient.
Keep in mind that before making a decision, it's recommended to thoroughly explore the platform, request a live demo, and consider your company's specific requirements to evaluate if the tool is precisely what you need.