Once upon a time, if a company wanted a way to check items in and out digitally, they had to purchase expensive packages consisting of barcode labels and scanners. These are quite clunky and often don't work as they should, and they require extra pieces of equipment in your office. These days, though, if you run a business in which checking items in and out is important, your smartphone can do the job.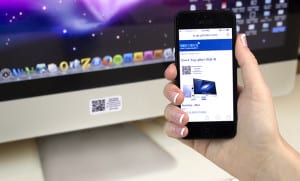 Track Your Equipment and Items with QR Codes
Whether you run a large construction company that requires the use of a variety of expensive tools and heavy machinery, or you are responsible for keeping track of laptops and tablets provided to students in a school, knowing where these things are is a vital part of your job. While you can certainly keep paper logs, these are easily misplaced, and there is a significant margin for error. QR code labels are much simpler. All you have to do is apply them to your items and equipment, and require individuals (or a representative) to scan them with a smartphone upon their provision or arrival.
Notifications when Items Leave or Come In
For example, if you own a construction company, then chances are good that there is a steady flow of very expensive equipment coming and going at all times. Being able to keep track of that equipment is vital to your bottom line; losing equipment or failing to properly maintain it can cause you some financial woes. Fortunately, QR codes make things simple. You can require employees to scan items in order to remove them from the facility, and you'll receive a notification when they do. What's more, you can also receive a notification when the equipment is returned, when it is due for maintenance, and even when maintenance has been performed.
More Information than Traditional Barcodes
QR codes can provide a user with far more information than a traditional barcode. As an example, if it is your job to keep track of the computers that children in your school take home, you might need to know where those computers are and even how long a student has had a particular device. The codes applied to these computers can also include GPS chips, which gives you even more information. Just use your smartphone app to scan the QR code, add the student's name, and add a date when the equipment should be returned. The computers can be tracked the entire time they are in the students' possession.
Access to Real-Time Information from Anywhere
Perhaps the best reason to use your smartphone to check items in and out is the ability to access information about your items in real time from any location with internet access. Each item checked out using your phone – or any other phone that uses the login for your specific application – information is stored in the cloud. This gives you a chance to log in and view records about your items with ease.
Checking items in and out with a smartphone provides a greater level of simplicity and convenience than traditional paper logs, expensive barcode scanners, or spreadsheets that could become the victim of human error. QR codes and smartphones are safer and more effective.