The role of a construction manager is so wide-ranging that one can sometimes wonder whether successful construction managers have some hidden superpowers.
With so many things to consider, manage, coordinate, communicate and supervise, it's hard even to define what a construction manager actually does.
So, if you're among those who would like to know, read on.
Responsibilities of a Construction Manager
In a nutshell, a construction manager is responsible for everything needed to successfully complete a construction project from start to finish.
Whether it's managing construction site workers and other project stakeholders, overseeing the project budget and schedule, controlling the quality of workmanship and materials, handling change orders, or completing punch lists in the project closure stage, the responsibilities of a construction manager are numerous and diverse.
Below you can see some general responsibilities suggested in the LinkedIn job description template: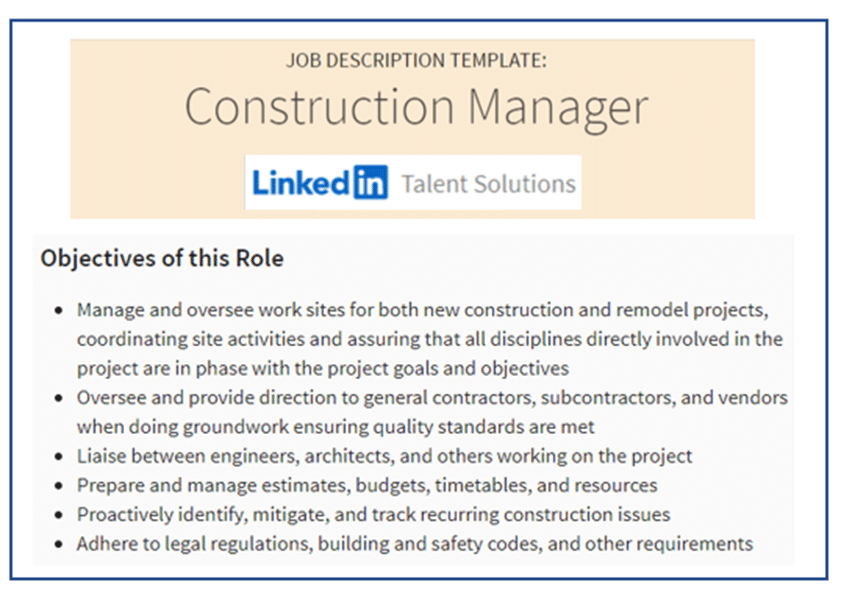 If we turned the listed duties into separate roles, it would mean that a construction manager also acts as a supervisor, coordinator, quality manager, communicator, planner, problem-solver, safety officer, and regulatory compliance officer.
Naturally, some of these roles and related responsibilities can be performed as separate functions, such as a construction quality manager or construction safety officer.
Thus, the scope of responsibility of construction managers can vary greatly.
It will depend on the project size and complexity, their specific project role, and the phase in which the project was when they became involved with it.
For example, large construction projects can have a lead project manager and several construction managers, each responsible for managing a specific project phase.
Also, if a construction manager is hired later in the project development, they may have skipped the project pre-design and design phases.
Regardless of when they get on board, they have so many responsibilities that the Construction Management Association of America (CMAA) divided them into six broad areas:
project management
cost management
time management
quality management
contract administration
safety management
In this lineup, project management includes responsibilities like project organization, creating a construction management plan, reviewing, maintaining, and updating design documents, managing change orders, handling punch lists, etc.
Cost, time, and quality management focus on efficiently managing the so-called construction project management triangle, i.e., budget, schedule, and quality assurance.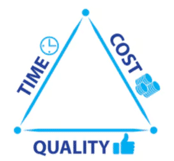 Finally, contract administration deals with the bidding and contracting process, construction contracts, change order reports, etc.
At the same time, safety management covers contractor safety enforcement and compliance, safety coordination meetings, safety audits, and the like.
All in all, a construction manager is usually responsible for the successful completion of a construction project from conception to completion, which is reflected in the wide-ranging scope of their responsibilities.
Who Does a Construction Manager Work With?
If a short answer to the question of what a construction manager is responsible for is "everything", a one-word answer to who a construction manager works with would be "everyone".
Let's first deal with the issue of who a construction manager works for.
Although they can be employed directly by the final user, e.g., a homeowner, they're most often employed by construction companies, general contractors, and architectural or engineering firms engaged by different clients.
Thus, in addition to working with the client (project owner/sponsor), they also work with their superiors and subordinates, often acting as a liaison between office and field personnel.
In their work, they'll also collaborate with and coordinate between a vast number of people involved in the construction project lifecycle: architects, engineers, consultants, accountants, different trade subcontractors, suppliers, construction workers, and local government officials, to name just a few.

For example, let's say that an error in the project design necessitates a change in the ongoing project.
When that happens (and it often does), this change will usually require the construction project contract to be amended.
That means that the construction manager will work with all relevant parties, usually the owner, contractor, and architect, to reach a mutual agreement on the change order in question.
Even before that, when the change is initially proposed, and one or more solutions are identified, the construction manager will request an estimate from relevant subcontractors regarding how this will affect their work scope, budget, and schedule.
Then the manager works with all involved to find an optimal solution.
Once the change order is agreed upon, the manager might work with lawyers and other legal experts on formulating the amendment to the original construction contract.
Finally, the construction manager will work with their team, construction workers, subcontractors, vendors, etc., to align the project budget and schedule with the agreed change order.
This is a good example of just some construction project participants that a construction manager works with.
To sum up, if you're involved in a construction project, chances are you'll be working with the construction manager in one form or another.
What Education Does a Construction Manager Need?
In the past, a high-school degree coupled with extensive construction experience may have been enough to become a construction manager.
However, as construction projects grow in complexity, construction companies nowadays look for candidates with a bachelor's degree in construction management, civil engineering, or related fields.
Although the educational requirements are higher, nothing can replace hands-on practice.
Thus, you'll still need several years of construction experience in different positions, including lower construction management jobs, to become a construction manager.
On the other side, if you're experienced and want to confirm your knowledge and expertise as a construction manager, different professional associations offer voluntary certification programs.
For example, the U.S. Bureau of Labor Statistics (BLS) recommends the above-mentioned Construction Management Association of America, which gives Certified Construction Manager (CCM) credentials to workers with the required experience, provided they pass a technical exam.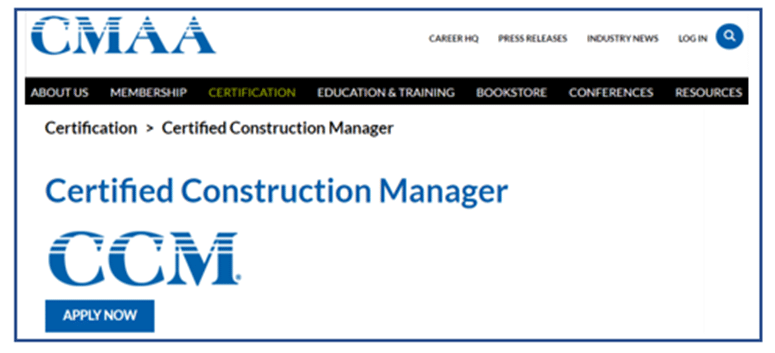 You can see what a CCM does in this short video.
Although such certificates demonstrate a high level of knowledge and experience in construction management, they might not be sufficient to be a construction manager in some states or on specific projects.
For example, construction managers in New York are often not required to be licensed if they're not performing other construction works.
However, California prescribes that construction managers must be licensed, but this applies only to managers working on public construction projects, as you can see here.

As for formal education, a bachelor's degree in construction management can cover subjects like safety standards, construction cost estimating, mechanical/electrical systems, scheduling, construction law, accounting principles, etc.
It should also be noted that a master's degree in any construction-related field or other related ones like project management, business, or finance would be a welcomed addition to your CV.
Of course, we shouldn't end this section without discussing whether the years of education and experience will pay off.
Well, construction managers in 2020 earned an average salary of $97,180 per year.
Naturally, the salary will depend on your experience, location, and project specifics. In other words, it can range anywhere between $45,000-$140,000 per year.
In conclusion, the increasing complexity of construction projects requires new construction managers to have a formal education, while experienced construction managers can update their skills and confirm their professional expertise through voluntary certification programs.
Traits of a Good Construction Manager
When we consider all the responsibilities they have and all the people they work with, it's clear that good construction managers need much more than solid education, practical construction knowledge, skills, and experience.
A role with so many moving parts requires construction managers to have (or work on embodying) some specific character traits.
The first one is to be a good communicator. Since the construction manager is primarily an organizer, coordinator, and facilitator, their best tool is effective communication.
This requires traits like emotional intelligence, active listening, good interpersonal skills, and efficient face-to-face interactions.
These traits also need to be supported by competent writing (e.g., reports, e-mails) and skilled online communication.
For example, proficient use of construction management software can improve the overall performance of any construction manager, including real-time collaboration and communication with their team and other project stakeholders.

This example is also a good warm-up for the second trait a good construction manager should have—willingness to learn, i.e., the propensity to examine, understand and try new things.
This could mean, for example, staying current with the latest construction technology trends, analyzing and updating risk management methods, financial expertise, or brushing up on other topics that would enable more efficient construction management.
Or it could mean being ready and willing to use construction software tools to streamline and integrate different aspects of the construction manager's job.
For instance, to improve the utilization rate and maintenance of different construction machinery, equipment, and tools, they would actively look for practical equipment tracking software to boost on-site productivity and cut costs.
In doing so, they would surely come across GoCodes, our simple and affordable solution that combines the power of cloud-based software, patented QR code tags, and smartphone scanner apps.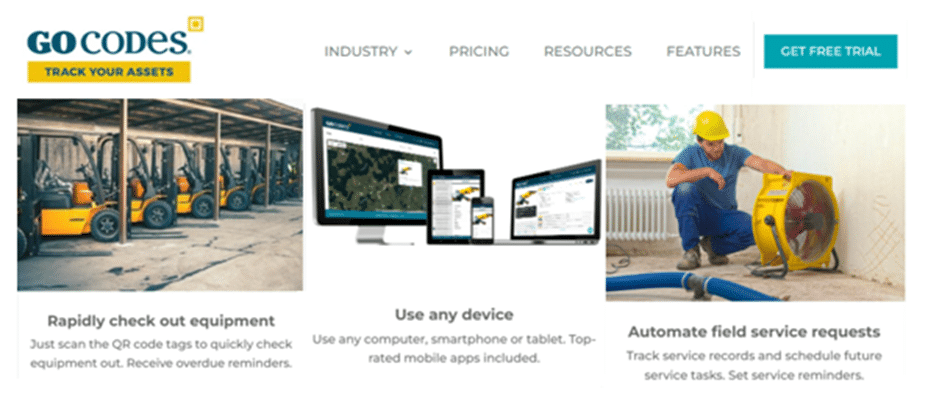 In today's world, being willing to learn and apply new construction technologies and methods is one of the biggest advantages of a good construction manager.
Before we leave, we should mention other important traits like practical problem-solving and negotiation skills that can come naturally or be obtained and perfected through practice.
To sum up, it's clear that construction managers need to be great communicators and problem-solvers who readily seek out and embrace new knowledge, tools, and processes.
Common Challenges Construction Managers Face at Work
When it comes to challenges construction managers face in their daily work, there are so many different ones that it's hard to know where to start. However, we can look at some common ones.
For example, if the project goals were poorly defined to begin with, this will result in frequent change orders, which will, in turn, create challenges like budget restrictions or scheduling issues.
The challenges posed by the changing project scope can be necessary due to being initiated by the project owner or because they result from undetected design errors.
Such challenges can be best handled by good planning (e.g., to minimize design faults), continuous communication (e.g., to temper the client's unrealistic expectations), and establishing a formal change order management process, i.e., ensuring that any changes are agreed upon and signed by the client and other relevant stakeholders.
Here's an overview of these and other challenges construction managers usually face: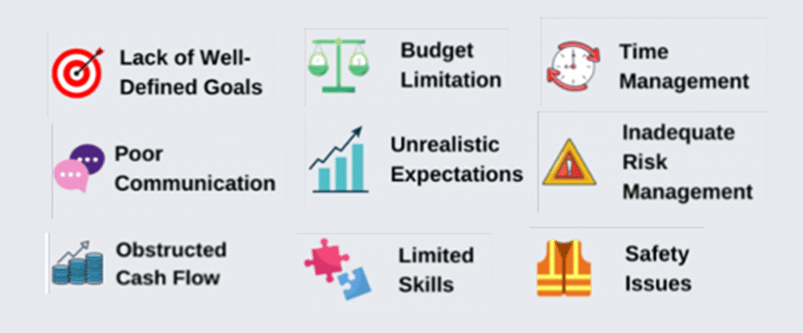 For example, the current state of the economy on the local and national levels heightens the challenges arising from budget limitations, inadequate risk management, or obstructed cash flow.
At the same time, skilled labor shortages can result in limited skills of construction workers and safety issues. All of these then produce time management constraints resulting in project delays.
And we didn't even mention the challenges of accelerating climate change or stricter government regulations.
One of the most effective ways to prevent or minimize the likelihood of those challenges coming to fruition is good planning. More specifically, robust, adaptive, and resilient planning.
In other words, the job of a construction manager is much easier when a construction project has clearly defined goals, potential design clashes and errors are removed, budgeting and scheduling are based on precise estimates and include safeguards and contingencies that will allow for adaptive and resilient management of many expected and unexpected setbacks.
So, the common issues that construction managers deal with at work are even more diverse than their responsibilities.
To tackle them successfully, construction managers need to be great planners and efficient change managers.
Conclusion
We hope this article clearly explains what construction managers actually do. It's clear that being a construction manager is a complex and demanding job.
However, it can also be very rewarding, as it allows you to be responsible for the success of various construction projects and enjoy the financial benefits of this dynamic position.