Fires, floods, and landslides are devastating. After taking all possible measures to get people through these disasters safely, we begin to assess the physical damage to properties.
Homes, businesses, and public facilities are subject to critical losses after these disasters. Often, these damages cause critical failures that need to be rapidly addressed. Rapid response in these situations is exactly what J & M Keystone specializes in.
J & M Keystone, Inc. was founded in 1984 by Jim Bronson in the San Diego area. Focused on emergency construction services and carpet cleaning, the business has now grown to serve a number of important fast-response needs in the area. In addition to their fast-response services, J & M Keystone performs containment services for construction projects in sensitive environments.
I had the opportunity to speak with Lee Sherman, Operations Manager at J & M Keystone. He helped me understand the business and revealed some of the keys to their continued success over the decades.
Growth Through Collaboration and Adaptation
Lee started as an administrative assistant and remains with the company primarily because of the culture there.
"It's a great business that's doing really well," says Sherman. "We see growth every year. Overall it's a good work environment. There's a lot of teamwork that we've developed."
According to Sherman, collaboration has been key to much of their growth and success over the years.
"A lot of people have a lot of input," he explains, "and we try to foster all that and take it all in and see what works and what doesn't work."
The ability to adapt and remain flexible has also been important for the company. In addition to incorporating input from team members, trying different things out, and being unafraid to change the company's bill of services have contributed to their success.
When the company started in 1984, for example, many of their contracts were large-scale carpet and flooring installations. According to Sherman, such contracts didn't work well for J & M.
"It's not profitable unless a business focuses and specializes in flooring installations," says Lee. For J & M Keystone, providing a variety of services has proven to be a better strategy.
Diversity of Services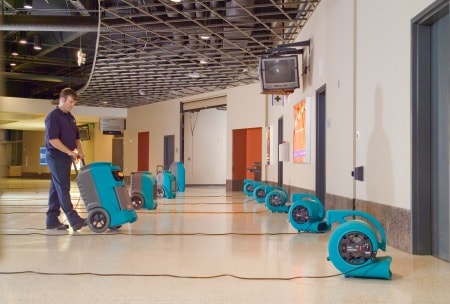 Today, J & M Keystone offers a variety of residential and commercial services. Their specialty is fast response contracting services. They offer services for water damage, fire and smoke damage, crime scene damage, and more.
In addition to their fast response services, J & M Keystone is a general contractor. "We pretty much do everything when it comes to construction in general," says Sherman.
In the world general contracting, J & M Keystone provides important services for construction projects in sensitive environments.
"We do containment," explains Sherman, "which is important if there's construction going on in a hospital or in a laboratory." In these areas, it's critical that construction projects and the associated contaminants do not interfere with the collocated sensitive environments. Containment and infectious control are among the special services that the company is known for.
Serving the San Diego Area
In the years since J & M Keystone, Inc. opened its doors in 1984, San Diego County has almost doubled in population, growing from 2 million residents to an estimate 3.5 million in 2018. During that time, the inflation-adjusted GDP per capita has seen a significant overall growth trend.
The local economy is driven by a variety of industries. According to City of San Diego website, these industries include defense, international commerce, tourism, academic and commercial research, and manufacturing.
All of this growth and activity means that general contracting work is in high demand in the area.
As with many Southern California counties, San Diego County experiences costly damages due to landslides and wildfires regularly. This is largely due to the drought-flood cycle that California experiences. According to an extensive analysis of precipitation and water table records by the USGS, these flood and drought cycles are quite common from a historical perspective. Climate scientists expect these cycles to intensify in the years to come.
In addition, the county is at risk for earthquake damage, as it is located on the quiet-but-active Rose Canyon faultline.
San Diego County's propensity for natural disasters drives the need for J & M Keystone's emergency contracting services in the area.
Asset Management to Control Shrinkage
A part of Lee Sherman's work with the organization has involved the company's asset management challenges. Previously, J & M Keystone experienced substantial losses annually in this area.
"We would lose a lot of equipment," explains Sherman. "We were losing about $30,000 of equipment every year, on average."
This issue prompted the company to take action and start addressing asset management in a more structured and systematic way.
"About two years ago, we were doing research on asset management," says Lee. He looked a number of options. "GoCodes was one of the people we reached out to."
A part of what attracted the company to GoCodes' asset management solution was is its lack of physical hardware and resources.
"Really through their free trial we were able to start with the QR codes that we could print here," explains Sherman. This enabled his team to give the solution a try without committing to buying any hardware; J & M Keystone employees were able to download the GoCodes mobile app and start scanning the QR codes.
"We tried it out with one of our flood crews," says Sherman. "We were able to have them check equipment in and out and we were able to track where it was."
Without the need to buy dedicated scanners and with out-of-the-box support for access to GoCodes' cloud-based solution, the trial system was up and running before Lee had to commit to the GoCodes solution. From there, it was a natural choice.
"We ended up talking with Tony and got all our labels purchased and placed on all our equipment," reports Sherman. "Through that, we've got our equipment loss down, probably closer to $1,500 per year."
Inventory loss is almost never due to theft. Much more often, equipment is left behind at job sites.
"People are leaving equipment. We are able to track it down to where it was last," explains Lee. "We are able to get back to those areas and contact those clients, we can usually track things down."
With GoCodes' built-in GPS tagging, the company has a convenient way to track the location of equipment. Each QR code scan with a smartphone has GPS coordinates associated with it.
Compared to other GPS tracking methods, this is an extremely cost effective solution.
The savings in inventory loss alone have made the product worthwhile for Lee and his company. An added benefit for Lee has been the way that GoCodes simplifies his direction of logistics operations as well. With the ability to check in on the location of equipment by referencing most recent QR code scans, Lee is able to more efficiently manage the movement of equipment between sites and storage facilities.
"I can look up dehumidifiers and see where all of those are and when they were last touched," says Lee.
Other Applications
Lee Sherman told me that he appreciates the simple functionality of the GoCodes solution.
"For what we do," says Sherman, "we actually use very little of GoCodes' functions. We're just doing basic asset tracking."
These basic functions have made a difference for him. "It's cool, it's great, the overall web interface is pretty easy… It's overall been a wonderful product that's been well received by management" he says. "[GoCodes is] always working on the phone interfaces which is obviously what all of our people are using."
Lee follows some of the other features and products that GoCodes is developing. "It's got a lot in it that we don't do a lot of the report stuff," he says. "It's interesting to see what they're working on."
GoCodes for Your Business
Every business with physical assets has an asset tracking system; it may be a simple spreadsheet saved locally somewhere, or even list of items that a business owner keeps track of her head.
As businesses grow, the need for a scalable and portable asset tracking solution grows as well. Finding a solution that's quick to deploy, flexible, and affordable is important!
GoCodes offers a flexible solution that meets a variety of needs with minimal setup. Contact GoCodes for more information about our efficient, cloud-based asset tracking solutions.