Labels, big and small, are a common sight at any warehouse. If your business is expanding to a new warehouse or upgrading the existing one, you should re-examine your warehouse labeling practices. Why? Because a good warehouse labeling system provides many benefits.
Here are seven of them.
Navigation Through the Warehouse Is a Breeze
If you have a large warehouse, you know that searching through the aisles can be time-consuming. With warehouses growing in number, size, and complexity, it's time to rethink how to best navigate them.
A good labeling system will make it a breeze.
As you can see below, the number of warehouses in the U.S. grew by almost 27% between 2010 and 2020, reaching 19,190 warehouses.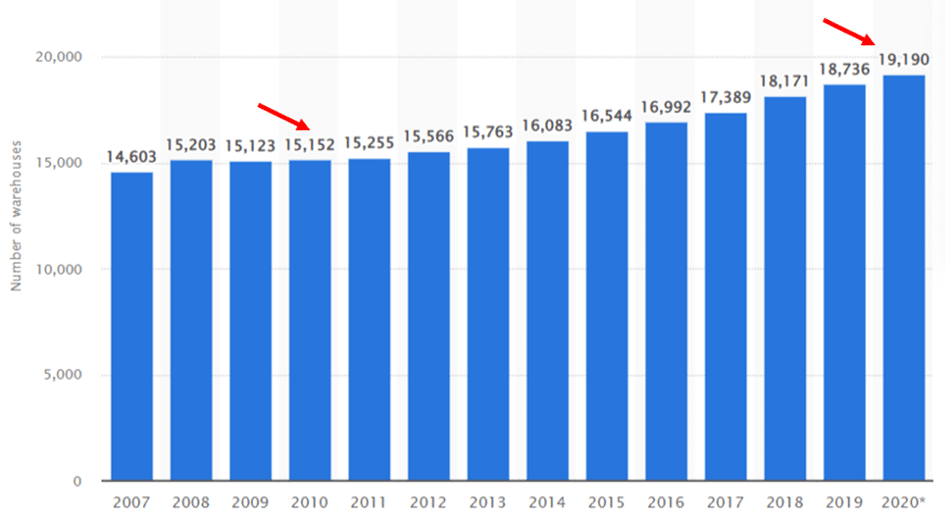 As e-commerce and new technologies spurred their number and size, warehouses also grew in complexity—they now hold more stock, and more inventory goes through them.
So, businesses throughout the world are looking to organize their warehouses better.
Warehouse labeling systems are a crucial part of warehouse operations. It's safe to say that without them, chaos would ensue.
In a warehouse, everything can and should be labeled and categorized, from those tiny labels on products, equipment, and materials to those large signs on the walls, floors, and even ceilings.
When warehouse navigation systems are concerned, labels play a key role, most often in the form of barcodes or QR codes.
Every warehouse inventory management solution uses labels of some sort. Like this one, for example, that utilizes handheld scanners.

Such solutions are still widely used, but there are now more affordable systems that utilize QR codes and smartphones.
After all, smartphones these days come with QR scanning capabilities, so why not take advantage?
When it comes to larger formats, labeling usually starts with the aisles. Marking them helps employees to faster navigate through the warehouse and find what they're looking for. They will also remember it for the future.
That's why aisle marker signs are common even in smaller warehouses. They come in various shapes and forms, as you see below.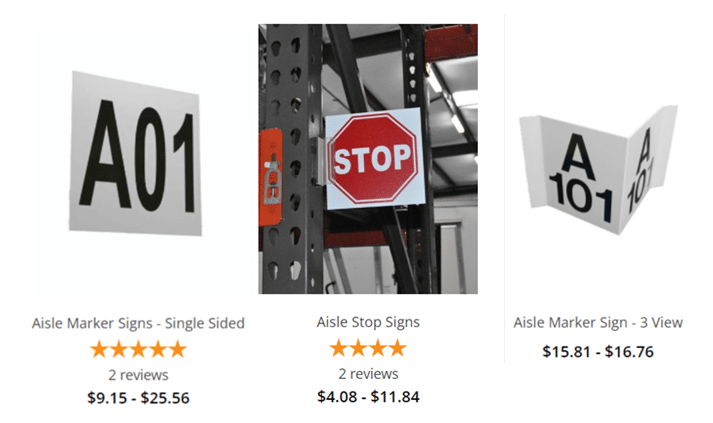 Of course, labels on the floor and signs on the walls will let people know where they are and what safety precautions to take.
Thus, big or small, labels are paramount for all warehouse operations. And a sound labeling system will provide full visibility of all items in your warehouse.
Product Location Is Easier
When it comes to product location, labels are indispensable.
Correctly labeling your stock and your warehouse will facilitate this process, thus helping to eliminate product mishandling and labeling errors.
And these mistakes can quickly become expensive—a recent study shows that companies, on average, spend $69,000 annually just on incorrect labeling costs.
Here are a few more numbers from that study.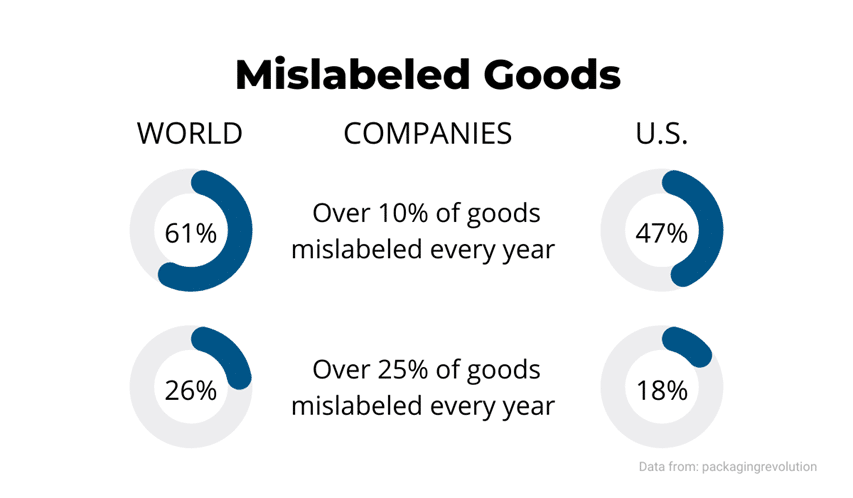 Such a high percentage of companies with over 10% of mislabeled goods shows there's room for improvement when accurate labeling is concerned.
A precise warehouse labeling system will make sure your inventory stays organized in the proper areas, and it's easy to locate.
For example, labels on aisles, shelves, racks, bins, totes, and pallets will make sure inventory is easily accessible.
Special storage areas like warehouses for surplus and expired products or cold storage have their own labeling requirements, which should be considered.
When warehouse labels are concerned, they include the aisle marker signs mentioned above and wall and floor signs, and rack labels. All of them can be customized to your needs.
For example, they can be color-coded and/or contain codes that can be scanned from afar, most often by forklift operators.
Some large warehouses use industrial scanners mounted on forklifts, like Carlsberg in their warehouse in Sweden, which uses Datalogic DS6400, shown below.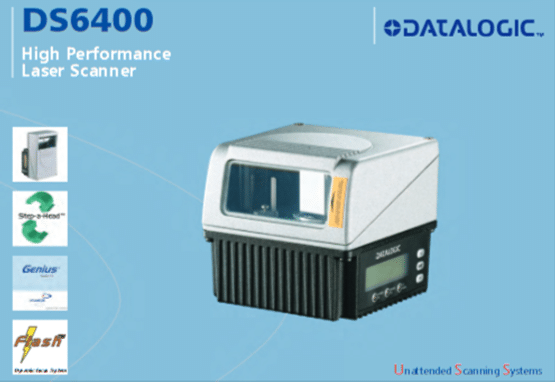 As the company faced new EU food regulations, it needed a new warehouse system. The warehouse size and layout required the readers to be mounted on forklifts.
They decided that the above industrial barcode reader is the most optimal solution due to having the largest reading area.
Of course, proper placement of signs is crucial even in such applications. When staff is looking for a specific item, properly positioned signs can save them a lot of time.
So, a good labeling system on all levels will make product location easier, and eliminate many mishandling errors, thus saving you both time and money.
Product Identification and Handling Are Better
So, now that we've covered how warehoused items can be more easily located, it's time to see how product identification and handling can be improved by implementing an appropriate labeling system.
As said, labels are ultimately used to identify products.
When scanned, barcodes provide information on the type of product and its technical details. Without this key information, items can be easily misplaced or mishandled.
The data provided on labels can include things like the product expiration date or specific storage or handling requirements.
For example, barcodes use bars and spaces to store data that can be read by scanners.
In the figure below, you can see where this data is organized.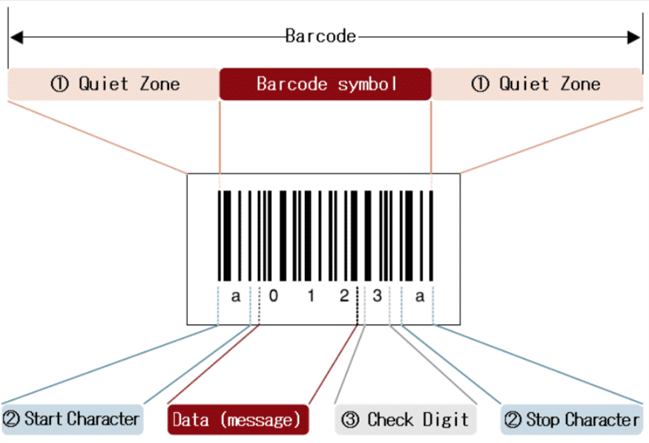 If the product has a limited shelf-life, its packaging label should clearly say so, and the warehouse manager should organize them by their expiry date.
Many products that go through warehouses are already marked with shipping labels that tell you a lot about how they should be handled and stored, like this one.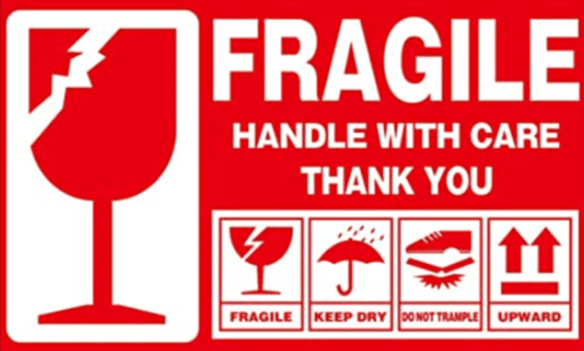 In addition to special requirements being clearly marked, sometimes labels need to describe the category to which an item belongs and whether it's meant to be stored or shipped as a single item or in bulk.
Furthermore, if your product is to be shipped in parts, the product labels should say something like "Shipped together with products A, B,…".
And then, there are custom labels for internal purposes, such as "To be approved by supervisor X before shipping" or "On hold for client Y."
Of course, any labels that can be scanned minimize the manual work involved with inventory control.
So, it's evident that the right end-to-end warehouse labeling system accelerates product identification and increases its accuracy, thus saving your business both time and money.
Shipping Is Faster
In a nutshell, there would be no shipping as we know it without labels.
In the context of warehouses, a good labeling system can streamline the shipping process and make sure your clients get the right product on time.
In today's online shopping world, companies know that order fulfillment is crucial.
After all, if your customers don't receive the products they ordered, they'll go somewhere else with just one click. This image offers a simple explanation of what order fulfillment is.
This video explains it under a minute:
When something goes wrong in this process, the result is a shipping delay.
This puts companies at risk of losing business and, ultimately, their competitive position.
So, the pressure is on warehouse managers to increase the accuracy and speed of order picking while also making sure that labels facilitate delivering products to their destination.
Scannable labels provide the benefit of enhanced tracking.
For example, online distribution centers can use them to scan shipped-out items, thus keeping track of their inventory levels.
And, since the shipping process does not end until the customer receives their product, tracking options extend outside the warehouse in the form of shipping labels.
Like this one, for example.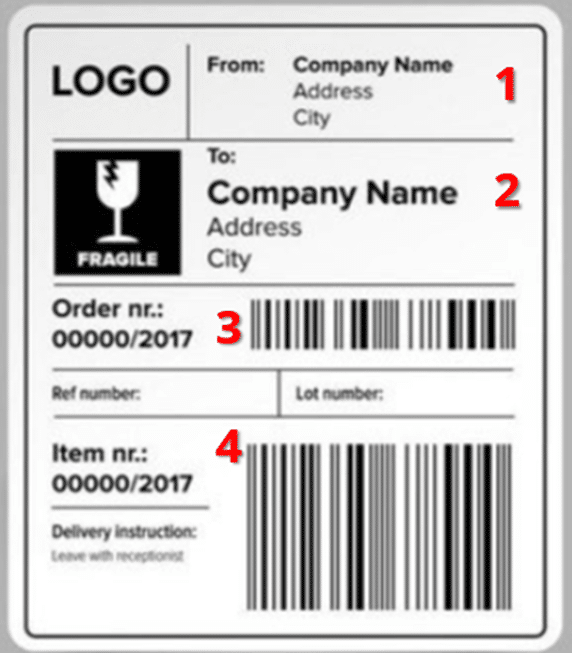 Although shipping labels can have different contents, most include:
the return address (1)
shipping address (2)
order number (3)
item number (4)
The last two can usually be retrieved by scanning a barcode.
Without them, businesses could not even imagine the scope that e-commerce has already reached.
And it just keeps on growing—sales are expected to rise from $4.9 trillion in 2021 to $6.5 trillion in 2023.
Shipping labels can also be used for sales and inventory tracking.
They can even make the return process much easier since vendors can use them to check the shipment date and contents.
All in all, an optimal warehouse labeling system will make shipping operations in your warehouse fast and accurate, thus allowing your business to keep pace with the times.
Warehouse Safety Gets an Upgrade
Warehouses can be dangerous places. The constant movement of people, equipment, and machines can sometimes lead to serious or even fatal injuries.
The correct labeling system will give your warehouse safety an upgrade, thus making it safer and more productive.
As this Occupational Health and Safety Administration (OSHA) guide clearly states, warehouses are full of potential hazards.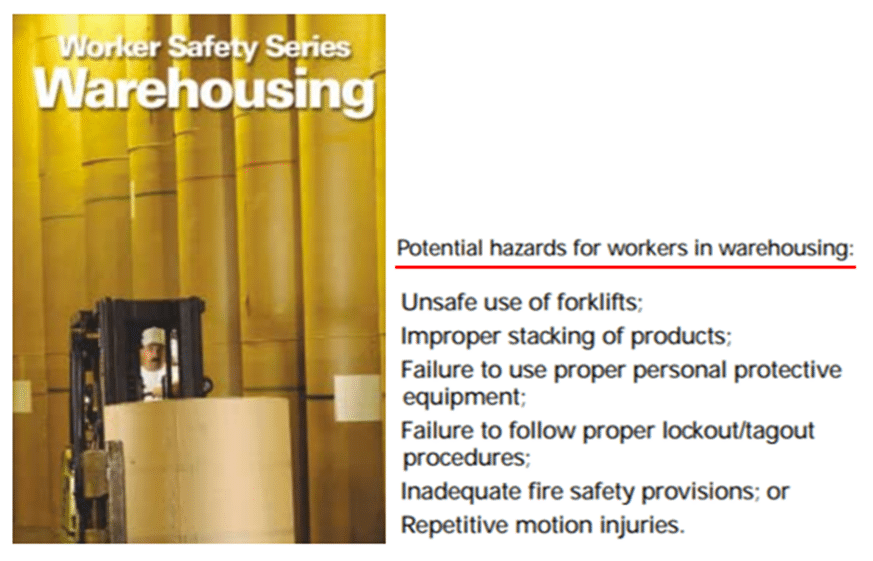 Furthermore, OSHA says that warehouses have a higher-than-average rate of fatal injuries.
How many of them are a result of poor warehouse signage remains unknown.
However, it's wise to remember that a warehouse is not only full of products but also equipment and machines.
So, it makes sense to not only label products, put signs on floors and walls but also label your warehouse equipment and machinery with information that helps increase safety.
Many hazards can be prevented or minimized by adding proper signage to the areas with safety hazards.
Of course, nothing can replace good safety training combined with some common sense.
But the right safety signs can improve your warehousing operations.
To achieve this, you'll need them to be placed in visible locations with clear messages like these.

Warehouse floors should also be used to mark forklift and walking paths, thus preventing potential incidents and streamlining warehouse workflows.
In conclusion, a combination of the right warehouse equipment labels and safety signs related to their movements will upgrade both the safety and productivity of your warehousing operations.
Warehousing Logistics Are In-Check
As products or materials move through the warehouse, that's rarely their first or last location.
A solid labeling system will help you manage warehousing logistics and keep them in check for the benefit of your business.
If the labeling system is well-designed, the process of tracking a product through it is simplified.
In cases when the product moves between several company facilities (finished goods warehouse, distribution center, etc.), labels can facilitate logistics management even before the product lands in your warehouse.
How?
When products carry uniform labels readable by all warehouse scanners, it's easy for the system to track the product as it moves from one place to another.
And keeping accurate inventory allows you to track products in near real-time, thus preventing orders of out-of-stock items.
Moreover, you can get updates on slow- or non-moving goods, as well as understocked items.
An integral part of any such system is inventory tracking software.
And, when it comes to affordable solutions for small- to medium-sized businesses, you should consider GoCodes.
Our patented solution combines the power of QR codes, smartphones, and cloud software and requires no hardware to purchase, labels to print, or software to install.
And it can even automate equipment handovers in your warehouse.

Of course, an inventory management system will boost productivity in your warehouse.
We've already mentioned how easier product location reduces mishandling and other errors, and the same process applies to logistics.
For example, shipping mistakes or misplaced items can have a detrimental effect on your business.
Logistics processes can also be facilitated by using warehouse warning signs and floor labels.
In the latter case, you'll be looking for durability and, in some instances, readability.
As you can see below, the available range of warehouse floor tapes is extensive and colorful.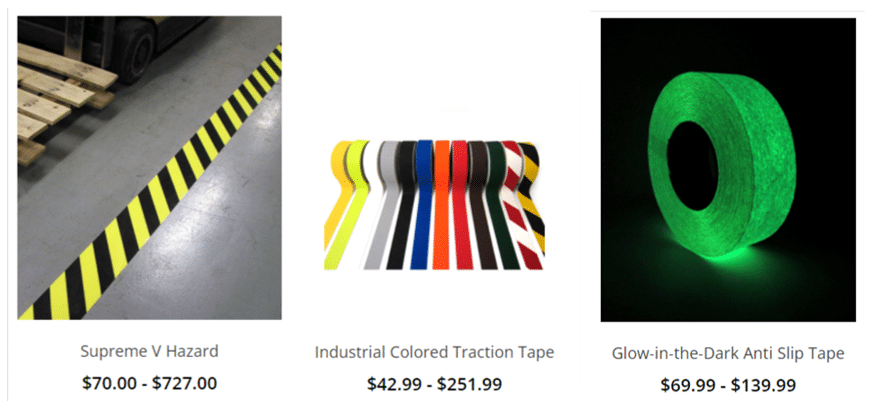 So, good wall and floor signs coupled with the right inventory management software can help you manage the logistics in your warehouse and the productivity of your business.
Errors Are Eliminated
We could say that the whole point of warehouse labels is to eliminate errors.
When utilized correctly, they will bring greater speed and precision, traceability, and safety while reducing risks and costs.
And they will do so by removing many mistakes along the way.
As online shopping continues to grow and supply chains continue to struggle, warehouses worldwide find themselves in a bind—they need to meet the growing demand in unpredictable circumstances. Manual record-keeping, especially in big warehouses, can be quite risky in such conditions.
Labels help avoid such mistakes by enabling the automation of the data collection process, thus minimizing human errors and maximizing time savings.
When products (and aisles, shelves, bins, etc.) have coded labels on them, the task of keeping inventory is left to machines.
Scanning is faster, more reliable, and less time-consuming than manual data entry.
And even though warehouses have become more complex and automated, warehouse labels remain at the core of efficient warehousing operations.
They inform the user, whether human or machine, where to go and how to find what they're looking for—labels usually contain both code and text, meaning they can be read by people and scanners.
This can be very useful when the label is dirty or damaged like these QR labels.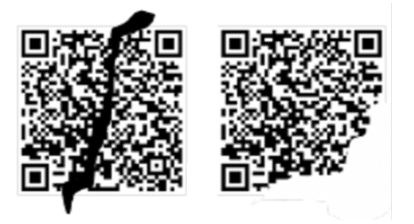 The fact is that such labeling systems can be costly—label printers, scanners, and terminals can make a dent in your budget. However, technology provides much more affordable solutions.
For instance, since all smartphones nowadays come with a QR code scanner, it's easy for warehouse personnel to check items in and out by just scanning them.
They can provide much more information on their own and can be read even when one part is missing.
If you're going for a simple and affordable solution, we have already suggested GoCodes.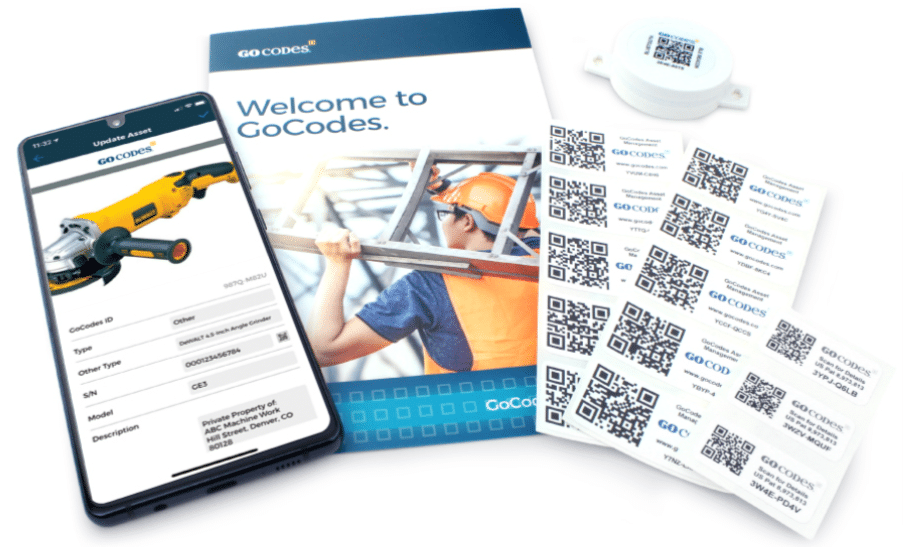 As said in the opening, the primary goal of labels is to avoid mistakes.
And labels, both big and small, can streamline warehousing processes to the point where risks and costs are down, while safety and productivity are up.
Conclusion
Having covered these seven benefits, it's evident that a robust warehouse labeling system, which features both labels and warehouse signs, can transform your warehousing operations.
It can make them more accurate and efficient, ultimately lowering costs and raising overall productivity.
We hope this article pointed you in the right direction of finding a perfect warehousing labeling solution for your business.