Warehouse labeling is vital to maintaining strong control over inventory and assets. By taking the time to label each item, you will increase efficiency and create a calmer workspace for your team.
Not only does successful labeling allow your workforce to handle items quickly, but it also allows you to turn the warehouse into a flexible and cohesive space that serves your company well.
Before you start, note that it's important to use the right tools for the job. It may seem overwhelming, but when you follow these warehouse labeling steps, this project quickly becomes manageable.
If you follow the recommendations we list in this article, you'll learn how to work with a floor plan, choose the best labels for your business, and put a barcode inventory system into action.
Analyze the Floor Plan
In examining the floor plan, you can use design software, or just graph paper and a pencil. Figure out how much square footage you have to work with, taking note of physical aspects such as air intake returns, bathroom placement, and optimal shelving locations.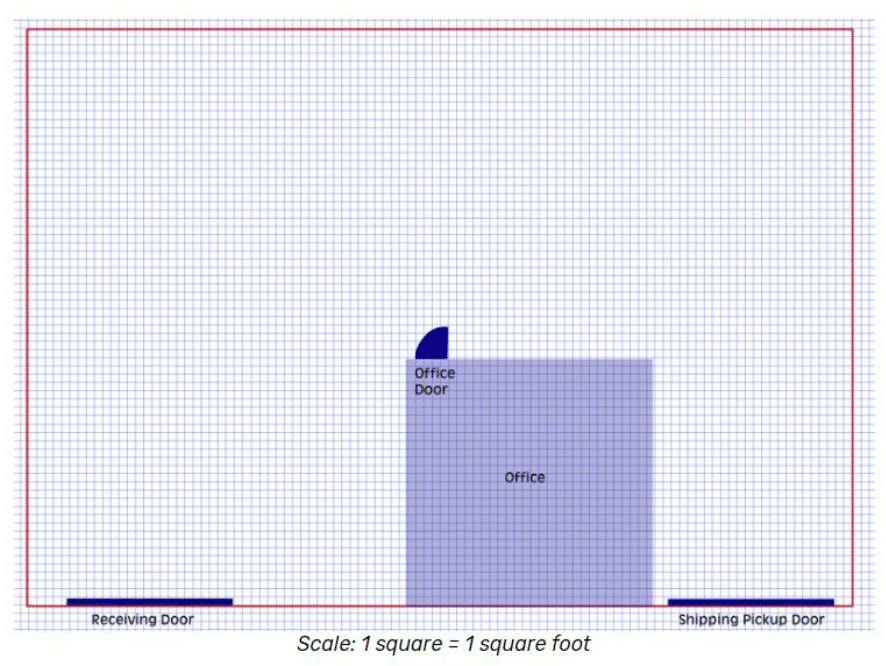 When you map out the floor plan, don't forget to group items into categories and subcategories. Doing so provides a better insight into how much space you have, as well as how best to use it.
Once you've developed a working floor plan, decision-makers and stakeholders will have an idea of how much product the warehouse can hold.
You can also form an understanding of where products can wait for shipment sorted by size, which is a major contribution to safety and productivity.
Here are some tips for making the most of your warehouse space:
Set aside an area for a warehouse office
When placing shelves and other large items, avoid blocking entry and exit points
Consider the size of items, shelves, aisles, and bins—will it all fit?
Place the receiving area in a convenient and sensible area, allowing plenty of room for trucks to maneuver
Establish areas for long-term storage that are separate from inventory
Starting with a good floor plan will help you choose well-suited labels later in the process.
Grouping items into categories and subcategories can also speed the shipping process, which leads to better accuracy, decreased handling time, and happier customers.
Think About Which Kinds of Warehouse Labels You Need
Labeling eliminates the need for long-range scanning, minimizes confusion in the workplace, and ensures more efficient operations.
Before choosing a label type, consider the ‌scanning devices you have on hand, as well as the minimum and maximum scanning capacity for each label.
Many different kinds of labels are available.
Here are a few types to consider, along with their capacities and materials:

The benefits of investing some time in choosing the best labels are many.
For example, applying clear labels leads to high accuracy and rapid completion times.
A good labeling system also leads to the optimization of the movement of materials in, out, and around the warehouse.
It also allows you to collect data that can lead to further refinement of the shipping process while avoiding understocking or overstocking.
Important questions to ask about labeling include‌:
What is the distance between the item and the scanner/mobile device?
What are the qualities of the surface on which you will place the label?
Will the labels experience extreme conditions, or is it temperature-controlled and out of the elements?
Will any of the labels spend time in refrigeration?
Are some items awkwardly sized or requiring storage space that's different from the rest of the inventory?
It's important to consider all eventualities rather than finding yourself with a labeling system that has a fatal flaw.
Considering ‌these issues will allow you to choose not only the best labels for your operation, but also the optimal signage for your warehouse.
Order the Right Labels and Signs
People won't reflect much on the grouping and tagging of your warehouse if the space is thoughtfully organized, with sensible signage—but they certainly will if it's not done well.
Warehouse signs help members of your workforce locate zones, sections, and specific racks.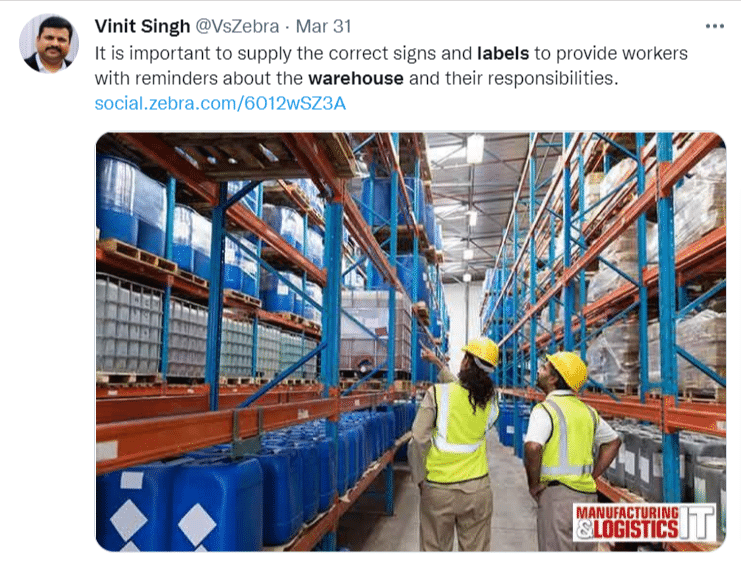 Think creatively and three-dimensionally when deciding where to place the signs.
Some are best suited for racks and shelves, but others will be most useful if placed on the floor, or attached to the ceiling for long-distance scanning.
Don't forget labels for totes, trays, containers, and pallets, either.
Most warehouses use barcodes or QR codes on labels and signs. Both ‌systems are scannable and scalable.
They are easy to order or print on the spot.
You are likely familiar with barcodes from retail experiences; they are an established form of technology that uses thin black lines on rectangular white space to store data. Most organizations use barcode systems with a handheld scanner.
QR codes, on the other hand, are a more recent form of data storage.
They hold information in a pattern of black dots on a white square, and you use a mobile device, usually with an app, to read it.
Here is an example of a QR code.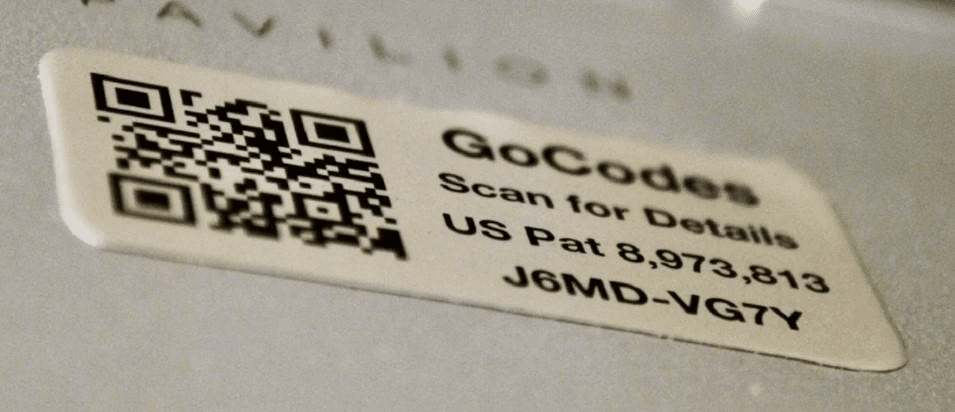 You can make your own QR code with a free online QR code generator, then download it for placement in label software.
Asset and inventory solutions like GoCodes offer several options for barcodes or QR codes that include the ability to update the information on each label as needed.
Label Everything
If you are just establishing your warehouse, it is vital to place signs in the right places before adding inventory or assets.
This will ensure a smooth workflow once your team brings the items into the warehouse and begins to store them.
It's important to remain flexible so that roadblocks are negotiable, but deciding as you go will create chaos.
Pre-labeling will help to reduce human error when it's time to put each item in its place, in addition to accelerating decision-making.
Having an assigned location for even awkwardly shaped items will ensure that move-in day will proceed in an orderly manner.
Besides providing labels and signs, GoCodes can also offer suggestions on product location so that you can optimize tag placement.
Here are good places for signage:
Racks
Docks
Shelves
Bins
Pallets
Sections
Aisles
The diagram below suggests a way to organize shelves, racks, and aisles: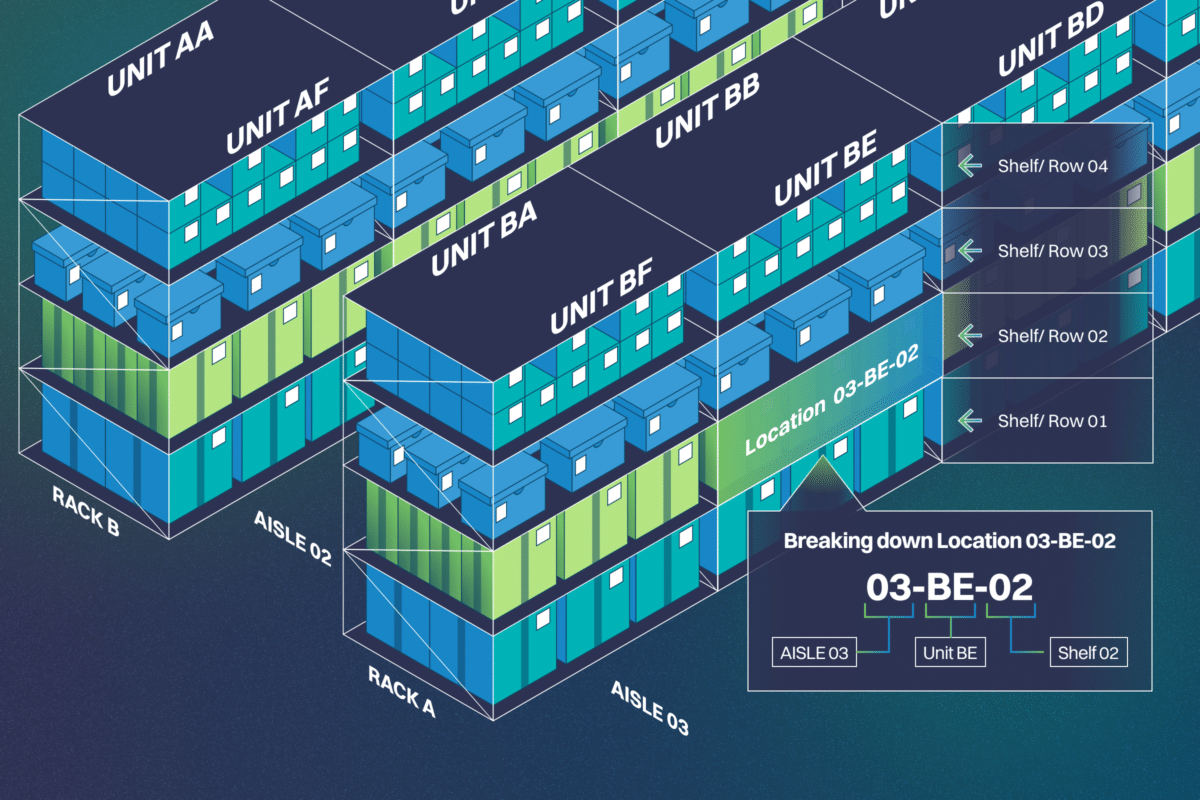 Once you have decided where each item will go, ensure that labeling areas are clean, traffic areas are clear, and electrical outlets are in good working order. Thorough preparation helps to avoid frustrating delays.
Make Labels Easy to Find and Read
Proper label design goes a long way in making it easy for your team to handle each item.
Consider the size, lettering, and material when deciding on the right labels for your business.
It's important to alternate numbers and letters to differentiate one label from another. This helps to eliminate confusion and data input errors.
If possible, use Randomized Unique Identifiers (RUID) to associate with each item for the entirety of its life cycle. These strings of numbers and letters are scalable, difficult to guess, easier to find in a warehouse environment, and especially useful in the event of a merger or redesigned inventory system.

They are also easier to search for in a database.
Did you know that using randomized unique identifiers helps to eliminate security risks?
Using unique asset and inventory IDs camouflages asset information from competitors and prying eyes.

Simple serial numbers that are sequentially arranged might make sense initially, but it's easy to accidentally assign the same number to multiple items or run out of numbers as your business grows.
Even when using RUID, your organizational scheme must be consistent and user-intuitive. For example, if your warehouse uses multi-level shelving, place all labels at eye level and use directional arrows to indicate levels.
Set Up Your Barcode Inventory System
Setting up a barcode inventory system is easier when working with a solution such as GoCodes, which provides not only labels, but also apps and support.
Here are two examples of barcode schemes: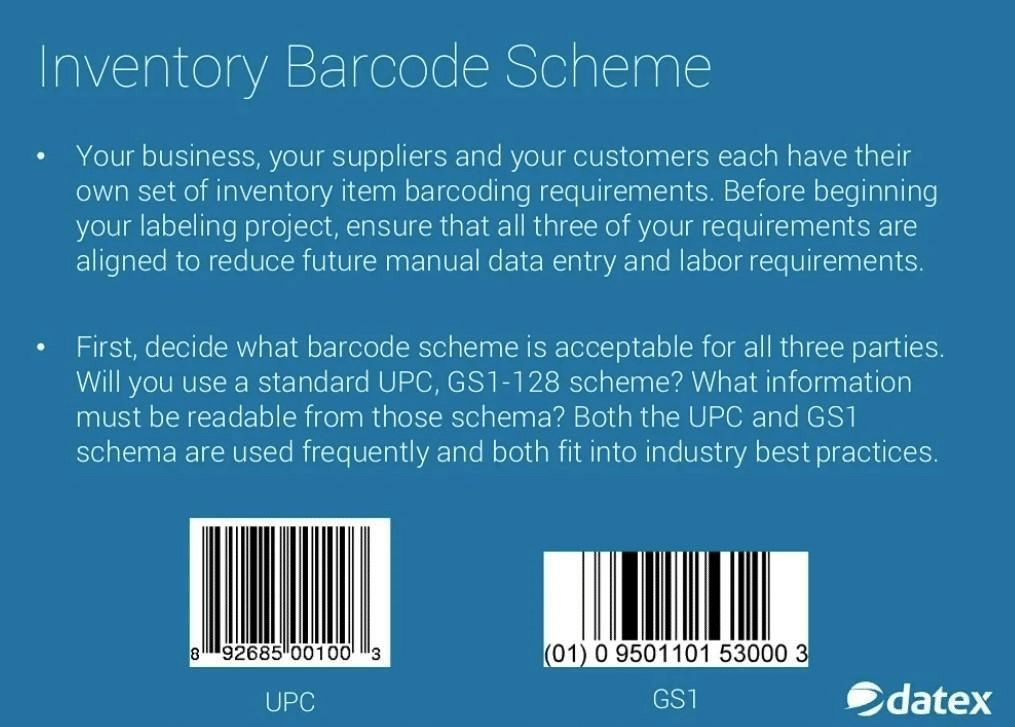 Using barcodes instead of spreadsheets or pen-and-paper systems has many benefits:
Fewer errors compared to manual data entry
Lower labor costs
Timely information
Increased efficiency
Improved accuracy
Easier inventory management
Reduced return postage shipping costs
Increased customer satisfaction
Better decision making
Provides product traceability
Easy to teach new employees
Enables various measures of productivity
GoCodes provides scanning systems that work with smartphones.
Employing this technology uses devices already familiar to your workforce, and allows you to automate equipment handovers.
By installing codes and checkpoints while using cloud-based documentation, you can easily streamline your warehouse's shipping and receiving system.
To implement barcodes into your warehouse, establish a plan that provides seamless integration between systems.
It's also important to list the items that require labels and to ensure that your warehouse floor plan aligns with the reality of the space and the items in it.
Once you've decided on a centralized software platform and determined which barcodes fit in best with your system, you are ready to establish the barcode inventory process and decide on suitable stock levels.
Establishing clear priorities, a step-by-step process, and a schedule for evaluating the performance of your process will help to ensure a well-organized and effective warehouse.
Conclusion
Successful warehouse labeling depends on a multi-pronged approach.
First, it's necessary to form a clear idea of your floor plan and choose appropriate labels for your warehouse. Marking each item with easy-to-read labels is essential if you want your employees to handle them efficiently.
Finally, establishing a barcode inventory system is crucial for the success of your operation.