QR codes are increasingly being used by marketing professionals in many creative ways to build brand visibility and to track customer's habits and preferences. Integrating QR codes into Taco Bell was one creative way to promote sales!
Marketing professionals use a range of display boards to promote brands. From fold-able to panel and pole types, large presentation boards, table top displays to mobile display boards there are a huge number of display boards on use.
It is also easy to integrate QR codes into a wide range of offline and printed materials as well including:
Event and conference display boards
Hoardings and banner displays
Brochures, fliers, posters and newsletters
Mailers and postcards
Print ads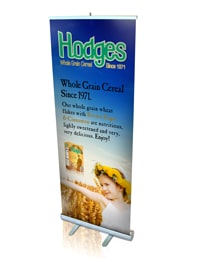 Managing asset tracking of display boards in marketing is challenging as locations and types are wide ranging. Often, marketing display is on different geographical locations and could also be in multiple countries across the world!
Asset tracking of display boards becomes very difficult when you must depend on manual reporting and guesses as to the location. Retrieving information on where each display board is located, their usage, pricing and so on is challenging particularly when they are being moved across different regions globally.
A Quick Response or QR code that encodes wide range of information that is easily transferred to the smart-phone is the most ideal solution for asset tracking of display boards. QR codes can not only be used to track display boards but also can be leveraged to track the number of views each display board has had. When customers scan the QR codes, they can be directed to websites for more engagement or promotional activities.
Marketing professionals also get to know how many people viewed or engaged with the display boards and how effective the marketing material was!
Advantages of Using QR Codes For Asset Tracking
Convenience: Using GoCodes QR codes and free scanning app makes it possible for a process that is convenient and fast with just one step of scanning the codes with smart-phones.
Eco-friendly: GoCodes asset tracking with QR codes makes it possible to reduce paper and printing that contribute in a significant way to the environment.
Economical: GoCodes QR scanning app is free and the only equipment you need to carry out asset tracking is your smart-phone. Wherever the display boards are across the world, the information on them can be retrieved and updated just by scanning the QR codes on smart-phones.
Flexible: It is possible to integrate QR Codes into any type of marketing boards and materials which means you can use them on all promotional materials.
No storage hassles: with GoCodes cloud storage system, there is any need to invest in complex data storage and management systems.
Minimize thefts and losses: QR codes based asset tracking make it possible to eliminate or minimize chances of display boards being misplaced, forgotten or stolen at events. Particularly in huge events which involve multiple display boards, it is easy to lose track of the exact numbers. GoCodes asset tracking solutions mean you spend less time looking for missing boards after events!