Over the past couple of years, construction businesses have faced various challenges as a consequence of the pandemic—from supply chain issues and rising energy prices to construction material and labor shortages.
As a result, many construction companies are now looking for ways to reduce some of their costs.
And your workforce is one area where you can save money while improving productivity and efficiency.
If you're interested in cutting down on some of your labor-related expenses, this article will provide you with six strategies to do so without reducing salaries or letting people go.
Rethinking Employee Compensation
If you're trying to find ways to reduce labor costs, your first thought might be, "I'll just have to introduce some pay cuts."
However, that doesn't have to be the case. There are other ways in which you can cut down on some of the expenses while still paying your workers fairly.
The first step is to sit down and reevaluate the ways in which you compensate your employees.
Think about all of the labor-related costs you have and ask yourself: "In what ways, other than monetary, can I reward my employees for their hard work?"
The answer to that question could be by offering them more paid vacation days instead of annual raises.
In recent years, there has been a lot of talk about the importance of work-life balance and the role of time off from work in preventing burnout.
According to the Emerging Workforce® Study by Spherion Staffing, 41% of the respondents would choose extra paid vacation days over a pay raise.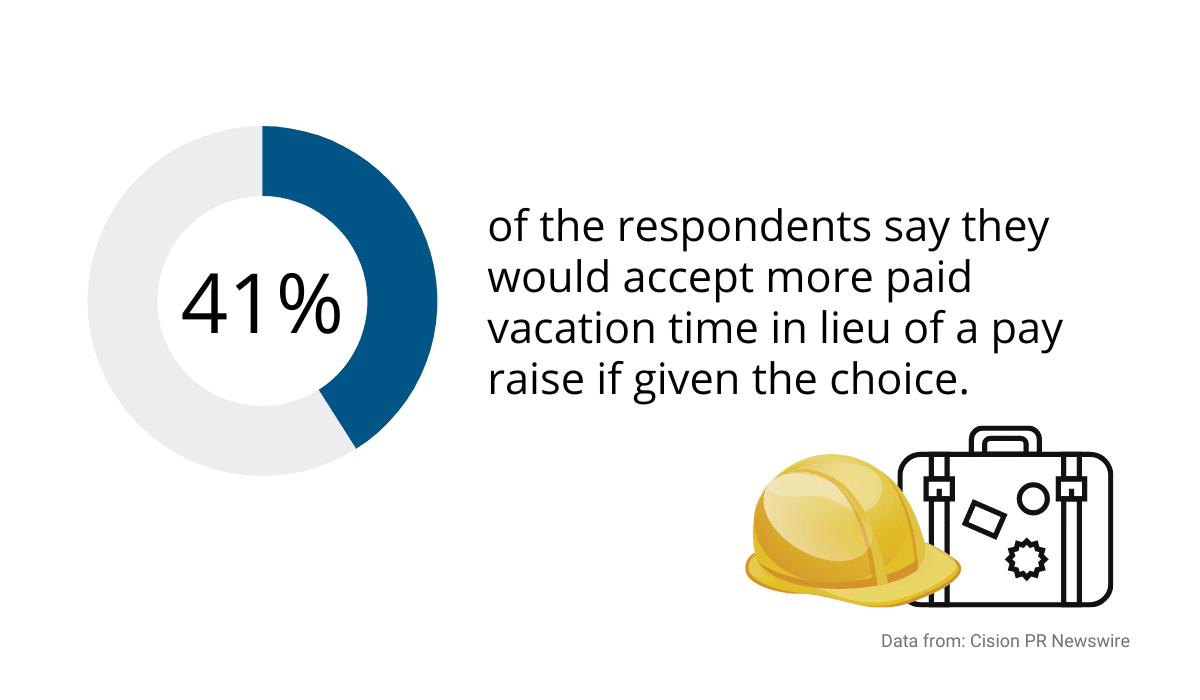 Spherion Division President Sandy Mazur explains that, if you are currently unable to offer monetary compensation to acknowledge the hard work of your employees, you should consider giving them extra vacation time.
This won't only reduce some of your labor costs, but can also "elevate morale, increase retention and build a positive perception of their workplace," Mazur says.
Restructuring the way you compensate your employees doesn't have to be daunting or uncomfortable.
By offering a better work-life balance, you are showing your workers that you care about their well-being.
In turn, you're reducing your expenses and employee turnover while getting a crew that is well-rested and engaged.
Reducing Employee Turnover
Openly talking to your employees about how they feel at your company and making sure that they are happy working for you is essential for improving your employee retention.
Reducing employee turnover, however, isn't only beneficial in terms of building a strong and coordinated team of construction workers. It can also help you reduce labor costs in the long run.
Going through the process of recruiting, hiring, and training a new employee can be very expensive and time-consuming.
According to Gallup, "the cost of replacing an individual employee can range from one-half to two times the employee's annual salary."
This is why you need to make a conscious effort to retain your existing employees.
The nature of the construction business requires your crew members to spend a lot of time together, working, so it is important they get along well.
Therefore, it is recommended to focus on fostering a positive and cooperative work environment, Globoforce's Greg Stevens explains.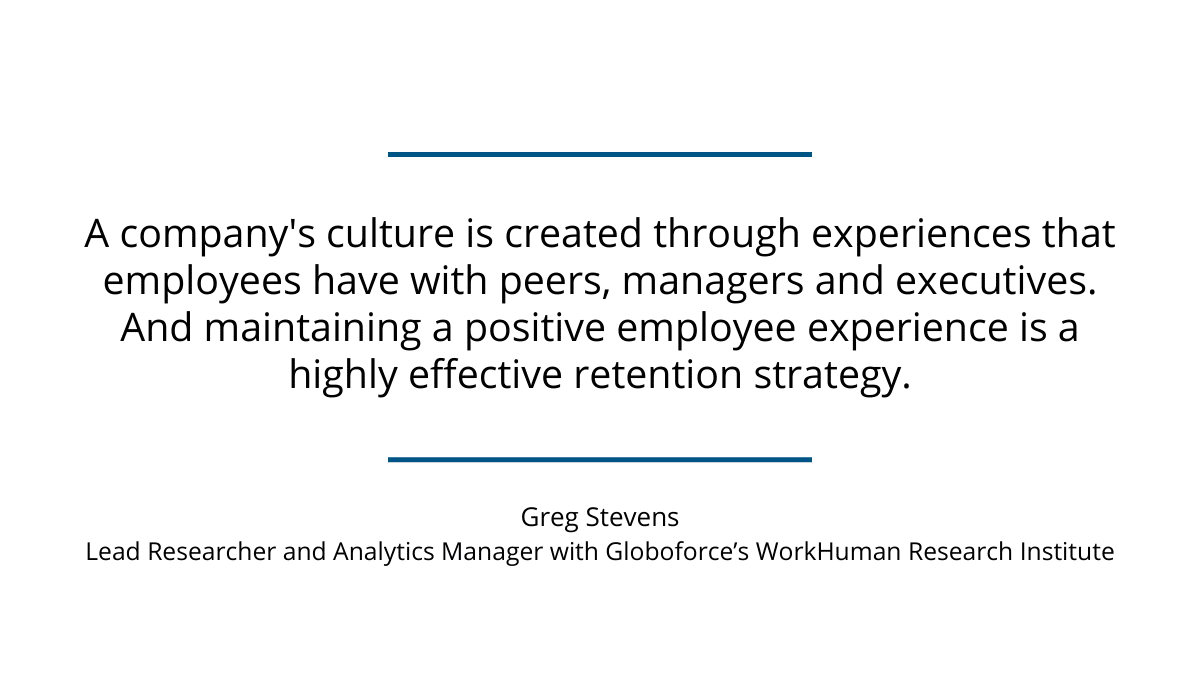 So, how can you make sure that your employees don't start thinking about leaving the company?
Ask them to share their honest feedback and pinpoint what issues they are experiencing. Then, try to make changes accordingly.
Of course, you likely won't be able to implement every change they suggest, but simply being willing to hear them out and create a better work environment can go a long way toward retaining your employees.
Training Staff in Versatility
Apart from having a construction crew that gets along well and collaborates successfully, you want to make sure that your employees are skilled at more than just one kind of task on the construction site.
Cross-training your employees in order to be versatile can help you overcome the labor shortage, but also reduce some of the labor-related costs in the process.
McCarthy Building Companies is an example of a construction company that recognizes the importance and value of cross-training their employees.
McCarthy's vice president of talent management R.J. Morris explains: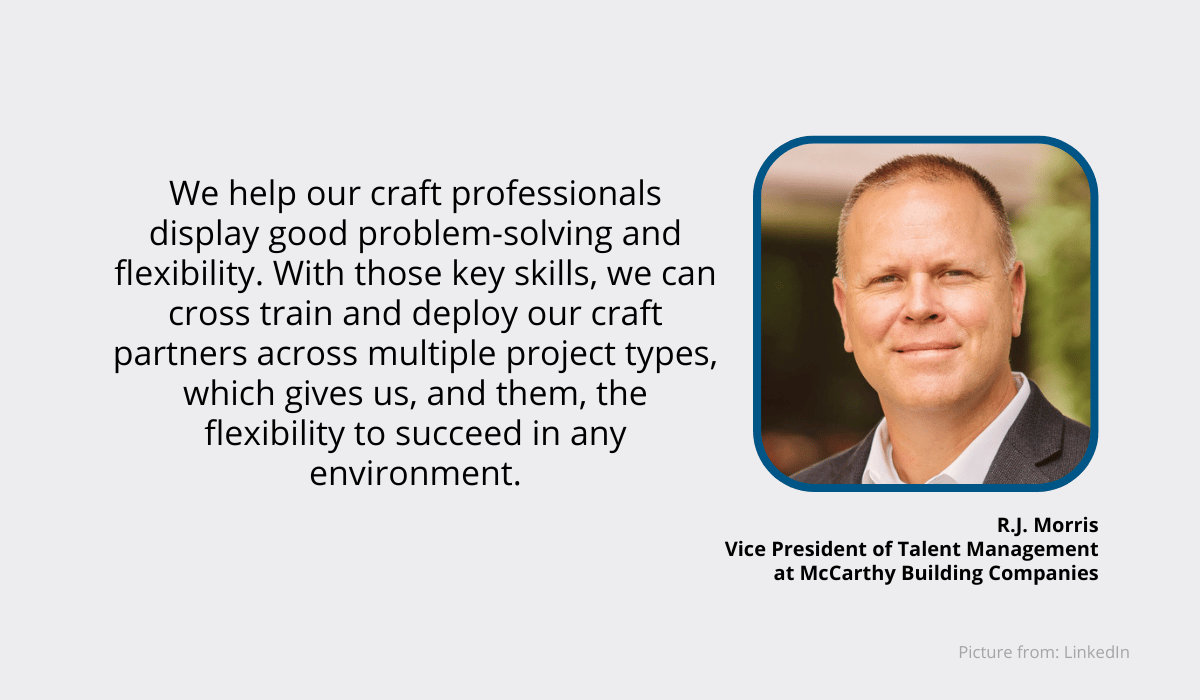 Cross-training your crew might seem like a time-consuming process, but it is bound to yield good results. Take some time to observe your crew and review your workflow.
You are likely to notice that some of your crew members have the capacity to take on additional tasks on top of the core ones they were hired to do.
When you recognize this potential among your crew members, invest in training them for versatility.
With time, such multi-skilled workers will be able to shift from one position to another when you need them to, thus preventing unnecessary downtime.
Additionally, you'll cut down on some of the labor costs. By building a strong team of versatile workers, you will reduce the need to hire new ones.
Recognizing potential among your existing crew members is an investment that is likely to pay off in the end.
Reevaluating Crew Structure
While cross-training your employees comes with various benefits, the truth is, not every crew member is going to be suited for every task you put in front of them—and that is okay.
Understanding your crew members' strengths and weaknesses is essential for assigning them the roles that will allow them to do their best work.
Additionally, it will make it possible for you to cut down on unnecessary costs.
When the roles and responsibilities assigned to your crew members don't match their capabilities, you are likely to experience project delays and underperformance that lead to financial losses.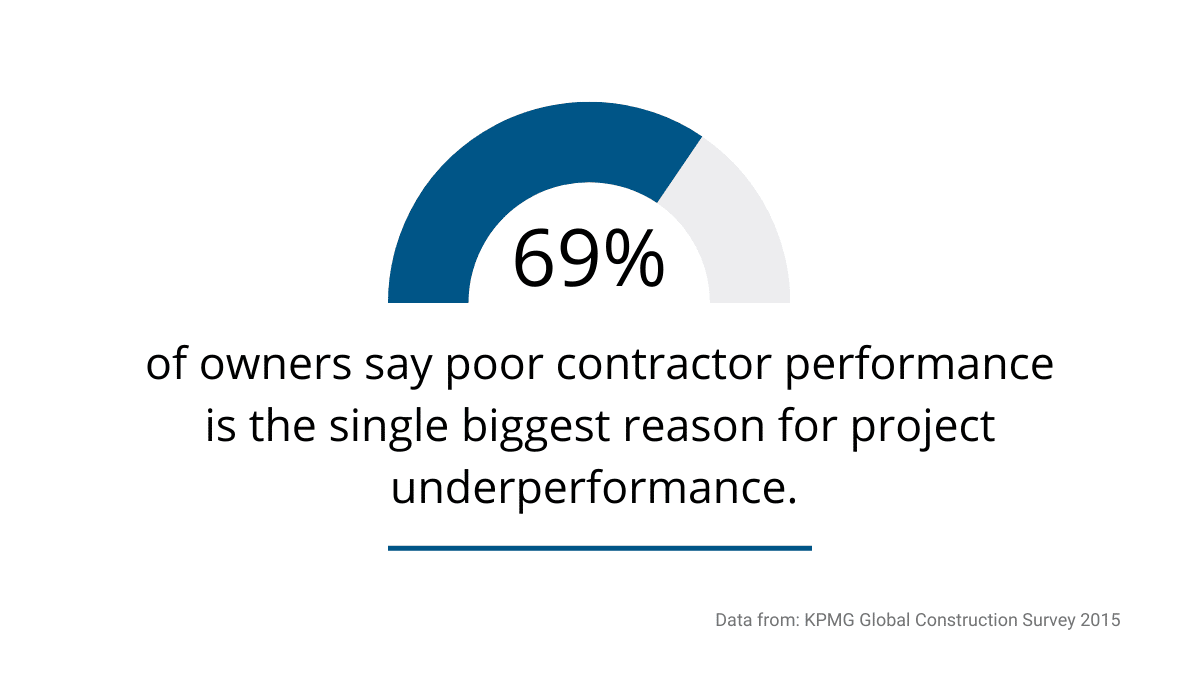 If something in the workflow isn't functioning as it should, it is necessary to reevaluate it.
Even though your construction crew works as a team, this team consists of individuals with different skill sets, and they should be observed as such.
Allocate some time in your schedule to review the way your crew is structured. Are the workers reaching their full potential in the roles they're currently in?
Would the supervisor do better as a skilled laborer? Can unskilled workers take on some additional responsibilities?
If you're not taking the time to ask these (and similar) questions, you might be losing money.
There is nothing wrong with doing some crew restructuring if you realize that certain workers would be better suited for a different role.
After all, your goal is to deliver high-quality results within the agreed-upon timeframe.
If the current crew structure is preventing you from doing that, enforce changes that will allow you to get back on track.
Minimizing Overtime Work
When there is a possibility that you won't be able to finish the project within the set time and budget, having your construction crew work overtime may seem inevitable.
However, it's no secret that overtime work is going to incur additional costs.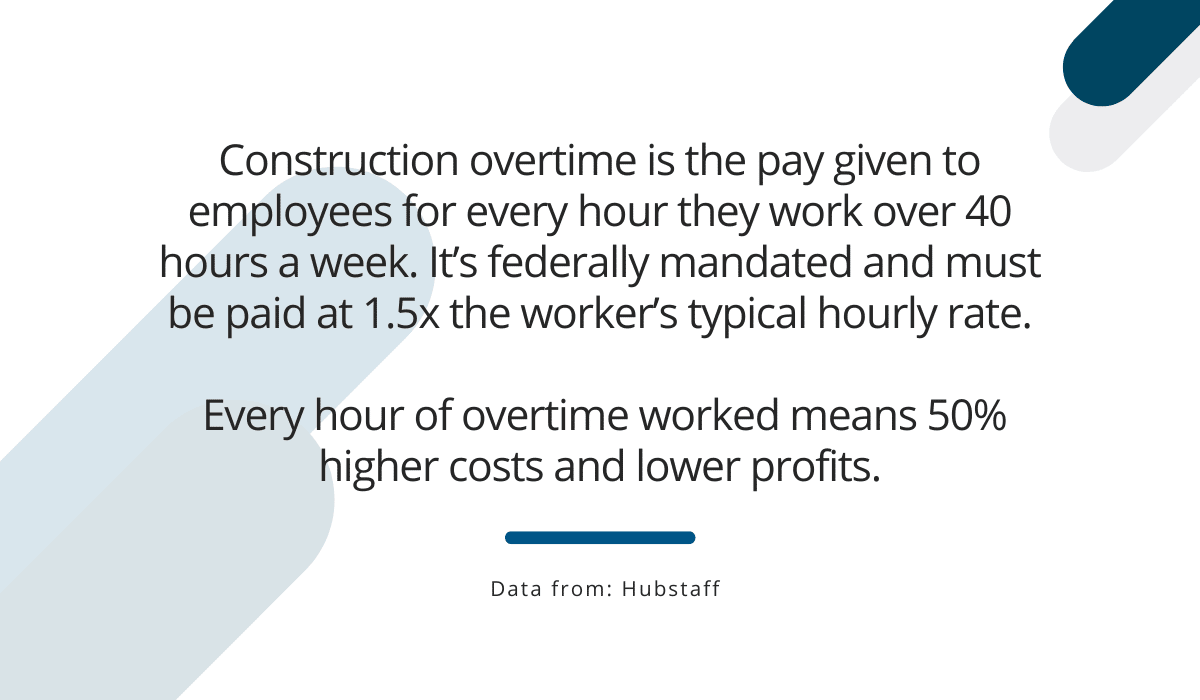 Reducing overtime is something you should seriously consider if you're looking to cut down on some of your labor-related costs.
Not only is overtime inconvenient from a financial standpoint, but it is also likely to increase health and safety risks.
Furthermore, having your crew work long hours doesn't necessarily mean increased productivity.
All in all, overtime work comes with various drawbacks, so you need to find a way to reduce it as much as possible.
The first step towards fixing this problem is understanding what caused it in the first place. Here are some of the questions you can answer to get a better understanding of overtime causes.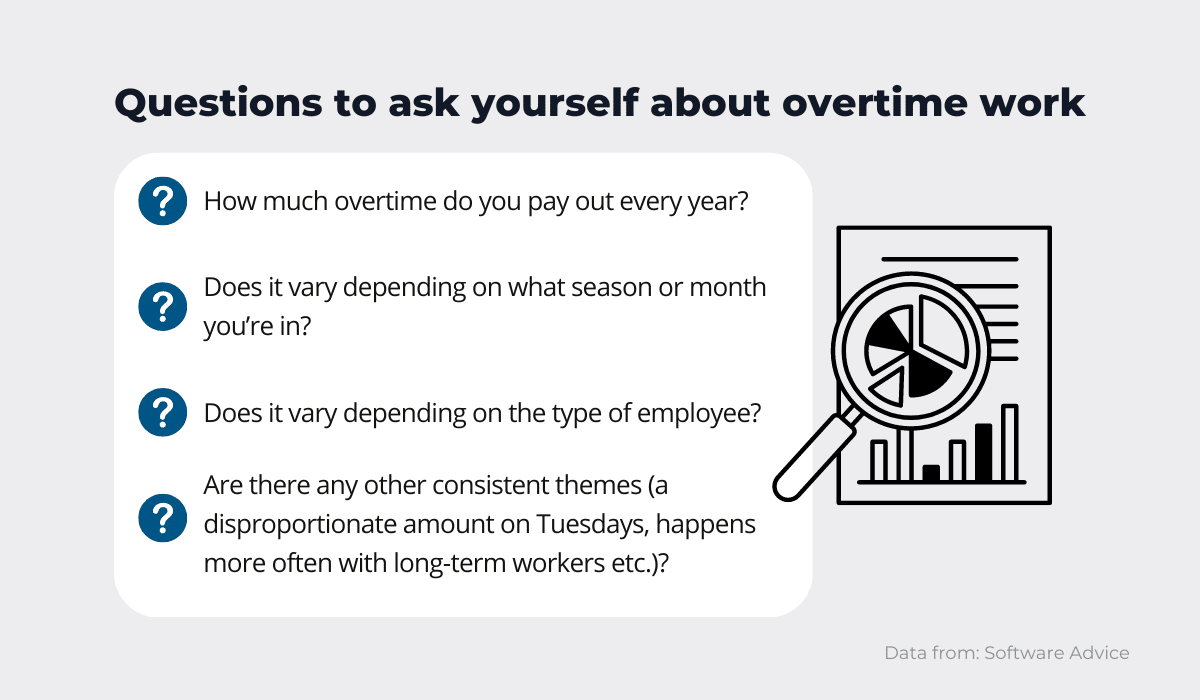 Once you have an idea of what drives your overtime, you can take appropriate action in order to reduce it.
The previously mentioned employee cross-training can help you maximize productivity and efficiency, but you also may want to consider optimizing your schedule.
Before you create a schedule for your new project, make sure you go over project plans and other documentation first.
That way, you'll get an idea of what each phase of the project will look like and you'll be able to schedule your staff accordingly.
What you want to avoid at all costs is idle time. If you schedule your drywall installer for a shift during which they can't contribute, they'll be forced to wait around.
In the end, they'll probably need to work overtime so that the project can be finished by the deadline. To avoid this, take your time to ensure that your staffing actually meets your demand.
Automating Work Processes
Another good way to reduce your labor costs and increase the productivity of your employees is to automate work processes that are time-consuming and tedious.
If you decide to automate tasks that are repetitive and low-value, you can expect to see benefits in several areas, explains Éric Trudeau, Senior Business Advisor at BDC Advisory Services.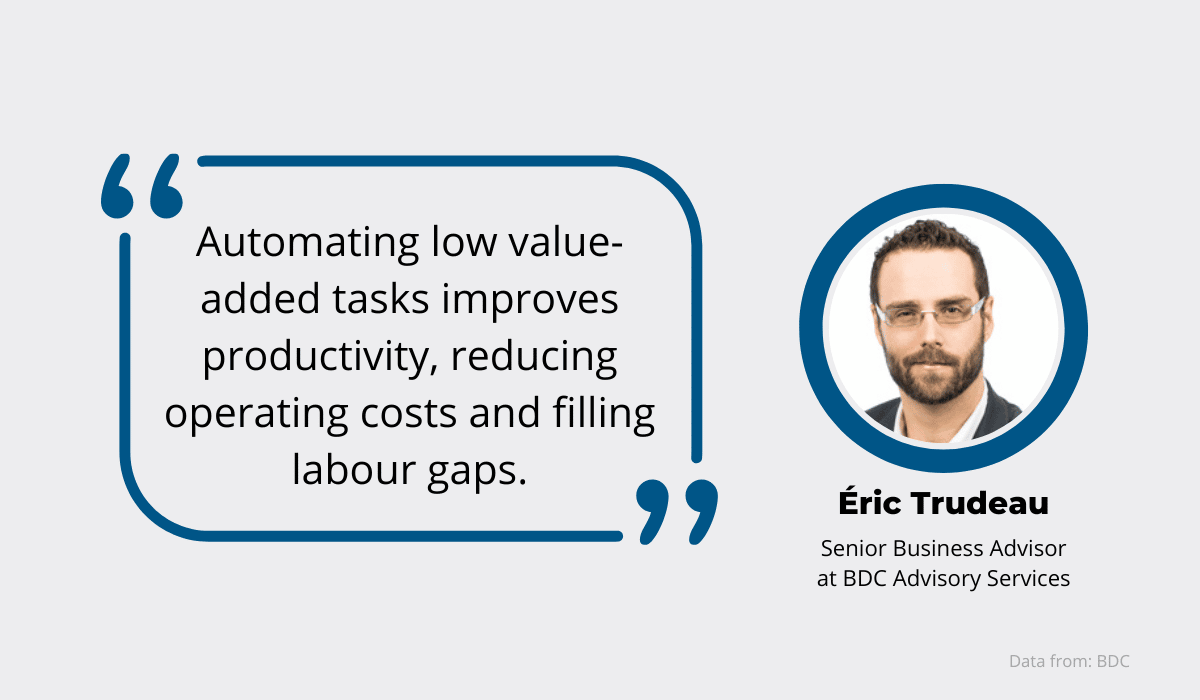 By automating such tasks, you are allowing your employees to focus on more important and complex tasks for which manual work is needed.
Freeing up time for them to work on such tasks can help you finish the project within the set timeframe, but also avoid having to hire additional manpower.
One of the ways you can implement task automation in practice is with the help of brick-laying robots.
Even though they are pricey, brick-laying robots are becoming an increasingly popular construction automation tool.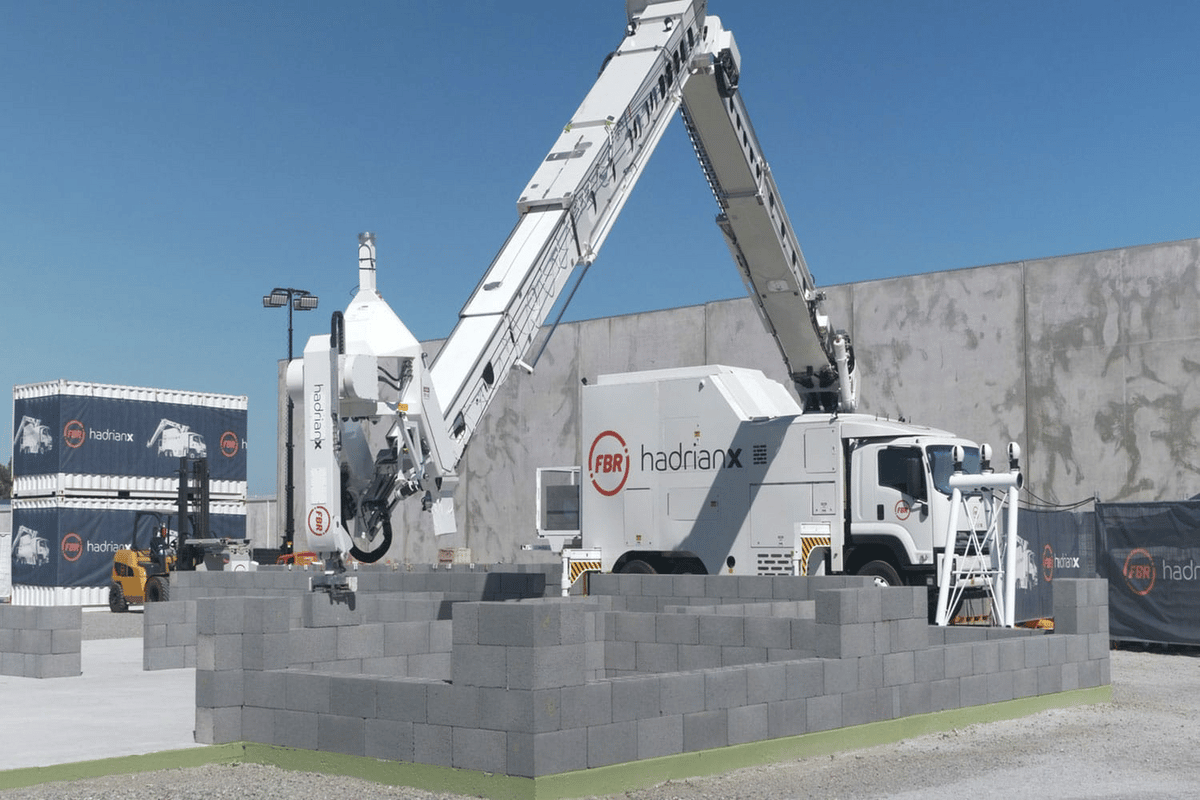 In optimal working conditions, a human bricklayer can lay about 500 bricks in a day.
A brick-laying robot, like Hadrian X developed by FBR, is expected to lay about 1,000 bricks an hour.
Because it uses a special adhesive of mortar, the bricks get bonded together within 45 minutes. As a result, it can build the walls of a house within one day.
The benefits of using a brick-laying robot are quite obvious—due to its speed and precision, it can save your construction crew a lot of time that can be allocated for other tasks where their expertise can't be replaced.
Of course, introducing automation tools will require your crew to adjust their skill sets and learn how they can use them to optimize their productivity.
While automation tools such as this one come with a high price tag, they are a long-term investment that can save you a significant amount of time and money in the long run.
Conclusion
Reducing labor costs is not an easy task, but it doesn't have to be daunting.
Take some time to analyze your workflow and scheduling habits.
This will help you understand how you can better manage your crew, minimize the amount of overtime and improve the way you compensate your employees.
Invest time into cross-training your crew, as this is a surefire way of reducing additional costs stemming from the need to hire additional workers.
Lastly, do some research on how you can automate some of the repetitive and time-consuming processes. Doing this will allow your crew to focus on more important and complex tasks.
The effort you put into making improvements to your current processes can not only save you money, but also make sure your crew is happy working for you.