A misplaced power tool is as good as lost. It might take time and a bit of work to set up a strong system for power tool storage, but it's well worth it to protect your investment.
Once your plan is in place, you and your team can locate your equipment much faster.
When you rely on thoughtful organization, efficient storage solutions, and creative workspace flow, your power tools will remain safe, readily accessible, and in good repair.
Power tool storage ideas are only the beginning. Here are some actionable tips to make the most of your power tools.
Set Up a Secure Storage Space
The best way to protect your valuable tools and encourage employee responsibility is to use a check-in/check-out system and invest in asset tracking so that your inventory and resources are easy to monitor.
It is a good idea to invest in practical, all-in-one asset tracking software that will record every instance of tool usage so you always know where your tools are, how much they're being used, and by whom.
An important function of implementing such a solution, however, is setting up a secure tool crib or storage space.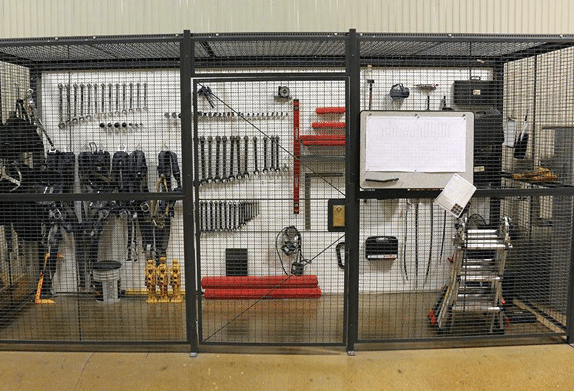 Sheds and locking containers are excellent solutions for protecting your power tools from theft and the elements; in addition, asset tracking tags affixed to your equipment should be easily customizable for rugged conditions and the environment of an outdoor tool crib.
Create a Designated Docking Area
Even if your tools are secure, both at your home yard and on the worksite, they are useless if their power cords or chargers are nowhere to be found.
One solution is to create a designated docking or charging area. This way, your chargers and cords will all be in the same place, rather than scattered throughout your tool crib or workshop.
It might serve you best to build a docking area of your own so that you are able to customize it for your assets.
Here's a look at plans for a DIY designated docking area.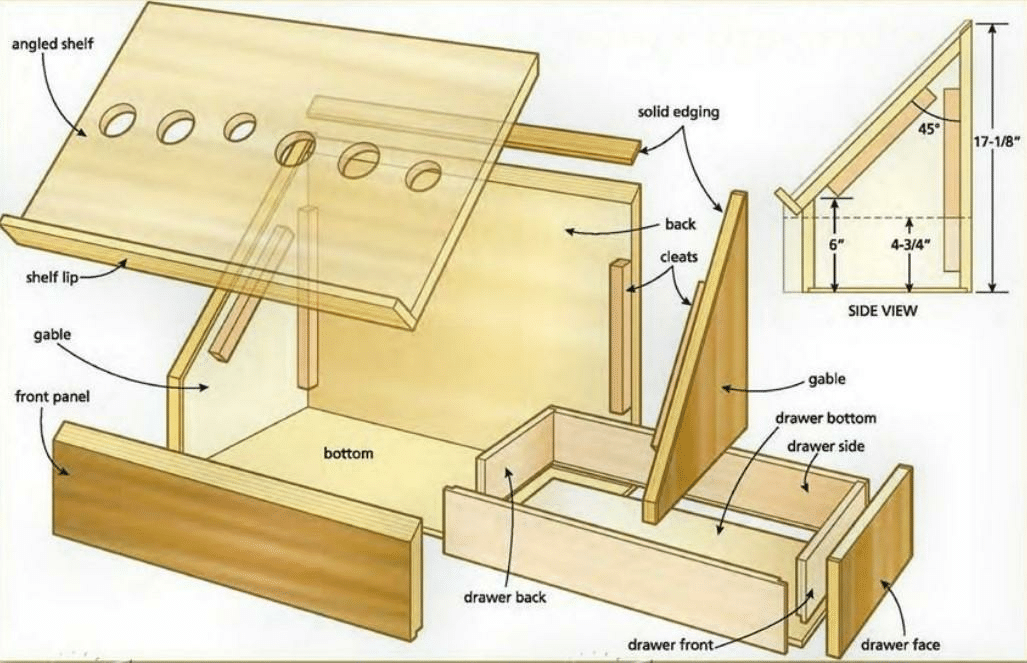 By customizing a labeled charging station for your power tools, you provide employees with a safe and protected place for the equipment, while encouraging your team to build the habit of recharging power tools after use.
Use a Rollaway Workstation
A rollaway workstation is convenient for keeping your tools together and easily moving them around the floor of your workshop.
Most importantly, this power tool storage idea prevents your team from placing tools on the floor, even when setting them down momentarily between tasks.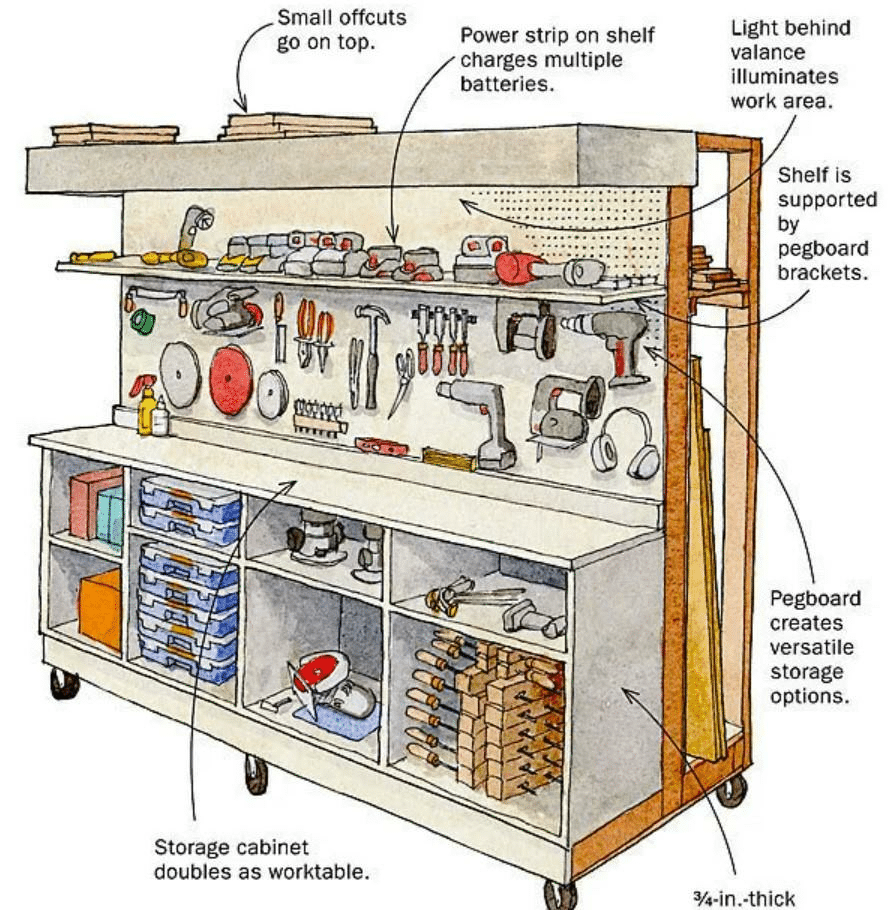 The above illustration shows a rolling workstation that includes pegboards, a light, and a storage area that doubles as a work table.
However, if you're working in a small area, you can easily downsize your plans.
Installing a rollaway workstation can be as simple as placing a bench or cabinet with storage cubbies on wheels. Consider using locking caster wheels, so the workstation remains in place when necessary.
Repurpose Pallets for Shelving
Making shelves out of pallets is both environmentally responsible and a fun creative challenge. If your company has committed to a zero-waste initiative, repurposed pallets provide an opportunity to recycle construction waste.
Nevertheless, using recycled materials doesn't mean that the final result has to look tired or ragged.
Here's an example of an attractive and trendy final product created using several different kinds of pallets.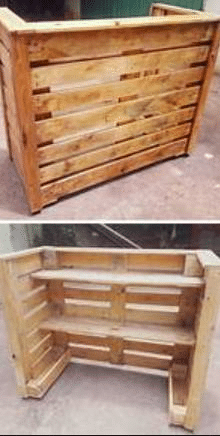 Using pallets to create custom shelving also ensures that the raw material is hardy and strong enough to support the tools you place there.
Set Up Vertical Storage
Vertical storage is another way to make the most of the space in your workspace or crib.
Like a rollaway workstation, vertical storage keeps your power tools off the ground. It can consist of pegboards, shelves, or cabinets.
As the photo below shows, vertical storage can also consist of a series of reinforced hooks.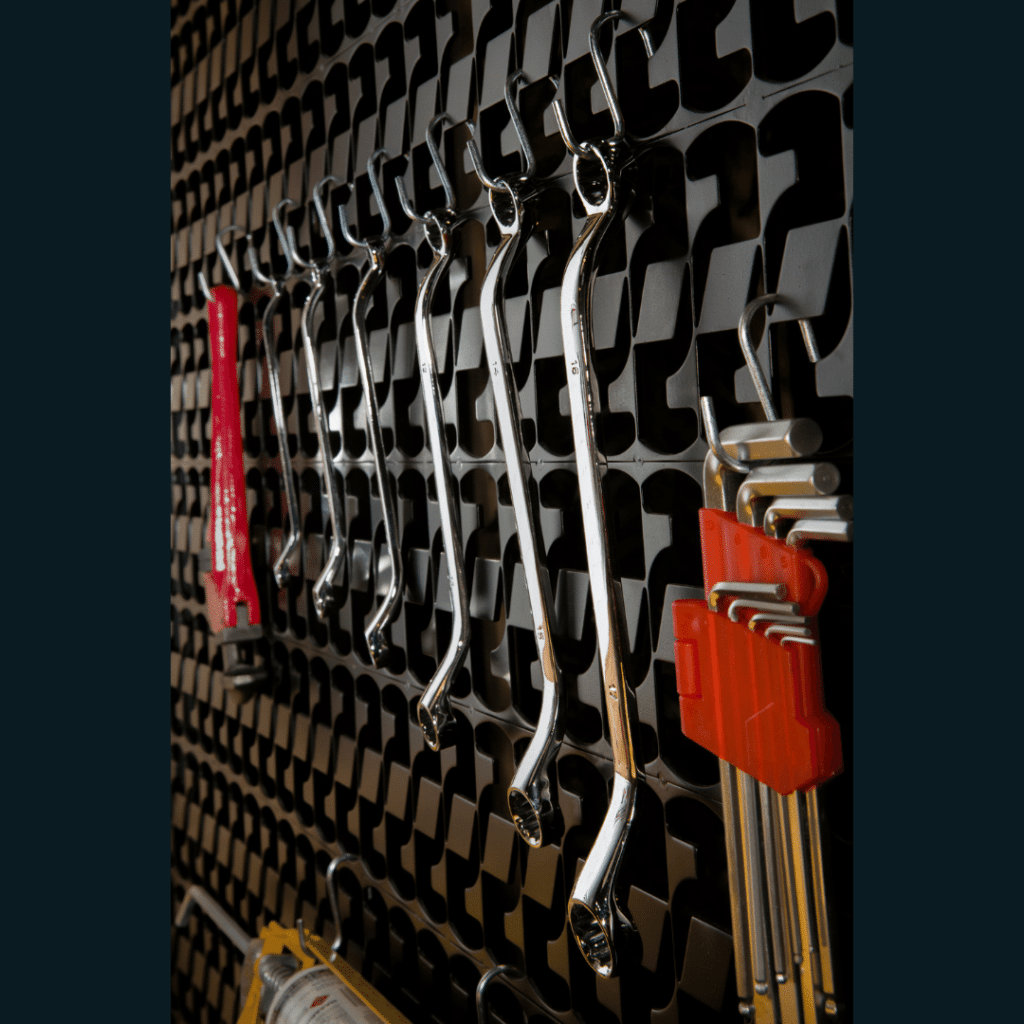 When installing vertical storage, keep the varying heights of your staff in mind, and include step stools or reachers for objects placed above the average eye level. The best vertical storage is adjustable to allow for flexing needs.
Collect Scrap Wood to Make French Cleats
Do you have any scrap wood left over from turning those pallets into shelves? Consider French cleats, a power tool storage solution that's not only environmentally friendly, but also fully customizable for your tools that have unconventional sizes.
Here's a look at a French cleat-based storage system.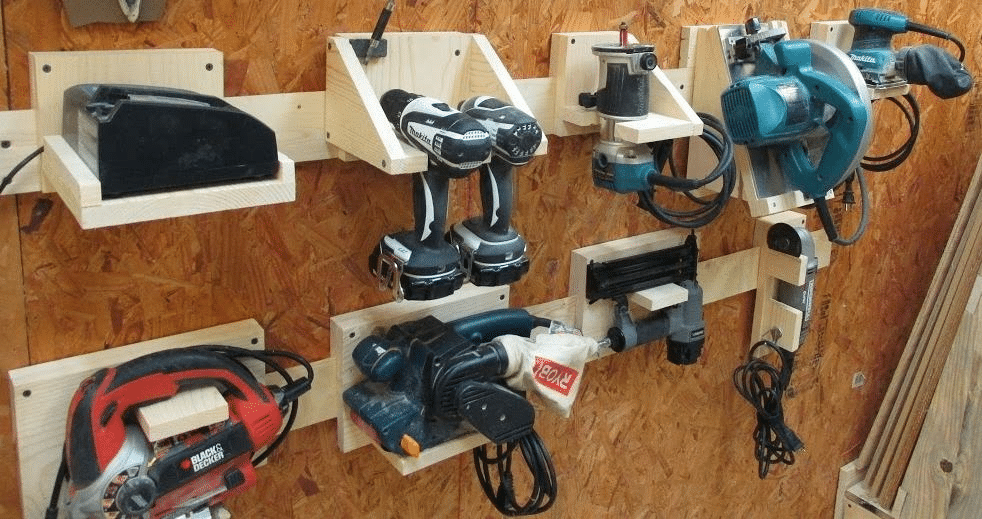 French cleats are brackets attached at right angles to a wall or other horizontal surface. They are especially useful for heavy or non-standard-sized items.
Attaching your French cleats to wall studs provides extra structural strength. As long as the cuts in the scrap wood are straight and the wood itself is undamaged, French cleats provide an inexpensive and flexible form of power tool storage.
Use the Tool's Original Hard Case
It can be tempting to get rid of the original packing of a power tool once you're sure you aren't going to return it.
Who doesn't want to free up storage space?
However, if you're looking for the perfect protective packaging for your tool, it's tough to find anything better than the kind that is company-designed.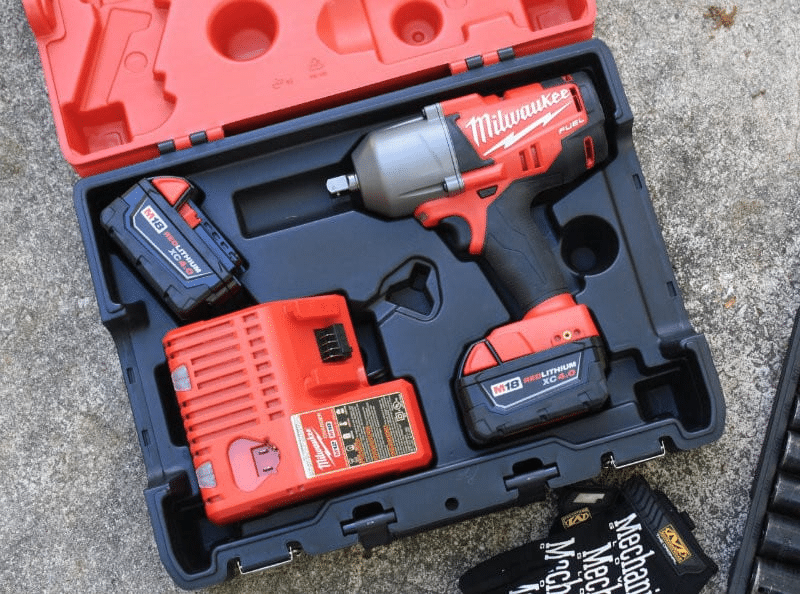 The original packaging might be bulky, but that's the point—these hard cases were designed to ensure the safe transport of tools across long distances, in addition to enabling them to survive a retail environment.
If your work requires you to transport your tools often, this is the best way to do it.
Store Tools in Durable Plastic Bins
Although not as safe and durable as the original tool case, plastic bins still provide a substantial amount of protection for your tools.
They're also quite useful for professionals who use a lot of tools in their workday, as well as for work where the same tool changes hands frequently.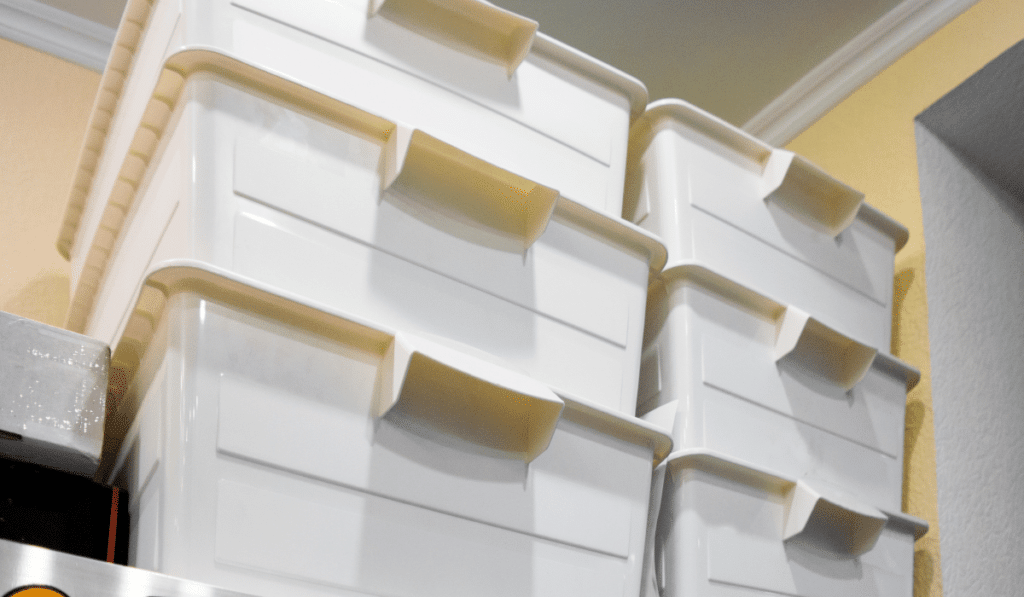 Plastic bins are stackable and available in transparent form so that you can see at a glance what's inside. That has great value from an organizational standpoint because tools become much easier to find.
Plus, since the containers come in different shapes and sizes, you can also cut down on rummaging through large boxes looking for your tools. 
Plastic bins come with lids for easy stacking, and they will protect your power tools from mild environmental fluctuations. In addition, they are easily reusable.
Invest in a Professional Tool Chest
Professional tool chests involve more of an investment than some of the other power tool storage ideas, but they are more durable and usually lockable.
Although available in a variety of sizes, professional toolboxes are usually more spacious than regular, hand-held options. They are typically mobile, and some are outdoor-friendly.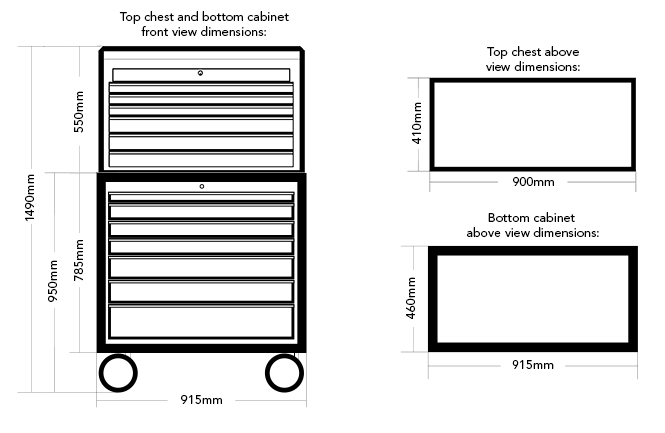 The above schematics indicate the usefulness of a professional tool chest that consists of a top chest and a bottom cabinet. This allows for an intuitive and mobile system of organization.
Remember, your tools are too valuable for you to rely on cheap, low-security options for storage. This is one of those solutions that definitely pays off as your tool collection grows.
Use an Accessory Tote for Easy Transportation
Accessory totes are useful for multiple tools that are typically used together, especially if they often leave the workstation or tool crib.
For ultimate portability and protection, here are some features to look for in an accessory tote:
Large wheels
Telescopic handle
Hard, stackable cases
Polymer construction
Check out the example below for a tote that checks all of our boxes and provides a safe, durable, yet mobile solution for storing and transporting accessories.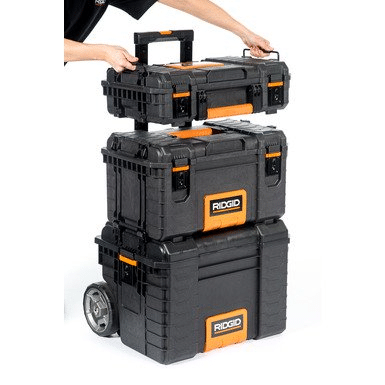 Using an accessory tote is especially useful if your company uses a check-in/check-out system for employee accountability and asset tracking. You can configure your system to focus on a single item or all the power tools in the tote.
Have Tool Bags at Hand
Tool bags are your best friends if you're a contractor who needs to stay mobile to do their work. Some are available as backpacks, while others offer padded handles and shoulder straps that are length-adjustable.
As shown below, some robust models are even suitable to be placed on vehicles.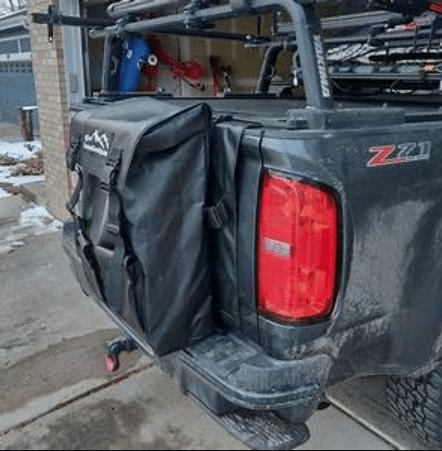 If you think your power tools would do well in a tool bag, look for one with zipper closures and stiff padded dividers for maximum protection. Employees who typically use laptops or tablets will also appreciate a compartment for their devices.
If your team members regularly carry small items such as drill bits and key rings, mesh side pockets are a good option.
With a good tool bag, you're free to hop from location to location effortlessly, knowing your tools are always with you.
Keep Power Tools Protected in Vehicles
Security and protection for power tools in vehicles are vital.
There has been an epidemic of tool theft lately, as shown in the chart below, which records the number of stolen tools in 2019 in the UK alone.
The chart also shows the geographical distribution of those thefts across regions.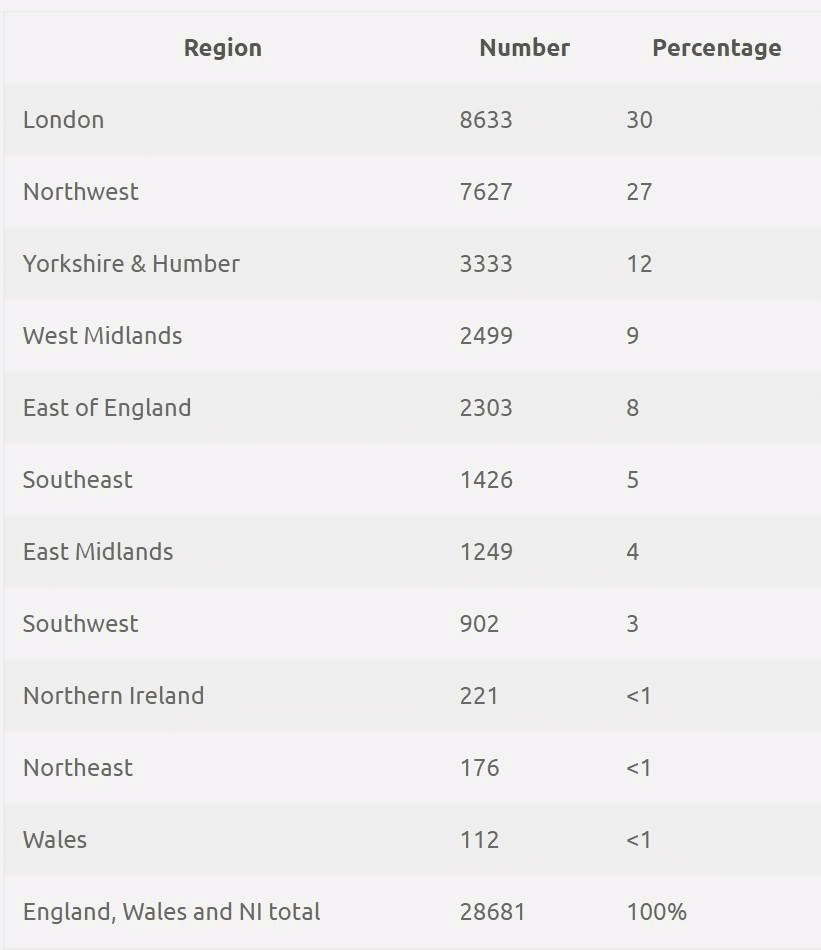 Without proper security measures such as asset tracking and properly maintained secure portable storage options, it's easy to become one of these statistics.
To keep power tools safe in vehicles, consider installing dedicated storage units with padding and straps to keep your investments stable while driving over rough ground.
If your fleet contains pickup trucks, research lockable storage drawers or caps to protect your tools from road debris, inclement weather, and thieves.
Make Small Parts Easy to Find
Most power tool storage ideas focus on larger items, such as grinders, saws, drills, or chainsaws. However, some of these tools require a wide variety of small accessories.
Drill bits, blades, bolts, and alternate attachments, not to mention replacement parts, are easily lost in large containers or drawers.
They can quickly become a disorganized mess, and employees will waste time seeking out or sorting through hundreds of tiny parts just to find one piece.
Therefore, a good solution is to keep such small items in a sturdy container and sorted by size. Isolating these tiny pieces in small plastic drawers is a good idea.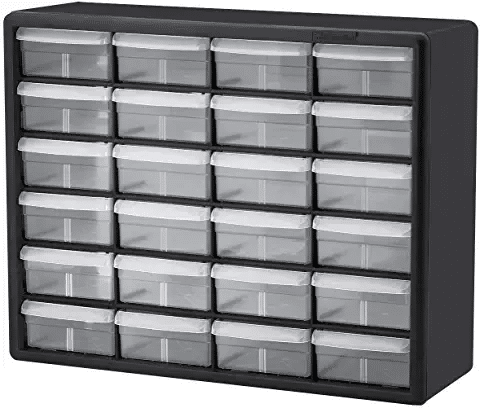 Alternatively, particularly delicate parts that are at risk of tangling will benefit from placement in tiny plastic bags designed for tiny washers or craft bead storage.
Create a Space for Manuals
Paper manuals for power tools are best kept in a file cabinet, in acid-free plastic bags if possible. You can use special comic book bags for this purpose, like the ones pictured below. 
This storage option keeps the manuals organized, and preserves them in potentially damp, dirty, or chemically dangerous locations.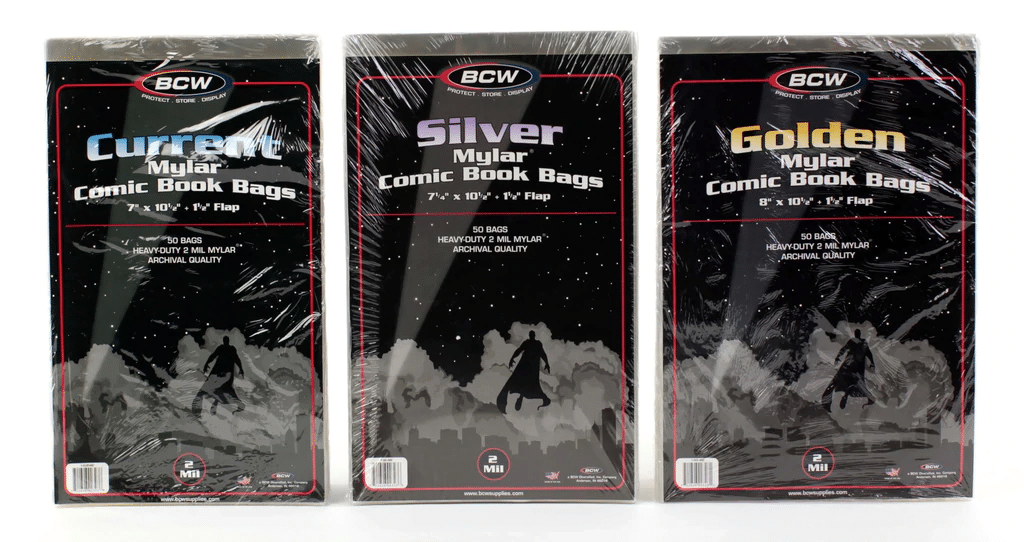 Manuals contain operating instructions, and typically offer information about warranties and tool limitations.
On top of that, it's a good idea to store digital versions of manuals within an asset tracking system.
The manual is then available on a mobile device with a quick scan, and it's also possible to link it to maintenance records, vendor information, and performance data.
Here are just a few advantages of asset tracking. The information is:
Securely stored in the cloud
Safe from fire and water damage
Protected from accidental loss
Available to all authorized employees regardless of location
Digitalized, so it saves paper usage and cuts down on computer printing costs
This also frees up storage space for other items.
The manual, along with a wealth of other data, is all encrypted in unobtrusive, uniquely coded QR tags like the ones below, offered by our own asset-tracking software system, GoCodes.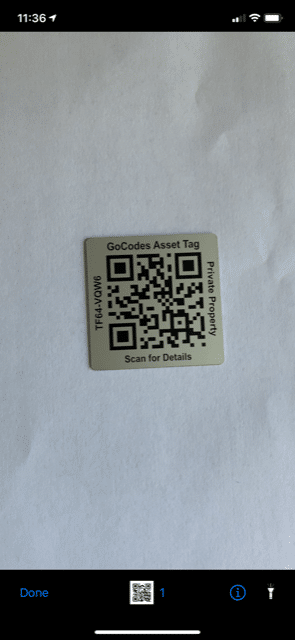 These tags are available in a wide range of materials.
They are also equally appropriate for tools that stay in climate-controlled areas as well as those that spend their entire life cycle in extreme environments.
Conclusion
Effective power tool storage ideas begin with a plan and end with constant upkeep to keep your workplace tidy and organized.
By paying attention to security, investing in appropriate organizers, and optimizing your tool storage system with asset tracking, you can ensure that your power tools serve you for years to come.