It's no secret that Betsy DeVos is a major proponent of school choice – particularly school vouchers and charter schools. The first reaction, thus, is that her policies are likely to be good for charter schools.
Pro School Choice Stokes Controversy
Her strong support for charter schools is controversial – many feel that putting an emphasis on charter schools benefits a few students at the expense of the majority and, in some cases, charter schools seem to be causing a return to segregation. Her actual policies are likely to start being reflected in the upcoming legislative session.
So far, DeVos has not actually made any major steps to create real change, slowed by Washington bureaucracy (in fact, some people think she may step down). Her goal of funneling public school funding into charter and private schools has come up against the fact that the federal government does not control much public school funding. Her first budget would have slashed multiple school programs to direct money to school choice – but it was rejected by a Republican-dominated Congress.
Shrinking Department of Education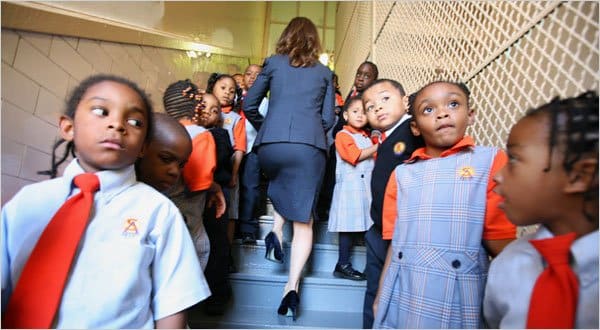 What she has achieved is to shrink the department of education, shedding 8 percent of staff and offering buyouts to over 200 more in November. Her proposed strategic plan puts "educational choice" as the number one priority – but the current posted plan which runs through 2018 is still the one from her predecessor.
All of this makes it hard to work out how any plan she puts through will really affect charter schools, and in June she reminded the National Alliance for Public Charter Schools that charter schools are not the only option. She has long been an advocate for school vouchers to allow kids to attend private or religious schools, and she might make that more of a priority than charter schools, especially as charter schools are generally better funded and somewhat less controversial.
Michigan Points the Way
So, what can charter schools actually expect from Betsy DeVos? With little data on what she might do, the best thing to do is look at what she has done and achieved in the past. To do this, the best place to "go" is Michigan, where she has long been involved in school reform. Her family has donated large amounts of money, some of which have gone to Detroit's schools of choice program, which has resulted in poor quality education and poor regulation of charter schools. She is involved in the Great Lakes Education Project, a PAC which lobbies for charter schools.
More Money for Charter Schools
So, the most likely consequence, assuming DeVos manages to achieve her goals, is more public money going to charter schools, although not as much as she likely hopes. This money will not necessarily go to the best schools, but savvy school administrators may be able to claim some of it for their own. She is also likely to attempt to convince states to lift caps on charter schools, as happened in Michigan, allowing more schools to open and operate – again, though, she is finding the power of the federal government distinctly limited. She also attempted to get the Michigan constitution amended to allow school vouchers, but failed. Any policies she implements should be expected to reduce oversight of charter schools – a good thing for schools attempting to experiment. This could be leveraged into allowing charter schools to produce higher quality education, but could also result in more low-performing schools that give the entire charter industry a bad name.
More Policy Clarity in 2018
With months behind her, it's still not clear exactly what DeVos is going to do for and to the department of education and with her only solid achievement to be to reduce the workforce, charter schools and their advocates are left guessing, at least until the next strategic plan is released some time in 2018.
To find out more about how to improve your charter school – and how to use inventory tracking to keep control over school inventory contact GoCodes.
Similar Articles:
How will Betsy DeVos' Policies Impact Charter Schools in 2018?
Five Ways Charter Schools can Improve their Operations and the Education they Provide
The Top 5 Reasons Why Charter Schools Don't Track Their Assets
Swept Under the Rug – How to Prepare for Your School Audit
Learn Why Cloud Software is a Great Fit for School Districts
Sources:
http://www.businessinsider.com/what-are-charter-schools-2017-2
https://www.npr.org/sections/ed/2017/01/31/512507538/under-devos-heres-how-school-choice-might-work
http://www.sunherald.com/news/politics-government/state-politics/article186408938.html
https://www.rawstory.com/2017/11/education-officials-expect-ineffective-betsy-devos-to-step-down-as-her-agenda-collapses-report/
http://www.truth-out.org/buzzflash/commentary/don-t-look-now-but-betsy-devos-private-school-voucher-project-is-steaming-along
https://www.usnews.com/news/education-news/articles/2017-06-13/devos-delivers-tough-love-to-charter-school-advocates
https://www.washingtonpost.com/news/answer-sheet/wp/2016/12/08/a-sobering-look-at-what-betsy-devos-did-to-education-in-michigan-and-what-she-might-do-as-secretary-of-education/?utm_term=.7620f5e13433