Have you ever wondered what makes a construction company successful?
After all, executing construction projects is similar for any construction business, regardless of size.
You need to account for expenses, find the right people and equipment and schedule the work efficiently.
Yet, some companies seem to be better than others.
So, if you want to become one of the greatest in the industry, look at our list of 6 important traits of successful construction companies.
A Record of Excellent Work Performance
Creating projects according to clients' standards and expectations is challenging, but a good construction company will utilize its technology and processes to deliver the best possible outcome.
But that doesn't mean anything if they don't showcase their work publicly.
Recording their work and sharing their success is the key trademark of a great construction company that knows its value and position in the industry.
Moreover, it shows confidence in the company's workers and methods to deliver quality projects every time.
So, what do successful construction companies do?
The answer is simple: presenting to potential clients what they can expect if they consider working with them.
A quality portfolio will give the potential clients a good overview of the company's working skills.
If you have a lot of great projects under your belt, like Penta Building Group, you can categorize them, as the company does on their website.
At a single glance, you can see the type of construction they do and the highlighted projects.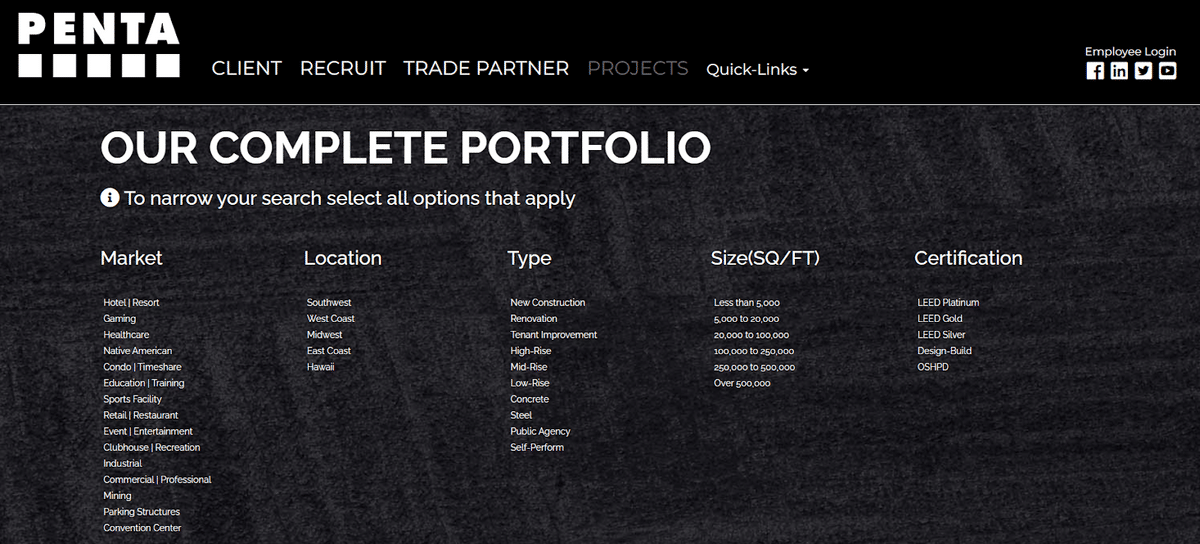 Most importantly, a potential client can see the final outcome, judge the quality of their work and decide whether the company is the right partner for their project.
Another way to show records of excellent work is to post on social media.
For a project you're especially proud of, you can take after Kyle Stumpenhorst, founder and custom builder at RR Buildings, who often shares his processes and tips on social media while finishing various projects.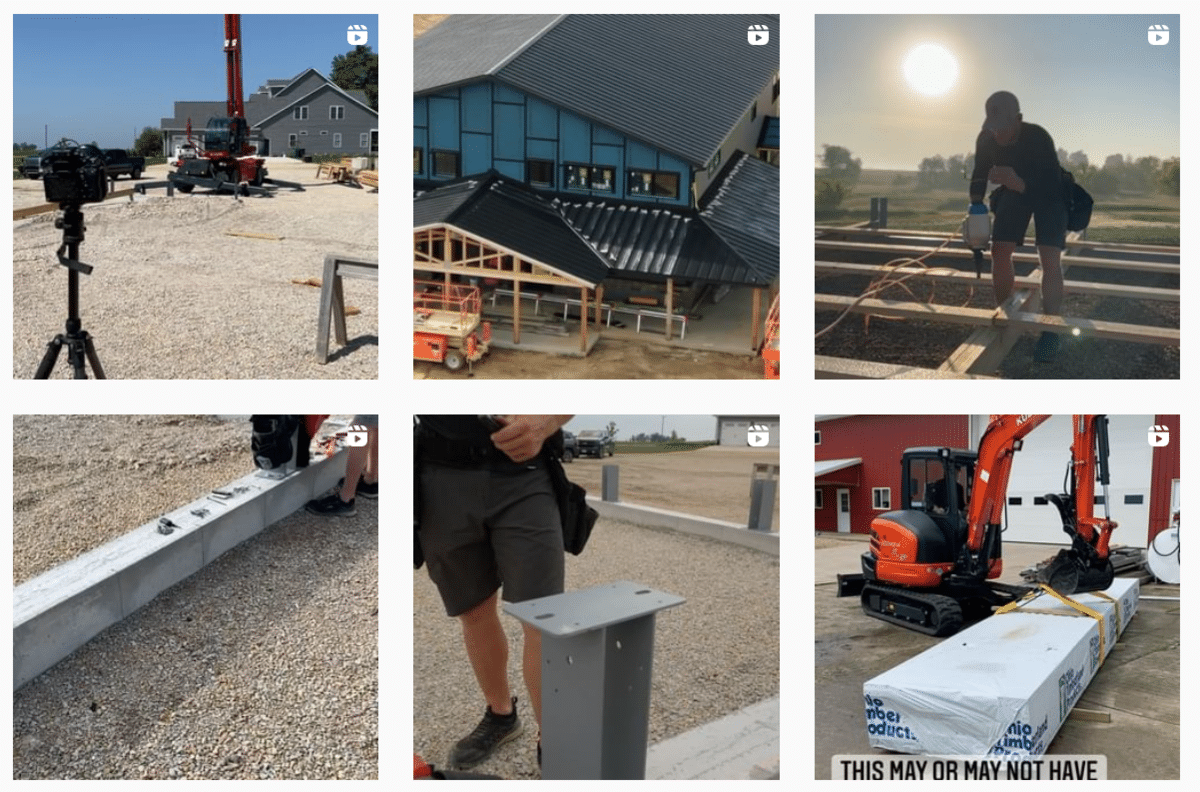 This provides more transparency, and according to Stumpenhorst, it allows you to tell the story of your projects, methods, and processes the way you want to present them to potential clients.
In the end, you can brag about being the best contractor in the country, but if you can't provide evidence of your latest projects, you're not setting yourself up for success.
Good Retention of Employees
People are the backbone of any business. So, behind every successful company are happy and motivated workers.
Yet, now more than ever, construction companies struggle with hiring new employees.
Actually, new research by Civil Quarterly reports that 77% of contractors have difficulties finding skilled laborers.
But if you ask construction workers if they love their job, most wouldn't trade it for anything in the world.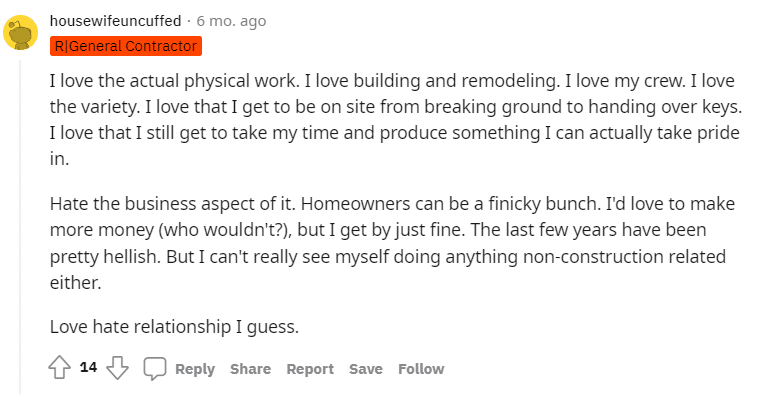 Basically, people love construction, they just don't want to work for bad employers.
Nobody wants to break their back for low pay, unsafe working conditions, and a hostile work environment. So, successful companies take care of their existing employees.
According to Dennis Engelbrecht, a senior consultant at The Family Business Institute, thriving companies need to maintain a good company culture that taps into young people's priorities.
Namely, transparency, teamwork, and access to leadership.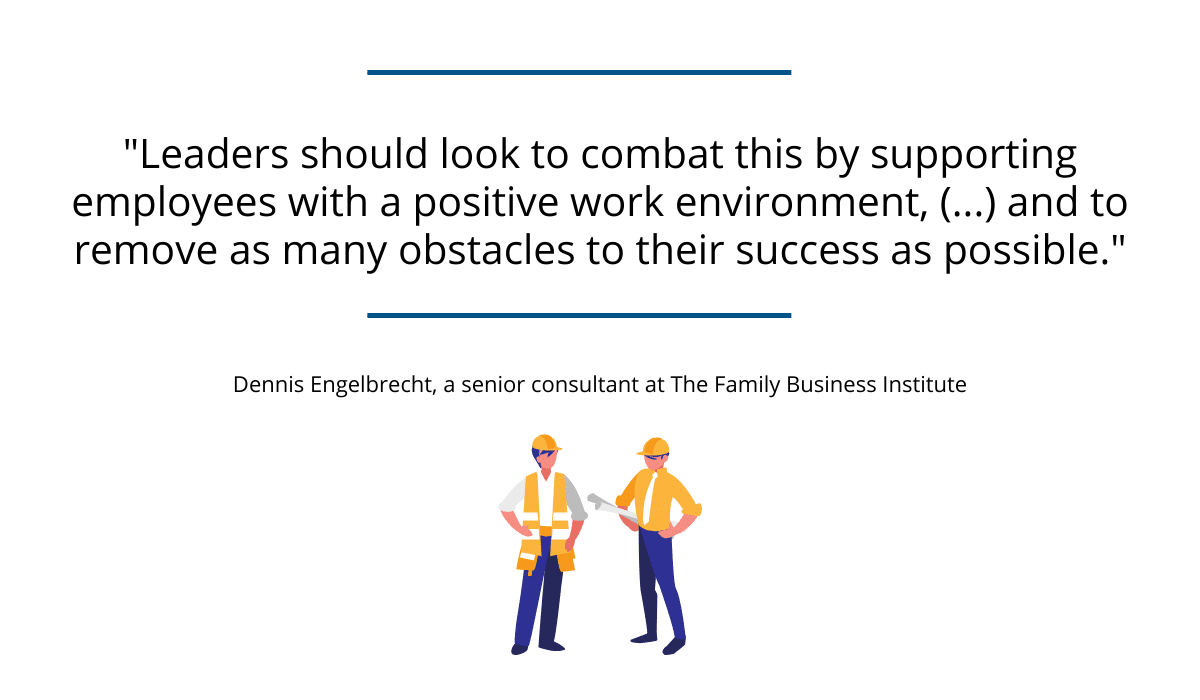 It's not enough to find skilled people. You also need to consider what your company offers to the employees in the long run. Ask yourself this:
What benefits do you offer?
How much do you pay based on the worker's expertise and experience?
Do you offer training programs to enable career progression within the company?
Do you recognize employees for the good work they do on your projects?
These things matter to employees, and your ability to retain skilled workers means you're creating a successful business with the ability to grow in the future.
Keep in mind that investing in people, no matter your business size separates struggling companies from successful ones.
Good Retention of Employees
What do successful construction businesses do differently when it comes to finances?
In a nutshell, there's rigorous attention to numbers and bidding more confidently.
This means that successful companies spend the same effort on their accounts as on fieldwork and never waste a dollar on unnecessary expenses.
Obviously, construction is about getting the most value for the money you invest.
Following that, successful companies also know when a project is unprofitable, so they carefully select their projects.
That way, they can focus on the best projects and leave with more profits than if they were bidding for everything under the sun.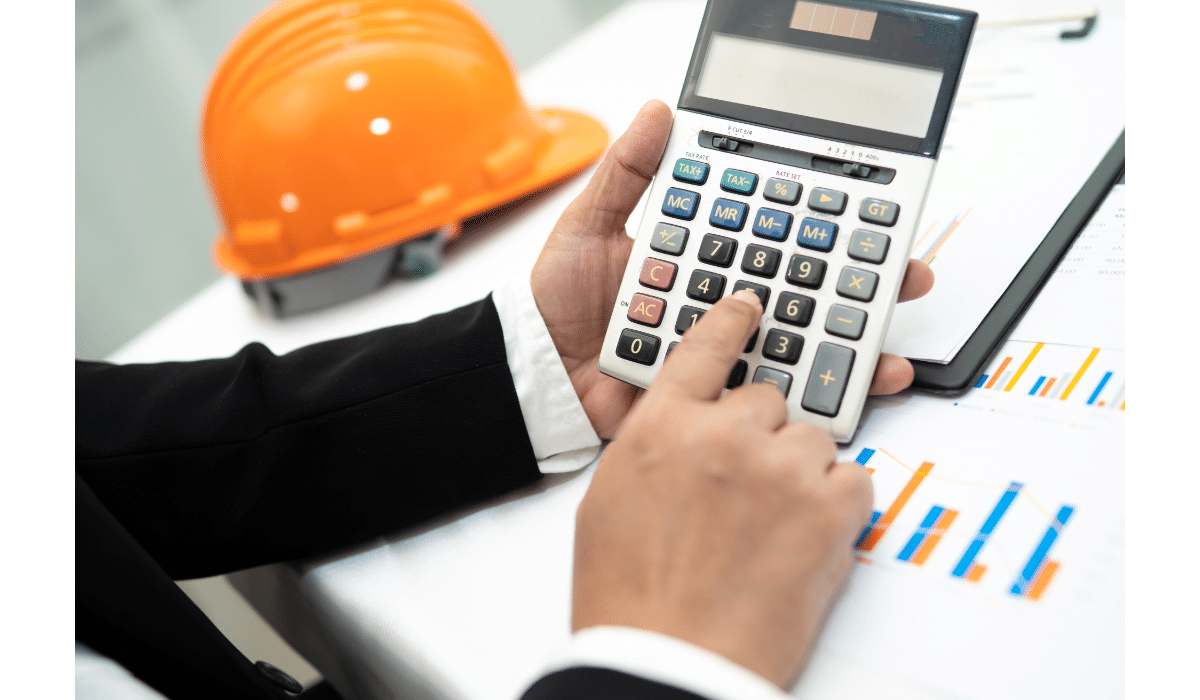 Kyle Stumpenhorst, whom we've mentioned earlier, also recommends carefully considering what kind of construction business you want to create.
For him, it's important to specialize and stay small (for the time being).
So, he's focused on honing his craft, becoming a "boutique builder," and charging his customers premium price for his work.
This business model works well for him because he wants people to come to him knowing they're getting a certain standard of work and the price to match.
He also knows that not everyone wants to do that.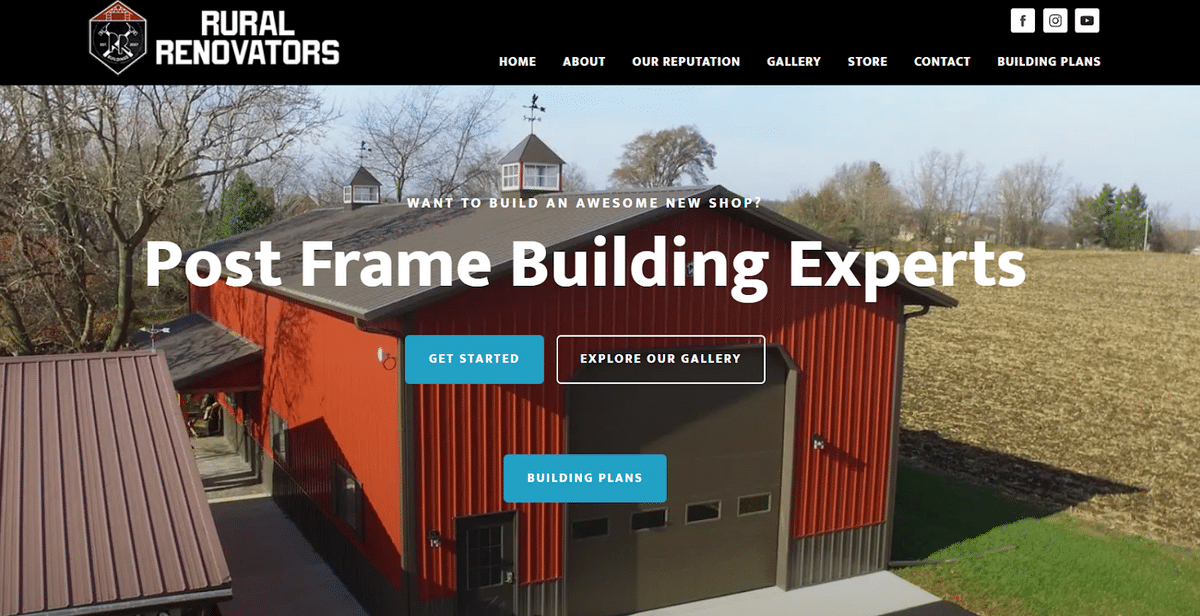 Some construction companies just want to grow and take on many different projects and jobs.
But it's important to conduct an analysis to determine whether this business model works for you.
Can you set aside enough capital to jump on different projects, or are you struggling to meet ends?
Dennis Engelbrecht, whom we've also mentioned before, says that successful companies reserve a decent amount of capital as if "an economic storm is brewing".
That way, they're more resilient to market changes and drive their company to start negotiating for projects instead of bidding.
All in all, a mark of successful construction companies is their ability to stand on their own with a profitable business model.
Openness to Innovative Equipment and Technology
Another thing that sets successful construction companies apart is their commitment to implementing new technologies and leveraging data to improve their business processes.
Automating processes and gathering and analyzing data are ways to open your company to new opportunities and get ahead of your competitors.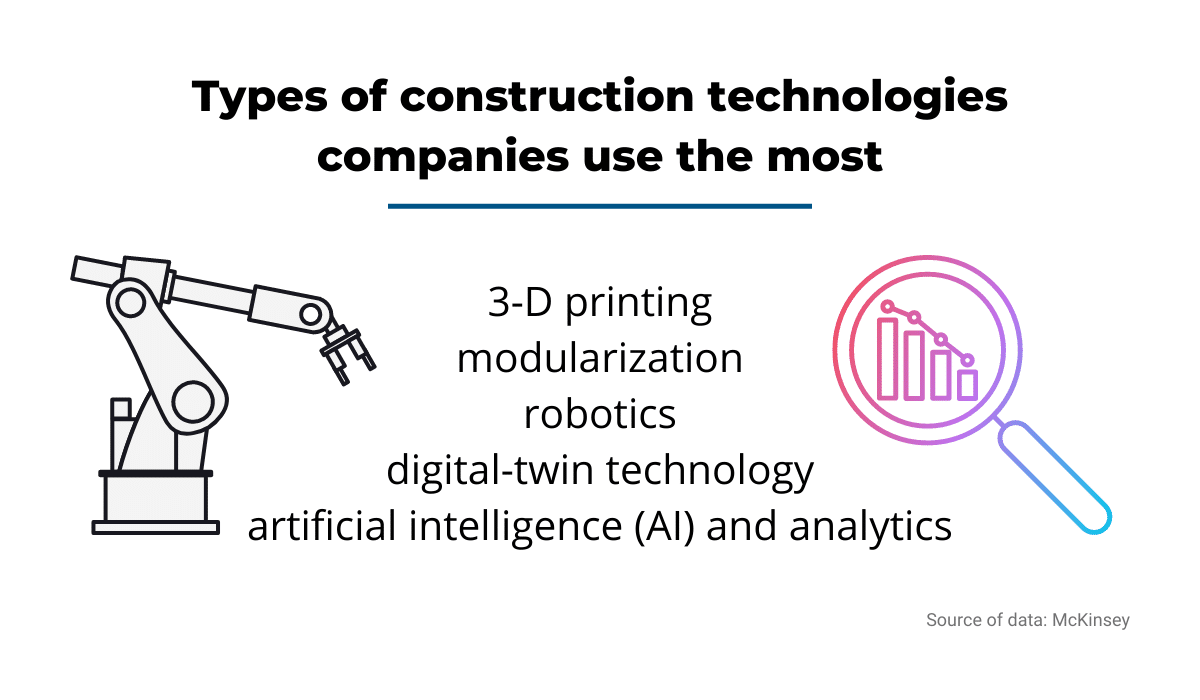 It's no secret that the construction industry is slow to adopt modern technology. But recent research reveals that more and more companies adopt new technologies to improve their processes.
Namely, they're investing more in various construction software.
Successful companies who utilize data from their construction software can spot bottlenecks in their operations, and improve communication and collaboration, but also get information about their equipment, labor, and vehicles.
With construction software like GoCodes, simply geolocating and tracking your equipment can significantly improve your business processes.
You'll always know where your machines are and their maintenance status.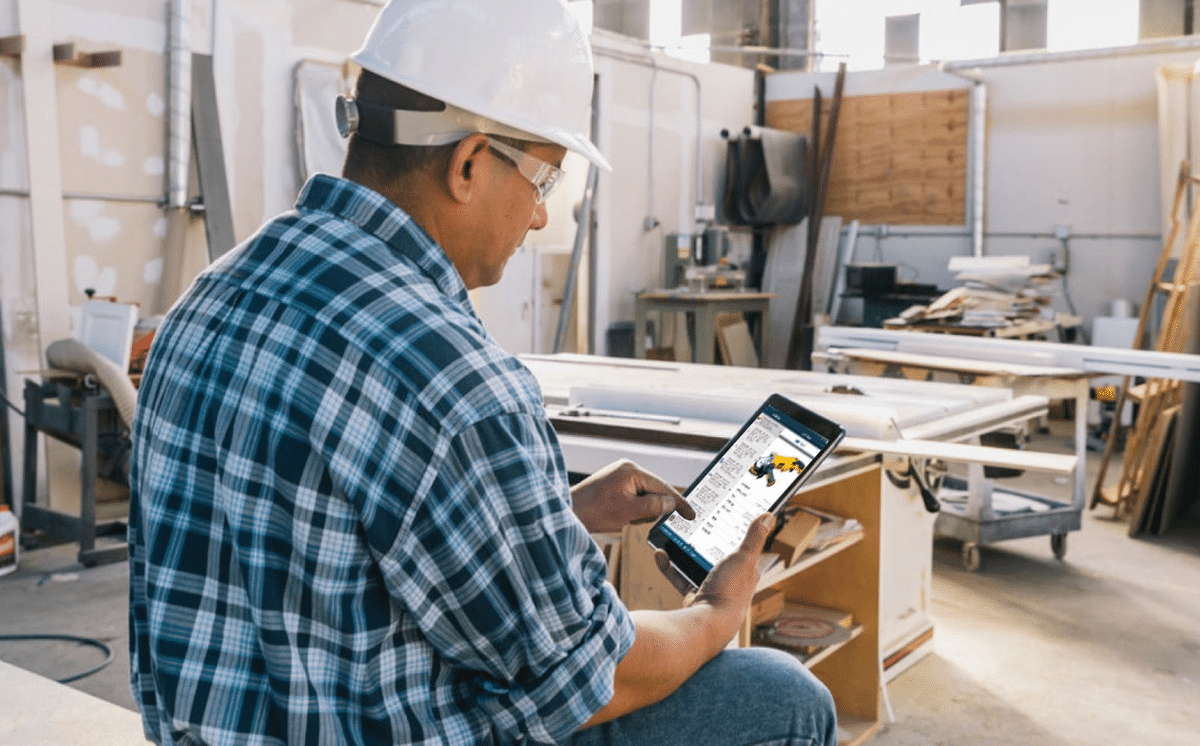 This helps you determine the available equipment to send to specific construction sites as well as organize preventive maintenance for key machines, which can save you the trouble and cost of dealing with unexpected breakdowns.
Or, to quote Dennis Engelbrecht again:
"Data-smart companies almost can't help but be profitable."
Data and technology are the construction industry's future, and the most successful companies are already jumping to that trend to improve their business processes.
Commitment to Work Safety
Working in construction will always come with increased exposure to safety hazards. Even the most careful companies will experience work-related injuries and deaths.
But that doesn't mean you shouldn't continuously work on safety improvements and ensure your workers get home at the end of the day.
What's more, companies that repeatedly violate OSHA regulations often find themselves in precarious positions.
Most often, this includes paying hefty fines and having their reputations damaged.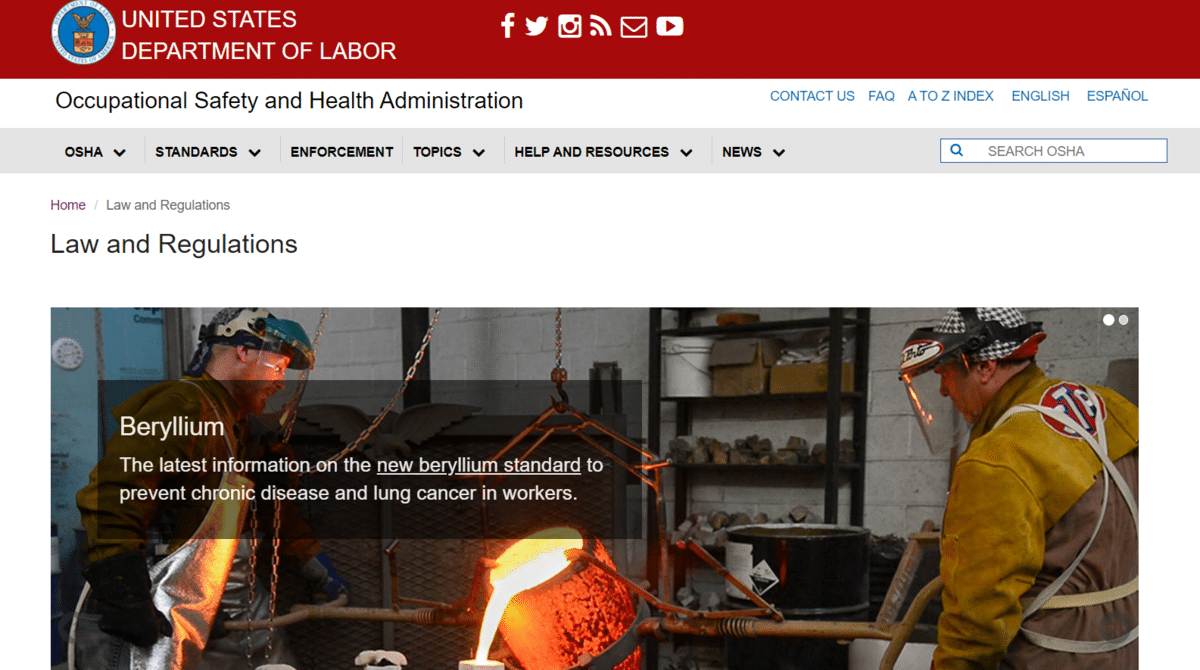 Basically, when a company is notorious for safety violations, workers are less inclined to work for them and clients don't want to do business with them.
This could also jeopardize the company's business and close them forever.
But even if that doesn't happen, having frequent accidents onsite means you'll have to stop working until the investigation is finished.
This also means you'll drive extra costs, namely with damaged equipment or materials, but also with workers' compensations or lawsuits.
These and numerous other reasons are why successful companies put extra effort into keeping their worksites safe for everyone involved.
Or in the case of Cosapi, an international construction company founded in Peru, they go the extra mile and ensure regular medical exams for their workforce.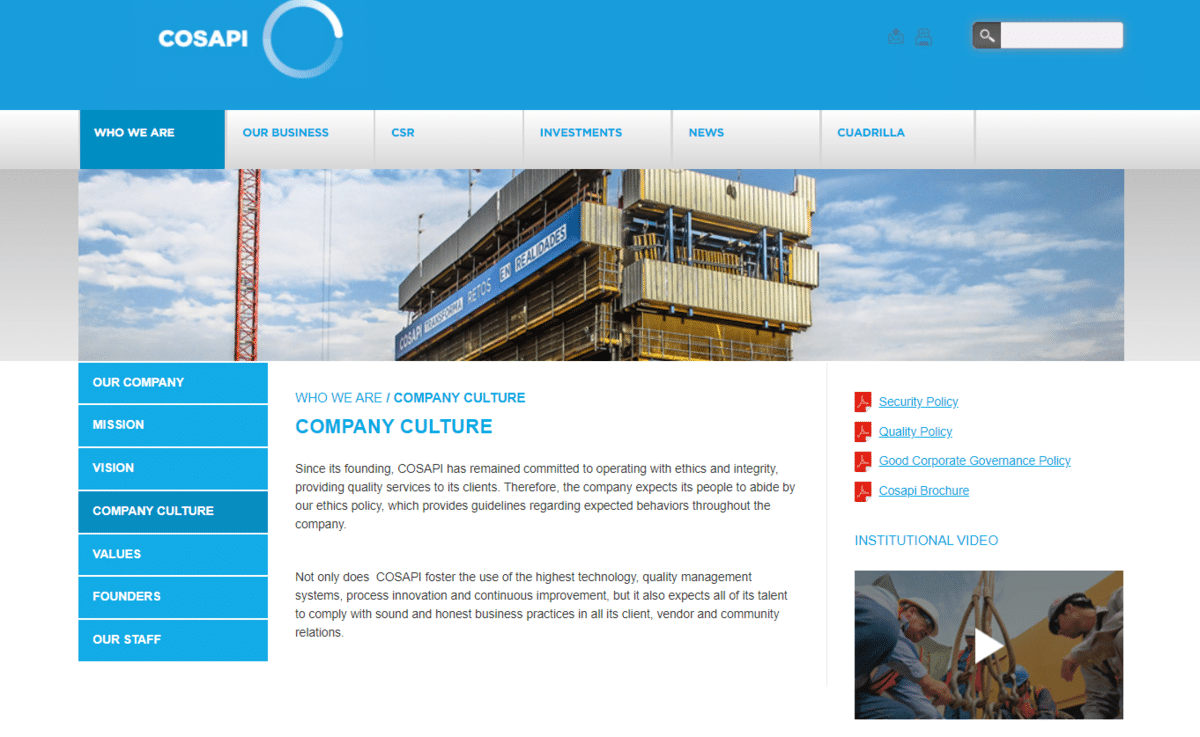 This was the most beneficial during the first months of the COVID-19 crisis.
So, it's not just falls or electrocutions that pose a threat to workers' safety but also exposure to viruses and other diseases.
Cosapi has thousands of employees, so they streamlined their medical screenings using technology.
They implemented SAP solutions to identify high-risk groups and track the health status of their employees.
This shows current and potential employees that the company cares about their well-being, so they're more confident and motivated to work, which ultimately boosts productivity.
Not to mention that these practices elevate the company's credibility and establish positive branding for the future.
Remember that putting work safety first will ensure your business and workers prosper in the long run.
Strong Risk Management
Risk management in construction means identifying key factors that can jeopardize the project's schedule and budget.
So, the best in the business take extra effort to analyze the project and determine which areas are most likely to derail it.
That way, they can take precautions and prevent any major failures.
But even if they can't outright prevent bad things from happening, they can still implement protocols that will minimize the impact on the overall project.
Now, the most significant concern for contractors is supply chain and material delivery. In fact, almost 75% believe that supply chain disruptions will negatively affect their projects.
This means many projects will need to be halted or delayed from weeks up to months.
Basically, even if you put the best methods and protocols into your risk management, there are outside factors you can't control.
But understanding the risks and handling them accordingly is one of the key traits of a successful construction company.
In the end, strong risk management ensures that construction teams meet their deadlines and maintain the expected project performance. Most importantly, keep track of time, cost, and quality.
Conclusion
Success in the construction industry doesn't come overnight. There are a lot of different factors that can help companies grow into a sustainable business, both internal and external.
Generally, most successful companies will rely on their internal processes to thrive and mitigate negative external impacts.
Delivering quality projects, great company culture, openness to innovation, and great risk assessment are some of the trademarks of the best in business.
So, as a construction company, you can model these traits for your own business and set yourself apart from your competition.