Landscaping is a very rewarding industry. After all, there is certainly no shortage of individuals and companies in need of perfectly manicured lawns, gardens, and home or office exteriors. However, being able to provide these services to clients requires plenty of assets and equipment, and these certainly aren't free. Asset management is vital to the success of any landscaping business.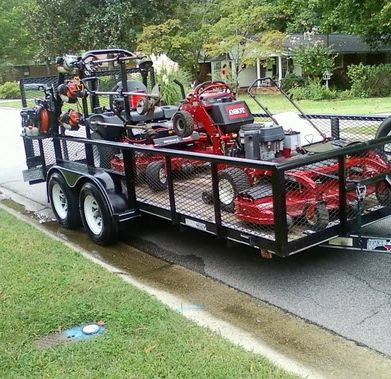 Tracking a Variety of Landscaping Equipment
Whether you have five employees or 50, you'll need equipment in order to satisfy all of your clients' landscaping wants and needs. Being able to track that equipment gives you an opportunity to save your company time and money.
Company Vehicles – Your fleet of company vehicles not only transports your tools, but it also puts your name out into the world. Being able to keep them properly maintained is important, as is understanding their depreciated value from one tax year to the next. QR codes can help you do all of this and more, and if you choose to add GPS tracking, you can even locate your vehicles in real time.

Expensive Mowers and Tractors – Mowers and tractors can cost up to $10,000 or more depending on their size, and some may even cost more than the vehicles you use to haul them. As such, keeping them properly maintained and understanding their depreciated value is also important. That's another reason why so many landscapers are turning to QR codes and asset management.

Everyday Tools of the Trade – Weed trimmers, sprayers, seeders, chainsaws, and more are part of just about every landscaper's arsenal. Although these aren't quite as expensive as mowers, tractors, and company vehicles, they certainly do add up. Properly caring for them and ensuring they get scheduled maintenance can save your company thousands of dollars every year. QR codes can help automate the maintenance, and GPS codes can help ensure that lost, forgotten, or stolen equipment is recovered.

General Inventory – Landscaping companies keep a variety of products in stock. Everything from grass seed to flowers and even mulch is important for providing clients with the products and services they want. Being able to understand your inventory at-a-glance and perhaps even automate part of the restocking process allows you to save time. What's more, because you'll never run out of products, you can provide better (and faster) services to your clients.
Improving Your Bottom Line
Setting up asset tracking can improve your landscaping company's bottom line in many different ways. First, it deters the loss and theft of valuable equipment, including everything from string trimmers to trailers and even expensive tractors. Next, it helps to automate the maintenance process to a degree, ensuring that your equipment gets the regular service it needs to perform at optimal levels. Finally, when you can provide your clients and customers with quick, efficient service, it improves your company's reputation and makes you an authority in your local area.
Asset tracking can certainly benefit landscaping companies by planting a seed of success. QR codes along with GPS labels can save your company – and your clients – plenty of time and money. In fact, if QR code asset tracking allows you to get just one more year out of a mower, you've already paid for the service.