Trade shows are organized by designated trade unions belonging to a particular industrial sector. Trade shows are platforms in a particular industrial field where various companies come to demonstrate their latest products, technologies, and services. Trade shows are not open to the public. They can only be attended by the members of the industry and by the members of the press. Trade shows are a massive event that usually takes place in large convention centers. There is a wide range of events that go on at such trade shows.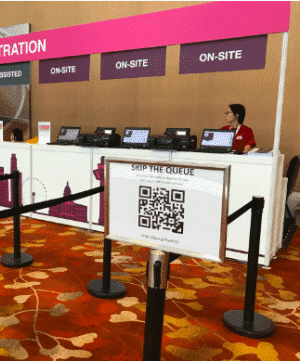 Trade shows represent a double-edged sword from the perspective of company executives. This is because while trade shows are a perfect opportunity to showcase a product, they are expensive to participate in and mistakes at the show cost far too much damage. Added to this, the main agenda of going to a trade show is to generate more leads. These events are also opportunities for vendors and competitors to meet each other and establish new contacts. Needless to say, having seamless logistics and platforms for the efficient management of communication and data is of prime importance in making these events fruitful. Any inefficiency in lead management and lead follow up can turn the trade show into a failure.
Today, there is a wide range of digital technologies ready for use which can greatly enhance the success of these trade shows. Through the use of smartphone platforms, automated cloud databases, and other digital solutions, lead management and exchange of contacts can be made simple and effective. One of the fastest growing digital technologies that can be of great utility in these events is QR codes. QR codes are simple 2D printed codes that can store all kinds of information. Trade shows contain a lot of areas which can greatly benefit from the use of such QR codes.
Ensuring that the exhibition is not a waste of capital and resources and that leads are properly acquired and graded, businesses can use QR codes in order to enhance their ROI. Mentioned below are some of the major ways in which QR codes can be used at trade shows.
Lead acquisition through QR code at the counter- Companies set up their counters at various locations throughout the convention center. Keeping track of all the vendors and leads that visit the counter can be a difficult task. The counters can be easily equipped with a QR code-printed panel. This can be scanned by anyone who visits the counter, and the contacts and other information can be exchanged between the two parties instantly.
Establish QR coded information kiosks- In order to navigate better through the densely crowded and dynamic event, information kiosks or help desks can be marked with QR codes. People can scan this code to know more about the location they are currently in and what is happening all over the trade show.
Pass on QR coded tags – Business cards are a thing of the past. They are limited in the amount of information that they can convey and cannot be customized beyond a point. By passing on QR tags to the leads, one can give direct access to their online profiles or company platforms. These online platforms can be wholesome, attractive, and descriptive which can retain the attention and interest of the lead. Moreover, QR tags can be passed around which contain URLs to the product info page. This way, companies can market their products better at such trade shows.
Mark important locations with QR tags- The various important locations in the convention center along with the various stalls and counters can be marked with QR-coded stickers. These, when scanned, can reveal information about the location or the company stall. For example, the cafeteria section can be marked with QR codes which can contain the menu and the option to order food. Similarly, company stalls can be marked with QR codes which can display details about the various products being released at the show. QR codes can also be marked at the entrance which can display the timings and schedule of the various events.
Display product and service information via QR code- Trade shows are an opportunity to display the latest products and services that are trending in the industry. It might not be possible to entertain every query from every visitor who happens to come to the counter. Managing such a sheer number of footfalls and delivering the complete and accurate information of the product can be difficult. This process can be simplified by placing a QR code which contains all the product details.