Construction material recycling is an increasingly popular alternative to hauling debris to landfills. Even projects that don't involve demolition usually result in at least some refuse, even if it's just the protective covering for raw materials.
With more and more viable ways to recycle construction materials at their disposal, project managers have more to think about than just finding a dump truck when the time comes to clean up the site.
After processing or repurposing, these "new again" raw materials are ready for use in another project.
Why Use Recycled Building Materials?
Recycled building materials are any items that were part of another project in some way.
They might be leftover parts from another building, such as a window, or salvaged from lumber sizing.
Other recycled building materials undergo repurposing, as is the case when waste steel dust becomes concrete.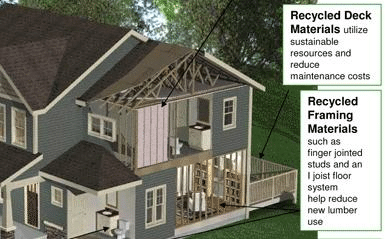 As this graphic indicates, recycled building materials can provide raw materials that can be regarded as new. The benefits of using recycled building materials are many.
Therefore, many businesses are seeking ways to reduce landfill reliance or are eager to change the way they perform waste management in an effort to become more eco-friendly. As a result, they turn to recycled materials.
There are many other benefits to recycling building materials. Here are some of them.
Waste Reduction
Committing to a recycling or reclaiming program results in less waste.
Construction is notorious for producing large amounts of bulk waste, since it can involve large boxes, demolished framing, and damaged chunks of concrete. This can take up a great deal of space in landfills.
For example, in a single year in the UK, 59% of all waste originated with excavation, demolition, and construction.
Moreover, efforts to avoid placing hazardous and toxic waste such as asbestos, lithium batteries, and lead paint in landfills are particularly important in this industry.
Although these items eventually wind up in landfills after careful processing, taking care to handle them properly during demolition helps avoid numerous risks.
Designing buildings with an eye to reducing waste at the end of the building's life cycle makes the project more sustainable.
Here's a look at a proposed waste hierarchy. Product managers should keep it in mind in order to reach their environmental goals more easily.

The waste hierarchy asks decision makers to avoid generating waste at every possible step in the project process. When all project stakeholders commit to avoiding waste from the start and re-using materials as much as possible, landfills become less necessary.
Resource Savings
Unfortunately, recycled items usually aren't in great demand. Combined with the increased costs of producing and processing them, this means that recycled items are sometimes more expensive than those produced using more traditional methods.
However, in most cases, in spite of these initial costs, recycled materials actually end up saving you money in the long run.
What is more, as technology and research in recycling continue to improve, their initial price continues to drop as well.
As for repurposed items, since far less labor and raw materials are necessary to produce them, they are usually less expensive than new items.
For those who consider environmentalism a major aspect of their values, or those who are attempting to meet franchise or legal codes, occasionally paying more for recycled items, or dedicating additional labor or costs to recycling, is well worth it.
Beyond money, construction recycling helps preserve natural resources, including water, trees, natural gas, and other forms of energy. The more recycled materials in use, the less energy is necessary for the sourcing and production of new materials.
This graphic below notes the stages of waste avoidance. It considers some of the same issues as the waste hierarchy we've described earlier, but conceptualizes waste avoidance as a series of stages rather than a process.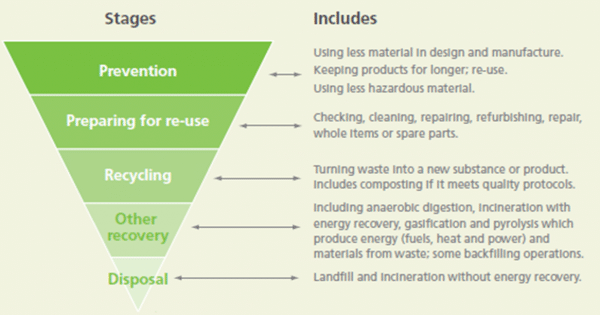 Clients are often willing to pay more for premium green items if these result in lower energy bills.
Finally, some clients are interested in construction projects that focus on sustainability and energy efficiency. They specifically ask for such installations as solar panels and energy-efficient windows that help regulate extreme temperatures.
Competitive Edge
Increasingly, clients seek to do business with organizations whose values align with theirs.
What is more, awareness of environmental issues is not only a way to attract eco-conscious customers but also a step towards compliance with increasingly strict and omnipresent green regulations.
The availability of sustainable buildings does affect real estate market value.
Here's a chart from a paper exploring the ways in which LEED and Energy Star certifications have affected premium pricing:
The results point to the conclusion that sustainable building practices create considerable opportunities for upselling in the real estate market.
Althoughit might cost more and require greater administrative and labor costs to secure green certifications, the upsell is worth it to clients who identify as environmentally sensitive.
Types of Recycled Building Materials
The many types of materials that can either undergo recycling or find a second life may surprise you.
Here is a green building project in New Jersey.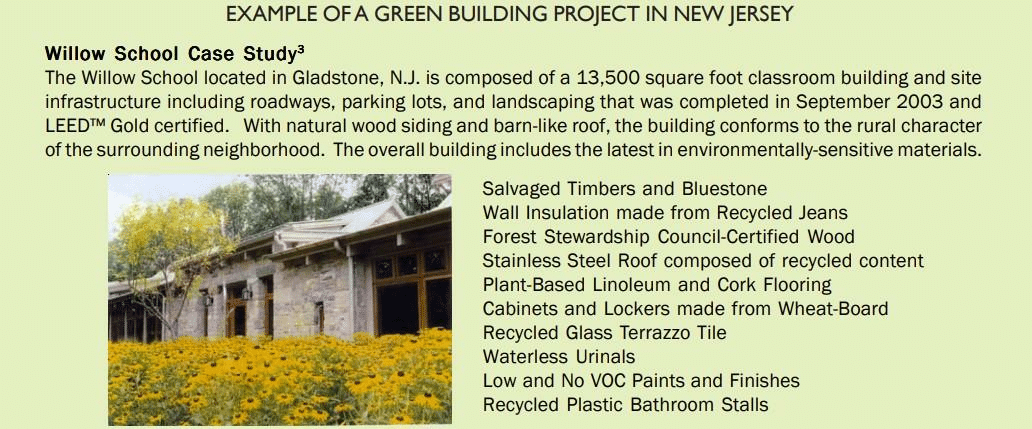 This building is a combination of repurposed and recycled materials, as well as specially certified items. In addition, the house was stocked with the likes of waterless urinals and appliances built to work in a low-energy state.
Repurposed Building Materials
Repurposed building materials are perhaps the most exciting and artistically satisfying construction trend. Workers salvage items from other buildings; they are then cleaned, re-fitted, or redecorated to fill a current need.
Below is an example of repurposed windows waiting for a new home.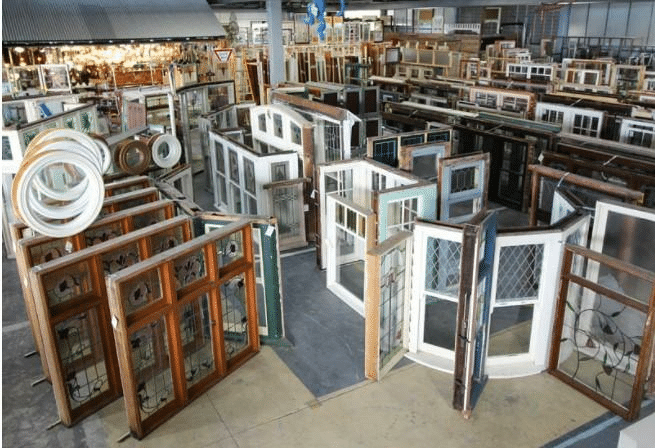 Using repurposed building materials is a creative way to rescue historic buildings and build unique items. They can create a one-of-a-kind look for a building.
By re-using items that are still useful from, for instance, unsafe buildings and closed churches, the beauty and craftsmanship of such items live on.
Recycled Building Materials
Recycled building materials are different from repurposed items.
Whereas repurposed items are made to fit their new environments using less invasive methods, recycled materials have undergone some form or processing, such as crushing, fiber separation, or additional treatment.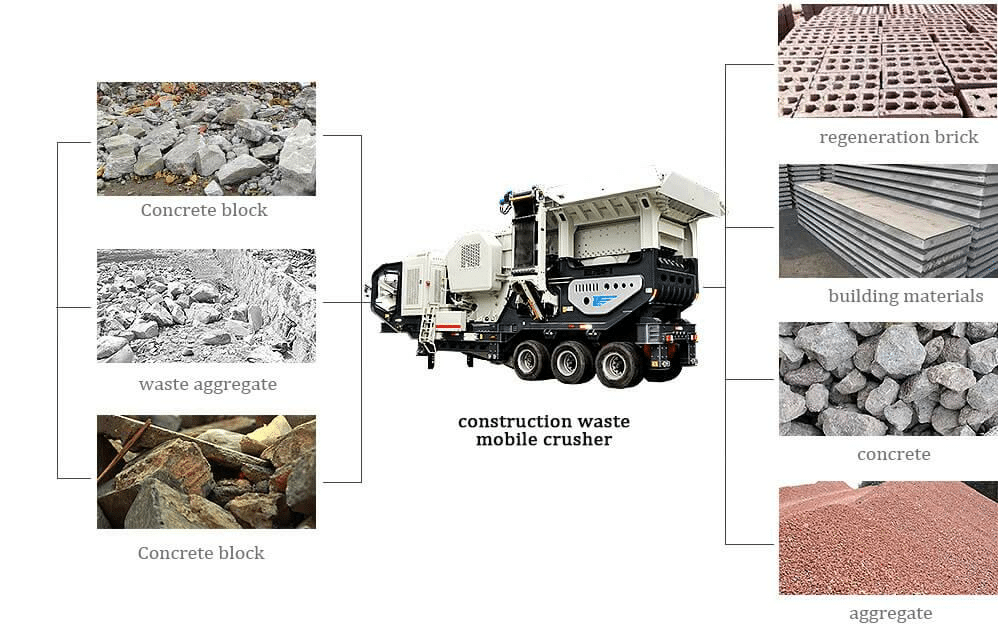 This chart shows how crushing can result in new building materials. Recycled construction materials can include timbercrete, ferrock, filler, and topsoil.
Construction Materials From Waste Products
Communal waste can undergo recycling to become safe and stable enough to be used as construction materials.
For instance, the illustration below demonstrates how popular packaging can be turned into paper backing for roofing shingles.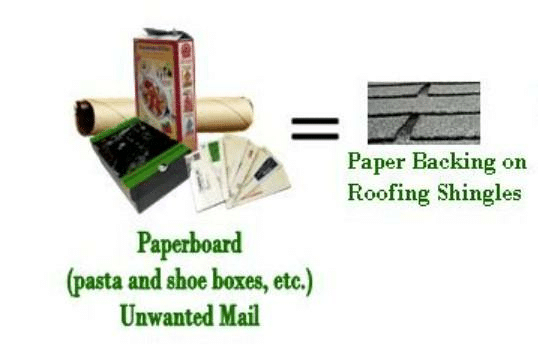 It's a good example of the ways in which seemingly unrelated items can find a connection through waste reduction.
Other similar materials include newspaperwood, recycled glass, plasphalt, cork panels, and even transforming old denim into insulation.
Where Can You Recycle Construction Materials?
Finding a place to recycle construction materials is typically easier in places where construction recycling is well-regulated through state legislation and local ordinances.
In some cities, for example, companies have no choice but to take construction and demolition debris to registered and approved recycling centers.
As this brochure shows, project managers in San Francisco, CA, are legally required to use recycling yards: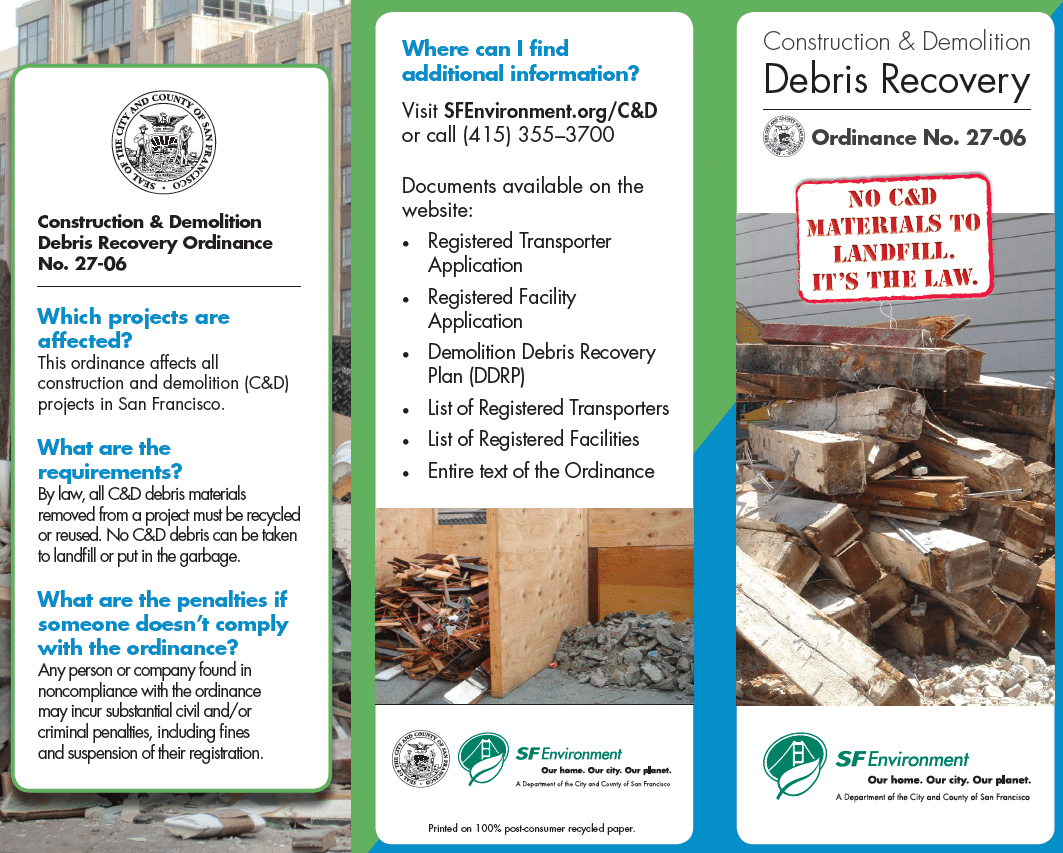 In this situation, criminal penalties, fines, and loss of license await contractors that don't use government-mandated facilities.
In areas where companies are free to decide how to handle waste, project managers can ask around their networks or search online for recycling haulers. It's always a good idea to check with local officials on the current state of construction waste regulations.
Where to Find or Buy Recycled Building Materials?
Finding a place to buy recycled building materials is becoming increasingly easy, especially as reclaimed items are becoming more fashionable.
For instance, if you're in North America, you can obtain and reuse reclaimed doors and other donated elements, ranging from building materials to furniture, at a Habitat for Humanity ReStore.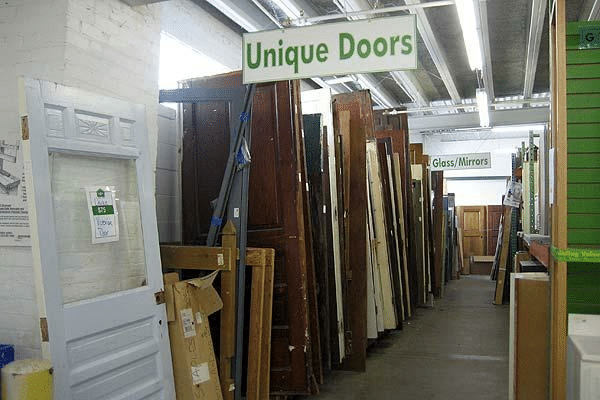 Sourcing reclaimed or recycled materials, however, requires a careful check of the condition, safety, and usability of the items.
In the case of these doors, for instance, it's important to check for warping and square corners before attempting to fit them into a new project.
Online Communities
Online communities such as social media apps, Freecycle, Craigslist, Nextdoor, or Enviromate are good places to find reclaimed or recycled items.
Communities such as these connect people who are seeking to give away items to those who need them.
The growing popularity of this practice, as well as the ease of finding specific items online, mean that even areas with small populations can support reclaiming and recycling.
Recycling Yards
Recycling is part of a growing green economy. Finding recycled material to work with will be easier in areas where recycling commonly takes place, such as wood recycling yards and salvage yards in addition to certified recycling stations.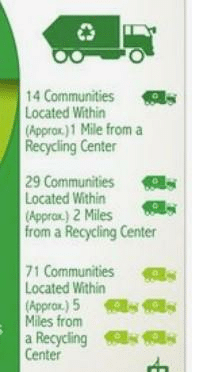 Recycling centers are typically more available in densely populated areas. If such a center is far from a construction site, the act of recycling may result in increased use of fuel for transporting the items.
Therefore, those who are eager to focus on green-friendly practices should be careful to balance all aspects of their recycling decisions.
Local Businesses
Green entrepreneurship continues to grow as it becomes easier to start a micro-business with little infrastructure.
So, to improve the sustainability of your enterprise, consider using the services of small and local suppliers in addition to large home improvement retailers.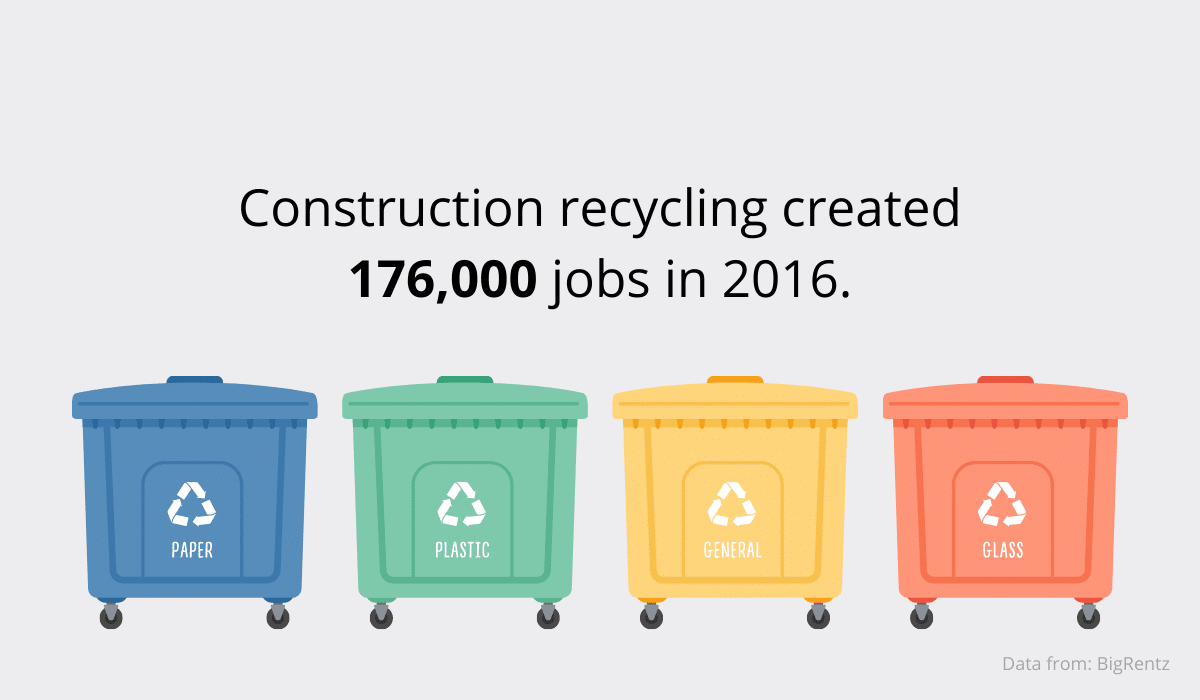 Construction recycling is an interesting new source of technology, jobs, and data. As production techniques improve and become more cost-effective, the field will likely continue to expand.
Conclusion
Construction material recycling can take many forms. Using recycled building materials results in waste reduction, resources savings, and a competitive edge.
Repurposed and reclaimed materials are both viable options for creative construction projects.
To recycle construction materials, consider small businesses as well as online communities.
Be aware that it's a new age for the construction industry. Recycling, sustainability, and green technologies are slowly taking center stage and becoming vital considerations in the business. Don't allow your company to fall behind on these important new trends.