With 69% of Americans and roughly 2 billion people worldwide shopping online, the range of power tools you can purchase on the internet has never been more diverse.
If you're a small contractor or if you're simply looking to buy quality power tools at the right price, you need to know how to navigate the world of online shopping for power tools.
This article is here to help you.
Check the Tool Communities for Recommendations
Let's say you're looking for a new cordless drill, and you're open to all options. Where would you start?
Well, social media communities and forums specialized in power tools can be a great source of information.
As you can see below, Google will provide a multitude of results that can get you started.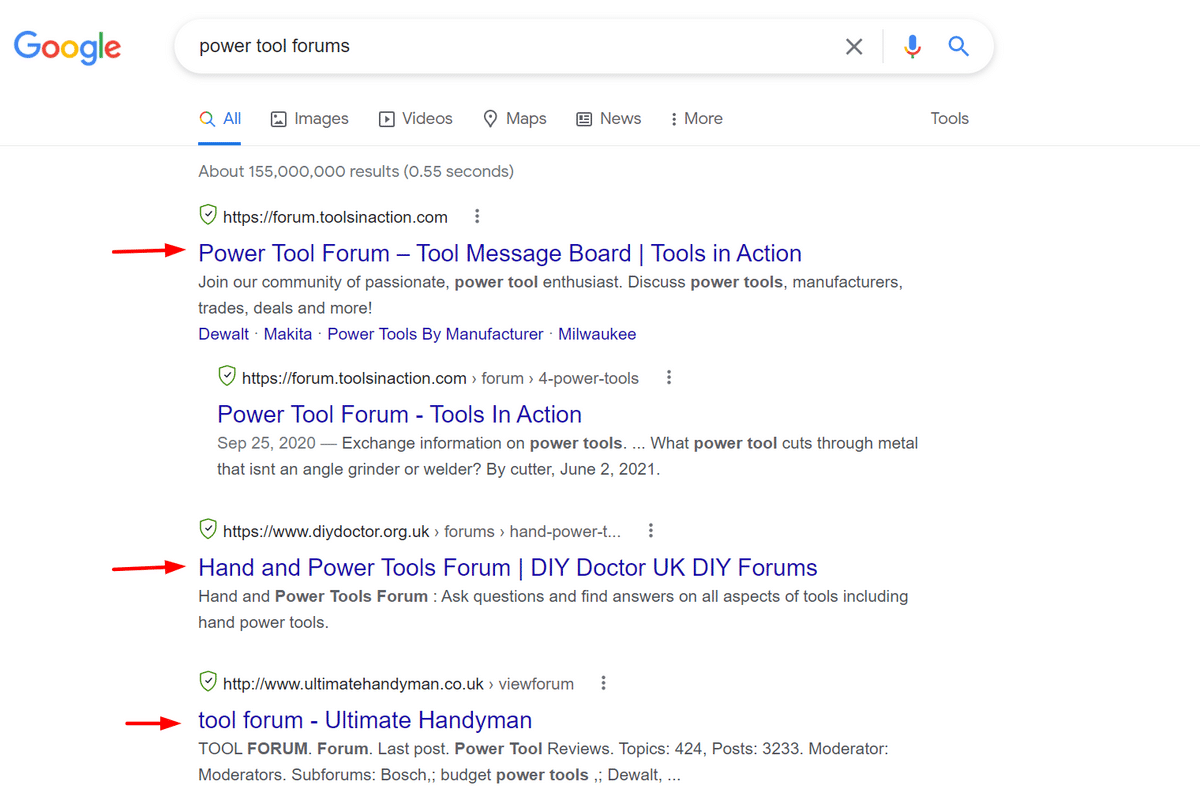 For example, the Tools in Action forum, the first one in Google search results, will give you plenty of information on any topic related to power tools.

Now let's say you want to narrow down your search to what forum members think are the best cordless brands.
With such a wide range of power tool brands, you might get an answer like this:

However, scrolling through the comments will usually give you more specific answers like this:

You can try to find the best cordless drill for you on several specialized forums and see what brands show up most frequently. You might even stumble upon a hidden gem of advice from a seasoned professional.
What is certain is that the recommendations and considerations you'll read will help you narrow down your choices.
Forums can also provide customer complaints and recall info. Complaints will alert you to any recurring issues that a particular power tool encountered in the past.
As for recalls, it's wise to check if the product in question was recalled for safety issues. Like this chainsaw that can turn on unexpectedly.

As you can see, this chainsaw was recalled in January 2022 because it would turn on accidentally when plugged in or keep running even when the switch is off.
Although some companies like DeWalt have a Safety notices and recalls page, it's best to check the U.S. Consumer Product Safety Commission's (CPSC) website, where all product recalls are published.
To make a long story short, checking the tool communities for recommendations can point you in the right direction, provide useful information, and even warn you about potential issues.
Read the Reviews
The most well-known brands are popular for a reason. They have been around for a while, and the manufacturers have had the time to master their tool-making skills.
In the case of less-known brands, you might be suspicious of their quality. But a no-name brand doesn't have to mean poor quality.
Whichever way you decide to go, it's always recommended to read the reviews.
For starters, there are many sites that review and compare different power tools like, for instance, Pro Tool Reviews or Tool Inspector.

They can provide guidance on the matters that interest you. However, they often review only the most famous brands, so if you're looking for a belt sander, the results look like this.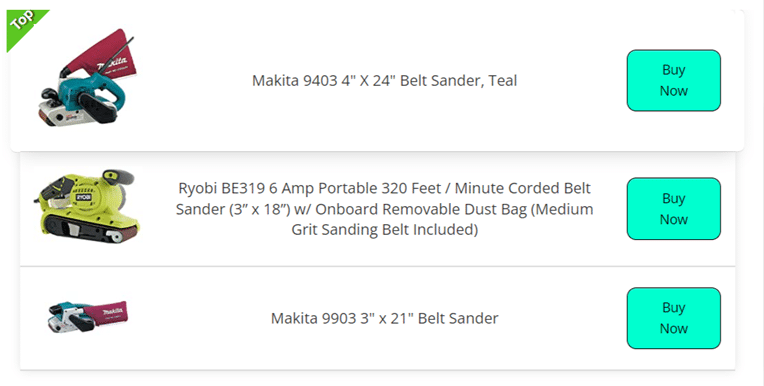 As you can see, the top 3 choices in this example include just two brands, both of which are among the top 10 power tool brands in the world.
So, if you're considering a no-name brand, this will require a little more digging to find relevant comparisons and reviews. Some manufacturers' sites also have reviews, so it might be useful to also read those.
Whether a brand is established or not, one of the best sources for reviews is, unsurprisingly, Amazon.
Here are a couple of reviews for a Makita belt sander, the No. 1 sander to buy according to the above list.

However, it often pays to scroll a little further down and see if the users have reported any problems.
For example, this belt sander (the one the reviewer actually bought, not necessarily the whole product line) might have some issues with frequent belt replacement, as you can see here.

In conclusion, arm yourself with some patience, read the reviews from several different sites, and you'll be much better equipped to buy a power tool that best fits your needs.
Know Where to Look
Just like with the tool communities and reviews, narrowing down where you will look for your new power tool can also play a role in deciding which one to buy.
When online purchases are concerned, this power tool market analysis gives good clues about where to look.
In their analysis of power tool sales in the first quarter of 2021, Traqline says that 27% of shoppers purchased their tools online.
However, we should also count online sales made by usual brick-and-mortar stores. For instance, Home Depot sold 19% of power tools online in the same period.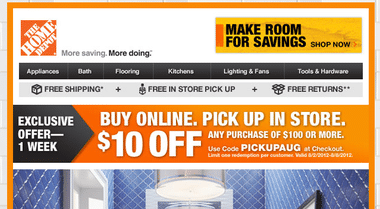 So, your online purchase choices should include all available options.
As for online retailers, here are just a few. Most of them offer free shipping for some items or above a certain purchase amount:
…and many others.
When looking for a good deal, you might also follow some or all of them on social media. This will keep you informed about the best discount offers. For example:

Here are a few more suggestions from tool forums as to where to do your online shopping.

Alternatively, if you already know exactly which tool you need, you can google it and check out the top results.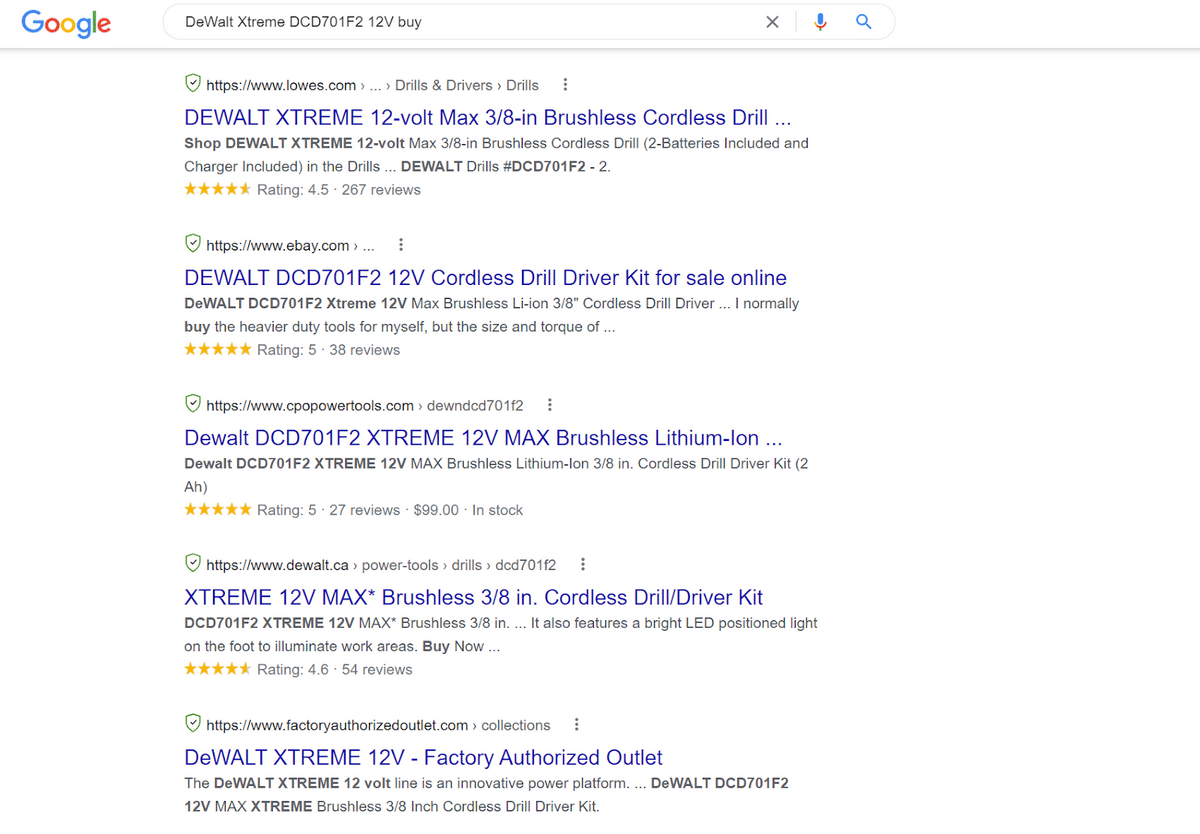 Also, if you're buying 10, 20, or 100 power tools at once, it's worth visiting the selected manufacturer's site and asking for a bundle deal or discount.
All in all, knowing which online retailers are most popular and offer the best deals can go a long way in informing your choice.
Test the Tool in Store
Another way to go about finding the right power tool(s) is to first test it in a store, and then look for online purchasing options.
This will give you a chance to see or even try a tool in real life, while online shopping can often get you a better deal.
This isn't how the purchasing process usually goes for a lot of professionals.
In fact, this Finnish study found that professional contractors usually buy their tools from large retail chain stores but get their information from online sources and industry advisors before committing to a purchase.

However, this process may be reversed. You can start at a store that offers a wide variety of power tools and, even better, in-store trials. Like this Acme Tools store does.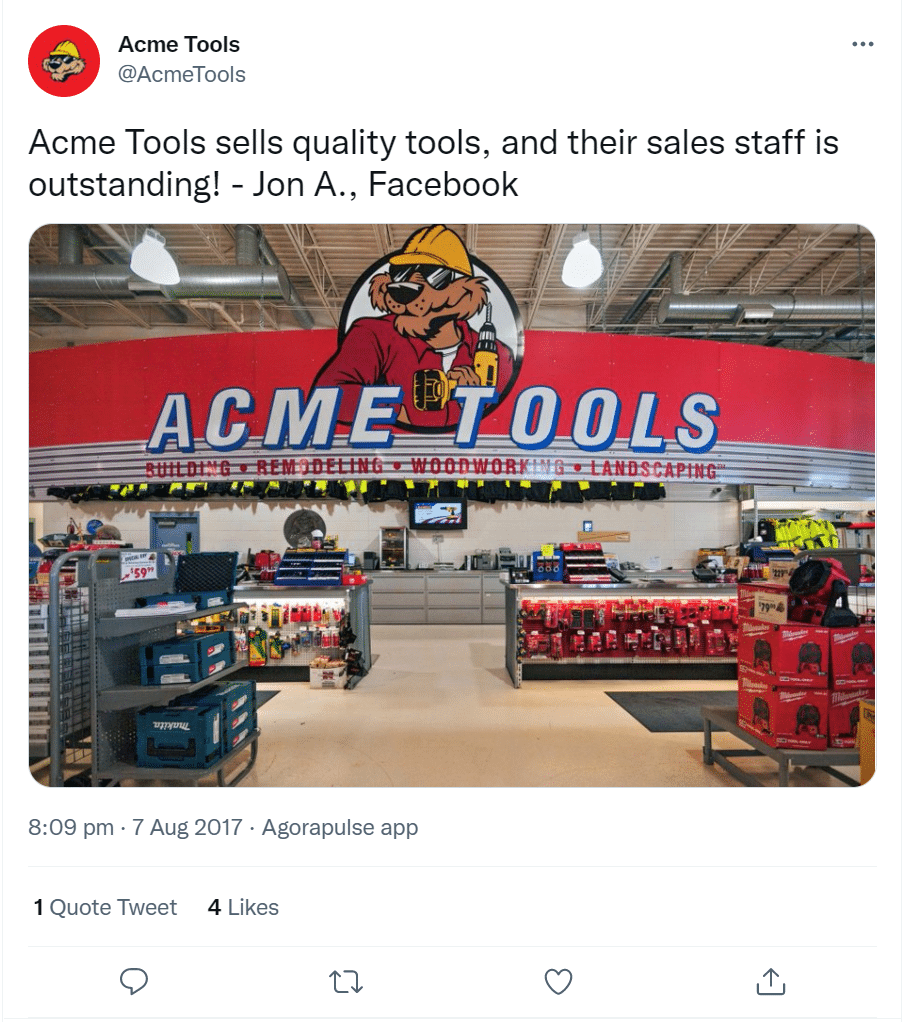 They also boast a very helpful staff, meaning you can ask for professional advice to help you select the right tools.
As you're browsing, look above your eye level for higher-quality tools, feel how each item "sits" in your hand, and try it out if possible.
After you've found the perfect tool, you can buy it on the spot or take some time to evaluate other options online for the same equipment.
If you can find the same tool online cheaper, why not use this opportunity and save some money?
Testing the tool in-store can be a very good method for choosing power tools. Although it starts offline, it gives you hands-on experience when buying online.
Stick To Established Brand Names
If you're a professional, you should stick to established brand names because they're less likely to break down in the middle of the project and cause costly delays.
Although some no-name brands can provide quality, most professionals rely on well-known tool brands.
There are plenty to choose from, many of which are described in this article by Pro Tool Reviews.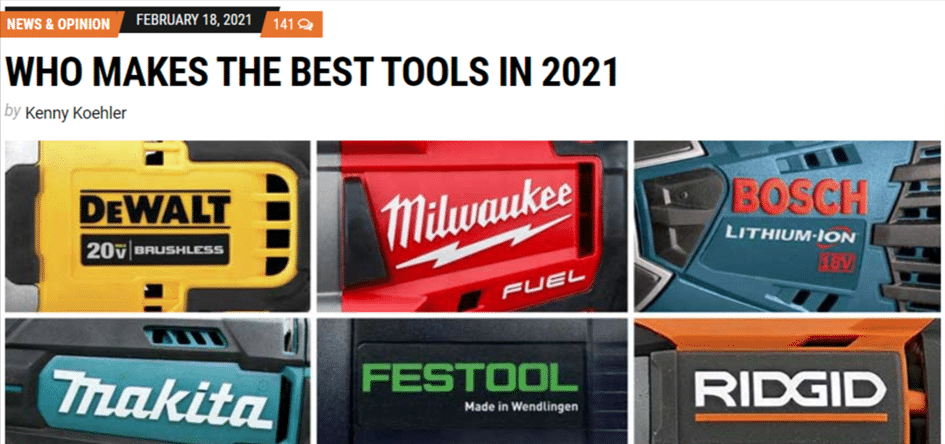 Why do they go for known brand names?
First, because it's their livelihood. If a tool fails, their income might be affected. And quality brands are less likely to fail because they're made from higher quality materials. This also means they can withstand harder working conditions.
In the case of cordless tools, their batteries usually run longer and/or come with an additional battery pack.
And, since the tool will be used professionally and frequently, you need assurance the tools you're buying are of high quality and that you'll have access to spare parts and servicing.
Known brands will provide all the above. What's more, such tools usually come with longer-term warranties.
In short, there's a host of reasons why brand names are the safer and more worthwhile way to go.
When it comes to numbers, we'll use Traqline's market analysis again.
According to it, the brands that have been steadily increasing their share in the power tool market are DeWalt, Milwaukee and Ryobi.
Before deciding on a brand, you could even follow this Reddit recommendation:

Of course, quality power tools also need proper maintenance. If you want to learn more about properly caring for your power tools, you can do so here.
In conclusion, professionals predominantly choose established power tool brands because they offer a safer bet that their construction sites are going to keep running smoothly.
Be Aware of Shipping Costs
In recent years, free shipping above a certain price has become a standard. So, nothing to worry about there, right? Well, not exactly.
According to recent statistics, 48% of all online shopping cart abandonments occur because of high extra costs.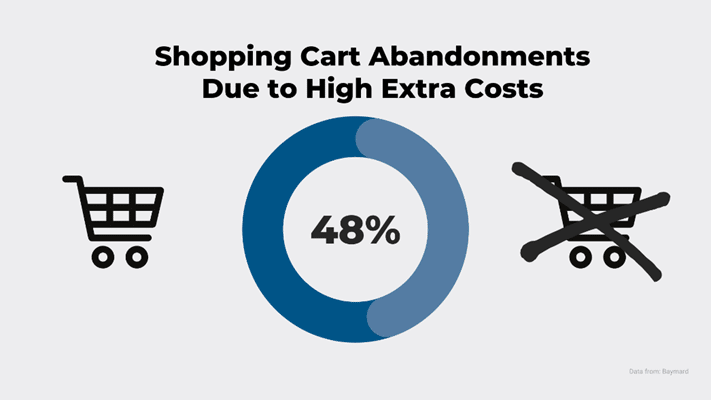 So, the first thing to remember is there's no such thing as free shipping.
Somebody will always pay for it—whether it's you (most likely) who pays for it as part of the retail price or additional costs, the manufacturer (likely), or the retailer (least likely).
That said, let's say you searched and found a great deal for the power tool you wanted.

Overjoyed with the offered mega-discount, you click on "Add to Cart" to start the ordering process.
After a few steps, the website shows you the actual price of your discounted power tool, and for that price, you could buy not one, but two.
What happened?
Well, to be able to offer such a deal and attract customers, the retailer probably reduced the price by excluding shipping costs and charging them to you in the checkout process.
That's why shipping can sometimes be more expensive than the offered discount.
You should also watch out for (even if the shipping is "free") extra fees charged for various delivery options you select during checkout.
These can include things such as order tracking, expedited shipping, priority order processing, special handling charges, or minimum purchase requirements.

So, how to avoid high shipping costs?
Many retailers offer free in-store or curbside pick-ups where you can order the products online and pick them up at the store of your choice.
Sometimes within hours of placing the order.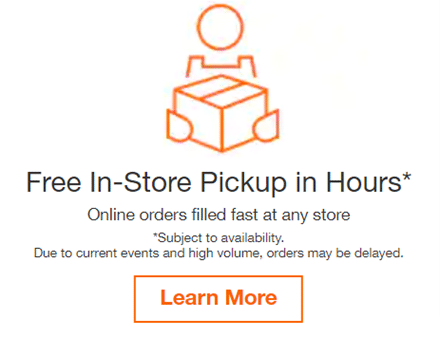 Or you can even find offers like this.

Hence, being aware of shipping costs can save you money in the same way discounts do. You just have to know that the price of your power tool is often not the price you'll ultimately pay for it.
Plan Ahead
Did you know that, according to the North American Precis Syndicate (NAPS), 55% of Americans own at least five power tools, while 23% own twice as much?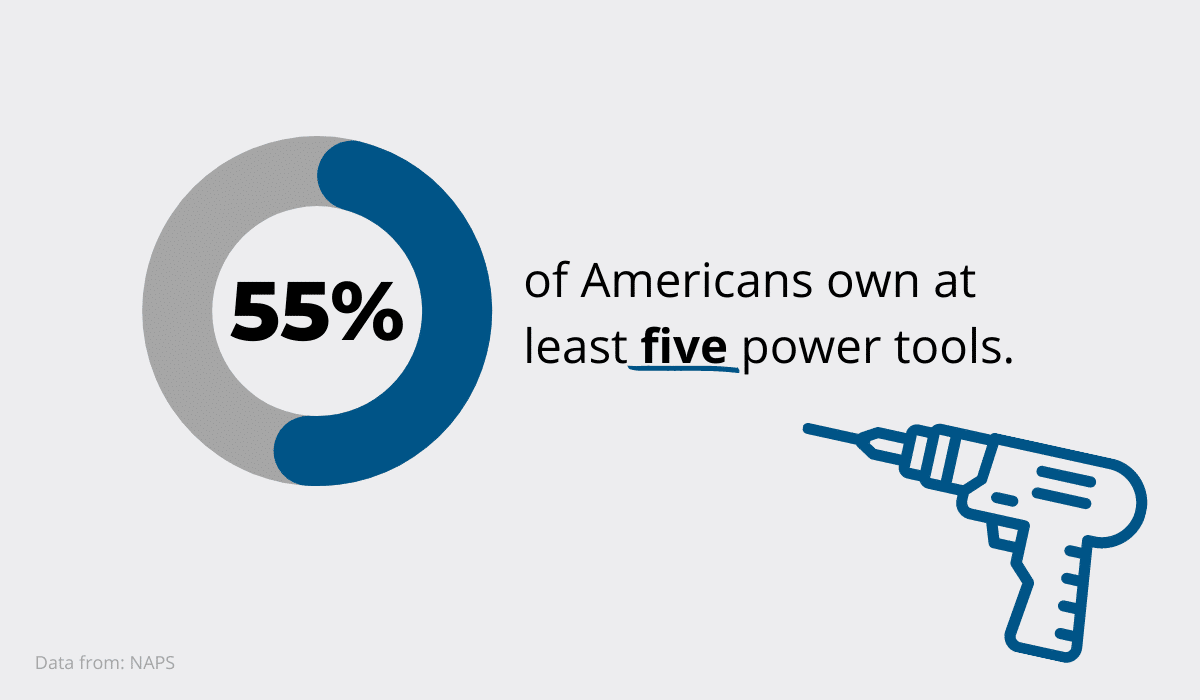 And mid-sized or large construction companies might own hundreds or even thousands of power tools. That's where planning ahead comes in.
So, this last section is intended mostly for contractors or firms that operate on multiple construction sites and need to plan their procurement of power tools to avoid project delays and injuries.
To do so, professionals need to know what power tools they have, how many of each are in their possession, and when those tools should undergo maintenance or be replaced with new ones.
With that in mind, larger contractors usually have some kind of an inventory system or, even better, tool tracking software. Below is a screenshot of GoCodes' software with a list of tools and available filters.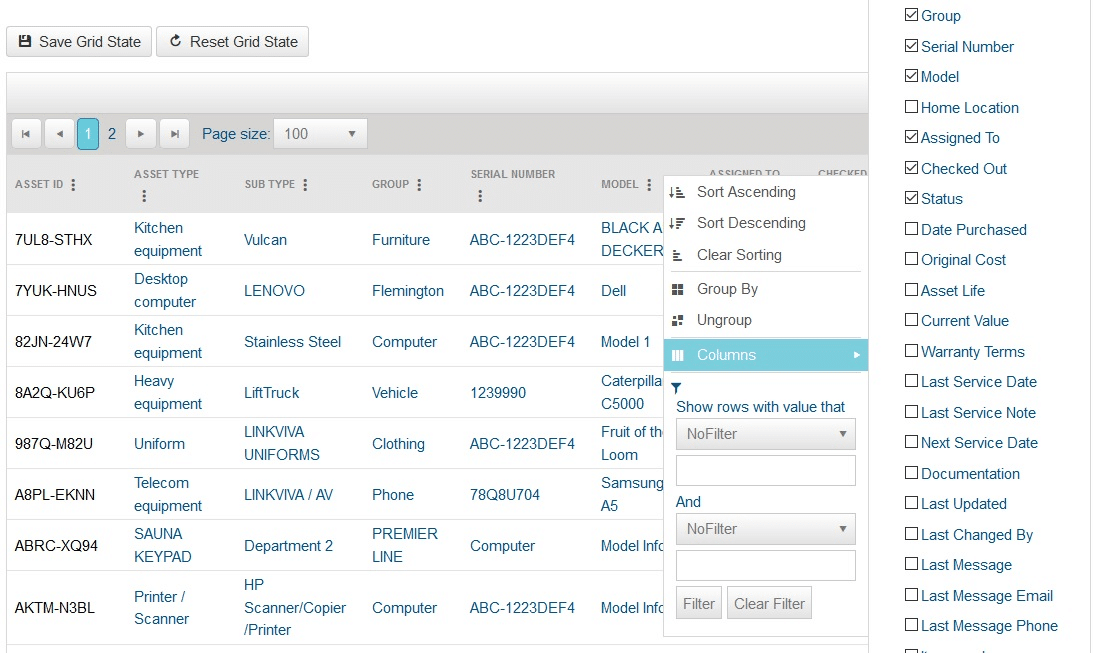 Tool tracking solutions will not only keep your inventory up-to-date but also provide valuable information about what power tools are the most used in your business.
In addition to simplifying tool maintenance, such solutions will provide info on what power tools are most frequently in need of repair so that you can plan their replacement or go for another more robust brand.
One such solution, which is both affordable and easy-to-use, is our tool tracking software GoCodes.
Using patented QR code tags and smartphone scanning, it will let you know instantly which tools you're operating with and in what condition they currently are.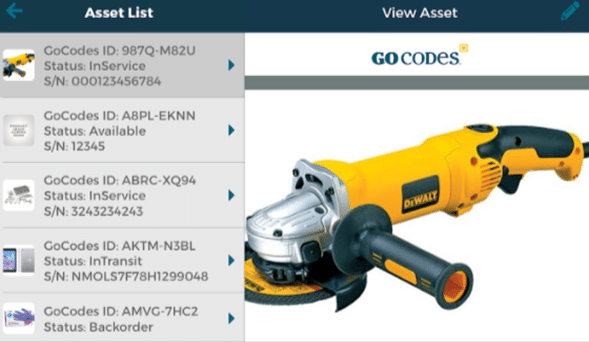 Having this info will allow you to plan your procurement and order new tools on time. When purchases are not urgent, you can even wait for the best time to buy them.
And when is that?
Well, in the usual period from Thanksgiving to Christmas. However, the biggest discounts can often be found right after this period when retailers are trying to boost their after-holiday sales.
Hence, the ability to track power tools will give you the data for planning ahead, allowing you to preserve your company's productivity and save money at the same time.
Conclusion
As in the above section, it's clear that buying power tools online also calls for some forward planning.
Whether you'll first read the reviews, check out forums or test different tools in-store, we hope this guide will help you find your way to the best power tools and best deals in this vastly diverse online shopping world.