Building maintenance requires the technician to be a jack and the master of all trades! Maintenance can include painting the lobby, fixing a faucet or a garbage disposer in a residential building. In a commercial set up, building maintenance can be more complex involving replacement of a worn machinery component or installing new ventilation outlets. As a building maintenance professional as you juggle various acts including carpentry, plumbing, painting, electrical work, and mechanical repairs. You need a simple system that can keep track of your tools.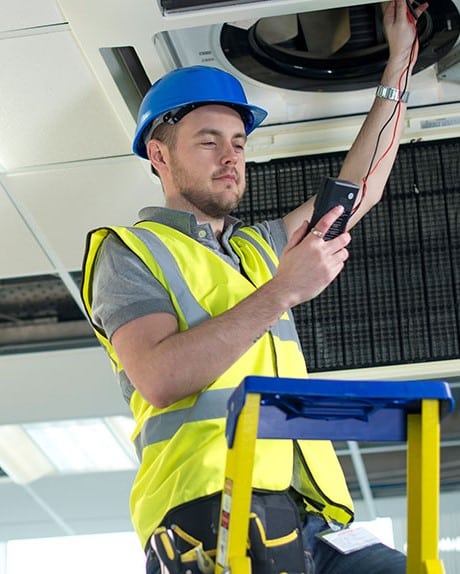 The basic objective of building maintenance is to ensure the environment is safe and facilities are at their best. Regular inspections, inventory tracking, assets tracking and audits are an integral part of building maintenance tasks. In factories, regular maintenance of the building and equipment contributes to the productivity while also mitigating the risks of occupational health hazards.
Breathe Easy with GoCodes, QR Codes, And Cloud
GoCodes offers a simple and effective solution for building maintenance workers in terms of easy asset and inventory tracking. With GoCodes, there is no need to install or operate complex software and scanners. Workers and managers can use their smartphone to track equipment, make task lists and review them against each building, perform routine audits of building maintenance equipment and much more!
The GoCodes advantage includes free QR scanning app that you can download from our site, customizable QR labels and cloud software. With these, you are ready to start scanning in details of your tasks and maintenance equipment just with a wave of your smartphone!
Scanning the QR code against each equipment or building zone can help you track tasks as they are done, add any images or comments on pending tasks and store these on a centralized cloud platform.
Monitor The Tasks From Anywhere
The cloud software makes it easy to store huge amounts of data in one centralized location. There is no need for investing in servers, data managers and cyber security updates thanks to the cloud. QR codes can be generated and printed easily using our customizable QR codes. Tag each item and zone to ensure nothing is missed or overlooked ever!
Whether you are conducting a routine check or the scheduled annual audit, scanning the QR code with a smartphone lets you retrieve all the relevant data. Get real time updates on the tasks completed, pending tasks if any and the completion date, images of replaced parts or dates of maintenance work carried out from anywhere on earth!
Automate Task Schedules
Managing and coordinating becomes much easier with GoCodes QR codes and cloud software!
Inspections that are carried out to ensure building codes and standards are being met can also use the information stored in the cloud. With any building, safety comes first. Using the QR codes and cloud software, it is easy for managers to set up a safety protocol and tracking its implementation. Automating tasks helps cut down on precious time and energy
Manage time better by not scheduling an unrealistic schedule of tasks in one day! GoCodes asset tracking solution with QR codes and cloud lets you automate tasks with preventive maintenance and real time data available on the centralized platform.