The construction industry has changed a lot in the past couple of years.
New trends are shaping the construction site and changing what a contractor company can do with limited resources.
It's great to see the industry moving forward despite the challenges it's recently faced.
In this post, we'll be bringing you up to speed with ten key construction statistics from the past two years.
In 2020, the value of new construction in the US amounted to 1.362 trillion US dollars
Source: Statista
The total value of new construction in 2020 reached almost the same amount as in 2019, which was $1.365 trillion.
Residential buildings likely accounted for a third of that number, followed by non-residential buildings and other types of new construction value, such as operational investments.
A drop in new construction value from the public sector is expected, in light of such factors like the emergency policies, the shift in the oil market, and the civil unrest that marked 2020.
We'll have to wait for new data to understand how this year's changes will affect the construction industry, but it's a safe bet that innovations and investments will grow.
75% of construction companies will implement changes to their safety and work conditions because of Covid-19
Source: Dodge Data and Analytics
The ongoing pandemic has construction companies rethink their work conditions and safety protocols.
The construction industry is set to implement changes that will focus on better sanitation and new work procedures to make the construction environment safer during the pandemic.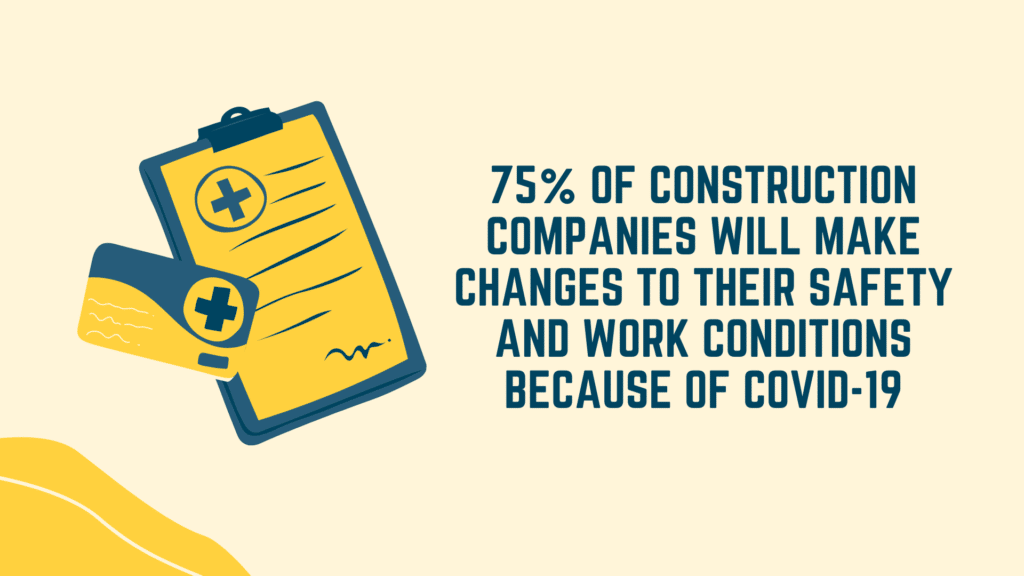 Two-thirds of all civil construction companies also expect the change in their operations to be permanent.
The ongoing crisis will undoubtedly change the construction industry and encourage businesses to adopt new solutions in the coming times.
60% of contractors would use software for safety and inspections improvements during construction
Source: Bim 360 Resources
Contractors feel that using software for managing safety concerns would be a high-value improvement to the process.
Since software solutions facilitate predictive maintenance and asset monitoring, inspection time and efficiency vastly improve, making the construction site safer for workers.
This puts contractors in a better position during construction operation inspections.
Adding software solutions to the workflow requires investment, but the benefits they have for worksite safety are well worth it.
67% of construction industry leaders to focus their budgets on software solutions because of the pandemic
Source: Gartner
The majority of executives are likely to trim the budgets of their marketing and HR departments in favor of technology spending.
Director boards throughout the construction industry are planning on increasing the money they spend on IT departments as the Covid epidemic continues, even with the potential decrease in revenue and profits.
To make the change successful, they will pull additional resources from other departments.
So far, administrative departments have experienced the most significant budget cut of 4.3%, followed by HR and marketing, with 2.5% and 2.2%.
The pandemic has accelerated the already present use of IT in construction. As things progress, more industry leaders will adopt IT solutions, even if it means stretching resources.
85% of construction contractors use or plan to use cloud-based solutions
Source: The Associated General Contractors of America
Construction contractors overwhelmingly feel confident about moving their data and operations to the cloud.
At the moment, 23% of surveyed contractors use hybrid cloud solutions.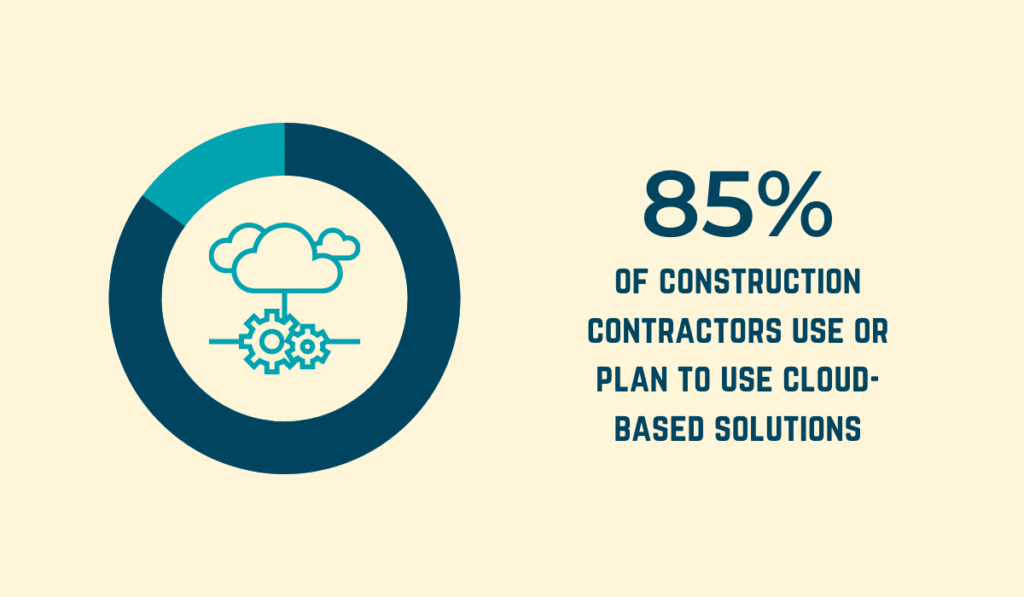 Their employees can access company software and data from browsers but rely on private servers to secure them.
Another 20% of contractors use cloud hosting to outsource their server business needs. Last, 10% use SaaS solutions that are entirely cloud-based.
The rest of the construction contractors plan to implement cloud-based solutions to cater to their software and data demands.
24% of construction companies will invest in software that enables better scheduling
Source: The Associated General Contractors of America
Labor shortages for construction projects continue to push contracting companies to invest in software solutions to improve their scheduling process.
Since scheduling is a vital part of project management in construction, contractors are seeking to use SaaS solutions to boost their planning and scheduling activities.
This way, contractors expect to complete more projects in less time and combat delays.
Managing loads of machinery, tools, and human resources require effective time management for each activity.
While SaaS solutions can improve scheduling, implementing them remains a challenge for the construction industry.
24% of construction company decision-makers report their biggest IT challenge is the resistance of employees towards new technology
Source: The Associated General Contractors of America
Despite the industry being accepting of new IT solutions, companies have a tough time implementing them.
Contractors admit that the significant challenges for implementation are time and tradition-based, meaning that practices ingrained in the industry keep software solutions challenging to adopt.
Employees in the field are still reluctant to embrace the tech that enables communication and guidance between the construction area and office.
Onboarding those employees will be a necessary step towards implementing new solutions.
It's a shame to see site workers resist the kind of innovation that can actively improve their productivity and performance.
37% of contractors will embrace equipment tagging tech by 2022
Source: One-Key Resources
Equipment tagging is proving to be a significant asset for construction professionals.
Since construction workers are moving on sites and exchanging tools rapidly, equipment tagging is an outstanding solution that quickly allows workers to find the tools they need.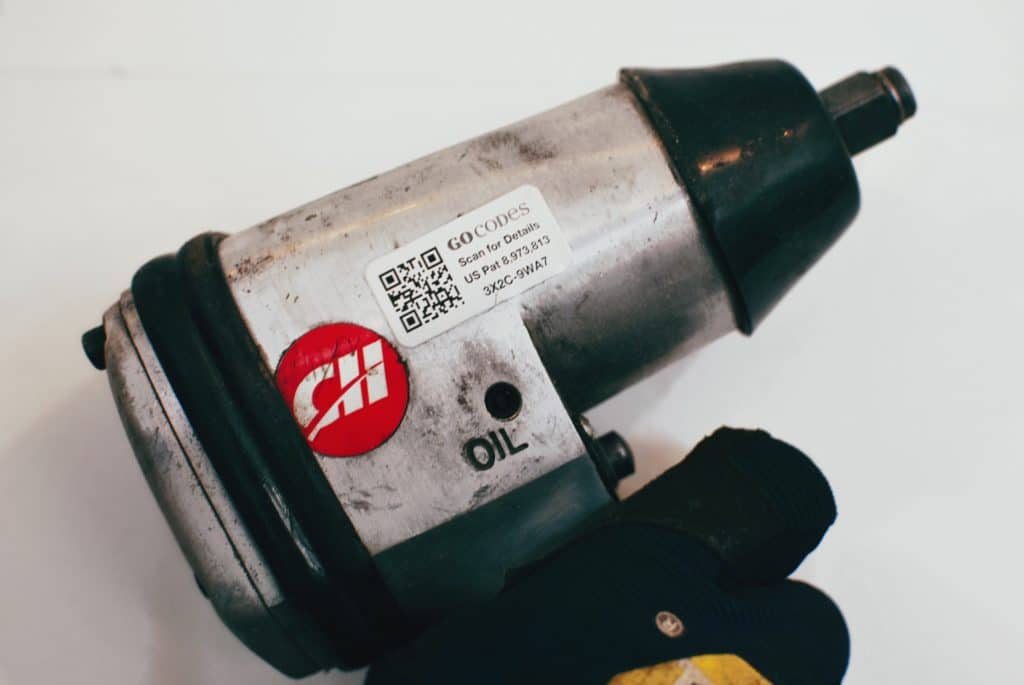 Barcode readers can't rival the convenience and affordability of smartphones.
It's no wonder, then, that the adoption of smartphone-based equipment tagging is expected to continue to grow and reach one-third of contractors by the following year.
Construction company heads are likely to put more bucks into technologies to solve site-related issues and achieve savings.
76% of engineering and construction decision-makers are putting more money into connected technologies
Source: Deloitte
Connected technologies are one of the biggest enablers in the construction and engineering industry.
The overwhelming majority of executives will invest in digital solutions in 2021, so they can move from reactive to predictive decision-making and save money.
Decision-makers have identified better asset management as one of the most critical opportunities that arise from adopting connected solutions.
They understand that preventing equipment downtime is a must for keeping efficiency and on-site project delivery on a high level.
Workflows of construction workflows already rely on mobile apps for logistics, so enabling predictive decision-making complements these existing practices.
58.3% of construction workflows use mobile apps for daily reporting
Source: JBKnowledge
Smartphones are still a key asset for tracking on-site operations.
Most workflows rely on mobile apps to deliver daily reports, as well as for time and safety management.
As the adoption of mobile tech continues to grow, more B2B apps flood the construction market and enable contracting businesses to achieve better control over the worksites.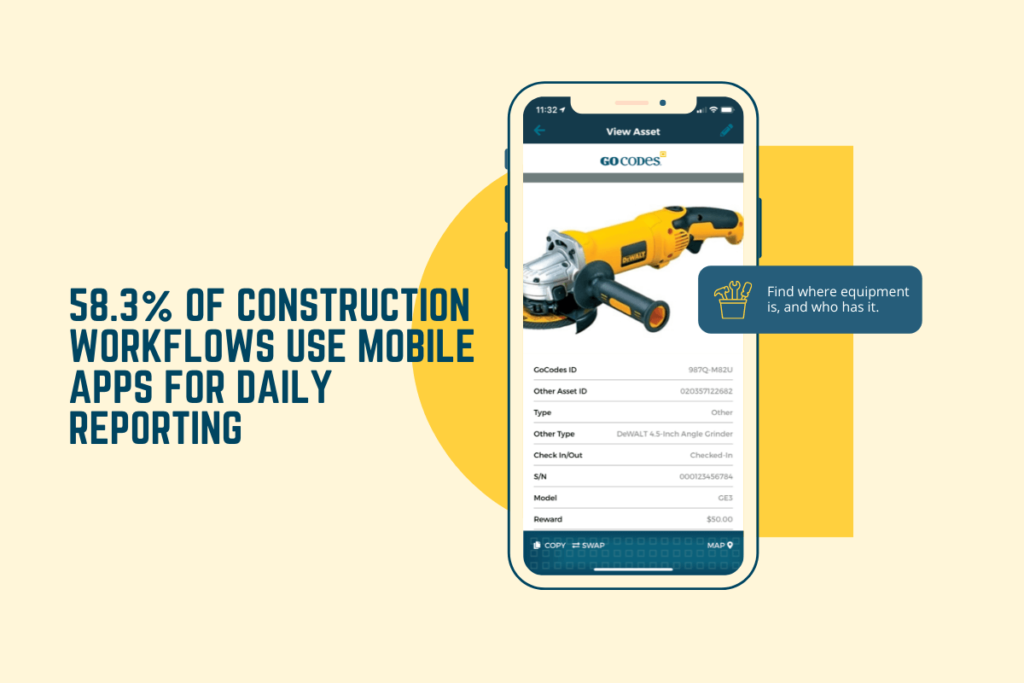 The same report shows that construction companies use, on average, three different apps to perform these supervising tasks.
The civil construction sector will continue to invest in new solutions to improve their workflow and achieve savings because private construction spending is increasing despite the pandemic.
Conclusion
In this guide, we ran the numbers and talked about their impact on the construction industry.
As you can tell, adopting new solutions is the engine behind the industry's growth. Software allows contractors to save resources and do more work in less time.
Consider these statistics and think of ways your construction business could benefit from a new SaaS or cloud-based solution.