Asset management is a rapidly-growing industry that is already helping many businesses reach top performance and acquire much-needed savings.
With so many industry reports coming out, it's hard to keep track of every relevant statistic that will inform your decisions.
In this post, we'll be covering the eight most important asset management statistics you should know to be able to do what's best for your business.
Asset Management System Market Projected to Grow to More Than 27 Billion USD by 2025
Source: MarketsAndMarkets. Asset Management System Market
Asset management systems represent a booming market that is expected to maintain a compound annual growth rate of 10.3% from 2020 to 2025.
This trend matches the rise in the demand for more effective methods of handling assets.
For instance, industries worldwide have recognized that equipment downtime has to be kept at a minimum to achieve top performance.
Asset management solutions allow companies to monitor their equipment regularly and schedule maintenance on time, thus allowing them to eliminate the need for downtime.
Therefore, the asset management system market will keep growing in the face of industry-wide demand.
Such systems make more effective resource use possible, which, in turn, makes them a worthwhile investment to businesses across all industries.
As organizations strive to use resources in more rational ways to eliminate unnecessary costs, asset management systems offer a viable solution for managing them.
The need for new asset management practices will continue to drive market growth.
The asset management system market will top 27 billion USD by 2025 and is set to improve cross-industry efficiency.
Around 1.1 Trillion Dollars of Working Capital Is Tied Up in Inventory—Equivalent to 7% Of US GDP
Source: Capterra. 10 Shocking Inventory Management Statistics
Can you believe that the amount of working capital tied up in inventory equals 7% of the gross domestic product of the United States? Let that sink in.
Inventory makes for a large part of overall capital, and it's critically important for businesses to manage it properly or else that value will drop and production will be harmed.
Mind you, there is a difference between assets and inventory.
Assets are any physical and non-physical items that a business owns and uses to perform its operations. They can be anything, from office chairs to cloud software solutions.
On the other hand, inventory refers either to the physical items the company has and intends to sell, or the materials used to create a product or service that will be sold.
You can say that all inventory items are assets, but all assets are not inventory.
A winning inventory management practice comprises using software solutions to track and manage inventory to achieve full efficiency.
Top-performing businesses have long given up managing their inventory with Excel sheets.
Since inventory is vitally important for any healthy business, its management should be a top priority.
As much as 1.1 trillion dollars of working capital is found in inventory, which demands special attention and proper management.
43% Of Small Business Fail to Track Assets and Inventory Effectively
Source: Wasp Barcode Technologies. State of Small Business Report
Almost half of small businesses lack proper inventory and asset management practices, according to this industry report.
As many as 43% of them use manual methods of tracking or do not track inventory at all.
This is bad news, and here's why.
The risks of not managing assets properly are staggering, especially for small businesses that can't afford to slip up.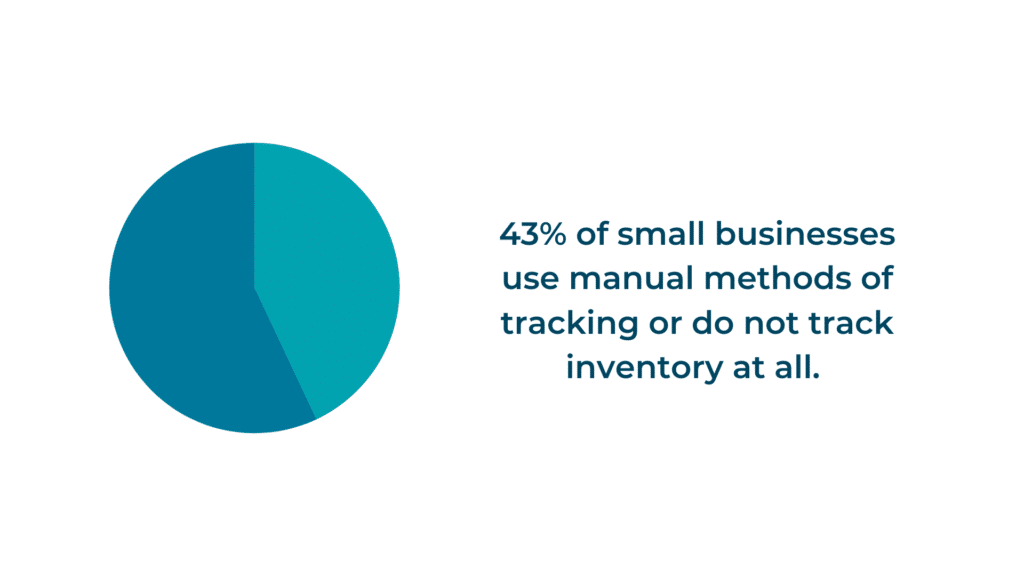 Having either too much or not enough inventory can be extremely costly.
It can lead to overpaying, stock delays, and result in letting customers down. When you don't have an inventory management system, you pay more to store, buy and sell goods.
Luckily, there's something you can do about it.
The benefits of inventory management solutions far outweigh their costs.
Businesses use them to create powerful office asset management practices, as well as a storage system where employees don't waste time looking for items or mistakenly order the wrong amount of stock.
With software solutions, every asset can be tracked and monitored, allowing for a perfectly efficient asset management system that saves money and boosts productivity.
Without proper asset tracking, business inventories are just accidents waiting to happen. To do better, businesses must implement new asset management solutions.
80% Of Employees Waste Half an Hour a Day Retrieving Information
Source: National Facilities Management & Technology Conference. Fortune 100 Mobility for Businesses With 1,000 or 100,000,000 Assets
The overwhelming majority of employees waste half an hour every day of the week retrieving a piece of information critical to their task.
The accumulated waste of time amounts to one full working day every 3 weeks.
As we've said before, assets can be non-physical items as well, though it's not a stretch to imagine how often businesses waste time when their employees can't find physical items they need, i.e., gear, tools, or tech.
Not being able to retrieve assets, physical or digital, is a wasteful practice for too many businesses, and it's paid in income loss.
Having quick and smart access to vital assets and information necessary for completing tasks is a must for highly efficient businesses.
Smart access isn't simply about being able to reach vital assets. It's also an alert system that notifies users of the state of their assets so they can react in time and minimize waste.
It's about sending the right information at the right time for near-perfect efficiency.
Don't you wish your asset management system was more proactive about handling situations before they happened?
A staggering 80% of employees waste their time because they don't have the right asset support behind them. With the right solution, your business can do better.
Every Third Tradesperson Has Been Affected By Asset Theft Over the Past 2 Years
Source: Amigroup. A 54% Increase in Theft over 2 years!
Sadly, many sellers and tradespeople have had assets stolen from them over the past two years.
Both physical and digital assets are very vulnerable to theft and need to be protected adequately. Asset theft costs businesses vast amounts of money every year.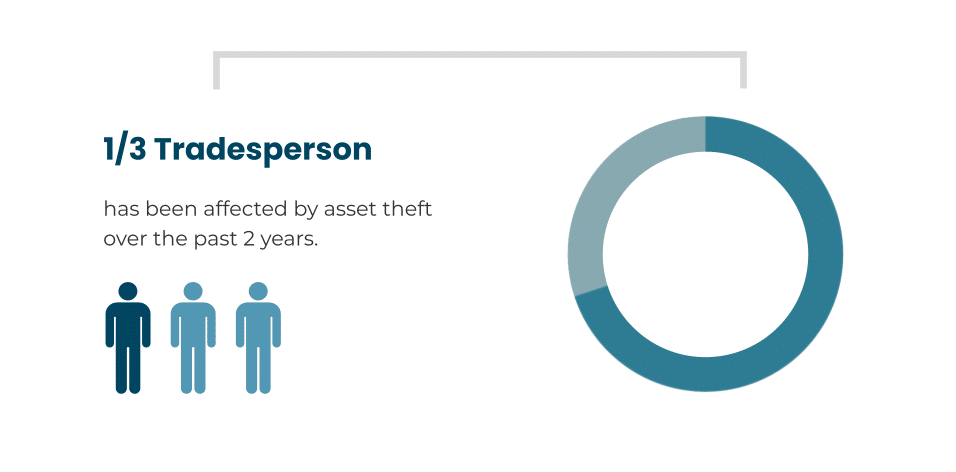 Besides the financial loss and the costs of restocking and disruption, businesses also suffer the results of reputation loss.
To avoid the massive damage that is caused by theft, businesses must adopt solutions to protect their assets.
When you invest in asset management, you proactively reduce the risks of theft. There are many effective anti-theft practices that are easy to implement and can save your assets.
You should start protecting your assets by:
Installing asset trackers
Investing in video surveillance
Using alarms against break-ins
Writing a security plan
Adding these practices to your operations will be a lifesaver for your business in case of a theft attempt.
In the past 2 years, 33% of salespeople have experienced asset theft. To save your business from being a part of that statistic, implement theft-proof asset management solutions.
80% Of Equipment Maintenance Is Reactive—While it Should be Proactive
Source: Accelix. What Is a Predictive Maintenance Program?
Studies have found that the majority of businesses only do maintenance as reactive work when their equipment breaks down or needs immediate repair. This is ineffective and costly.
Reactive maintenance is more expensive than preventive maintenance and puts your business at risk of avoidable harm.
When equipment breaks down or malfunctions, it almost always happens mid-operations, bringing about serious disruptions in the workflow.
Such breakdowns result in delays and expensive repairs.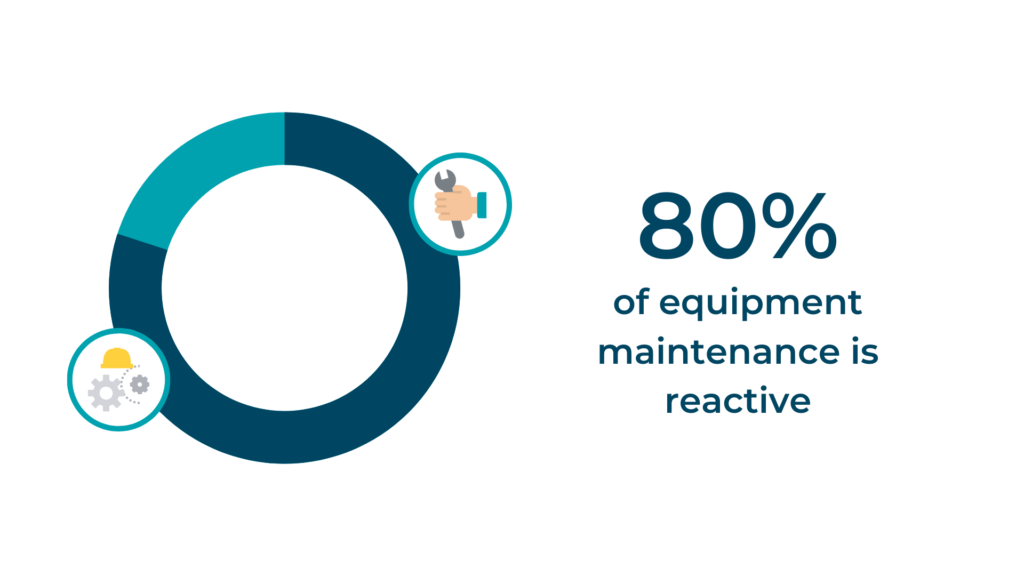 Therefore, relying mostly on reactive maintenance is both insufficient and unprofitable—and needs to be reduced to a minimum.
Think of a time when a vital piece of your gear stopped working and remember the stress you were under while struggling to fix it.
You can stop that from happening next time by prioritizing preventive maintenance.
Preventive maintenance is the practice of monitoring your assets and doing cheaper, regular repairs—so your assets don't break down at the worst possible time.
While it differs from industry to industry, 75% of maintenance work should be preventive and 25% reserved for situations that can't be avoided.
Top-performing businesses use preventive maintenance checklists to achieve the most effective asset maintenance.
Most businesses make the mistake of neglecting to take regular care of the assets vital for their operations. To achieve perfect asset maintenance, you have to adopt a proactive, preventive approach.
35% Of Data Requires Security but Isn't Protected
Source: Statista. Actual Status of Data Security Worldwide From 2010 to 2025
Research has shown that 35% of company data is not protected at all, despite requiring strong security.
By letting this go on, businesses risk having their most vital data compromised in data breaches.
IT asset management is one of the most important security practices today.
The data you use to do everyday business is vulnerable, and a successful cyber-attack can cripple your business.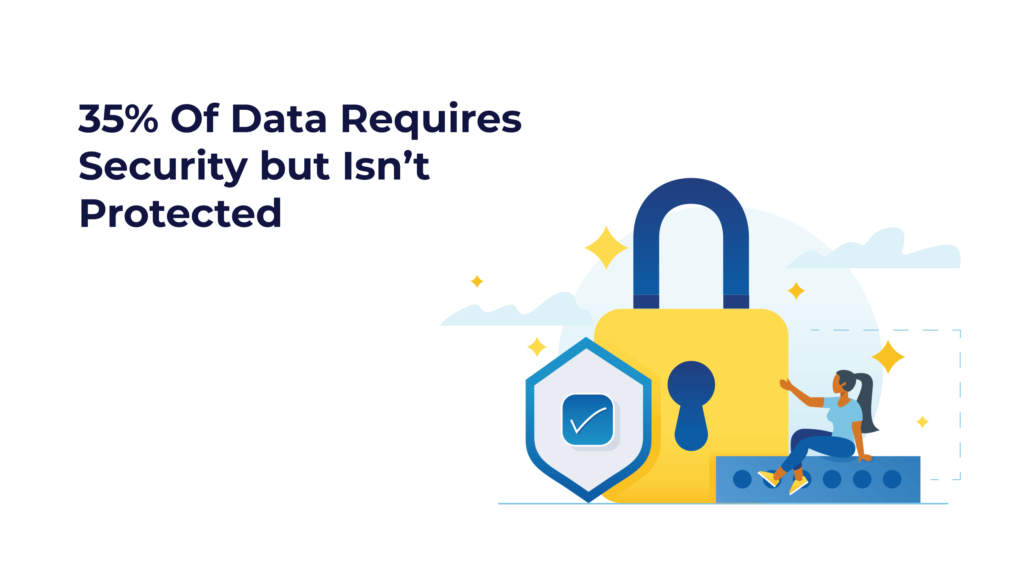 Without IT asset management, you risk losing your most valuable digital assets and data in such attacks.
Additionally, if cybercriminals succeed in stealing sensitive client data, not only will this lead to immediate financial losses, but it can also irreparably damage your reputation.
Do you have your key data protected? And if not, what are you waiting for?
SaaS asset management solutions are designed to protect sensitive data from debilitating cyber-attacks.
With such solutions in place, your business won't suffer data theft, while your clients can rest assured that their data is safe and in the right hands.
Using SaaS asset management solutions should be at the center of your IT asset management strategy so you can keep your business as risk-free as possible.
As businesses shift to cyberspace, their IT assets become more vulnerable, which is why they need to be properly managed and protected.
Tagging Reduces Errors in Medical Facility by Over 41%
Source: ScienceDirect. Implementation of Bar-Code Medication Administration to Reduce Patient Harm
The practice of tagging assets to reduce errors is provenly effective.
This was the case with a medical facility in New England, where harmful administration errors dropped by a whopping 41% after a tagging system was put in place.
The facility streamlined its asset management processes by using barcode labels, which resulted in a significantly smaller number of errors in administering medication.
Using smartphone barcode scanners, staff members were able to keep track of their assets more effectively and improve patient medication orders.
Hospital asset tracking is the main driver of this performance boost.
Imagine if your local hospital used a similar tagging system to track their assets and create a more effective service.
There are many benefits of using asset management systems in healthcare, such as:
Easier management of medication inventory
Faster ordering of medical tools and equipment
A reduction in administration errors
Streamlined patient-specific orders for medication or medical tools
Tagging is set to be one of the best practices for medical facilities.
The practice of tracking hospital assets with QR codes paves the way for highly efficient healthcare with minimal delays.
Just as the medical facility we've mentioned benefited from this tech, so can many other facilities across a wide variety of industries.
Conclusion
As reported throughout this article, many businesses struggle with managing their assets properly and thus leave themselves vulnerable to many dangerous risks.
As a solution, a variety of asset management systems were devised to directly address the challenges of efficient asset management and resource use.
Asset management systems are more than just ways of keeping track of gear. Rather, they are essential tools for protection, maintenance, and efficiency.
The data we've put out paints a clear picture—the adoption of this technology will continue to rise and foster high efficiency for organizations across the globe.
GoCodes Can Help
We use QR code tags with a unique visual code that you can scan with your smartphone. When scanned, GoCodes tags provide GPS information about equipment location, making asset management easy and effective.
Sign up for a free trial here.