Chromebooks are making their way into more schools than ever, and for good reason. These simplified laptops provide an excellent way for children of all ages to learn, but keeping track of them can certainly be a headache. Fortunately, you can use QR codes to keep track of your Chromebooks in real time thanks to advanced cloud technology.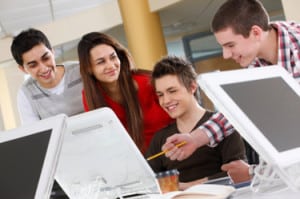 Understand Depreciation
Chromebooks, like all other computers, depreciate over time. This can have a significant impact on any grants or funding that your school receives, so it is important to have access to this information in real time. Spreadsheets were once the go-to choice for looking up depreciation and other information pertaining to an organization's computers, but times have certainly changed. Now, QR codes offer a much better – and much more efficient – alternative. These tools come with algorithms for several depreciation methods that can help you stay on top of your inventory's overall value, conform with government regulations, and even integrate with a variety of popular bookkeeping systems.
Manage Your Inventory
Managing Chromebook inventory in a large school can certainly be tough, particularly when those notebooks are in the hands of the students. Fortunately, QR code tracking allows you to check inventory at multiple locations (across an entire school district or system) and view the results from one location. This can help eliminate the number of lost or stolen Chromebooks, reduce your overall insurance costs, and even integrate a very simple check in/check out function. You can control the data entry with a variety of fields that you can customize to your school's needs, and all you need is a smartphone to scan individual Chromebooks and retrieve information about them.
Know Where Your Chromebooks Are at All Times
When you choose to incorporate a check in/check out system, it is possible to view a list of the location of every single Chromebook in the school on demand. You'll know which student or classroom has which books, and if they are fitted with the right technology, you can even view the last time these machines were used. This gives you valuable insight into your inventory as well, which goes a long way toward protecting your school's assets and preventing loss as a whole. In the end, it'll save you time and money, which are both essential to keeping your school in the technological loop.
Reduce Headaches
One of the best reasons to use QR codes to track your school's Chromebooks in the cloud is the fact that you can access this information from anywhere, at any time, from any internet-connected device. Whether you are in the school office, on your morning commute with your smartphone in hand, or even at home over the weekend, all you have to do is log into your account and view a variety of data about your inventory. It's simple and easy, and it reduces the need for tedious data entry or returning to the office to view vital information.
Chromebooks give students a simple and efficient way to learn, and you deserve a simple and efficient way to keep track of those devices. QR codes and information in the cloud makes the process of obtaining and loading data much simpler and much more effective.