Are you a general contractor looking for marketing strategies that will help you expand your already successful construction company to new markets?
Or do you just want to find helpful marketing tactics to keep new clients and revenue rolling in while remaining local?
Perhaps you're just starting out as a general contractor?
Either way, you can use this set of proven marketing strategies to get your construction business to the desired destination.
Create an Official Website for Your Business
Creating an official website for your business is the first step in convincing potential clients that you're a true professional.
In other words, an official website confirms your legitimacy, and it's often the first point of contact with prospective clients who, for example, googled "general contractors near me," and your website showed up on Google Maps and Search.
Therefore, your website should be well-designed and it should contain your business info and showcase your work, while its content (text, images, videos) should appeal to your target audience.
However, for your business to even show up on Google when people want to find a local provider, your website should be optimized for search engines.
So, if you haven't already, it's time to claim your free Google Business Profile listing.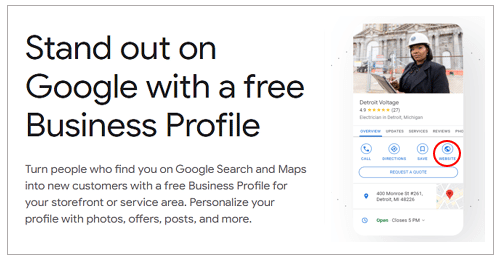 As you can see, the website is an integral part of the information that should show up when your business shows up on Google Maps and local search results.
It's also highly likely that it's the first place where potential clients will look to get a clear idea about your business.
So, you should either create or rehaul your official website and invest in good web design, engaging content, and local search engine optimization (SEO) to make your business more legitimate, professional, and discoverable online.
In other words, an official website lies at the core of your successful marketing, as it's usually the first point of contact with prospective clients, it lets you showcase your work, and is connected to all other marketing strategies discussed here.
Make Yourself Visible in Local Business Listings
The next marketing tactic is to make yourself visible in local business listings, as that's an essential part of local SEO mentioned above, and it's free.
Simply put, when someone googles "best general contractors near me," where your website/company name will be positioned in localized search results depends on Google's complex and ever-changing algorithms.
The coveted position on Google's front page has created a global multi-billion-dollar industry we just mentioned (SEO), and local listing is an SEO practice to make your business visible for local searches (almost half of all Google searches).
After all, general contractors are rarely looking for work thousands of miles away.
Therefore, you should use the best and most relevant local business directories (online catalogs) to get your business information out there and increase your credibility for free.
Listing your business name, address, phone number, sometimes the official website, working hours, photos, etc., in reputable local directories also allows clients to leave reviews and comments and can help build your digital reputation.
To get you started, here are the top free ones you should consider for local listings, courtesy of HubSpot: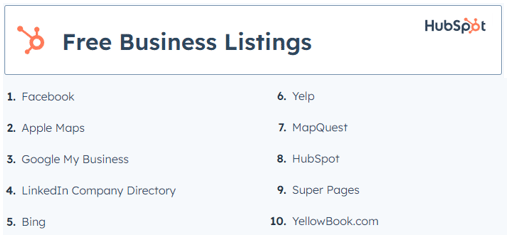 We've already covered Google's service. Facebook should be claimed, so no one else takes the name, and Yellow Pages, Foursquare, and AngelList are also worth mentioning.
In any case, making yourself visible on local business listings is a no-cost marketing strategy that can raise your position in local searches, help you reach more potential clients, and build the credibility and reputation of your business.
Be Active on Your Social Media Accounts
If you've opted for a well-designed website optimized for local searches as a marketing tactic for your business, you probably already have some content to start building an active social media presence with.
Social media sites such as Instagram, Facebook, YouTube, and LinkedIn can be used to showcase your work, before/after pictures, create engaging texts and videos, and connect with potential clients, your fellow contractors, and other construction professionals, all of whom can bring in new work.
These platforms help you build an audience/network of people who follow and like your work, which makes it much more likely for them to choose or recommend your business when they have or hear about a new construction project.
For instance, Instagram is great for showcasing before-and-after images of the projects you undertake and/or short videos of your best work, like in this example.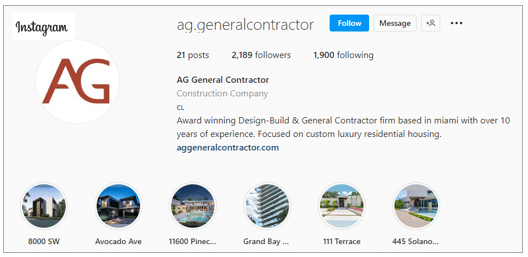 Social media accounts like these are also where you can post links to your official website and YouTube videos that show off your skills, provide helpful tips, etc., so they all together create higher online visibility and reputability of your business.
You can also use social media for advertising your business as a tech-savvy company that uses practical mobile apps like GoCodes and other technology to run its operations and address potential misunderstandings efficiently.
Likewise, LinkedIn is great for connecting with other construction professionals you worked with or would like to work with, as such connections create a familiarity that can go a long way when it comes to collaboration on future construction projects.
Generally, your social media marketing strategy should be carefully planned and executed, as inactive and/or unattractive social media accounts won't be very effective.
In fact, they can even turn prospective clients away.
If that's so, being active on your social media accounts can certainly draw attention to you as a general contractor and attract potential clients while being relatively low-cost.
Reach Out to Prospective Clients by Email
Another affordable marketing tactic is reaching out to prospective clients by email and then using your content to promote your business and attract new construction projects.
However, to do that, you first need a mailing list.
A great way to create one is to offer visitors to your website and social media accounts a compelling lead magnet, i.e., something of value/interest for which they'll be ready to give out their email addresses.
This magnet can be a discount on smaller repairs, a free e-book or white paper, a series of instructional videos, or signing up for free consultations either by phone or online, such as the ones offered by this Canadian general contractor: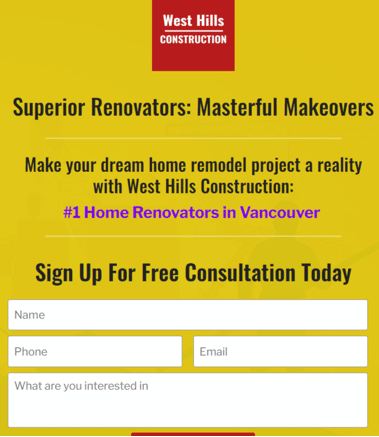 Although free consultations can serve as a great lead magnet for getting contact information, you should limit them to short calls so as not to drain your resources.
Depending on the situation, more precise estimates, quotes, or required site visits for all but the simplest jobs should be charged.
Whichever tactic you choose, the goal is to establish an emailing list of "warmer leads," i.e., potential clients to whom you can reach out with future promotional emails.
Then, you use that list to send email sequences to promote your business by using targeted and engaging content that will appeal to prospective clients.
Ask Your Past Clients for Referrals
If you finish projects on budget and schedule and leave happy clients behind, asking them for referrals is undoubtedly the most profitable marketing move you can make.
Those referrals can be made to their family, friends, and broader social circle in real life and on social media, and you can also ask them to post an online review or testimonial.
The power of such referrals is tremendous because it's human nature to believe your family and friends' recommendations above everything else, and a Nielsen study has confirmed that's true for a vast majority of people.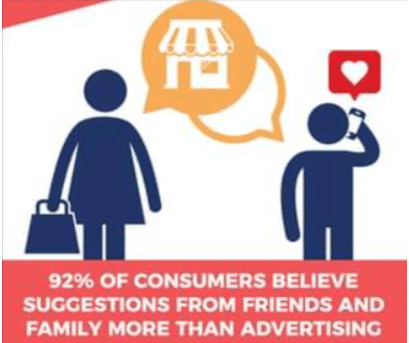 Moreover, other surveys show that 72% will believe recommendations and opinions posted online by people they don't know.
And all this carries even more weight in construction, when a potential client is, for instance, looking for someone to build their new home, warehouse, or office building.
Therefore, asking your satisfied clients to recommend you to their family and friends and on social media or to write a great online review that can reach far past their wider social circle will continue to generate new clients for you in the future.
Attend Events for General Contractors
Attending events for general contractors and other construction professionals, like trade shows and conferences, is about creating connections with people in your industry, and building a network of contacts that can bring in new work.
Since other contractors and construction professionals are also likely to attend such events, you can use that as an opportunity to strengthen your relationship with them and build your professional reputation.
Moreover, such conventions offer you a chance to get a glimpse of what your competition is doing, new trends and best practices, and the latest developments in the construction industry.
Naturally, you should focus on those events held in your local area of operation.
For example, this is an event you could attend if you were based in Dallas:

However, remember not to focus on just those events intended for contractors, but on all other construction professionals as well (architects, designers, engineers, etc.).
Why? Because they can often be more interested in recommending your business to their own potential clients as you're not in direct competition with them.
Of course, creating all these professional networking and future referral opportunities won't do the trick if you fail to deliver quality work coupled with your and your crew's professional conduct while nurturing strong relationships with other people in your line of business.
Market Your Business Through Paid Advertising
Depending on your marketing budget, combining more traditional paid advertising methods with online advertising can be a very effective marketing strategy.
When discussing any form of advertising, free or paid, general contractors should focus on reaching potential clients in their local area of operation, regardless of its size (city, county, state, etc.).
Therefore, depending on the target clientele, more traditional forms of paid advertising like billboards, local radio, TV, or printed newspapers are still worth considering.
As for digital advertising, there are online methods that go hand in hand with putting your business on the (Google) map of local general contractors who potential clients would consider.
One of the best ones is Google Ads.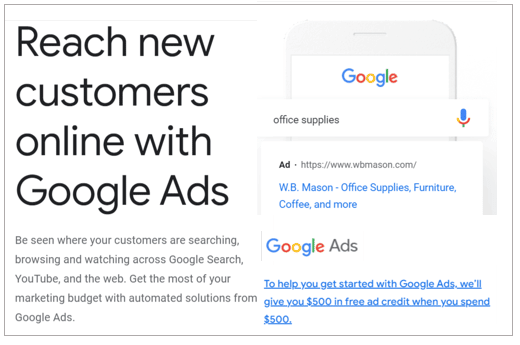 Simply put, with Google Ads, you can target only local clients within a specific area or around a particular location and further adjust the ads to reach the targeted demographics and cater to their interests.
Of course, all the social media outlets we mentioned also have advertising schemes, but they should be considered only for those social platforms where you have already been actively posting engaging content for some time and have built a certain following and reputation.
For instance, if you're in commercial construction and are already using LinkedIn for professional networking and promoting your services, you can consider paid advertising options on that platform to attract other professionals to your business.
Overall, marketing your business through paid advertising can be a powerful tool even in low-budget situations, as long as it's well-targeted, planned, and executed.
Hire a Dedicated Marketing Team
Putting a lot of effort into advertising your services might not be feasible while you're managing several construction crews on multiple jobsites, so creating a dedicated team of marketing professionals or outsourcing that part of your operations is a good way to take the burden off.
There are many options here, from building an entire in-house marketing department for content creation, to letting a marketing agency handle everything.
You can also opt for a hybrid approach, such as having a small, dedicated team to set up the marketing strategy, and coordinate content production from external providers.
Before you decide, it's a good idea to conduct online research and analyze your target clientele.
You can learn a lot just by contacting marketing professionals like Thrive to find out what they can do, and how much they charge.

By hiring a professional, you can unburden yourself and your construction team from all marketing activities that do not need your personal involvement and focus on those that do.
Naturally, the best marketing strategy is doing quality work, but you'll probably still need to nurture client relations before, during, and after projects, ask them for referrals, and attend professional events, all with an emphasis on building strong relationships.
So, if your budget allows, hiring a dedicated team of in-house or outsourced marketing professionals to take care of everything else is definitely the way to go.
Conclusion
Having covered these eight useful marketing strategies, it's clear that, although most of them occur in a virtual digital space, general contractors can certainly have concrete, real-life benefits from applying them.
When carefully planned and executed, these strategies can help your business grow by building your online and offline reputation that will continue to bring in new clients and projects.