If you're reading this article, you're probably concerned about the way your company is managing fixed assets.
That's understandable since fixed assets are the biggest investment a construction company can make that will serve its business long-term. Monitoring, maintenance, and disposal are some of the main processes that go into managing assets effectively.
But there are specific actions you can take to bring your asset management to a higher level. So, read on to learn what you can do to manage your company's fixed assets better.
Tag Your Fixed Assets
Tagging is one of the first steps in successfully managing your fixed assets.
Different tagging methods allow companies to actively monitor an asset's condition, location, and usage. Tagging allows you to see who is using your equipment and where, as well as when it will be available to other users.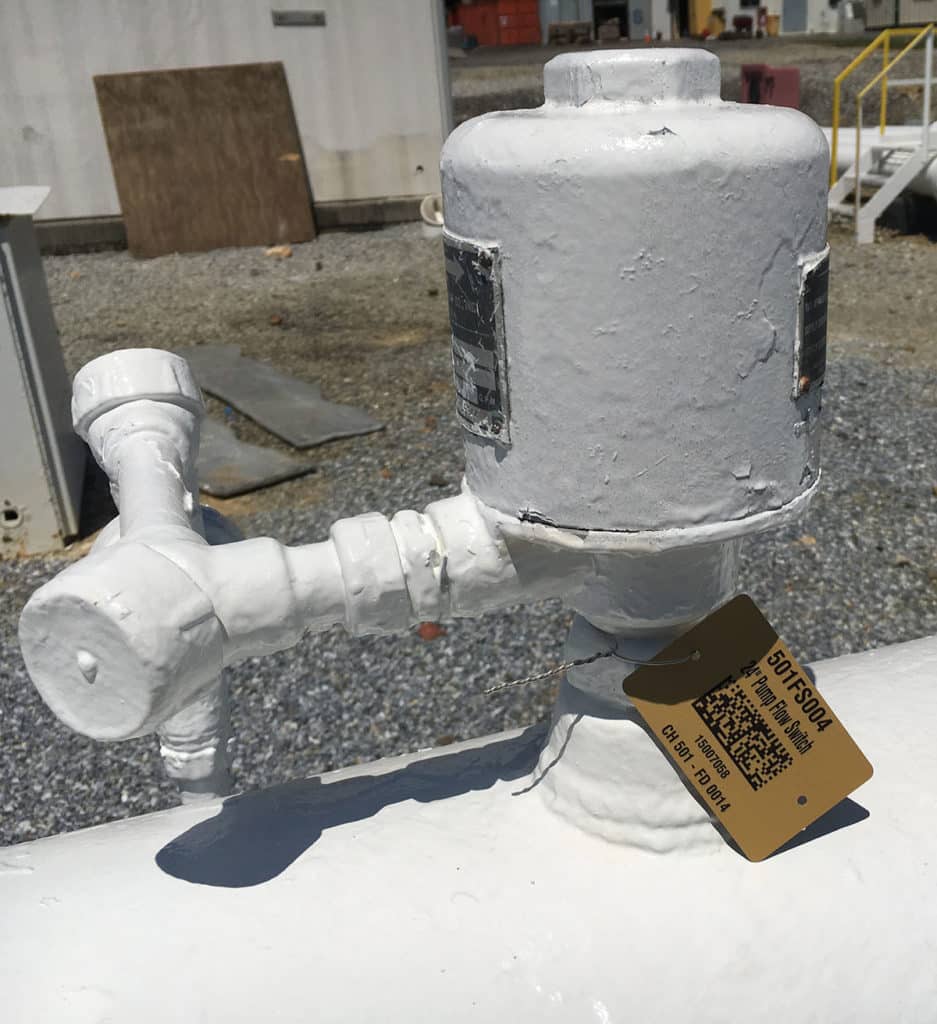 Every item is tagged by a scannable label that contains valuable data about the asset, such as its type, asset ID, condition, and status (check-in/out).
So, if you scan the label on a generator, you can easily see who used it last, when is its next scheduled maintenance, or if it's still under warranty. 
To make the most out of this practice, companies can use several types of tagging methods: 
| | |
| --- | --- |
| Barcodes/QR codes | Barcodes are a set of black and white lines placed on an asset, representing numbers and characters readable by a scanner. On the other hand, QR codes are more advanced, unique identifiers that contain more information about an asset. Both types are scannable by smartphone. |
| RFID tagging | RFID stands for Radio Frequency Identification, and uses radio waves to transmit data. A reading device picks up a signal and reads digitized information. These tags are more expensive, require specialized training and equipment, but they provide more accurate inventory control than other methods. |
| BLE/GPS | Both are used to track an asset's location more accurately. Useful against theft. |
| NFC tagging | NFC stands for Near-Field Communications. The technology is similar to RFID, but the distance it covers is shorter. It is also more affordable than RFID because all you need is a smartphone instead of a specialized reading device. |
No matter how many assets you have or the extent of your asset managing needs, there is a tagging method that will help you track your fixed assets.
To learn more about the tagging methods we mentioned, check out our earlier article.
Choose the Right Safeguarding Methods
It's not uncommon for construction assets to get stolen or lost. Your awareness of this fact is probably one of the reasons you're reading this article, right?
Your worries are justified. Just by looking at the news, we're flooded with reports about missing tools and heavy equipment being stolen.
In June 2021, £100 000 worth of tools were stolen from a construction site in Cambridge (UK). One month later, thieves took off with an expensive telescopic handler from a construction site in Newark (UK). 
Based on this, it's vitally important to safeguard your assets. 
One way to do it is to hire a person dedicated to protecting your assets. They'll be authorized to grant access to others to use assets in the office, job site, or anywhere else. 
Another way to supervise your assets is to establish internal controls to create a sense of accountability. This means implementing methods and procedures to manage resources effectively and achieve the organization's goals.
Here is how it looks in practice.
DePaul University has an official document that outlines procedures regarding numerous activities associated with fixed assets.
Mainly, they are categorized into:

Safeguarding
Maintaining
Inventorying
Reporting
The university's primary concern is establishing accountability for faculty, staff, and students to take care of its fixed assets because they are a significant financial investment.
When it comes to safeguarding, the university demands that faculty and staff follow security policies, for instance, by reporting any incidents and suspicious behavior to Public Safety (the university's office that handles crime on campus).
After receiving a report, the department conducts an internal investigation or alerts the local municipal authority, depending on the severity of the crime.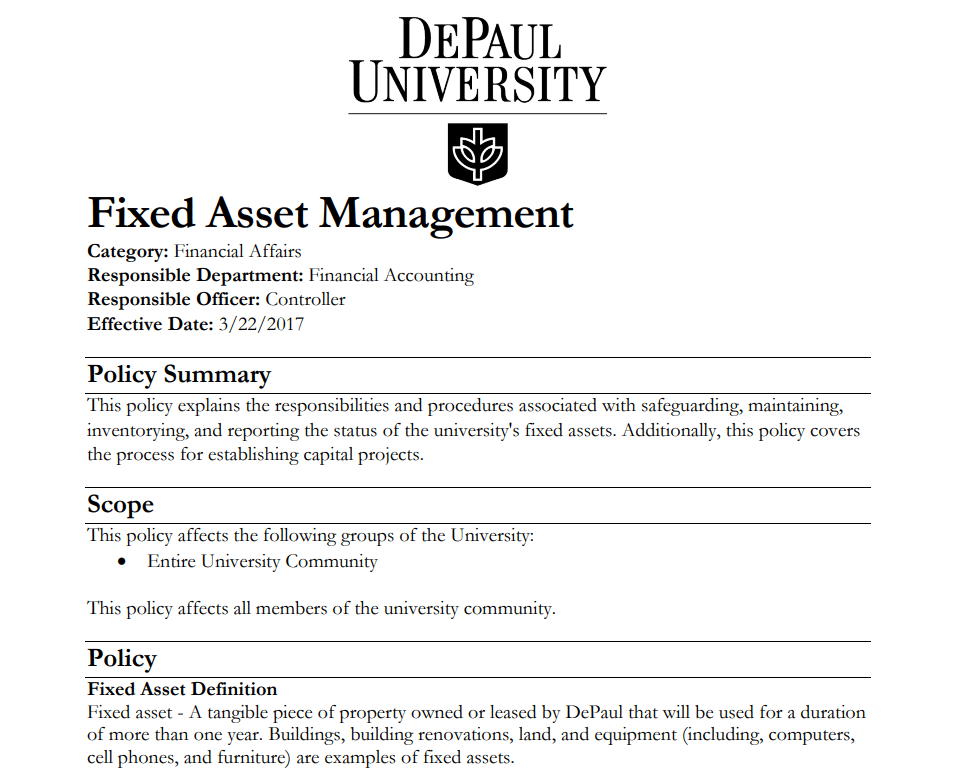 Next, the faculty and staff are obliged to restrict access to buildings or department rooms by not letting unauthorized people use swipe cards or keys. 
The faculty and staff are also expected to ensure that rooms, cabinets, and closets that contain expensive assets are locked when not in use.
In case there's a stolen or missing fixed asset, they should notify the Public Safety department and complete an Incident Report. 
Having procedures like these in place helps keep everyone more vigilant and careful. This is especially important if people frequently handle expensive fixed assets that aren't easily replaceable.
You should implement similar methods in your company to secure proper supervision of your assets and create an atmosphere of accountability in your workplace.
If you have a lot of expensive assets, implementing effective safeguarding methods will protect you from the worst-case scenario. 
Use Audit Trails to Better Manage Asset Lifecycle
Each asset in your inventory has a distinct life cycle. So, from the moment of purchase to disposal there should be a log history of different activities your asset has gone through in your business.
The documentation you collect about an asset can help you create an audit trail that you can use to meet different compliance regulations.
Additionally, you can find and correct errors that might affect your company's finances.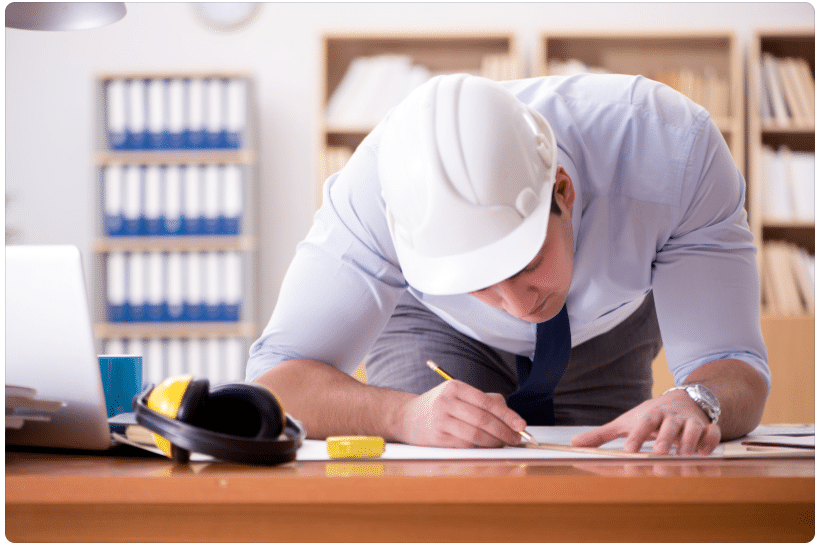 To put it simply, you should perform regular, end-of-the-year audits to control inconsistencies and manage the actual status of your assets.
If your asset records aren't correct, then your financial reports and taxes won't be either. 
Monitoring the life cycle of an asset is especially useful for tax benefits under Section 179, according to Sage.
You can claim deductions for assets with a long recovery period or assets acquired in the last quarter of the year. 
So, if you know your asset's history from regular auditing, you can choose particular assets to comply with these tax regulations and reap the benefits.
In the end, regular auditing will help you manage your asset's lifecycle to report accurate financial records and keep you on the safe side of tax laws.
Review Your Fixed Asset Lists Regularly
Following on from the previous section, regular auditing necessarily has to come with physical verification of your assets. Just because a report says you own a dozer, it doesn't mean the machine is sitting in your storage.
This might seem like an old-school method of managing assets, but it is necessary to ensure your digital records match the physical state of your assets.
To do this, you can hire dedicated asset managers who will conduct periodical asset reviews.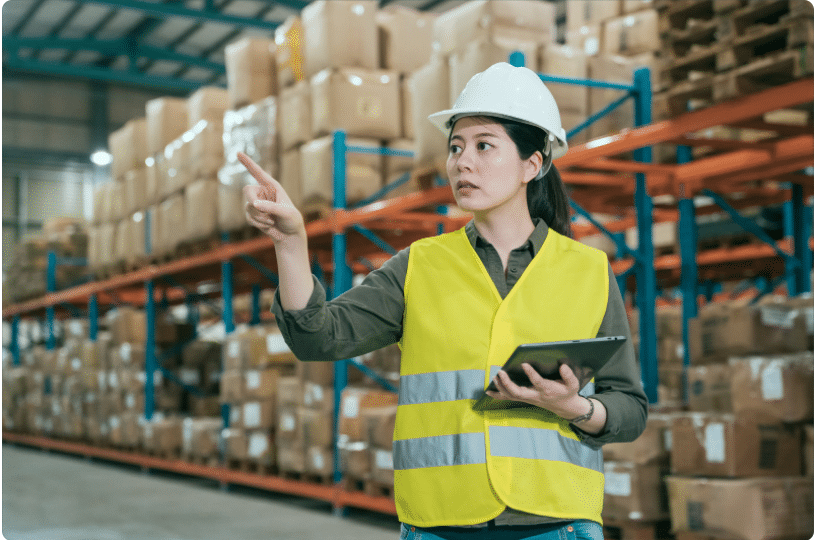 They will check for the asset's existence, match their condition with documents and fix any potential errors in your records. A great help to streamline this process is using fixed asset registers. 
This is a list of all assets a company owns. As you add or remove assets, simply consulting a fixed asset register will provide you with the visibility of the assets you have.
You will have information, such as:
Type
Location of the asset
Date of purchase
Purchase cost
Maintenance information
Expected asset life
Expected value at the end of its useful life
During a physical audit, this information can be updated or changed in case there are obvious mistakes or missing information.
Regular assessments like these also greatly contribute to effective maintenance schedules and restocking inventory. This means that you'll see which assets should be sent to maintenance more frequently, but also which assets you need to repurchase.
You might be going through power drills every five years or less depending on your usage, so regular physical reviews should help you keep a good stock of power tools.
In the end, the main objective of the physical inspection is to have accurate information about each asset. The more frequent and thorough they are, the better you'll be able to manage your fixed assets.
Implement Standard Operating Practices
We've already mentioned you should place safeguarding methods to protect your assets.
But to ensure you're managing your assets effectively, you need standardized protocols for every process your assets undergo. These include acquisition, maintenance, and disposal.
Basically, establishing standard operating practices means that there are specific actions everyone needs to take to work with a particular asset. These actions are repeatable and predictable, so there is little room for theft, errors, or misuse.
For example, employees should fill out a report and file it to the relevant authority for approval if they want to order more materials or equipment.
That way, they don't buy any additional materials on the company's budget that they'll use for their personal projects. 
Here is how another institution, Kansas State University, takes care of all its fixed assets.
They have put in place guidelines to acquire, safeguard and dispose of assets to comply with state and federal regulations, audit requirements, and accounting standards. 
To ensure everyone follows these guidelines, the university provides different forms that the faculty, staff, and students need to fill out, which are then filed and approved by the right department.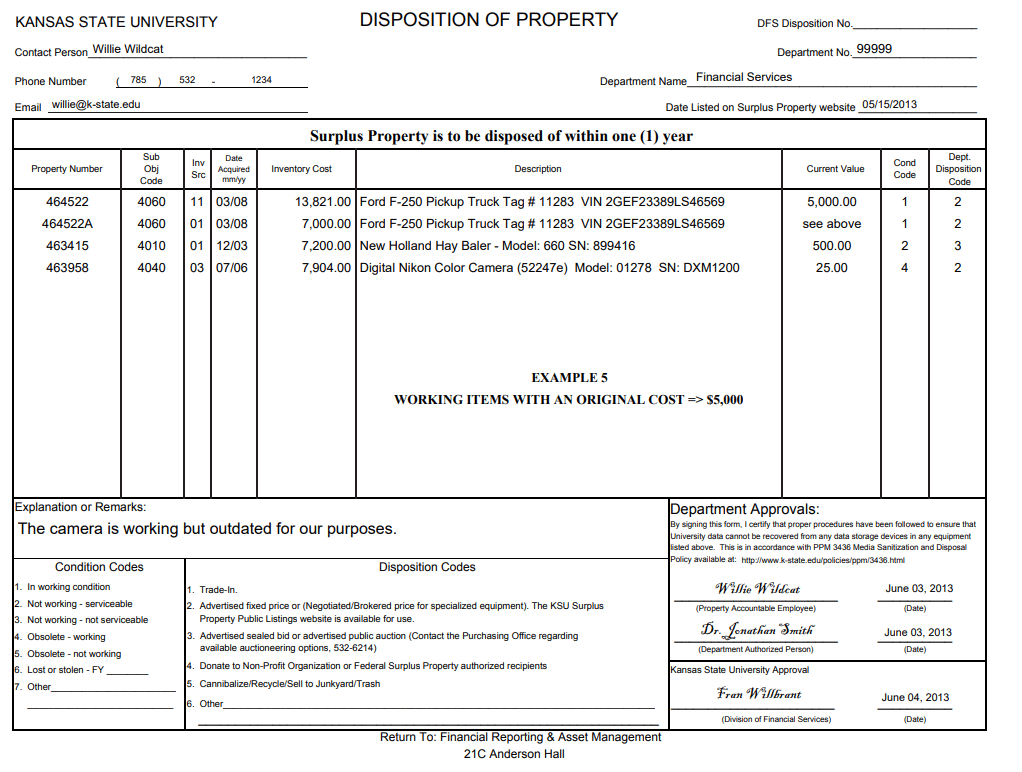 In the Disposition of Property form, a person needs to put relevant information about the asset, such as the property number, date acquired, cost, and description.
They can also add explanations or remarks and check the asset's condition (working, not working, obsolete, etc.). Then the report has to be signed and go through two different departments for approval which are signed and dated. 
In this way, the university can better manage its assets and keep its faculty accountable while using or disposing of equipment.
If you haven't already implemented similar Standard Operating Practices, consider doing so to manage your assets more efficiently.
Use Software to Simplify Fixed Asset Management
Simplifying internal processes is always a good idea. It makes asset management easier, but most importantly, it allows you more time for your core business.
Some companies swear on using spreadsheets, while others have digitally transformed their businesses. While each strategy has its pros and cons, construction companies tend to manage their assets better with digital solutions.
At least, that is what recent research by Dodge has revealed. Over 72% are gathering important equipment data to make crucial business decisions.
But how they do it is slowly changing in the industry. Three years ago, only 24% of contractors used digital solutions, while 27% used spreadsheets. 
However, only 10% want to stick to spreadsheets in the next three years, while 62% will turn to digital solutions.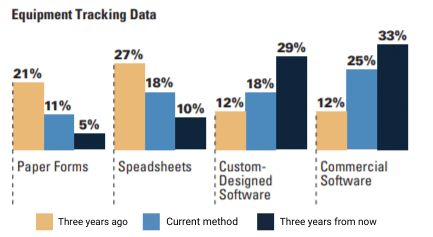 Basically, when you have more assets, having a centralized, cloud-based system to monitor them is easier. It significantly reduces the number of errors and helps you better plan equipment budgets. 
Asset management software like GoCodes has helped numerous companies monitor assets across multiple locations, prevent theft and control their asset inventory.
But the best part is that asset management software is user-friendly, easy to implement, and streamlines workflows. 
No matter the size of your company, investing in asset management software will help your company grow and address important business concerns regarding fixed assets. 
For example, Schiphol Airport in Amsterdam wanted to increase asset availability and help their mechanics operate more efficiently.
They created a control room and integrated an asset management software to receive reports about breakdowns or preventive maintenance. 
This allowed them to conduct the necessary repairs more quickly. In some cases, a minute passed between the control room receiving an incident report and the mechanic fixing the issue.
Their ultimate goal was to provide their passengers with a smoother journey through the airport, and thanks to their digital asset management system, they were able to do that. 
In the end, one of the best ways to simplify your fixed asset management process is to utilize reliable cloud-based software.
Conclusion
The success of any asset management strategy depends on using the right methods and technology.
Hopefully, some of our tips have helped you understand where your company is falling behind so you can take actionable steps to improve your asset management efforts.
Good luck!