Keeping your contractor tools well-organized can be easy!
If it doesn't seem like it now, continue reading to get some tips on how to stay on top of your contractor equipment and save money in the process.
This article will explain how you can manage your tools effectively and ensure that they last longer.
List Everything You Have
The first step to keeping your tools in check is compiling a list of all your assets.
Without such a list, you won't even know what you own. Assets can get lost or misplaced because you may forget you own them.
Of course, that may not seem very likely when you consider the bigger pieces of equipment, but the smaller ones can easily fly under the radar.
Forgetting you own something can cost you a lot of money.
How?
If you can't find an asset, you will have to buy a new one ASAP, especially if you're in the middle of a project and can't afford downtime.
You can't risk this repeatedly happening with smaller pieces of equipment as the costs can add up to a small fortune over time and on different projects.
When you create an inventory of all your equipment and list all the relevant data, such as the purchase date, manuals, and instructions, you have all the relevant data in the same place.
Of course, creating an inventory won't be easy, especially if you have a lot of equipment.
However, you can ask your project managers or supervisors in the field to help you with this task.
The benefits of having an inventory, especially for effective tool tracking, will make all the effort worth it.
Share and Update Your Tool Database
Give database access to your employees so they can update the status of the equipment they're using in real time.
If you share access to your database with your employees who use the equipment, you can rely on them to update it whenever there's a change.
Of course, the type of the updates will depend on the type of database you use.
If you opt for a paper database, these updates will be possible only when the employees come back to the office.
By then, they may forget the irregularities they've seen in the field.
Also, an entry may be difficult to read because of bad handwriting, making the entire list unreliable.
On the other hand, using spreadsheets will eliminate legibility issues, but access might still be a problem.
Even though logging into spreadsheets on a PC will be possible at any moment, your workers on the field still won't have access to a computer until they get to an office.
Because of this, the most field-friendly tool to use is asset management software that lets you log in from your phone, allowing workers to use it directly from the field.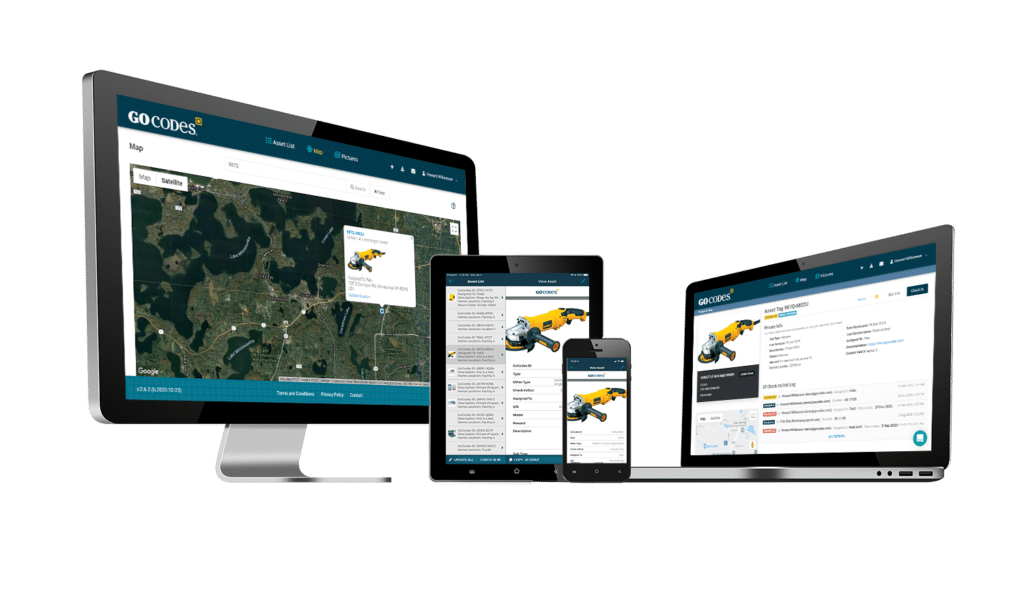 Since your employees have the option of updating data as soon as they notice an issue, you're eliminating the risk of them forgetting to report the problem at the end of the workday.
Allow your employees to notify you of equipment-related issues using your database.
Store Your Contractor Tools Properly
Storing your contractor tools properly helps you keep them in check.
To get the most out of your tools and cut costs, you need to keep your equipment in optimal conditions.
Although this may not be entirely possible while the tools are in use at the construction site, it is possible to create such conditions afterward, once you store them away until next use.
Humid environments can cause the equipment to rust or short circuit, thus damaging the asset and potentially endangering your employees' lives.
To avoid this scenario, always pay attention to the temperature of your storage room.
The room should never be too cold since you don't want equipment to freeze, but it shouldn't be too warm either.
If you're leaving your equipment outdoors, invest in covers to protect it from direct sunlight and other weather conditions you can't control.
A prolonged life cycle is a major benefit of storing your tools correctly—the more you take care of your equipment and keep it safe from harm, the longer it will fulfill its purpose.
For more information on how to organize your equipment room, click here.
When you store your equipment adequately, you prolong its life cycle and get the most out of it.
Train People to Properly Use the Tools
If you want your tools to last long, train your staff on how to use them.
Staff training will help you prolong the life of your equipment. When operators know how to correctly handle the assets, they minimize the risk of breakdowns and failure.
Your training should include tips on recognizing potential tool issues and what aspects to check.
Because of this, the operator will be fully equipped not just to use the asset but to notice a problem before it causes a breakdown and expensive, unexpected downtime.
In addition, training will decrease the risk of injuries at the worksite.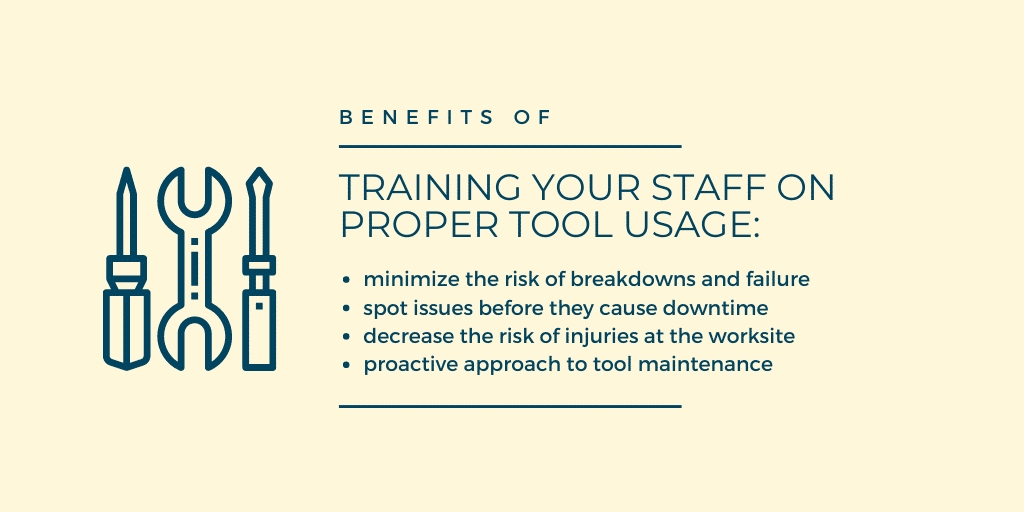 Employees who know how to operate the equipment safely have a smaller chance of experiencing an accident due to incorrect usage.
Trained workers will learn how to notice when there's an issue with a tool, stop using it immediately to avoid safety risks, and report the problem immediately.
You have to consider that equipment operators know the equipment best since they use it the most.
When you provide them with training, they will know it even better and be on the lookout for any changes or warning signs.
Training your employees on how to use tools properly helps you prolong your asset's lifespan and promotes workplace safety.
Manage Contractor Tools Requests Well
Managing tool requests is essential for keeping track of your equipment.
Find a system that lets your employees request or reserve a tool, thus ensuring they have it when they need it.
Otherwise, your employees waste time in the construction site looking for the asset they need. If they can't find it, they have to go to your storage room to see if there's a tool available.
Having a system that lets them reserve the equipment on time helps you avoid costly delays and downtime.
You can use spreadsheets or software for such requests but bear in mind that spreadsheets aren't as mobile-friendly as software.
This aspect is vital for you since your workers who need the equipment are out in the field, and they can't drop by the office in a matter of minutes or carry a PC with them out to the construction site.
However, they often have a personal or business mobile device around.
Using this phone, your employees can log in to the system and locate the tool they need. If the asset is in use, they can check when it will be returned and reserve it.
Find a way of managing tool requests to simplify the process and save money.
Assign Responsibility to Equipment Users
When you know who is responsible for a specific tool, it's easier to track it.
The problem with tools is that workers often leave them around the construction site once they no longer need them.
The workers might not have time to return the equipment to the storage room or think someone else might need it later. They don't feel personally responsible for the tool.
If you introduce a system to assign responsibility, for instance, by using the software mentioned above, you will find a way to make your workers feel accountable for the asset they're using and improve tracking.
This way, you'll decrease the risk of theft or asset misplacement.
All workers will know that the system connects them with the asset they're using and that whoever looks for the tool will see this information.
If they don't return it on time, you will get a notification. On top of that, they will pay closer attention to the asset until they return it, which will help eliminate theft.
You can track your equipment easily when workers are accountable for the assets they use.
Compare Renting vs. Owning
Consider the costs of renting and owning equipment to decide what's best for your company.
Of course, you have to stock up on equipment, especially the pieces you use the most and those you need to have in stock to avoid any kind of downtime.
However, there are tools that you may not use that often, but that are still a necessity from time to time.
If you own such pieces of equipment, it's time to sit down and add up all the equipment costs.
Once you figure out how much it costs you to own, maintain, and store the tool, you can decide whether it's more cost-effective to sell the item and rent one when needed.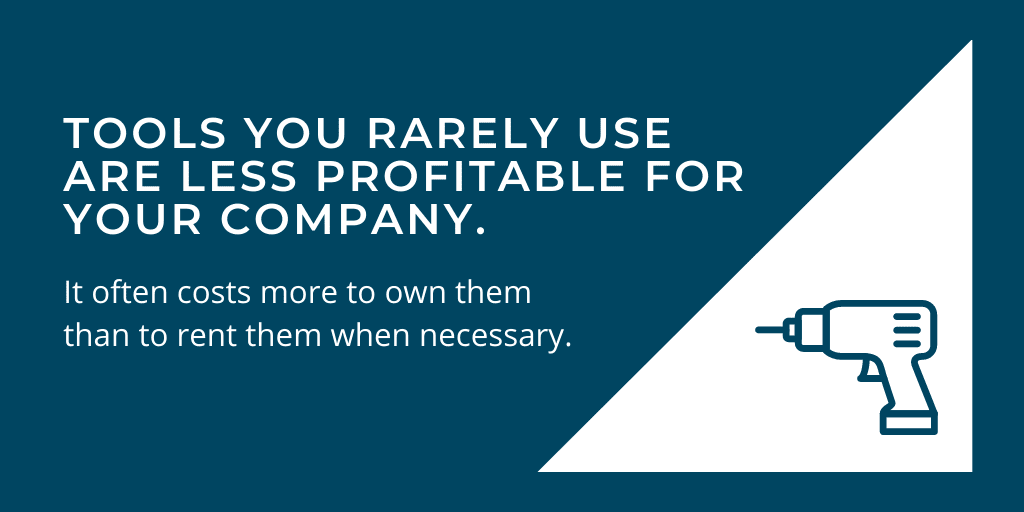 After all, the tools you rarely use are less profitable for your company, and you often pay more to own them than to simply rent them when there's a need.
When calculating equipment costs, consider the purchase price and repair, maintenance, and inspection costs on top of all the necessary improvements and upgrades.
If you use software to check equipment in and out, you will know how often you've used the tool, which will help you determine whether owning it is worth it.
Decide whether to rent or own a tool to cut down on costs and manage your assets effectively.
Inspect Your Equipment Regularly
Inspect your contractor tools before and after use to make sure they are in optimal condition.
If you rent out your equipment or use it on different projects, you should inspect it after every use.
You never know what kind of damage can happen when you use the tools in the field—the harsh conditions, unsafe use, or inexperienced operators can all contribute to equipment issues.
The operator can fail to report the incident for numerous reasons, one of them being that they failed to notice it.
If you rent equipment, the client might not want to report the damage for fear of a fine.
Either way, you need to ensure that someone inspects the equipment after use for any signs of damage.
After all, such damage can cause the equipment to break down and pose a safety threat.
Of course, you need to check the tools before use to be sure that everything is in order, mainly if no one has used the asset in a long time.
You don't want to be responsible for an accident in the field.
Some of the things to look out for are cracked windshields, worn-out tires, lower fuel and coolant levels, among others.
Create a list for each tool to ensure the uniformity of such inspections.
Inspecting your tools before and after use helps you prolong their efficiency and minimize accidents.
Don't Forget About Maintenance
Maintenance helps you keep your contractor tools in check.
You should invest in the regular upkeep of your equipment if you want to save money.
Maintenance helps you find more minor issues and repair them before they have the chance to damage your tool ultimately.
Therefore, it enables you to avoid costly breakdowns and downtime.
Regular maintenance also helps you use the equipment to its full potential as it allows you to react quickly to smaller damage, preventing more serious issues from happening.
That way, you can continue to safely use the equipment without worrying about a potential failure.
Another benefit of maintenance is that it helps you avoid purchasing replacement parts at the last minute and wasting a fortune on them.
Instead, your maintenance team will notice issues on time and suggest ordering spare parts before the problem occurs, eliminating downtime and additional costs in the process.
The great thing about software is that it lets you schedule maintenance and sends you reminders, so you can't forget about it.
Naturally, forgetting about upkeep is quite common when your company deals with many assets, which is why software can save you a lot of trouble and money.
On top of that, it also allows everyone searching for the tool to see the maintenance dates and comments, so they know the equipment's current condition.
Invest in regular maintenance to prevent breakdowns and prolong your tool's useful life.
Conclusion
If you want to keep your contractor tools in check, start with creating a database of all your equipment and giving access to your employees to have real-time updates.
Store your equipment correctly, inspect it before and after use, and invest in regular maintenance to preserve its condition and prolong its useful life.
You should also ensure that your team has the proper training on how to use tools in the best way and teach them to get in the habit of checking equipment in and out, thus assuming responsibility for it.
When you're worried about costs, consider the costs of owning and renting equipment to determine which assets you can sell and rent later on.
GoCodes Can Help
With GoCodes, your employees can simply use their smartphones to send updates from the worksite and share information about your tool's condition, whereabouts, status, and maintenance. Sign up for a free trial here.