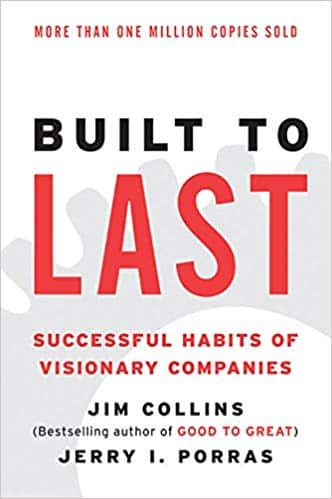 James C. Collins is an acclaimed author. Collins is also known for his insightful lectures on topics involving business management and company sustainability and growth.
Collins began his teaching and research career at the prestigious Stanford University's Graduate School of Business. In 1992, Collins received the Distinguished Teaching Award. Three years later, he founded a management laboratory in Boulder. Collins has authored/co-authored six books based on his years of research. Books written by Collins attempt to decode the DNA of successful companies.
Jerry I. Porras is a renowned organizational theorist. In 1972, Porras joined Stanford University's Graduate School of Business as a professor. In 1991, he was promoted to the post of Associate Dean, a position that he held until 1994. In 1988, Porras was appointed as Lane Professor Emeritus of Organizational Behavior and Change.
Collins and Porras got together to write one of the most influential business books of modern times, Built to Last: Successful Habits of Visionary Companies. The first edition of the book was published in 1994.
Background
In the book, Collins and Porras discuss the results of a six-year research project that was conducted to find out what makes a great company. The objective of the research was to identify characteristics common to visionary businesses and communicate findings to influence top management of businesses around the world.
The study involved interviewing 1,000 CEOs of top corporations around the world. Collins and Porras created a list of 18 visionary companies and analyzed these businesses according to the guidelines that they set on what makes a good company. Collins and Porras compared these visionary companies with their non-visionary peers and tried to identify the reasons that have helped these companies remain successful over the decades.
Built to Last shatters several common myths about successful companies. The findings and principles discussed in the book can be used by entrepreneurs, CEOs, and managers.
Visionary companies defined
Visionary companies are defined as businesses that:
Have been operating in their industry for five decades or more
Are a force to be reckoned with in their industry
Have made an imprint on the world
Have had multiple generations of CEOs
Have had multiple product/service life cycles
Are admired by the brightest minds in the industry
List of 18 visionary companies
Ford
Disney
Citigroup (formerly known as Citicorp)
General Electric
Motorola
Wal-Mart
Sony
Merck
Marriott
Johnson & Johnson
Altria (formerly known as Philip Morris)
Nordstrom
Boeing
American Express
Procter & Gamble
IBM
Hewlett Packard
3M
Clock-Building
In this chapter, Collins and Porras point out the differences between clock building and time-telling. According to the authors, time telling is all about having a great business idea or a visionary leader. Clock building, on the other hand, involves building a company that prospers beyond leaders and product life cycles. These companies have strong foundations the allow them to outlive specific product lines.
No tyranny of the OR
Collins and Porras refer to the Chinese philosophy of Yin and Yang to explain the mentality of not oppressing themselves to the tyranny of the OR. Collins and Porras believe that non-visionary companies have a short-minded frame of reference and are unable to embrace two contradictory ideas at the same time. These companies, for instance, believe that they can either invest for long-term growth or do well in the short term.
The authors advise readers to embrace both extremes. They believe that visionary companies are successful because they have figured out a way to do well in the short-term and long-term.
Beyond profits
Visionary companies realize that they need to focus on more than just profits to survive and thrive in the long run. Porras and Collins stress the importance of a company's preparedness to change organization structure, product lines, and profit strategies according to the changing business environment. Porras and Collins say that everything should be regularly tweaked, except the business' core ideology.
Preserve the core
Collins and Porras say that visionary companies can keep up with the times without compromising on their core ideology.
Big hairy audacious goals
In this chapter, Collins and Porras introduce the BHAG concept. Visionary companies set compelling BHAGs that fall outside their comfort zone.
Cult-like cultures
Porras and Collins observed that visionary companies use four characteristics demonstrated by cults (elitism, indoctrination, fervently held ideology, and tightness of fit) to preserve their core ideologies.
Home-grown management
Collins and Porras observed that visionary companies rarely brought in an outsider for the role of CEO. Instead, they believed in elevating an insider. This helped preserve the business' core and ensure continuity of leadership.
Good enough never is
In this chapter, Porras and Collins highlight the importance of continuous improvement. According to the authors, visionary companies do not view improvement as a program. Instead, they do everything possible to make improvement an institutionalized habit.